SeaWorld is ushering in summer over Memorial Day weekend with the return of its Electric Ocean event.
Beginning May 25 and continuing through Sept. 2, Electric Ocean is a nighttime party with shows, lights, dance music and longer park hours.
"[We asked ourselves] what would happen if we dove deep in the water and the bioluminescent animals all started talking to us with light and it transformed the park as it transitioned from daytime to dusk to nighttime," said Brian Morrow, vice president of theme park experience design for SeaWorld Parks and Entertainment. "And it wouldn't be a great night festival if it didn't have a great finale. You're going to get to participate in an electric dance party on our lake, surrounded by fountains with a finale of fireworks like you've never seen come from this organization."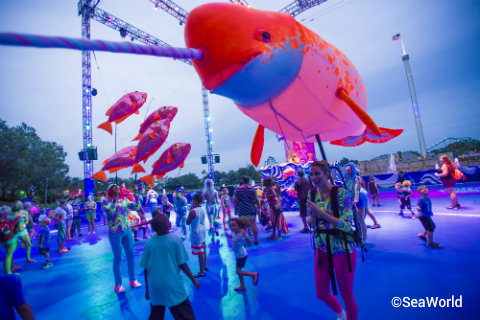 As the sun goes down, the party gets going at Club Sea Glow. Featuring 35 electrifying performers and larger-than-life neon sea creatures, Club Sea Glow is an all-ages dance party with DJs, dancing lights and laser displays.
New for 2018, the Orlando park will be introducing "Touch the Sky" a high-energy celebration of the sea and sky featuring majestic bottlenose dolphins, beautiful macaws and an original musical score.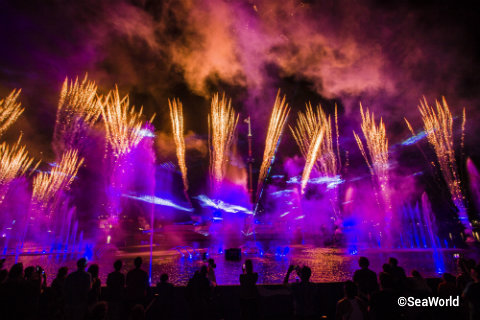 Each evening concludes when "Ignite" erupts across the park's lake. This fireworks display includes synchronized water effects that shoot up to 100 feet in the air choreographed to a powerful musical score.
Other returning entertainment includes:
** SeaWorld and Bubble Legendary Present "Pop" — This live performance takes inspiration from bubbles found in the sea and brings them to life in an amazing artistic display. This show blends music, lights, lasers and bubbles to create a one-of-a-kind experience.
** Sea Lions Tonite — Guests can laugh along to a hilarious, off-the-wall parody of a trip to SeaWorld through the eyes of sea lion superstars, Clyde and Seamore. The infamous SeaWorld Mime returns for the summer in this classic antic-filled show.
** Shamu's Celebration: Light Up The Night — This is a seasonal, high-energy presentation of SeaWorld's majestic killer whales.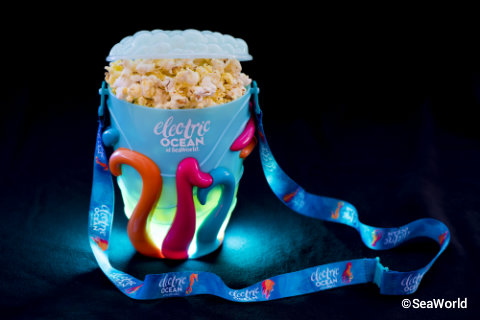 Electric Ocean also has its own menu of specialty foods, including craft beers, beverages, "Totchos" and Bao Bun Sandwiches. Plus, extended hours mean the park stays open to 9:30 p.m. on many nights.