We're now just about a month out from the grand opening of the new Copper Creek Villas & Cabins, the 14th Disney Vacation Club development — and the second at Disney's Wilderness Lodge. While I like the Wilderness Lodge itself well enough, it's never been my favorite resort at Walt Disney World. I must say, though, after touring the new Copper Creek waterside cabins a few weeks ago, I'm very excited to see these new additions to the DVC open their doors.
Situated on the shore of Bay Lake, the 26 new cabins (sometimes referred to as the "Cascade Cabins") continue and build on the Lodge's overall theme of the Pacific Northwest. When the original Villas at Disney's Wilderness Lodge were renamed to Boulder Ridge Villas, the idea was to reflect the late-19th century railroad hotels of the American West's national parks region, with elements that also connected to Walt Disney's love of trains. The new Copper Creek Villas and Cabins expand on that theme, and are also inspired by the legendary mining and railroad history of the Pacific Northwest. The cabins in particular are meant to represent the lakeside homes of the railroad workers.
Deb Wills had a chance to speak with Imagineer Mitch Mioelli, project manager of Copper Creek, a few months ago after a hard-hat tour of the area while under construction and he shared some of resort's back story here:
The two-bedroom cabins accommodate eight, with a master bedroom with king bed, a second bedroom with a queen bed, and a pull-out sofa in the living area that sleeps two. There is also a single (bunk-size) pull-down bed in the queen bedroom and a twin-size sleeper chair in the living room.
The decor of the cabins is what initially caught my attention. While the original lodge is very rustic and dark with heavy wooden touches and a dark, heavy color scheme to match, the cabins are light, bright, and feel very spacious. This is all achieved using natural products — granite, stone and wood are all very much present, yet they are used in such a way to create what I felt was a "contemporary rustic" atmosphere.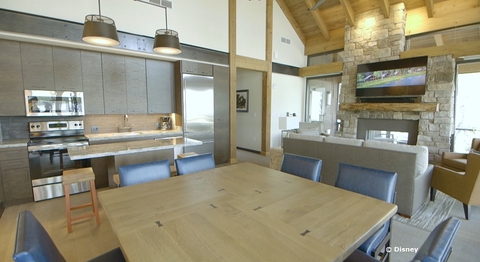 The moderately open floor plan and subdued blue and light gray colors employed are largely responsible for the bright, airy feeling.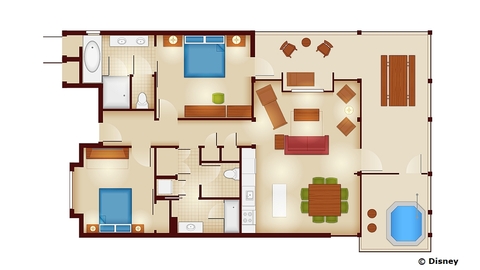 Light granite countertops are reflected in the shiny stainless steel appliances in the kitchen, which flows seamlessly into the cozy living area. The focal point of this space is the stone hearth and gas fireplace, topped with a rough-hewn log mantel. Floor-to-ceiling windows let in copious amounts of sunshine, and afford scenic views of Bay Lake, which is just steps away.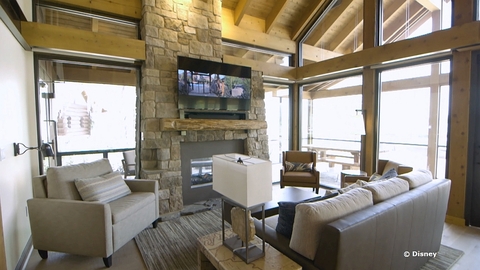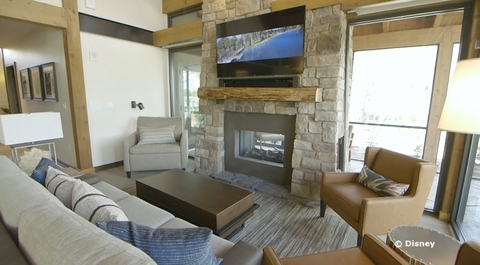 Out on the screened-in, wrap-around porch you'll find a gated hot tub as well as a picnic table overlooking the lake, along with a pleasant surprise. There's a special seating area around the corner, so that you can enjoy that gorgeous living room fireplace from the other side! That's right, it's a two-sided fireplace! I could just imagine sitting out there on a cool night (Florida does sometimes get them!), sipping a cup of hot chocolate, or perhaps something stronger, at the end of long park day.
The bedrooms are equally bright and full of little surprising touches. For one thing, there is so much storage here — much more than I've seen in other DVC units recently. I'm thinking specifically of the similar waterside Bora Bora Bungalows that opened at Disney's Polynesian Village Resort a few years ago. There are elevated platform beds, which allow for luggage storage underneath, as well as full-sized nightstands and dressers with lots of drawers. The second bedroom has a cushioned window seat, with even more drawer space underneath.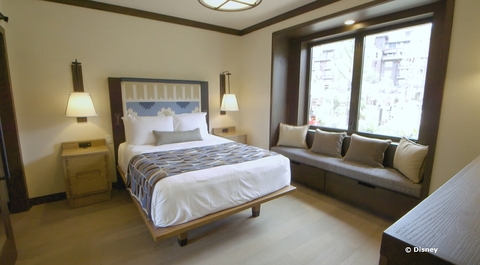 I also love the decor choices that were made, with artwork that simulates a cross-section of an old tree for example, and lamps with rough-cut chunks of stone as their bases. There was even a highly lacquered, actual cross-section hunk of a tree trunk as wall art hung in the entry way. Exposed wooden beams and iron rails accent the rooms, with butcher block and other wooden finishes throughout the kitchen area.
Ken Potrock, SVP and GM Disney Vacation Club and Adventures by Disney, excitedly agreed with me when I spoke to him about how beautiful I found the cabins. "I love the decor in these cabins and the villas, too," he said. "I really love the colors and I love all the natural elements — the woods, the stone, all those touches."
"I also love the design of these villas and the cabins," Potrock continued. "Our members told us what they wanted and how they used these spaces and we really listened, from storage space to seating in the living areas. They told us they don't want any old hotel, they want themed hotels. I think with Copper Creek especially we've succeeded in meeting their needs AND their wants."
You can take a short video tour of the Copper Creek Cabins here (along with some sneak peeks of the other Copper Creek Villas and Geyser Point Bar and Grill):
The Copper Creek Cascade Cabins will open on July 17, 2017, along with the rest of the Copper Creek Villas, and are available to rent starting at 87 points per night, or at $1,835 per night (plus tax!) for non-DVC members. (Which means someone wealthy has to adopt me so that I can stay there sometime!)