I've been visiting Walt Disney World for the better part of 25 years, and I really thought I had seen it all — ridden every ride, seen every show, stayed at every resort. But during a recent trip, I discovered an area of the World that I had never been to before. The Lost and Found.
Flash back to a few weeks ago. It was a lovely spring morning in Orlando, and I was so happy to be starting Day 3 of a non-working, get-away weekend at Walt Disney World with my husband.
"Uh oh." I heard him say, as he was looking through his wallet. "I think I lost my credit card."
Ugh. I think we all know that sinking feeling, right? After taking a few minutes to mentally retrace his steps, he determined he must have left it the previous evening at the Hollywood Brown Derby Lounge, where we'd had a drink before going inside the restaurant for dinner.
I looked at the time — not even 9 a.m. I didn't think anyone would be at the restaurant yet, but thought it might be worth trying to call over there. I knew that lost items would eventually be sent to the central Lost and Found location, but because each of the parks has its own Lost and Found at Guest Relations, I hoped that maybe they still had the card there. There was no answer when we called the restaurant's direct line, so we headed over to Disney's Hollywood Studios.
Once there, we split up — my husband went to the restaurant while I waited in line at Guest Relations. After a few minutes, he rejoined me, empty-handed. When I got to the front of the line a cast member told me we were too late — all lost items had already been sent on to Central Lost and Found. In fact, they were probably sent after park closing the night before. She gave me their card and told me to call them some time after 1 p.m.
Which of course we did. At the stroke of 1 o'clock my husband called and gave his info to the cast member. After a few tense moments while the cast member looked around, I saw a smile spread over my husband's face. The wayward card had been found! The cast member told my husband to come over no later than 7 p.m. that night to retrieve the card at the Central Lost and Found location at the Transportation and Ticket Center.
Secure in the knowledge that our credit card was secure, we were able to enjoy the rest of the day, soaking up the sunshine and the glorious Epcot Flower and Garden Festival. By the time 5 o'clock rolled around, my husband was anxious to pick up his card.
"I'll go, you don't have to come," he told me. That's when I realized I had no idea where he was going beyond "over to the TTC." "Are you kidding?" I replied. "In the name of Research, I MUST see the Lost and Found center!"
We took the monorail over to the TTC, but weren't sure exactly where to go from there. If there was a sign, we didn't see it, and the card we had said only "on the east side" of the TTC. Which way was east?
We walked toward the trams to the parking lots and looked right, then left.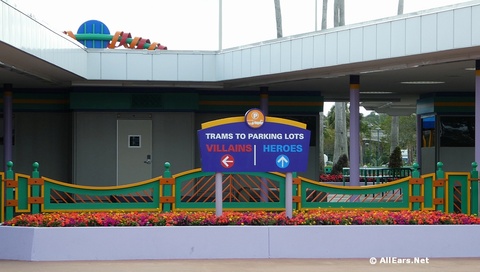 Aha! Over to the left, my husband spied a sign.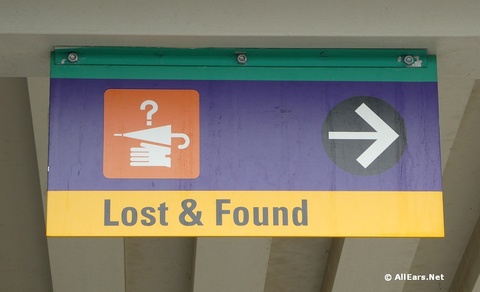 We followed the arrow, and a short distance ahead of us we saw it — Central Lost and Found.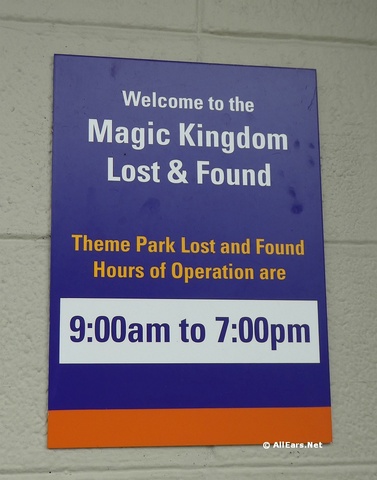 It's a quiet location, as you might guess — not a lot of activity over there, and there also didn't seem to be an overabundance of staff. There was a family ahead of us, hoping against hope to find their teenage son's prescription sunglasses that he'd left… well, somewhere. No luck, but they filled out a form hopefully so that they could be contacted if the glasses turned up.
As they left, my husband told the cast member that he was there to claim his credit card and that he'd been told it was in Vault 24. The cast member disappeared to locate the mysterious "vault," which gave me the chance to look around the room.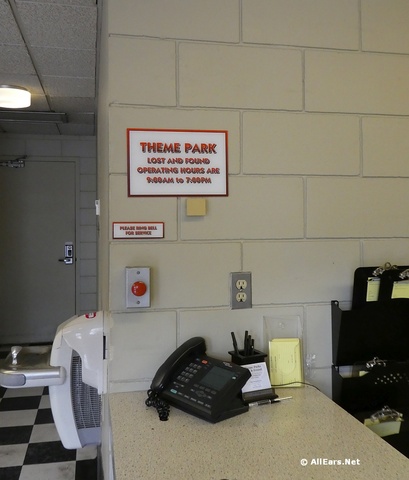 Very utilitarian, but with cute Disney touches and a spacious, if not plush, waiting area.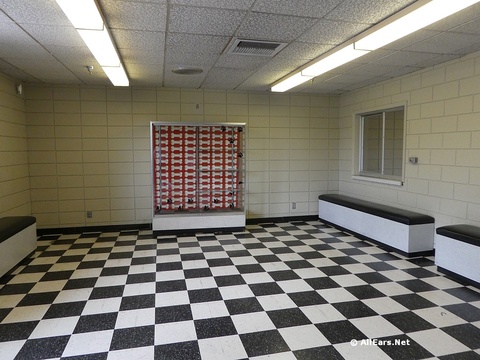 Finally, the cast member returned, had my husband show his ID and then sign for the reclaimed article.
So our story had a very happy ending, and I got to explore a previously unknown corner of Walt Disney World, making my knowledge of the Most Magical Place on Earth more nearly complete.
If you discover that you've lost something while vacationing in Walt Disney World, here are a few tips.
— Try to pinpoint where you lost the item, as best you can. Also try to recall when you last saw the item, or when you think you may have lost it.
— If you need to file a lost article form, provide as much detail about the item that you can. There are hundreds caps, cameras and pairs of sunglasses lost each week in the World — the more detail you can provide the better able Lost and Found cast will be able to pair you with your recovered item.
— Call before you decide to make the trip over to Central Lost and Found, to save yourself a wasted journey. Items lost in the parks the previous day are generally delivered to Lost and Found by 1 p.m.
In general, these are Disney's policies on retaining lost items:
Every Walt Disney World theme park and water park has a lost and found in its Guest Relations office. Most items are kept there for a day.
If you realize later that you've lost something, you'll need to contact Central Lost and Found at 407-824-4245. As I said above, Central Lost and Found is physically located at the Transportation and Ticket Center and is open seven days a week, between 9 a.m. and 7 p.m. They can also be reached by mail if you need to contact them once you get home at PO Box 10000, Lake Buena Vista, FL 32830-1000. Lost and Found keeps valuable items (wallets, purses, credit cards, prescription glasses and cameras) for 90 days. Items of lesser value (sunglasses, hats, toys and clothes) are only held for 30 days.
If you lost an item at a Disney Resort Hotel, it will be turned in to the hotel's Lobby Concierge.
If you've lost something on a Walt Disney World Bus, it will be turned in to the nearest Guest Relations location at a theme park and then delivered to the Lost and Found at the Transportation and Ticket Center within 24 hours.
If you lost something on the Monorails or Magic Kingdom Watercraft, it will be kept on board until the end of the day and then turned in to Lost and Found at the Transportation & Ticket Center.
If you lost something at Disney Springs, it will be turned in to Guest Relations at the Welcome Center in Town Center. After three days, it will be delivered to Lost and Found at the Transportation & Ticket Center.
If you lost something at ESPN Wide World of Sports Complex it will be turned in to, and will be kept at, Guest Services there.
And if you lost something on Disney's Magical Express, and it's been lost for less than 30 minutes, contact 866-599-0951. If the item has been lost for more than 30 minutes, you'll have to contact Mears Transportation Group at 407-423-5566.
Let's hope you never have to pay a visit to Central Lost and Found, but, life being what it is, you just may have to some day. No one really WANTS to go there (except someone like me!), but it's nice to know that it IS there if you need it, it's easy to get to, and is very efficiently run.