The 22nd Annual Epcot International Food and Wine Festival is running an unprecedented 75 days this year, starting on August 31 and carrying on until November 13. Booking for the festival's premium experiences starts on July 20 (or July 18 for a few events for certain guests). This weekend sees not one but two previews for this culinary extravaganza — today was the first, the Media Preview, followed by tomorrow's annual Tables in Wonderland-hosted preview event.
Lucky me, I get to attend both!
I thought I'd share a little of what I learned so far with you — highlights of what's new, along with photos and other details. Later, after the Tables in Wonderland preview, I'll fill you in on the rest of the currently available information.
Our presentation, which was held in World Showplace, began with remarks from Melissa Valiquette, vice president of Epcot, and Epcot's Executive Chef and culinary director Gregg Hannon.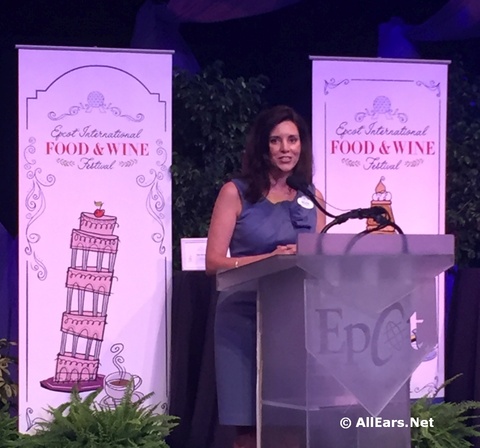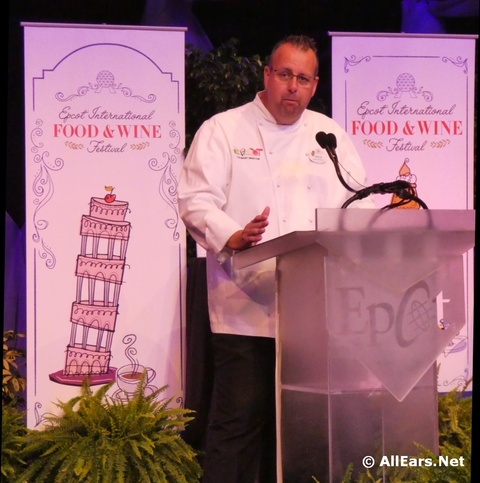 As they both remarked, this year not only marks the 22nd annual Food and Wine Festival, but coincides with Epcot's 35th anniversary (on October 1). In observance of that, the number 35 comes into play in several ways — there will be, for example, 35 global marketplaces scattered around Epcot's World Showcase and into Future World. There will also be an exhibit in The Odyssey dedicated to the theme park's 35th that will run the entire length of the festival. By the way, food items in the Odyssey, which houses the Craft Beer marketplace, will be throwbacks to the early days of Epcot. Look for some old favorites to resurface.
Of course the main focus of the festival is the food and beverages!
Based on the sampling of items we were treated to, I have to say I'm really excited about what's new this year. First of all, there are three global marketplaces returning after absences of from the festival for seven or eight years: India, Thailand and Spain. As a big fan of all three cuisines, I can't wait to try everything these food booths will offer. There are also a number of brand new marketplaces, some of which offer dishes that were available at previous festivals (like the returning Nueske's bacon mac and cheese), along with first-time selections.
I sampled a few things already:
From the NEW marketplaces, many of which are "inspired" by ABC's "The Chew", the lifestyle show whose hosts will once again be attending the festival in early October:
Active Eats: This new marketplace features small plates that are designed to boost and sustain your energy level. I had the chance to try the Sweet Avocado Crema with strawberries, yellow cake and a yummy tortilla streusel.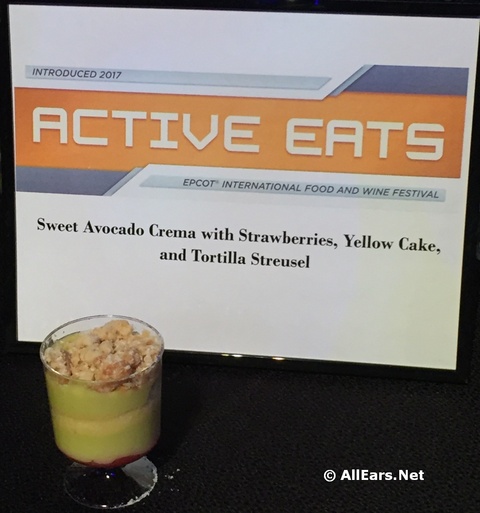 Coastal Eats: If you're a seafood lover, this will perhaps be your first destination at the festival. I tried the Seared Scallops with roasted corn and butterbean succotash, and chipotle butter sauce. I'm a huge scallop fan, and while I thought this dish was very good, it seemed to be missing something. Or maybe my tongue was already burned out from the curry and spices I'd already had with other samples. I'll definitely have to give this one another try.
Flavors from Fire: This marketplace will spotlight foods that have been touched by flame. The item on offer was Smoked Corned Beef with crispy potatoes, pickled onions and blonde ale beer fondue.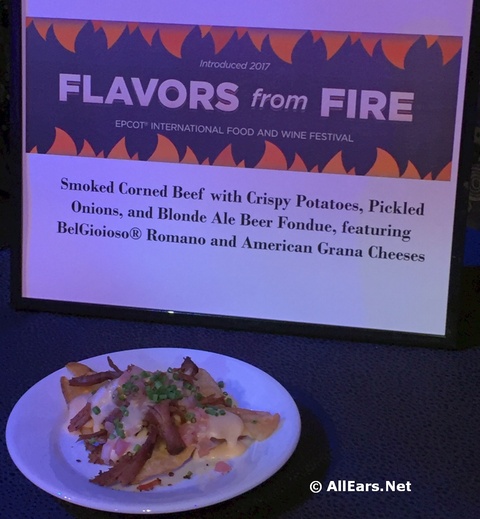 The Light Lab: The festival is attempting to be a bit more "family friendly" this year with a number of new activities. (Look for the "smiling strawberry" icon on this year's festival guide maps to find them!) One of these is the Light Lab, which will feature products, both edible and not, that will glow in the dark.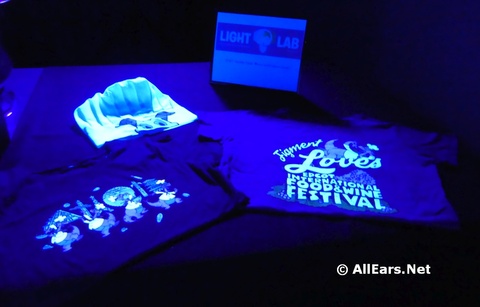 In this little exhibit at the preview, a bartender was demonstrating the beverage T=C2 (squared), which was vanilla tonic water poured over cotton candy. Yes, it was was sweet as it sounds! Also, this beverage shifts colors depending on where you — in the dark room it appears to be green. Take it out into the light and it's red! This little science experiment is sure to entertain young and old alike. You can see my short Instagram video of it here:
Some of the other tasty treats I tried:
From Spain: the savory Charcuterie in a Cone, with Spanish meats, cheeses and olives and the Sweet Olive Oil Cake with powdered sugar and lemon curd. Loved the charcuterie, loved the cake (would be great with a cup of coffee!), but the lemon curd not so much.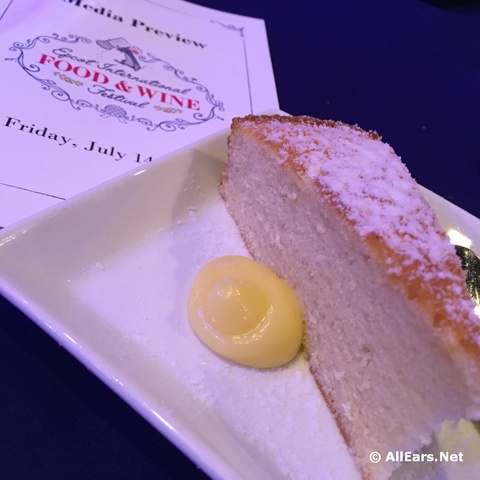 From Thailand: the Red Hot Spicy Thai Curry Beef with rice had a nice kick to it, was one of my favorite "bites" from this preview.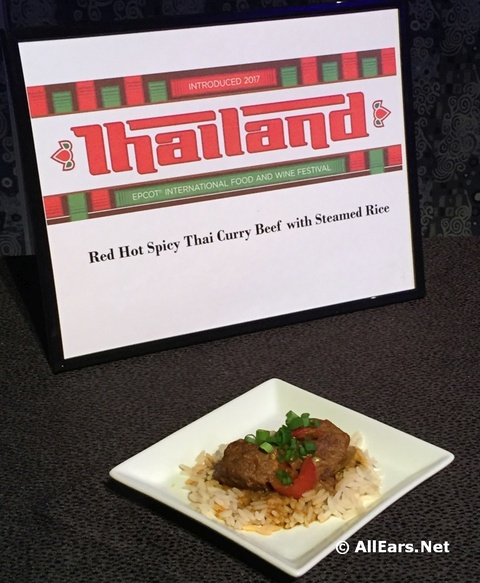 From India: Madras Red Curry with Roasted Cauliflower, Baby Carrots, Chickpeas and basmati rice was another favorite of mine. This vegetarian option wasn't as spicy hot as I was anticipating, but it just burst with flavor.
The popular Hawaii marketplace is returning with a dish that is, surprisingly, truly representative of the Hawaiian culture: Teriyaki-glazed SPAM Hash with pototes, peppers, onions and spicy mayo! It seems that the Aloha State loves its tinned meat and now you can try it in an innovatively prepared way: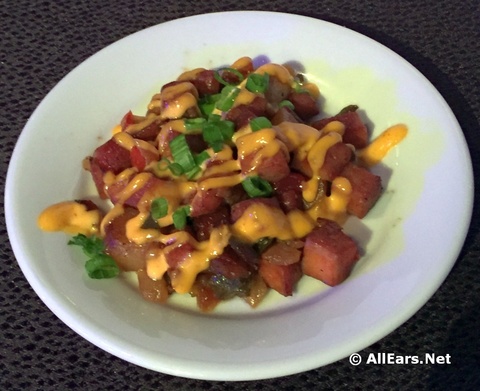 The Cheese Studios is also returning, and it has really changed up its trio of cheesy comestibles. There's a profiterole (cream puff) topped with Boursin garlic and herbs cheese and apricot jam; a slightly tangy smoked salmon pinwheel with Boursin shallot and chive cheese; and a strawberry macaron with Boursin pepper cheese. I can't help myself, I love the cheesey goodness!
I didn't get to try many of the alcoholic offerings — I was working, after all — but I did manage a few sips of the new Passport 35 Triple Chocolate Milk Stout from the Florida Beer Company. The aroma of chocolate was obvious, and softened the strong stout — I think it will be a hit.
In addition, there was a good overview of the new festival-themed merchandise that will be available. Here's a quick run-through:
I was able to get prices on most of the items mentioned in the video, as well:
The large Dooney & Bourke bags: $318
The Passholder D&B bag: $308
Crossbody D&B bag: $178
D&B WAllet $158
For the Figment fans, and I know there are lots of you out there:
The adorable Figment ear hat is $24.99.
The new Figment-inspired MagicBand, which has an exclusive theme designed by Dooney & Bourke, is $48.
The Figment t-shirts are $29.99.
Apron: $26.99
Mitt $14.99
Ornament $19.99
Mug: $17.99
Pin: $14.99
As for the Taste Your Way around the World shirts, both men's and women's are $29.99. The design is slightly different for both shirts. New this year, the festival is offering the women's shirts in a few different styles. One is a more fitted shirt, which comes in sizes Small to Extra Large. There are also shirts available in a "curvier" style, in sizes 1X, 2X and 3X.
There's also a new lightweight "hoodie", which features the festival logo on the front and the names of the countries of World Showcase down the sleeves. This was $42.99 and even though it's billed as a "men's" item, is definitely something both genders could (and I'm sure WILL) wear.
Chef Gregg told me that Saturday's Tables in Wonderland preview will have some additional offerings that the media preview didn't offer, so I'm really looking forward to see what else is new. Also, I'm expecting that the TiW event will provide more details about the premium dining experiences that will be on offer, as well as information on booking, packages and more.
So stay tuned for part 2 of my Food and Wine Festival Preview, coming later this weekend!