I always thought it would be fun to have a "Christmas in July" party, but who really wants to drag all the decorations down from the attic a second time each year? Now you don't have to because Disney Springs is hosting holiday events this month.
Beginning today (July 15), and continuing through July 30, the Marketplace side of Disney Springs will be spreading holiday cheer with merchandise, entertainment and treats.
Here's what to look for:
** Santa will be meeting and taking photos with guests, but it won't be in his chalet that usually appears in November. Instead, he will be dressed in his summer vacation attire at Disney's Days of Christmas each day from 1 to 10 p.m.
** Of course, Disney's Days of Christmas sells Christmas merchandise year-round so you can get a start on your shopping or decorating for your home.
** A DJ will be spinning Christmas beats.
** Enjoy Your Face will add some sparkle with holiday face painting designs.
** The Disney Springs fountains will be decked for the season.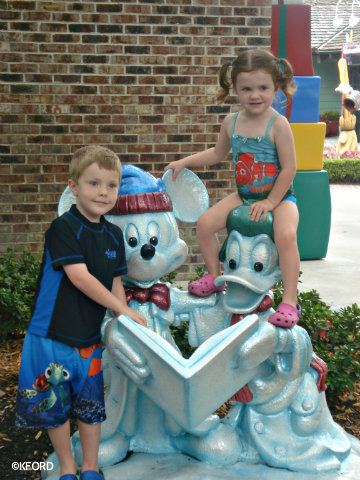 ** Don't forget about the permanent holiday-themed Fab Five statue tucked behind Disney's Days of Christmas that makes a great backdrop for Christmas card photos.
** Hot chocolate may be a staple at Starbucks, but the popular coffee bar also will be serving its holiday-themed drinks during the two-week celebration.
** At Goofy's Candy Company, guests will find peppermint bark, gingerbread cookies, Santa Mickey and Minnie specialty apples (my favorite!) and krispy treats.
** Head over to AristoCrepes to indulge in a gingerbread crepe.
** Need a drink after all this holiday cheer? Dockside Margaritas is serving Snowflake Margaritas.
Admission and parking in two garages at Disney Springs are free.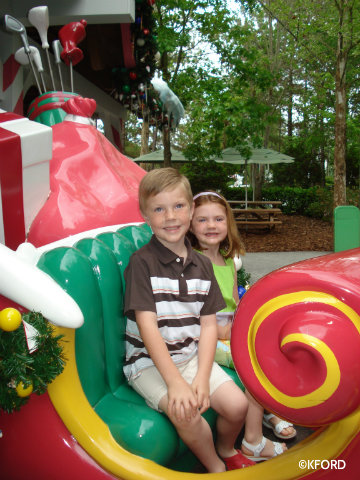 If you want to keep that holiday spirit going, perhaps a stop by the Winter Summerland miniature golf courses is in order. The facility is located near the entrance to the Blizzard Beach water park.
Winter Summerland has two 18-hole courses: the Snow side, where Santa and his elves seem to be getting ready for Christmas, and the Sand side, which shows how they spend his off-season.
Guests who choose to play the Winter Course will see their golf balls travel up and down ski slopes, through a campfire, into an ice hockey game, past a squirty Snowman, and even up a peppermint twist. Along the way to the North Hole, some of your favorite Disney characters can be spotted saluting you. After sinking the last putt on Hole 18, you'll get a special greeting from Santa Claus, thanks to the WinterNet and a computer.
On the Summer Course, expect to see a beach theme for Santa and his elves. Make your golf ball slip past the camper and roasting turkey without disturbing its residents. Hop over a creek, past the opening clam shells, around the sand buckets and surfboards, through a loop, over a sleeping Santa's belly and into a gigantic sand castle.
You can't go wrong with either course. Take a break in between rounds at Santa's "Winterbago," a converted trailer that is home to the starter booth, gift shop and snack stand. There are lots of shaded picnic tables nearby, and cast members even have hula hoops for the young and young-at-heart.
If you're looking for a unusual photo for this year's Christmas cards, be sure to bring your camera. There are so many fun backdrops — beginning with a big red sleigh that guests can sit inside and the icon Santa on a surfboard holding his golf clubs.
Winter Summerland is open from 10 a.m. to 11 p.m. daily. Prices are $14 plus tax for adults and $12 plus tax for children ages 3 to 9 for 18 holes.