Late last year, the Disney Parks Blog announced that a new "Brunch at the Top" dining experience would be starting at California Grill in February 2016.
I read the description with great interest, because I love a great brunch. But, I will admit, the $80 price tag had me stop and wonder. It seemed really expensive just for brunch.
Fast-forward to a couple months ago when friends we hadn't seen in a long time invited us to join them at, you guessed it, Brunch at the Top. We thought, "Sure, why not?"
So what exactly is Brunch at the Top? Let me say at the outset that this is a VIP experience. From the moment we arrived at the Contemporary we were treated like extra-special guests, which took us somewhat by surprise. At the security gate, the guard smiled and told us that with this brunch we received complimentary valet parking, and we were to proceed up and to the right. He then instructed us to go to the second-floor check-in for California Grill. Valet parking? Complimentary? At the California Grill? Our eyes lit up and we started to get excited — not just about seeing our friends, but about what was starting to feel like a very special experience.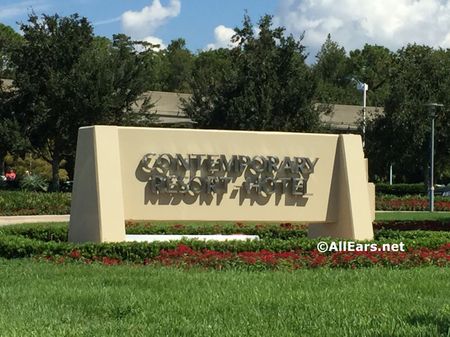 We arrived before our friends, texted them, and headed to the second floor to check-in. The cast member smiled and greeted us warmly. We explained we were early… she quickly said, "No problem, you can wait upstairs for your friends." Sounded good to us.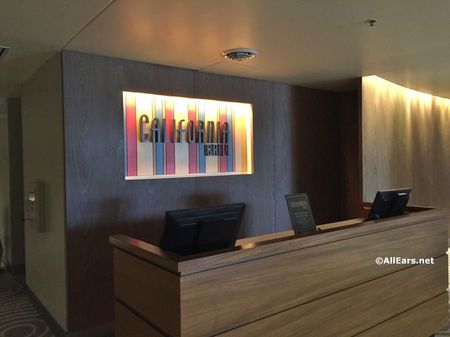 Once the elevator doors opened, we were greeted by wonderfully soothing sounds of a pair of musicians, one playing the bass and the other, the keyboard.
We both looked at each other, smiled and nodded, knowing that we had been right. This was going to be an out-of-the-ordinary experience.
A hostess came right over to assist us. When we explained we were waiting for our party, she said, "No problem, allow me to show you to an area to wait for them." (It was located in between the musicians and the two dining areas.) Along the way, she stopped at the bar and offered us a mimosa. I asked if I could have the beverage without the orange juice, and we were soon handed two glasses of pure bubbly.
We sat back to enjoy the ambiance and talked about how wonderful it was to be at the California Grill for a more refined, adult experience. In fact, I could feel tension leaving my body and I smiled. The fact that it was a picture-perfect day outside with a wonderful view of the Magic Kingdom, Grand Floridian, and Polynesian Village Resort added to our enjoyment.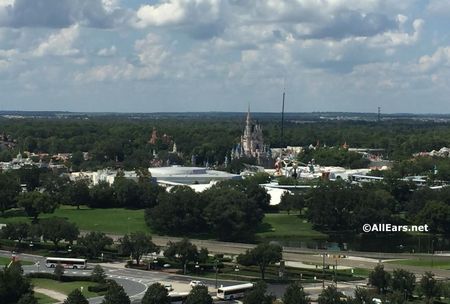 Soon our friends arrived and we were escorted to our table. There we met Tommy, our server for the brunch. He gave us menus and explained how things would work. I let Tommy know about my shellfish allergy, and he said there were no "hidden" shellfish items, but would have the chef come over to speak with me. It was great to see Chef Jonathon again!
Linda had her eyes on the Bloody Mary bar until Tommy explained that our welcome beverages would be refilled throughout the meal, at no additional charge. It almost seemed too good to be true: complimentary valet parking, bubbly refills during brunch… Yes, this was really going to be fun.
By now you're probably thinking, "OK, Deb, get to the food!" All right, I will.
The meal is a combination of self-serve selections, entrees and dessert. The self-serve selections, appetizers in a sense, ranged from assorted sushi and smoked salmon to a charcuterie area and salads. We all thought we could have made a meal of those items alone.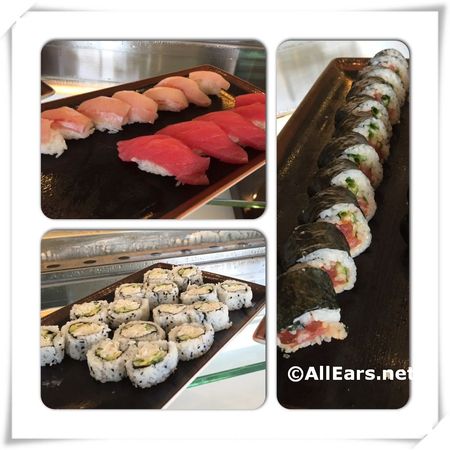 A board of pastries was sitting on the table when we returned from the buffet area. It included a nice selection of Tillamook Cheddar biscuits, caramel-apple monkey bread and gluten-free scones.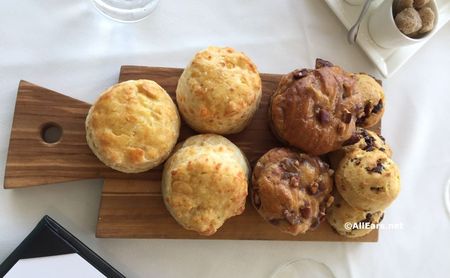 We each made at least two visits to the self-serve selections, all the while chatting over our bottomless drinks. Tommy asked a couple times if we wanted to order and we put him off for a few more minutes. At no time did we feel rushed or pressured to place our entree selection.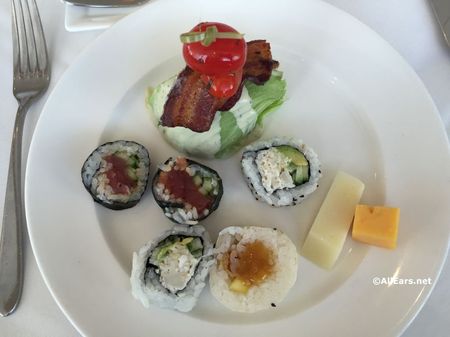 Finally, it was time to decide on our entrees. Among the four of us we ordered:
Lobster Eggs Benedict:
Shrimp and Grits
and two of us selected the Grilled Hanger Steak and Eggs.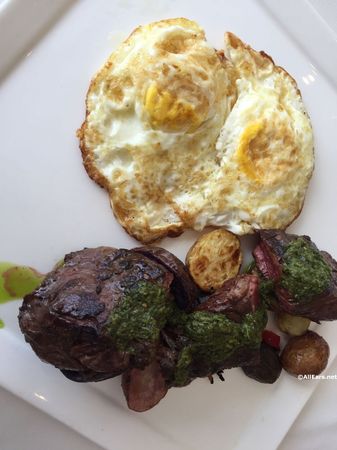 You can find the full menu HERE, along with additional food photos.
Our friend Mark savored his steak, but unfortunately I had to send mine back as I had ordered it medium and it was too rare. Tommy took the steak back to the kitchen without issue, and I enjoyed my eggs along with another helping from the self-serve selections. Soon my steak returned and I was satisfied that it was prepared properly.
There was no clear winning entree — it actually was a tie between the Lobster Eggs Benedict and the Grilled Hanger Steak. Linda also enjoyed her Shrimp and Grits, a dish that seems to be popping up all over Disney World these days. (I'm trying to get her to decide on the top three places for Shrimp and Grits so that we can share that with you.)
We had such fun while noshing with our friends that time quickly got away from us and soon our dessert plate arrived.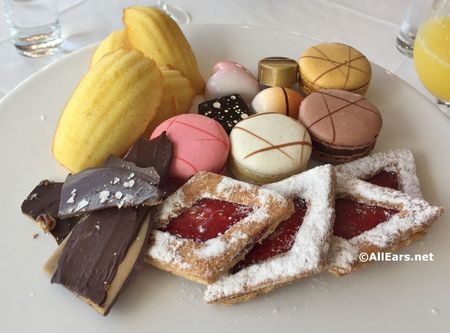 All of us agreed the experience was awesome and we had a marvelous time. Each of us left relaxed and smiling, with our bellies full of excellent food.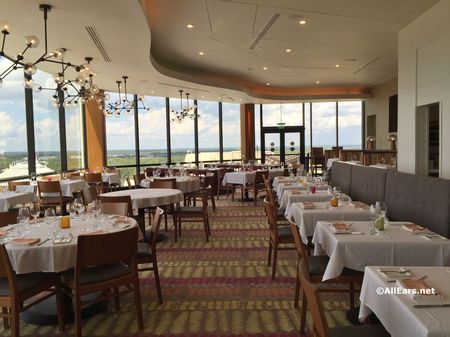 BOTTOM LINE:
COST: Adults $80, children $48, plus tip and tax.
You get complimentary valet parking (which is worth $25, plus tip).
Tables in Wonderland is accepted, which gives a discount of 20 percent.
You receive refills of your welcome beverage.
You have great foods to savor while enjoying the spectacular views.
Return in the evening with your receipt and enjoy fireworks from the outdoor areas.
If you are looking for a wonderful "adult" experience at Walt Disney World this is it.
We found the entire experience lovely and plan to return in a few months.