What's a Disney race weekend without the opportunity to enjoy a little food? And some adult beverages, too. 🙂 One of the things I was looking forward to on this trip was the opportunity to sample foods from the food booths at Epcot's Flower and Garden (aka mini Food and Wine) Festival.
Lee and I arrived fairly late on Wednesday night. We were headed to the Boardwalk Bakery when we noticed that the Trattoria al Forno pizza window was still open…so that's what we had. We were hungry, and scarfed it down pretty quickly, so there's no photos. 🙂 My cheese pizza was just ok – it had been sitting around under the heat lamp for a while. Lee really enjoyed his piece of the Boardwalk Signature Pizza, though. (This is the stock AllEars.net photo of the cheese pizza – mine didn't look quite this good. 🙂 )
The next morning we went to the Bellevue Room at the Boardwalk, which sells "Continental Breakfast" types of foods in the morning – pastries, bagels, cold cereal, yogurt, fruit cup/whole fruit, and beverages: coffee, tea, juice, milk. We were planning to visit the food booths at Epcot, but needed something to eat since they didn't open until 11:00.
When we walked into Epcot I picked up a "Garden Passport". This little booklet had the menus for all of the food booths, and there was a place to get a stamp at each booth.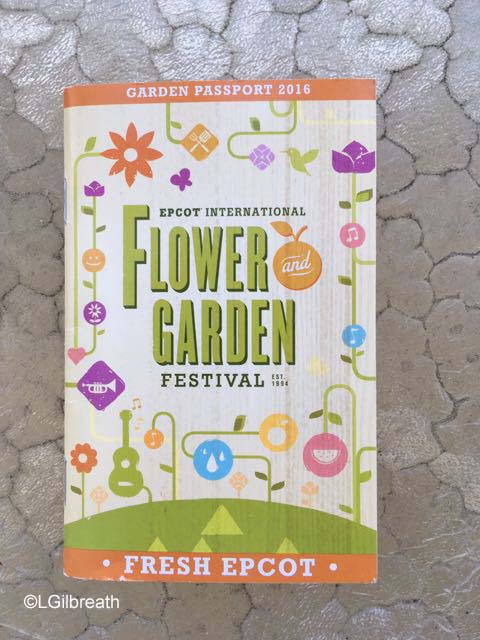 All of the food booths had unique stamps, and there were some really interesting designs. There were stamps for the butterfly garden, the Festival shops, playground, and tours, also. No reward (such as a pin) for getting all of the stamps – just the completion stamp. But I had fun doing it anyway.
The first thing we sampled was Seared Pork Tenderloin with Mushroom Ragout, Spring Vegetables and Marble Potatoes from Urban Farm Eats. It was excellent, and a good-sized serving for $6.00. I appreciated the fact that it had some vegetables – pieces of asparagus, onion, and beans – in addition to the sliced potatoes.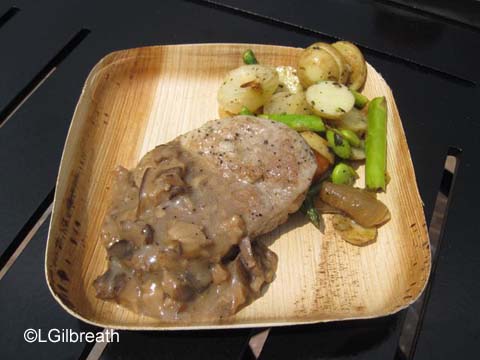 Next was "Adult Soft Serve", as the Pineapple Promenade CM called it: Pineapple Soft-Serve with Parrot Bay Coconut Rum for $10.00. Oh wow. This was SO good! The rum was on top so we had to make sure we got a little on our spoons in addition to the pineapple soft serve – but once the ice cream level was low enough we could mix it in. We liked this so much that we went back later in our visit to share another one.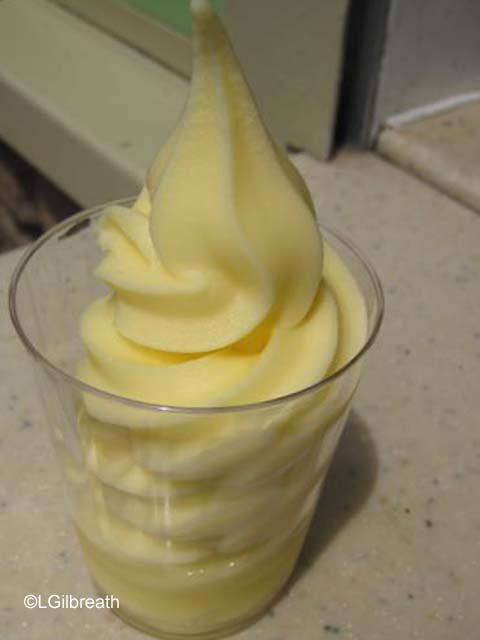 One thing we really enjoyed about the food booths was that there were no lines! Mostly we walked right up to the cashier, or at most waited behind 2-3 other people. Very different from the Food and Wine Festival.
From La Isla Fresca we sampled the Jerk-spice Grouper with Mango Salsa, Chayote and Green Papaya Slaw with Lime-Cilantro Vinaigrette. This was another good one though I had to eat around the red and green peppers.
We also tried the Frozen Simply Tropical Juice Drink with Cruzan Mango Rum. I was surprised that this had chunks of mango in it – but I thought that was the best part. It was all pretty tasty, though.
At the coffee kiosk near Mexico I tried the Tiki Torch – a passion fruit slush with Grey Goose vodka. I was expecting it to be more slushy, but it wasn't really frozen. It was fine, but Lee enjoyed this one more than I did.
At Lotus House in China Lee tried a Gaoli Beef Bun, which a friend had recommended. He really liked this.
I had my first sparkling wine at Germany's Bauernmarkt: Farmer's Market – Hugo-Charles de Fere "Organic" Brut with Elderflower and Mint. This was good – fortunately the mint was not overpowering, so I could taste the elderflower. Lee tried the Kostritzer Schwarzbier Black Lager, which he enjoyed.
From Primavera Kitchen at Italy we ordered Mezze Lune Primavera – Egg Pasta stuffed with Ricotta and Spinach in a Creamy Sauce with Spring Vegetables and Pecorino Cheese. This was…OK. It seemed a little bit dry.
At THE SMOKEHOUSE at The American Adventure we tried most of the food items. The Pulled Pig Slider with Crispy Onions and Coleslaw was pretty good, but not great. I think I liked the coleslaw more than the slider.
We also tried Smoked Pork Ribs with Roasted Corn Salad. I thought these were better. They were pretty meaty and tender. Lee liked the corn salad.
For topping the BBQ offerings there were three BBQ sauces at the condiment station to choose from – I had North Carolina (nice and mustardy) and Lee had the classic.
For dessert we tried the Warm Chocolate Cake with Bourbon-Salted Caramel Sauce and Spiced Pecans. This was just ok. The top part of the cake which had the caramel sauce and nuts on it was the best part. And when they say "spiced" pecans they mean spicy hot and not spicy cinnamon. These had a kick to them.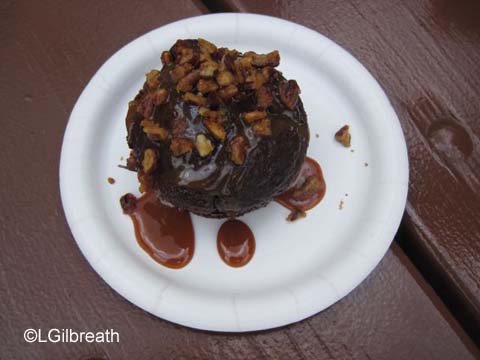 That was pretty good for a first round of tastings. The last thing I tried was the La Vie en Rose Frozen Slush – Grey Goose vodka orange, St-Germain liqueur, white and red cranberry juice at France. Lee didn't care for it, but I thought it was tasty. I knew I had to finish it before we could leave the park, though. 🙂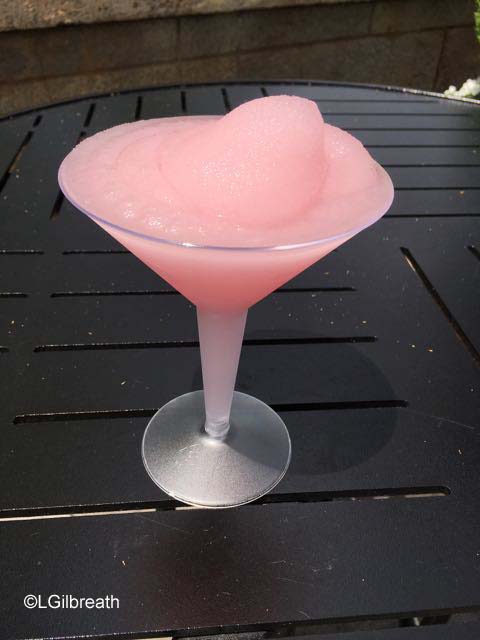 That evening we went to Disney Springs for dinner at Morimoto Asia. This was our first experience driving ourselves there and parking in the "Orange" garage. The "smart garage" worked really well – when we first pulled in the sign told us which parking levels had the most spaces, and then once we chose level 4, each row told us how many spaces were in it, and there were green lights on the ceiling of the garage over each open space to identify it. Super easy! We arrived about 5:20, so it might be more of a challenge when it's busier, but we had no problem.
We were a little early at Morimoto Asia – instead of a pager, they told me they would send a text message to my phone instead. We were seated in less than 10 minutes, but had a nice conversation with a blog reader (Hello!) while we were waiting. Our table was the outside corner of the middle block nearest the hostess station – I was concerned it might feel very busy with the aisle right next to us, but it was fine.
I'd been to Morimoto in February, but this was Lee's first visit. We started off with a couple of glasses of wine from their "Spring Selections" list. They were both very good. We also shared two appetizers. The first was the Tempura Rock Shrimp. It was $16, and I was expecting it to be just a few pieces of shrimp, but it was a very generous serving! Easily an appetizer for 3-4 people and not just two. Very good, also.
Our other appetizer was Kakuni Pork Bao – steamed buns, braised pork belly, lettuce, spicy mayo. This was also excellent, and very filling. Lee was concerned that the pork belly might be very fatty but it wasn't. I was expecting it to be more of a traditional bao (sort of a large dumpling) rather than the something more like a taco, but we definitely got a lot more filling this way.
And then the entrees arrived. Honestly, after the appetizers I didn't need much more to eat!
I ordered something different this time and tried the Lo Mein Noodles with Chicken – stir-fried egg noodles, Napa cabbage, carrots, bean sprouts, and scallions. This was good but not awesome – the Shrimp Pad Thai I had last time was much better. I still enjoyed part of it (I was too full to eat much of it), and took about 2/3 of it with me, figuring it would taste good after one of the races (and I ended up eating it after the half marathon, when it tasted REALLY good).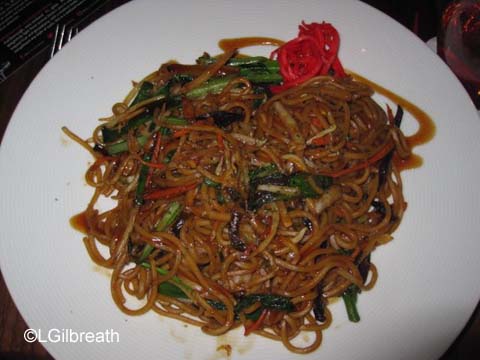 Lee tried the Singapore Laksa Noodle – creamy coconut and spicy curry, rice noodle, chicken meatballs, and soy marinated egg. He was disappointed in this. He didn't care for the chicken meatballs, and thought the curry didn't have enough coconut flavor. I tried it, and it was a bit too spicy for me. He also ended up taking about 1/2 of it with him, which he also ate after the half marathon. Things taste a lot better after a half marathon when your body is just saying: "FEED ME", and you're shoveling it in as fast as you can. 🙂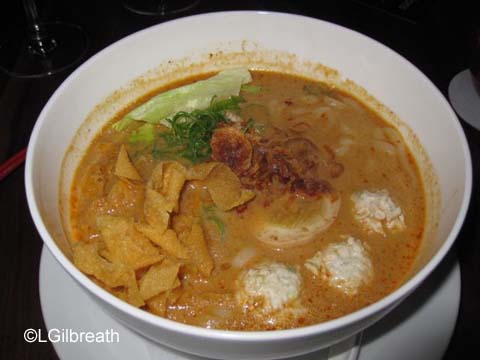 We'd left some room for dessert. I would've liked to have had the MM Parfait again, but there was no way the two of us were going to make any serious inroads on that! So we tried the Churro Fondue instead. Housemade churros, with Nutella and vanilla cream sauces. The churros were freshly made and hot, but I thought they were a little doughy inside. They were dipped in sugar – I would've preferred cinnamon sugar, though. I really liked the Nutella sauce, but Lee preferred the cream sauce. I didn't think it was very creamy – it was a little too thick.
When our server brought us the dessert menu, I had a chuckle over a typo under the tea selections. I guess this is not the Mos Eisley Cantina, and they serve droids here. 🙂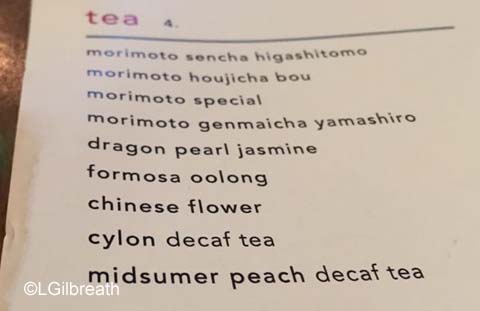 Cylon Tea
It was still a really good dinner – we loved the appetizers. Next time (and there will be a next time!) we might just do appetizers/sushi/dessert and skip the entree. This is not a quiet intimate experience – the restaurant is very noisy. Though our table, being along the edge, wasn't as noisy as the one I sat at the last time. I think one of the tables along the outside wall might be better, also.
Friday morning we went to Animal Kingdom. As a snack we tried the Smoky Cheddar Grits, served with pulled pork and bread-and-butter pickles, from the Smiling Crocodile kiosk. We'd wanted to try this in February but the kiosk was closed, so we were happy to see that it was open. At $5.99 it's a pretty small serving – the size of the bowls you get at the F&W Festival. But it was really good – once Lee pulled the green peppers out of it. Ick. The pork was moist and flavorful and the grits were very cheesy – even had little bits of cheese in them. Yum.
That afternoon we went back over to Epcot to sample from some of the food booths we hadn't yet tried. First was the Cider House at the UK. We wanted to sample three of the food items. Unfortunately they had just run out of the corned beef and cabbage that Lee wanted to try, and wouldn't have more for 15-20 minutes. But we tried the Land-harvested Field Greens with Apples, Dried Blueberries, Stilton Cheese and Apple Cider Vinaigrette. This was a nice salad, though I don't care for blue cheese.
We also ordered the House-made Potato and Cheddar Cheese Biscuit with Smoked Salmon Tartare. We both really liked the biscuit. I also enjoyed the salmon tartare, especially with the little bit of fresh dill, but Lee let me eat most of that. 🙂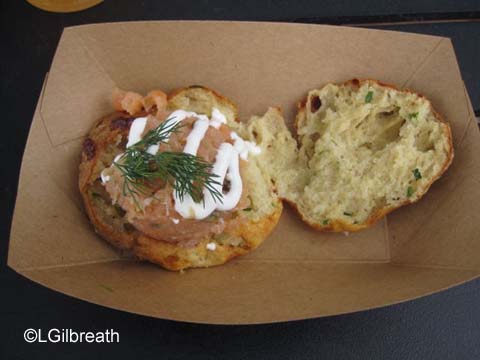 We washed it down with two of the ciders: Keel & Curley Mad Man Blueberry Hard Cider for Lee and McKenzie's Black Cherry Hard Cider for me. We tried what the other had ordered, and both were happy with our own choices.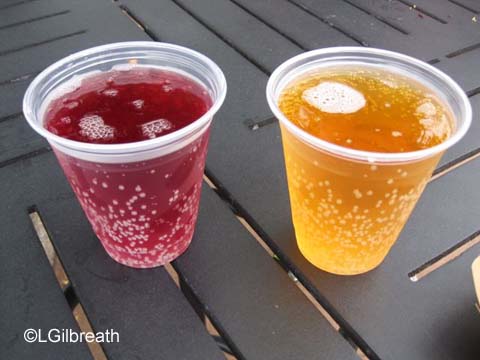 Next stop was Hanami in Japan, where we ordered all of the food items. First up was a Chicken Edamame Bun: Steamed Bun filled with Chicken and Edamame and topped with Curry Sauce. It was very good – maybe my favorite Festival item. The curry sauce was more like a curry aioli, but it really added a lot of flavor to the bun and the filling inside. Yummy.
One of Lee's favorite items was the Beef Teriyaki Udon: Thin-sliced Beef, Onions and Noodles tossed on the grill with Soy and Ginger. We ordered this and the steamed bun again on a later visit.
We also tried the Frushi – Fresh pineapple, strawberries and melon, rolled with coconut rice, topped with raspberry sauce, sprinkled with toasted coconut and served with whipped cream on the side. These were tasty, though the fruit leather they were rolled in was a bit odd. And they gave us an awful lot of whipped cream – we didn't use very much of it.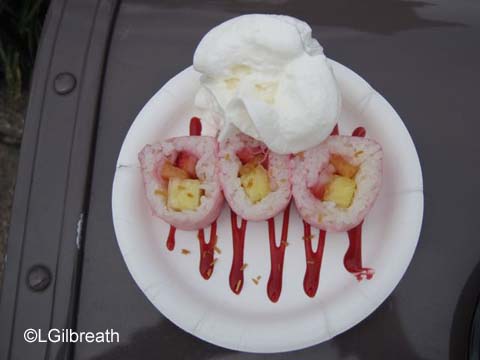 We decided that Japan won the award for most attractive presentation of their food items. They really were very pretty.
I also tried a Desert Rose from Taste of Marrakesh at Morocco. It was sparkling wine with pomegranate liqueur. It was very pretty, though a little too sweet. At $7.00 it was the cheapest sparkling wine I had, though!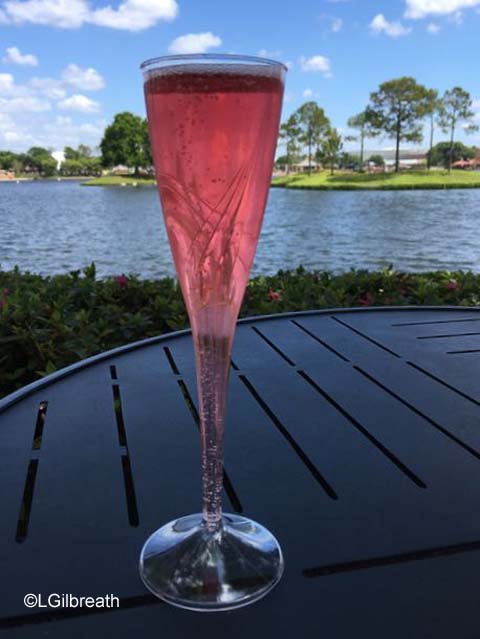 That evening we met friends at the Crew's Cup Lounge at the Yacht Club for dinner. I hadn't realized this place existed, much less that they served food! It was a really nice place to hang out with friends and enjoy some beverages and conversation. I tried the Tomato and Mozzarella Sandwich. It was excellent – plenty of thick-sliced fresh mozzarella, with nice slices of tomato and pesto sauce on toasted sea salt foccacia. The bread was very good also. I had a choice of house-made chips, French fries or pasta salad and chose the chips – they were crisp and salty and yummy.
Lee ordered the Angus Cheeseburger – he had his choice of cheese, and it came with lettuce, tomato, onion, and French fries. He said it was an excellent burger.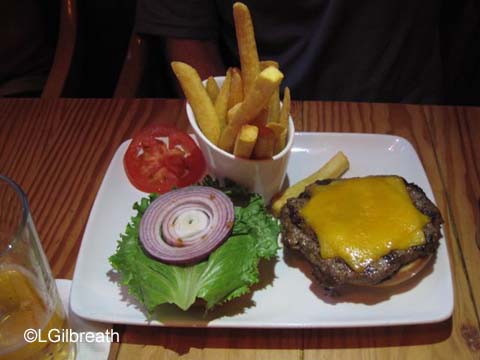 Saturday morning after the 10K we went to the Boardwalk Bakery to get something to eat. I got a great big Sticky Bun. After a 10K I figured I was entitled to it. The pastry at the bakery is lighter and not so doughy, which I really like. So this was not as huge and filling as it looked, though I was still surprised that I ate the whole thing.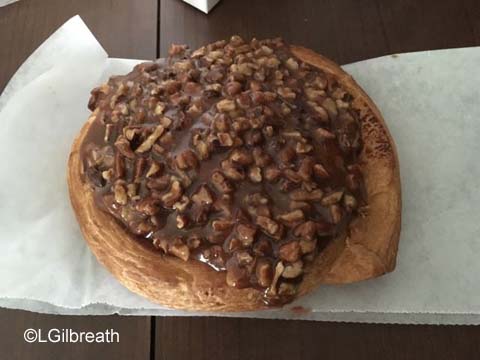 We went to the Studios later that morning…after using our Star Tours Fastpasses we were hungry, and the Backlot Express was about to open. This place has a Star Wars overlay menu now. We both had the Dark Side Chicken and Waffles, though Lee had the adult portion and I had the kid's meal. I wasn't expecting chicken nuggets as the chicken part, though at least they were tasty chicken nuggets.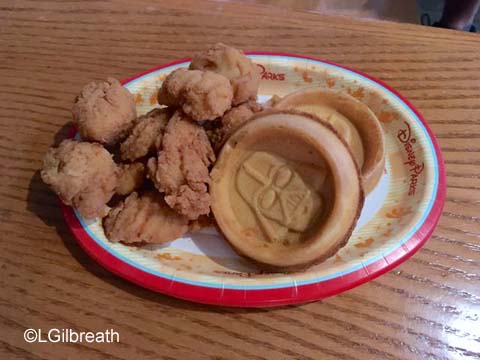 I was surprised that my kid's meal came with fries – the menu said carrots and applesauce, which was actually what I wanted. I enjoyed it all, though, and it was plenty of food for me. At $7.99 the price was not too bad, either, especially since it included a small bottle of water.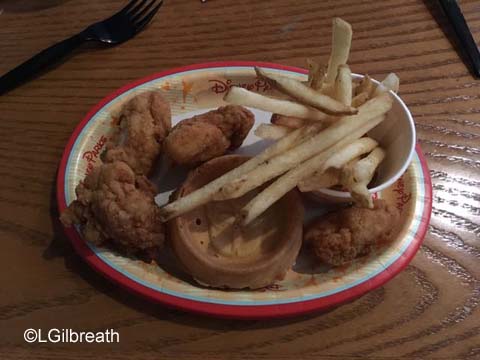 The friends with us got their food on the lucky orange tray, which meant that they were invited to choose a free dessert. They chose the BB-8 cupcake, and shared with the rest of us. It was lemony, and just ok. We were all glad that no one had paid for it. The "pebbles" on the outside were candy covered chocolate – but very inferior chocolate.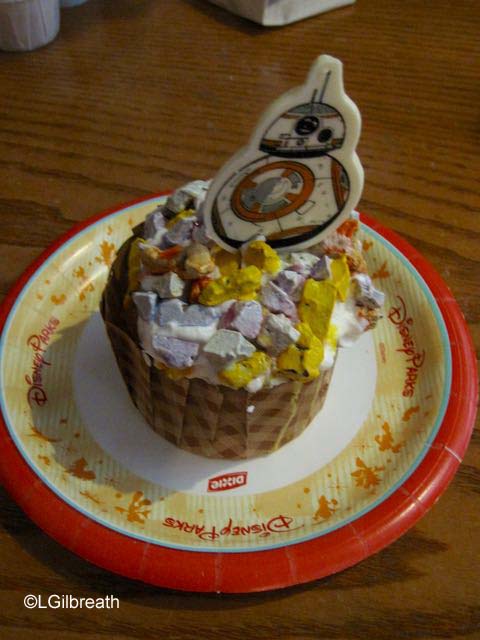 Saturday evening a group of us went to Il Mulino in the Swan Hotel for our pre-half marathon Italian dinner. Our reservation was at 5:00, which was when the restaurant opened. We were seated pretty quickly at our table for 11 people. The server was a little slow getting drinks and initial orders taken, but after that things moved along ok.
Lee and I ordered Parmigiano Reggiano for Two as an appetizer. I think I forgot to take a photo of it. But it served more than two people! Quite a lot of really yummy cheese for $10. We passed it down the table and a few other people partook and we still had about 8 pieces left that we took with us at the end of the meal.
We also shared an Insalata Trattoria, which our server split onto two plates. Nice selection of greens with fennel, red onions, and pine nuts.
As an entree I chose a half order of the Pappardelle Pasta with a tomato basil sauce. I'd had this before and thought there wasn't quite enough sauce, but this time it was a more generous serving. Still very tasty and I enjoyed it – and a half serving was plenty for me.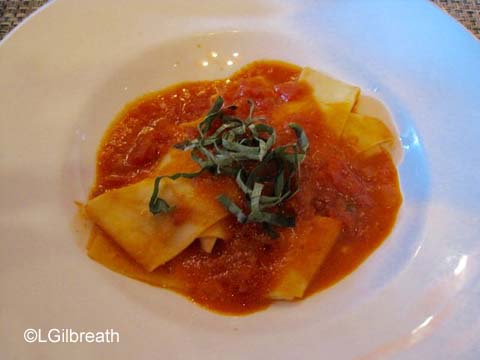 Lee tried the Spaghetti Carbonara – spaghetti with pancetta, cheese and egg. He ordered the full serving, and managed to finish all of it.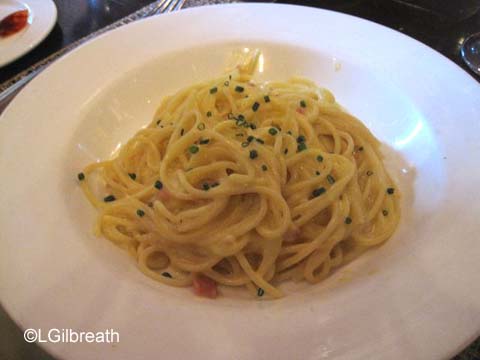 While most of us enjoyed our dinners, one of our fellow diners ordered the Pollo Parmigiana and did not like it at all. It was very tough, and she couldn't cut it. Our server apologized, offered to bring her something else, and did not charge her for the entree. Unfortunate, but they tried to do the right thing.
The restaurant is pretty noisy, but fortunately it wasn't packed with diners, so it wasn't as loud as the last time I'd eaten here. (Obviously I came back, because I did enjoy the food I had last time.)
We all passed on dessert though the Torta Di Cioccolati (flourless chocolate cake) was tempting.
I found Il Mulino to be a nice alternative to the Disney restaurants like Mama Melrose, Via Napoli, and Trattoria al Forno which always seem to be disastrous dining experiences on the night before a half marathon. And actually there were a number of menu items that I'd enjoy trying when I don't have a race the next day.
For "breakfast" on Sunday after the half marathon we finished our Morimoto Asia leftovers. 🙂 That afternoon we went to Afternoon Tea at the Beach Club – but that is going to be a whole separate review coming soon to the All Ears Team blog. It was a very nice experience.
Sunday evening we had dinner at The Hollywood Brown Derby with our friends Dave and Holly. The restaurant was very busy and loud…so we were very pleasantly surprised when the hostess led us to a separate room at the back of the restaurant. It was so nice and quiet in there! There was one large group in there, plus two tables that were set for four people. It was really, really a very welcome oasis of calm. So nice to talk to each other without shouting!
Our server was not very good. He seemed to keep getting lost, or forgetting about us. It was a long time before we got any water or bread. Dave's drink order was messed up (though that might have been the bartender), and there was confusion about Lee's wine and he brought me the wrong salad.
I ordered a sparkling wine flight, with a prosecco, Iron Horse Fairy Tale Cuvee, and Rosa Regale. It was very nice.
Holly had a martini flight, with a gin martini, citrus vodka martini and cosmopolitan. Such cute little martini glasses!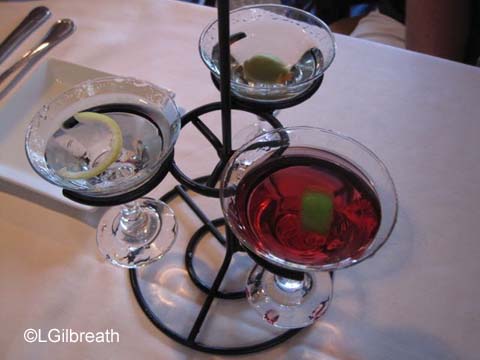 For an appetizer, Lee and I both ordered the Local Greens – tossed in champagne vinaigrette, with blueberries and peaches, Laura Chenel goat cheese, spiced candied pecans. It was a really nice salad.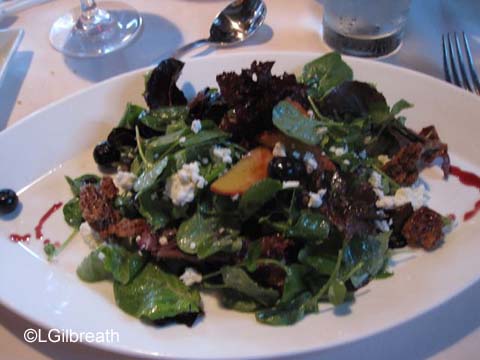 Dave tried the Tomato Soup.
As an entree I ordered the salmon, which was very tasty. It came with roasted potatoes, crispy leeks, English peas, and cauliflower puree.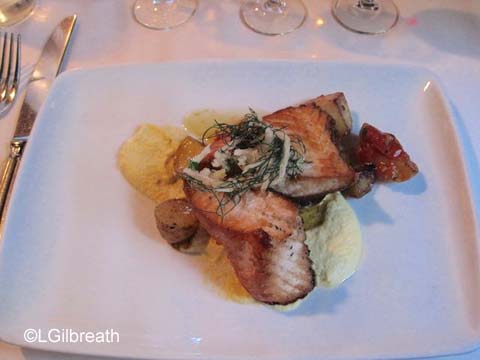 Lee and Holly both ordered the Charred Filet of Beef РCabernet and Shallot Butter, Forest Mushroom and White Truffle Oil Mashed Potatoes, Saut̩ed Rainbow Carrots, Haricot Verts, and Red Wine Reduction. They were both pleased with it and the way it was cooked to order.
Dave had the Pork Three Ways with a grilled wild boar chop, pork rillette, and crispy pork belly. Served with sweet corn and chili spoonbread.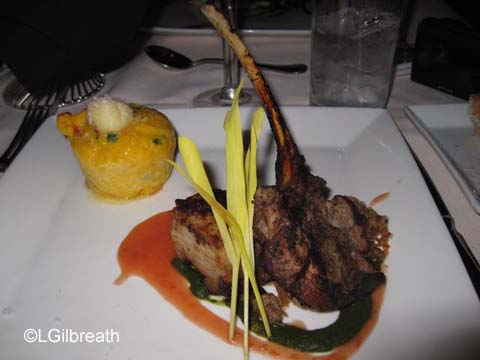 Desserts are served as a choice of three mini desserts now – no full-sized servings of anything (even the famous Grapefruit Cake). We were disappointed in the dessert choices, so didn't order any of them. Our choices were: Amaretto Flan and Opalys White Chocolate Whip (whatever that is), Warm Blueberry Cobbler, Chocolate Mascarpone Sphere, Double Vanilla Creme Brulee, Banana-Toffee Cake, and the aforementioned Grapefruit Cake.
The food was good, the service was so-so. The company was terrific, and we really enjoyed being in the "quiet room" – we were sorry to leave it. And we probably lingered longer than we would have if we'd been in the main dining room.
Monday was our final park day – we had an evening flight home. We started with breakfast at Trattoria al Forno. We've eaten breakfast here several times since the conversion from Kouzzina. Mostly because it's the only place to get a hot breakfast at the Boardwalk rather than because we really love the food.
I ordered something new this time: Breakfast Pizza, with sliced potato, tomato sauce, and cracked egg. Normally it also comes with fennel sausage but I requested bacon instead. It was really good, and VERY filling – it was unfortunate that it was our last morning because otherwise I would've had most of it to take with me. As it was I ate the eggs and two pieces of the pizza, and picked off the potatoes and bacon from the rest.
Lee had the Frittata – with red peppers, prosciutto, onions, potatoes, and pecorino romano cheese topped with arugula. It was served with breakfast potatoes and a multi-grain croissant.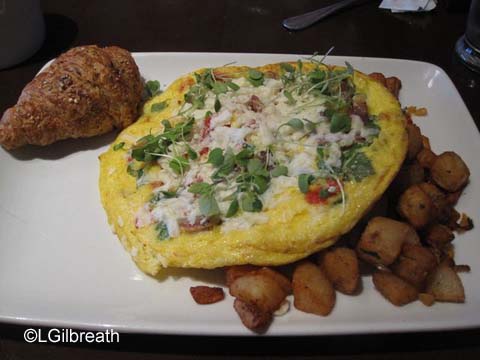 Monday afternoon we made one last circuit of the food booths at Epcot. We had a few favorites a second time, but also tried some new items. Lee was able to get his Pear Cider-brined Shredded Corned Beef with Braised Cabbage and Pears and Branston Dressing from Cider House this time, and enjoyed that.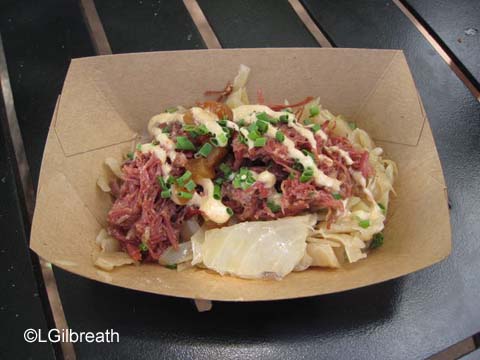 We also tried the Lemon Scone with Créme Fraiche and Mixed Berries. I thought this was very good – it wasn't overly lemony (and that's a good thing). I was very surprised to read that this was gluten-free – it certainly didn't taste like it.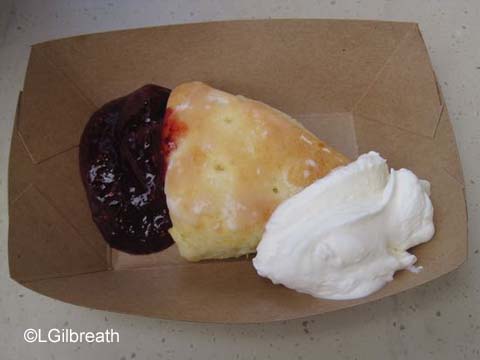 Lee sampled a Frozen Strawberry-Lemon Sunset — Layered frozen Strawberry and Lemonade topped with Grey Goose Vodka from the coffee kiosk near the American Adventure. He said it would've been better without the vodka. 🙂
From Florida Fresh we ordered Kale Salad with Dried Cherries, Almonds, Goat Cheese and White Balsamic Vinaigrette. This was very good – I think it was the best salad I had anywhere the entire weekend.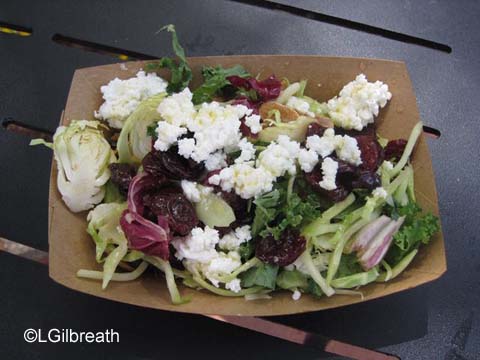 We finished our food adventure at Japan, where we ordered the Chicken Edamame Bun and Beef Teriyaki Udon again. And I also tried a Yuzu Plum Wine Slushy. It was different…not bad, but not my favorite beverage.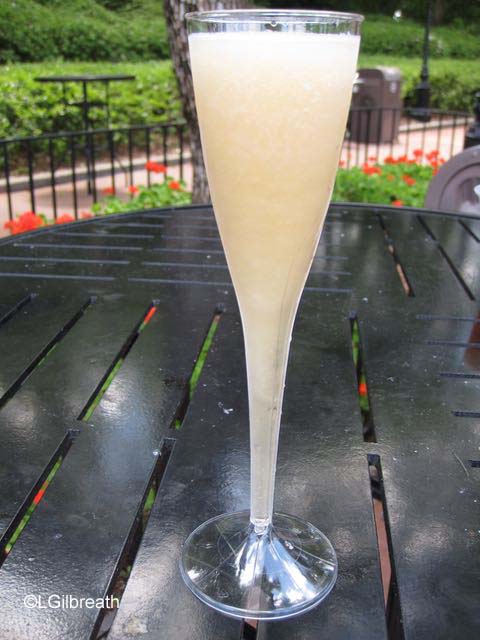 I really enjoyed the mini Food and Wine Festival aspect of the Flower and Garden Festival. It wasn't nearly as busy, so it was a much more pleasant experience. And with fewer food booths it seemed like there were more tables set up – only rarely did we not find an open table. I enjoyed the selection of foods and beverages – with fewer food booths the choices weren't so overwhelming.