A long time ago, in a galaxy far, far away…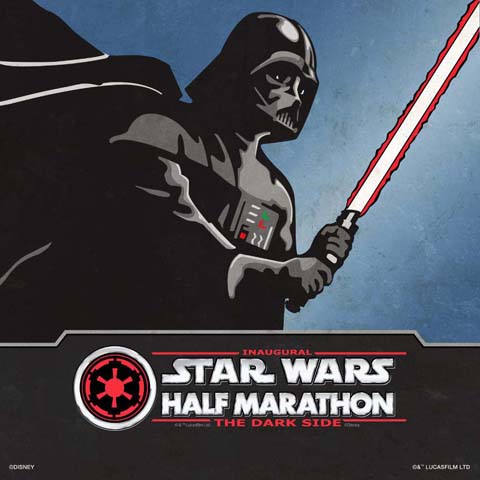 Sunday, April 17 – Half Marathon
The half marathon was scheduled to start at 5:00, rather than the usual 5:30. Even though we knew that, the alarm going off at 2:15 was still a shock. The buses started running at 2:30, but we were driving, so we left about 3:00. As we walked to the car we could see two buses waiting to transport runners. No one was getting on them, so there wasn't a line. Looked like Disney was much better prepared than the day before.
We had little traffic on our drive, and even ended up in the same row of the parking lot that we had for the 10K.
I forgot to mention the bag check area. As usual, everyone needed to pass through the security perimeter. There was a queue set up for those who had bags, but there were plenty of people checking. There was no line when we went through.
The characters were out again. I wanted to get a photo with Captain Phasma but the line was long and not moving at all, so we skipped the photos – all of them had pretty long lines.
It was a much cooler morning than the day before – 64 degrees, lower humidity, and a cool breeze. Very nice running weather, and we were thankful that the half marathon had not been the day before! It was a bit cool for sitting around, though, and most of us were sporting various fashions of trash bags or runDisney mylar sheets saved from previous races. (Lee and I have quite a collection of them at home.)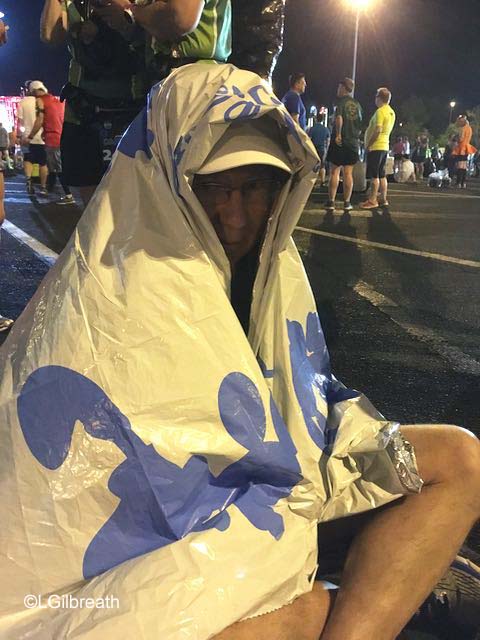 There were over 50% more runners than in the 10K so the pre-race area was much more crowded. We were sent to our corrals about an hour before the race, and that was a pretty slow shuffle most of the way – until the split for A-G and H-L.
I was in corral G, but everyone that I was planning to run with was in corral F. My friend Kim was also in G, and she managed to wend her way through the runners to place us near the front of the corral.
While we were waiting, there were clips from the various Star Wars movies shown on the big TV monitors.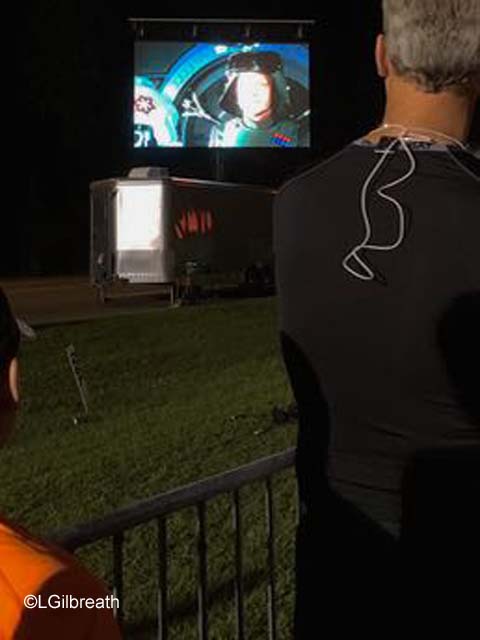 The race started pretty close to 5:00, with the usual burst of fireworks. For A-G the release was spaced 5 minutes apart – I'm not sure about the later corrals. Those are larger, so there may have been more time between them.
Kim got me right up to the start line – I've never been up there before! I got a smile and a wave from race announcer Rudy Novotny, who also lives in San Diego.
Kim told me "Go get them", and when Rudy said "Runners…Set…Gooooooo!" I went.
The proof of time thing really seems to be working. I was one of the faster runners in the corral, and very few people passed me in the first mile. There were several guys ahead (and pulling way), but I ran by myself for about .2 miles. At .4 miles I caught up with the walkers at the back of corral F.
Even once I caught up with F the course was much less crowded than it had been the day before.
The first part of the course was similar to the 10K, with R2D2 in Epcot's backstage near mile 1. In addition to the long line for R2, there was a line for photos with the mile marker! So I didn't stop for that.
I caught up with my group not long before we entered World Showcase. Our entry point was still near Mexico, this time we went left towards Norway and around to the International Gateway. I think there was a character somewhere along there, and Chewie was again by the International Gateway.
Another difference from the day before is that we ran by the Yacht and Beach Club resorts this time before getting to the dreaded canal path. It wasn't as bad as it was for the 10K – but I had also started ahead of a lot more people than I had the day before. We had a group of 9 running together, so we tried to stay mostly single file where it was narrow.
We took the same route through the Studios that we had for the 10K – down Hollywood Blvd, then Sunset, and past the Tower of Terror. Kylo Ren and some Storm Troopers were on the stage in front of the Chinese Theater. (Kylo Ren and the Storm Troopers – that might be a good name for a rock band.)
The first set of Cosplayers was backstage behind the Tower of Terror, but again, there were lines. The Emperor's chair was in that area again, too.
This time when we reached Osceola Parkway at about mile 5 we went right towards Animal Kingdom. Lots of running room, which was very nice.
At just before mile 7 we reached the Animal Kingdom toll plaza – it was about sunrise.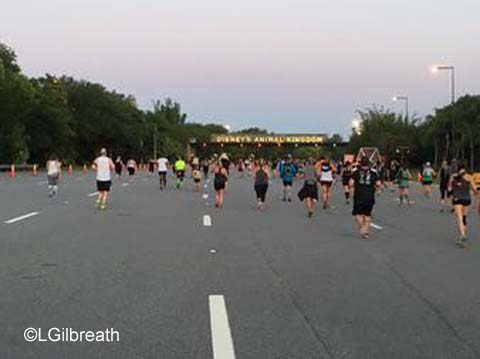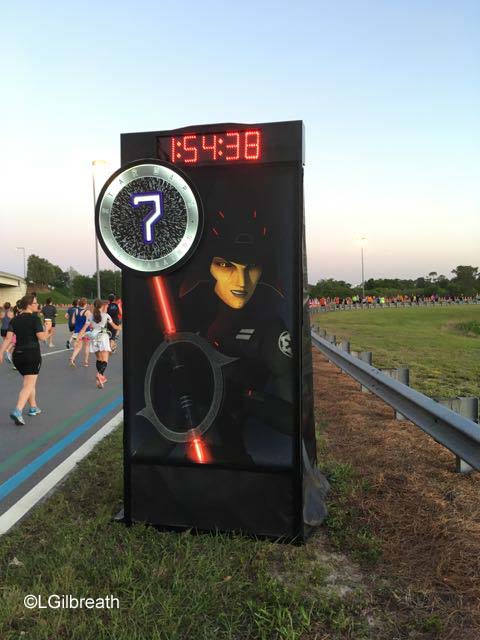 We took a big turn around the parking lot before going backstage. The Wampa ice cave photo op that they'd had at Disneyland's Star Wars race was set up there. With a pretty long line, of course. 🙂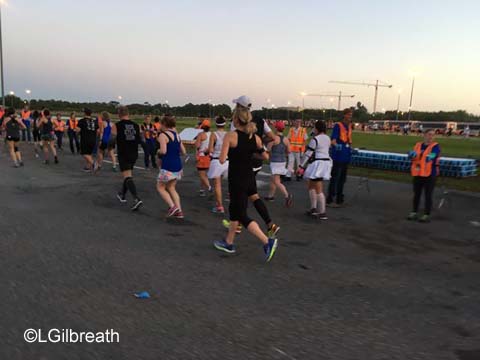 The course took us through a fair bit of Animal Kingdom, from Dinoland around to Asia past Expedition Everest, though we turned left at the first bridge instead of going all the way to Harambe.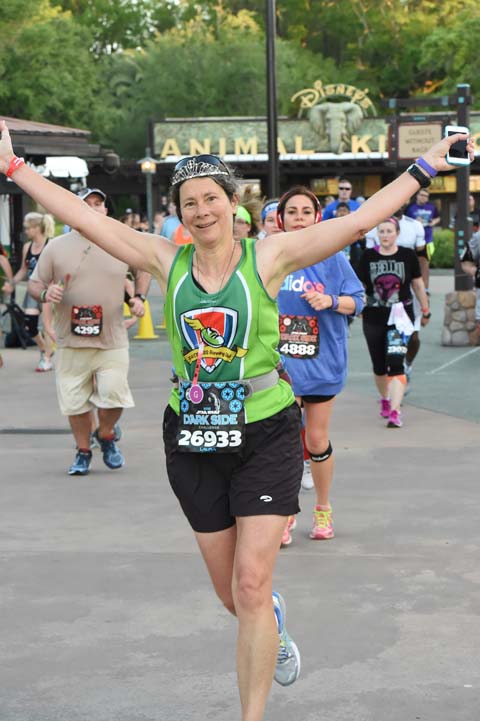 We ran past the Tree of Life and out through the Oasis. The second set of cosplayers was just inside the park entrance. No lines for photos, but I took this video. Not the number of folks that we've seen in California, but we appreciate all of them coming out to cheer us on!
As we left the Animal Kingdom area and hit mile 10, we could still see a lot of runners who were over three miles behind us still heading towards Animal Kingdom. There were a fair number of people who had come out to cheer us on from the overpass near the McDonalds.
By now the sun was up, and it was a clear day. I had been concerned that it would warm up quickly, but the temperature was still holding at 64, and we still had our cool refreshing breeze. It was a lovely day to run.
I was surprised that there was very little on-course entertainment in the form of cheerleaders and bands for this race. There were some DJs, and several big screens showing Star Wars clips, but I only remember one band, and no cheerleaders.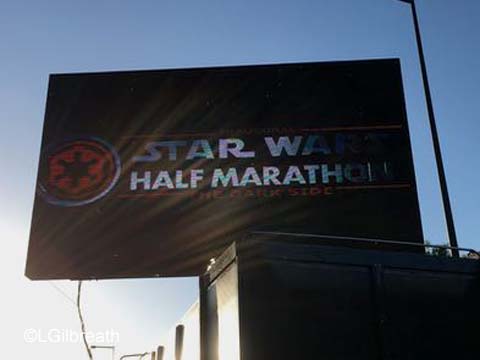 About mile 10.5 we saw the "Balloon Ladies" on the other side – appropriately carrying Death Star balloons. Many of the runners on our side called out encouragement to those on the other side.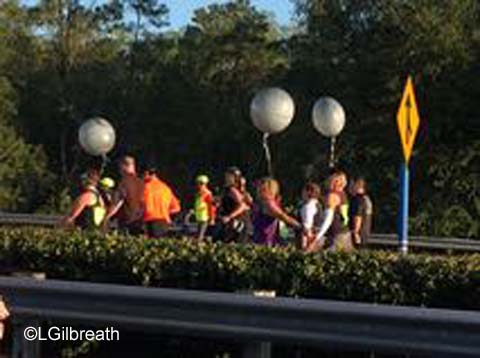 Our merry little band of runners was moving along just fine and keeping each other entertained and motivated. When you're not going for time I think it really is easier to run with a group, especially mentally. It made the race go much faster for me.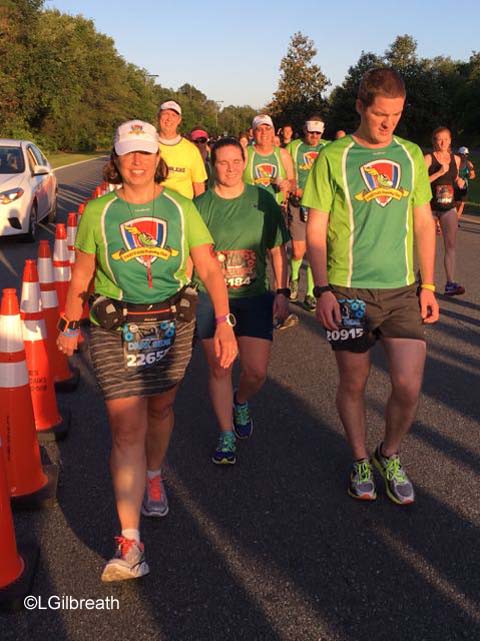 As we approached ESPN Wide World of Sports we ran on the same gravel path we did the day before. One of the props there was the leg of an AT-ST Walker (apparently recovered from the Forest Moon of Endor). The Speeder Bike photo op was also there again.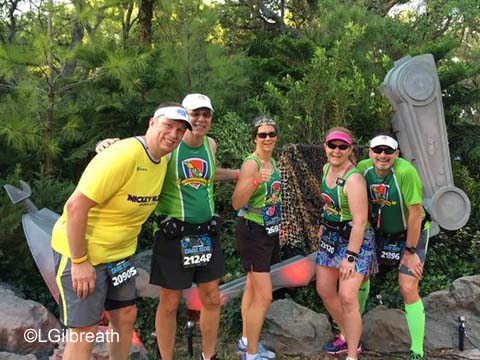 The last mile+ of the course was the same as it had been for the 10K, though it didn't seem quite as congested as the day before.
We made it to the finish – my time was 2:45:51. A nice mellow pace, and I was still feeling pretty good at the end, though my feet were tired.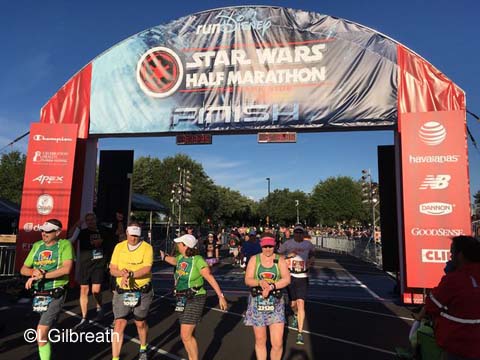 After we finished there were volunteers handing out the Dr Kool towels – those felt really good, even though it was still only about 65 outside. We also could pick up the usual bottles of water and PowerAde, and the runDisney snack box and a banana.
We got our half marathon medals, then went to the Challenge tent for our Dark Side Challenge, and most importantly, our Kessel Run medals. One interesting thing about the medals: there were a number of people who picked up both their Kessel Run and blue Coast-to-Coast medals that day! They allowed people to use the two Star Wars races for both. We'd gotten our blue Coast-to-Coast at the Princess Half in February. I was just as happy NOT to have one more medal around my neck. 🙂
For the official finisher photos, PhotoPass put a nice border on the bottom – there were different stations for the half marathon, Kessel Run, and Coast-to-Coast.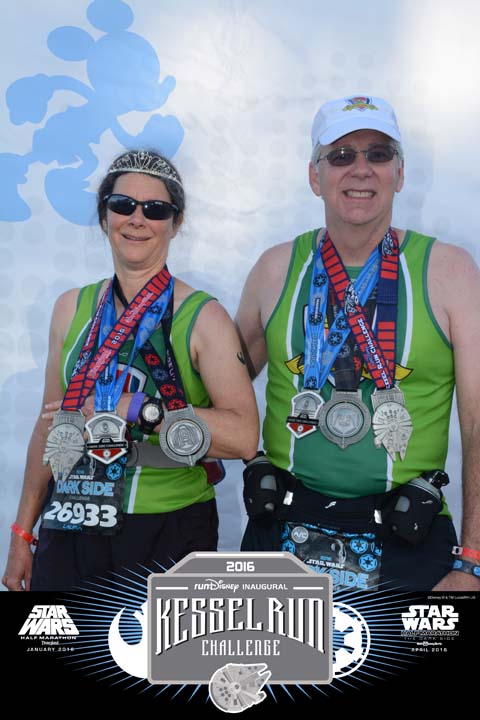 We got our group together for a photo.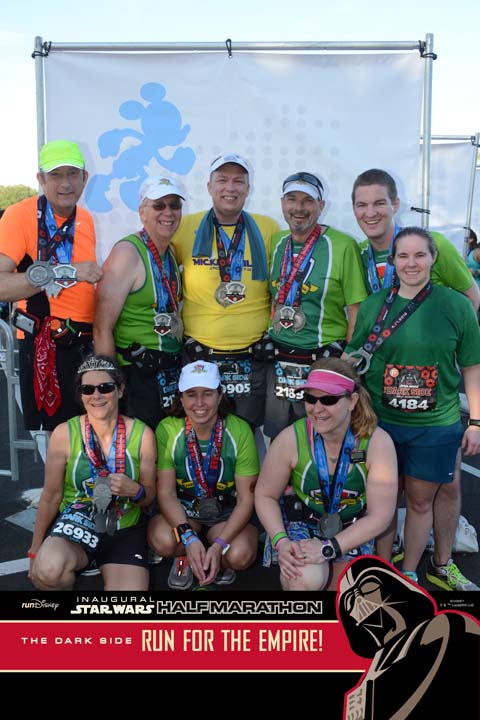 One surprising (and disappointing) thing about the finish area: it's in a different county than Epcot, and because of that, they couldn't sell beer and wine in the finish area on Sunday until after 11:00! (We finished around 8:15.) I had been looking forward to a celebratory glass of champagne, and most of the rest of our intrepid band had been looking forward to a beer. I guess the good news was that Dave, our advance scout, had already discovered this, so we didn't waste time heading over to that area after we finished…Lee and I decided to just go catch the bus.
The bus situation was MUCH improved. I'm not sure if part of that is because I finished ahead of more people than I had the day before, or changes that Disney made, or both. Certainly they had completely changed the location and queue for the Epcot bus, which is what we took. It was a very long queue off to the side, and there were a lot of buses lined up waiting. It took us a while to walk the queue, but we were moving the whole time, and essentially walked right onto a bus – they were loading three at a time. In speaking with friends who took buses back to their resorts, they also reported that the bus service was much better – anywhere from no wait to less than 15 minutes in a line that was consistently moving.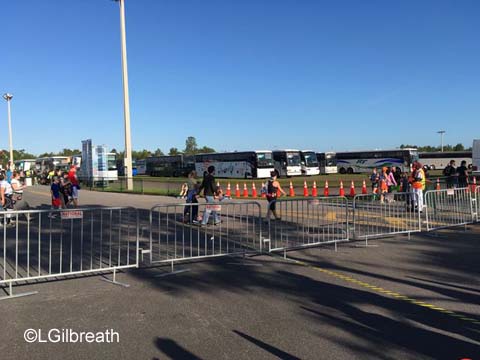 The half marathon was a much better race for me than the 10K – starting in an earlier corral made a lot of difference. At the front of G, I figure I started before 2/3 of the runners – there were 18,171 official finishers. While the first 3+ miles of the race was still more congested and narrow than I would've liked, conditions were much better than they had been the day before. The rest of the course was fine, and I especially enjoyed all of the running room we had when we ran both directions on Osceola Parkway.

I'd essentially run this course backwards previously for the Wine and Dine Half Marathon, which has been at night. (Though it will be a morning race this year.) I have to say that it was nice to run through Animal Kingdom during the day rather than at night.
And although I know runDisney is trying to change things up, I'd rather see the Star Wars race also start at ESPN and end at Epcot like Wine and Dine does. That three miles at the start from the Epcot side is just too narrow to support the number of runners that are all bunched together early in the race. And not being able to buy beer and champagne at the end??? GASP!
I thought the whole Dark Side theme was well done. I really liked the race medals for these races – very nicely designed. As were the race shirts. I thought it was a little odd having "Light Side" characters on the course, like R2D2, Chewbacca, and Ezra/Sabine. But there was a really good selection of Dark Side characters in the start and finish areas.
I'm a big fan of the new PhotoPass system for race photos. The photos seem to be of much higher quality and there are a lot more of them than before. AND I don't have to pay an exorbitant fee for them – they are included since I am an annual passholder!
runDisney has already announced the dates for next year's Star Wars – The Dark Side Half Marathon Weekend – April 20-23, 2017. I was chatting with Cindy (Hi Cindy!) who pointed out that next year's dates are the week after Easter. And that for those of us who are DVC members, that week falls into Premier Season, where point costs are very high – 30-40% higher than for Magic Season. I hadn't realized that. Wow. Not to mention that the weeks before and after Easter are always very busy at the parks.
We had a good time this year, and I'm very happy to have my Kessel Run medal, but I think we'll probably pass on this race next year. I think we'll concentrate on the Star Wars Half in California instead – it's a lot easier for us to get to, and I prefer the course, the characters, the weather, and the logistics in general.