A long time ago, in a galaxy far, far away…
But really, it was only last summer that runDisney announced a new Star Wars Half Marathon weekend to be held in Florida in April, 2016. But this one would have a Dark Side theme. All of the usual races: Kids Races, 5K, 10K, half marathon, and 10K/half marathon challenge. For those who also ran the Star Wars Half Marathon at Disneyland there would be a new coast-to-coast challenge: The Kessel Run, with a medal shaped like the Millennium Falcon!
Lee and I, as you might expect, signed up for the new Dark Side Challenge – running the 10K and half marathon on consecutive mornings. Since we were also running the Star Wars Half at Disneyland we also qualified for the Kessel Run Challenge. All of the races sold out very quickly. But we were surprised when registration for the half marathon and the challenge re-opened briefly a couple of months later. It again sold out, though.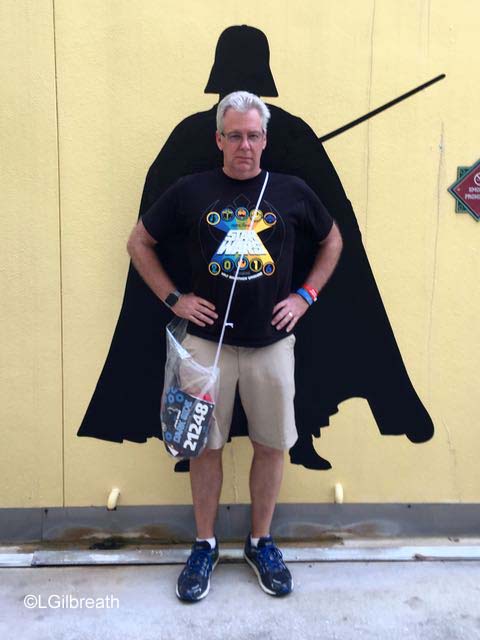 There were new courses for the 10K and half marathon, since both of those races would start at Epcot and end at ESPN Wide World of Sports. The half marathon looked like essentially a reverse of the Wine and Dine Half Marathon course, which starts at ESPN and goes through Animal Kingdom, Hollywood Studios, and Epcot. The 10K would be completely new, though, and go through Epcot and the Studios before finishing at ESPN.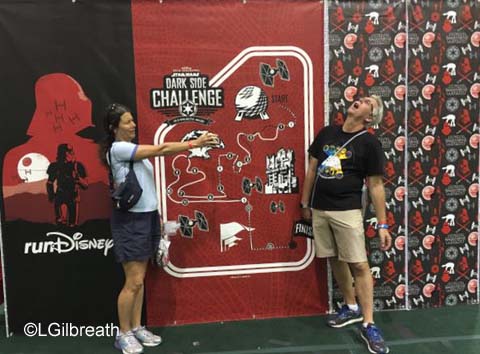 I find your lack of running disturbing.
I was concerned about transportation since the start and finish were in different places, and parking at ESPN would not be allowed. Everyone who drove themselves to the start would require transportation from the finish area back to Epcot. The rumor was that the 10K had 12,000 runners and the half had 19,000, and that's a lot of people to move around. Any bags that runners checked at the start line needed to be transported to the finish. And there were separate start and finish areas, which meant multiple sets of porta-potties, medical tents, concession stands, entertainment stages, etc. Yes, Disney has done that sort of thing before, but it looked logistically challenging.
Thursday, April 14 – The Expo
Lee and I had arrived at Walt Disney World on Wednesday night. The Expo opened on Thursday morning, and we knew that it would be a zoo, with great demand for all of the inaugural merchandise. So we didn't go until about 2:30 on Thursday afternoon. By then there were no lines for packet pick-up or to enter the merchandise area.
I was happy to see that the individual race banners were back at the entrance again – they were missing for Princess weekend.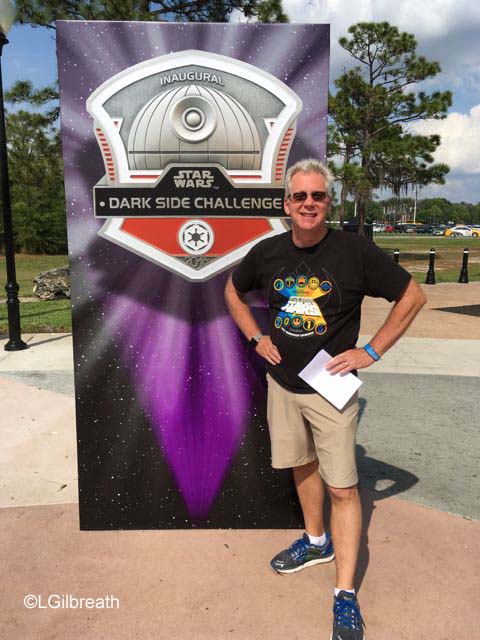 A view of the show floor at about 5:00 p.m.
Some of the merchandise was already sold out. Except for Kids Races there were no magnets left, which is my usual race weekend souvenir. And almost nothing that said "Kessel Run". There was a Kessel Run Challenge shirt, but my size was the only one still available, and there weren't many of those. Lee was very disappointed not to get a Kessel Run shirt.
There did seem to be plenty of "I Did It" shirts. Though the women's version of the Dark Side shirt was pink. "Pink" and "Dark Side" do not go together. (Now that I think about it, I didn't see anyone wearing one, either.)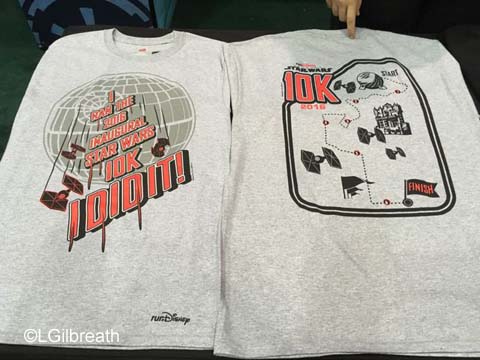 It was nice to see and "I Did It" shirt for the 5K.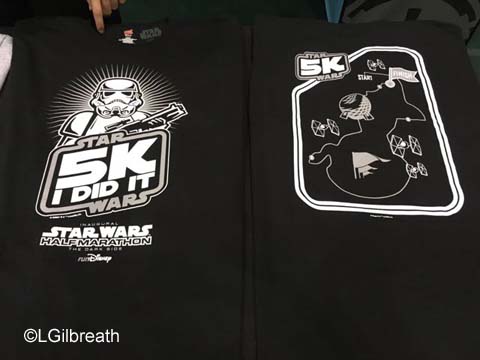 There were still some fun shirt designs left, though.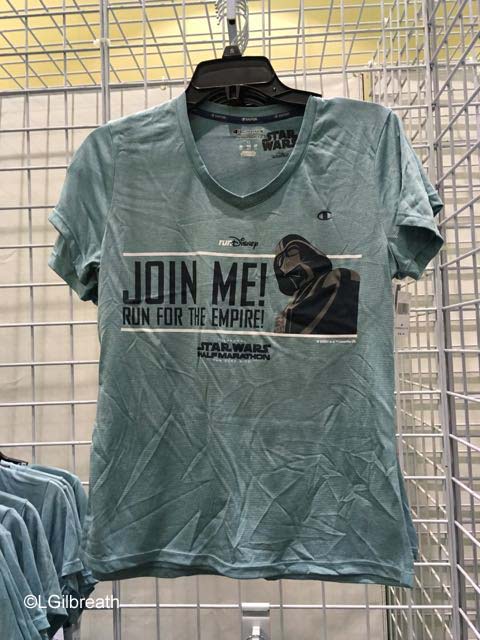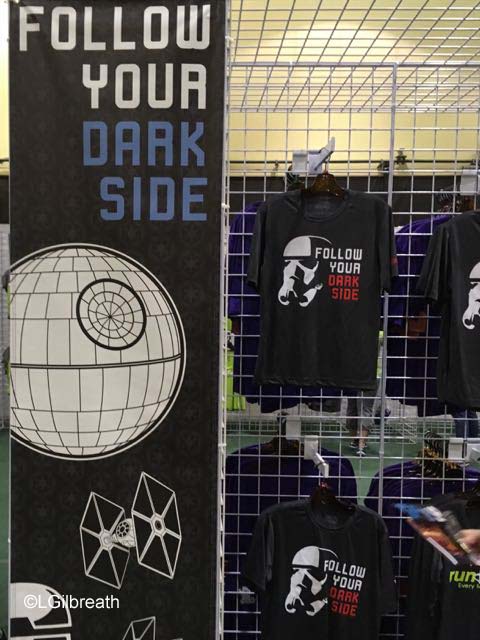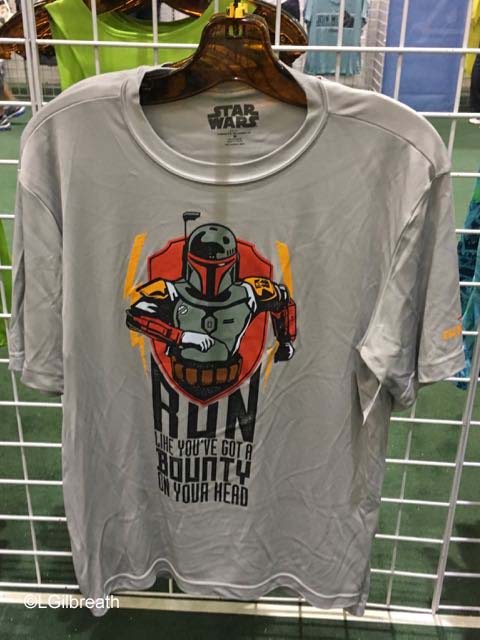 The race weekend shirt was a nice design on both front and back and Lee and I both bought one of those.
I was able to buy my mini-medal pins of the half and challenge medals, also, but not the Kessel Run medal. So the good news was that there was still some merchandise left, even if it wasn't everything we wanted. I still don't understand why they don't impose quantity limits on race merchandise.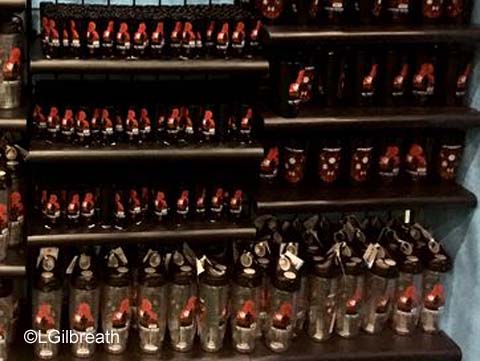 But of course we also had three new race shirts. I thought the designs were nice, though I didn't need yet another gray shirt.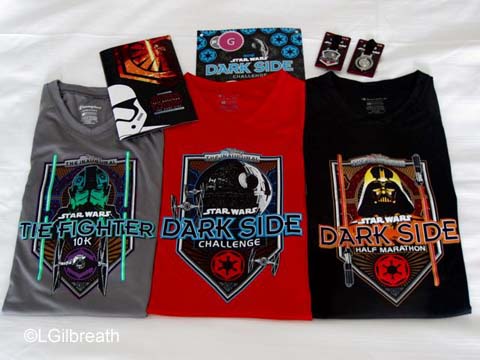 We didn't run the 5K, but that shirt was nicely done as well. (Thanks Helen, for use of the photo.)
The Expo done, we had time to enjoy WDW before our first race on Saturday morning. This was a slightly longer trip for us and it was great to have most of the day Thursday and Friday to go to the parks before rather than having to rush to our first race day.
Saturday, April 17 – 10K
The race started at 5:30 and the buses were due to start running at 3:00. We decided to drive to the start at Epcot. (Actually we swapped driving duties with friends: they drove us all to the 10K, we drove us all to the half.) The secret to driving yourself is not to use it as an excuse to sleep in. We get up almost as early as we would if we were taking the bus, and that way traffic and parking are still easy.
It was a very warm and humid morning – already 70 degrees at 4:00 am! There was a chance of thunderstorms, but fortunately those did not materialize. But it was humid.
I could never get inspired to make a Dark Side costume so I wore my Rey costume instead. But without the arm wraps – too warm for those. This photo was taken by a Disney PhotoPass photographer. That's one thing that was new with this race weekend – no more MarathonFoto. Instead there were PhotoPass photographers all along the courses and at all of the photo locations, and all of our photos were included as part of our registration! There was information on the back of our race bibs on how to link our race photos to our PhotoPass accounts. It worked really well for the most part. I was really pleased – I had more race photos than I have ever had from MarathonFoto – and they were free! Well done, Disney.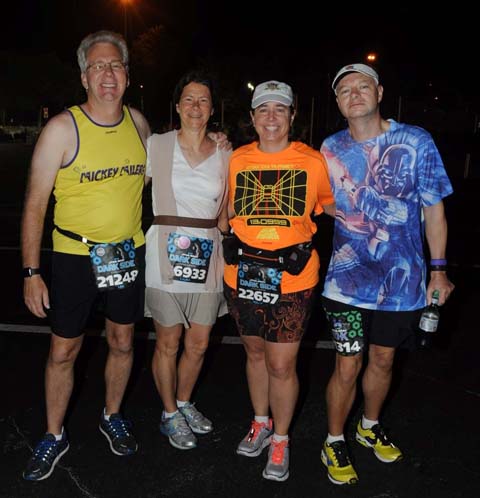 N.B. I stand corrected – the PhotoPass photos are free if you otherwise have access to free downloads of your PhotoPass photos: e.g. you are a qualifying Annual Passholder and/or you have purchased Memory Maker. Otherwise there is still a charge for them. Still, a friend or family member can link your photos to their account and access them that way.
In the pre-race area there were seven or eight different photo spots, all with PhotoPass photographers. Some of them were set pieces, like Jabba the Hutt and the rapthor, but there were also characters: Boba Fett, Captain Phasma, Storm Troopers and Darth Maul. The lines were pretty short when we arrived so we had our picture taken with Jabba, and then went to Captain Phasma but they had closed the line, even though it wasn't that long and there was still over an hour until the race started. 🙁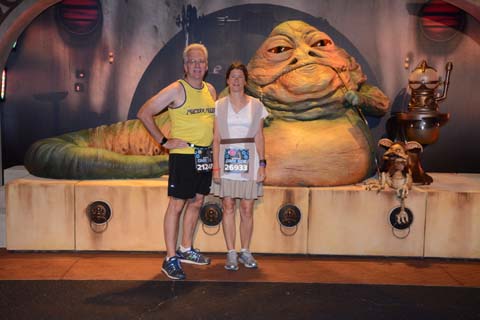 So we got a photo with BB-8 instead.
We waited for friends in the pre-race area – they were still at their resort in the bus line. There was a huge line at Pop Century and no buses. They finally arrived but it had been a long wait. (That was an issue at some of the other resorts, also.)
For the other 10Ks the start line is in the Epcot parking lot, but for this 10K and the half marathon the start line was out on World Center Drive as it is for the marathon and most of the other half marathon races. One big difference: this time we started in the opposite direction. It was a slightly shorter walk than it is to the start of the "regular" half marathon course, but still pretty slow getting to the corrals. This sign was entertaining.
For the 10K the corrals were A-F. I unfortunately never submitted my proof of time (though I was sure that I had) and so I was in the last corral, F, while Lee was in A. It was my own fault, and no reason to make him suffer, too, so he went up to A and I went to F. (At least that meant that he got photos, so most of the ones you'll see are his.) But I wasn't alone – my friend Liz had done (or hadn't done) the same thing, so we were at least together.
The race started at 5:30, but we didn't start until almost 44 minutes later. And F was a huge corral – I think there were over 2,000 people in it. We were in the first 1/4 of it, and mostly surrounded by walkers.
There were fireworks for each corral.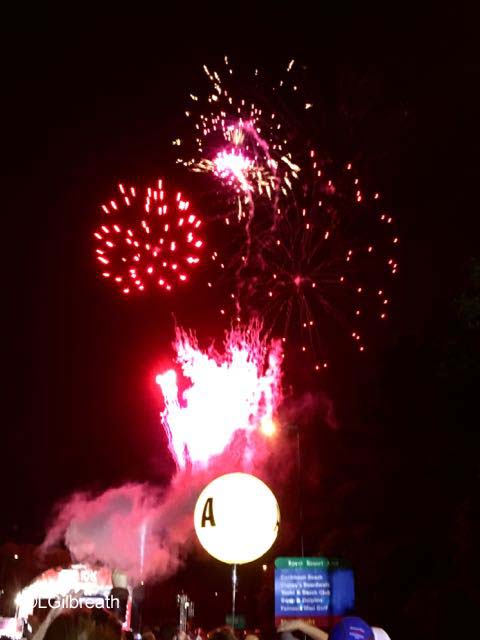 I'd looked at the race course in advance and I knew the first three miles would be a slog, since most of it would be on fairly narrow roads and paths where we wouldn't be able to find much running room. I was especially concerned about running the path between the Boardwalk and the Studios along the canal. I've done that at the end of the Wine and Dine half and the end of the marathon a number of times and it's congested enough then when runners are a whole lot more spread out than we would be at the beginning of a race.
And the running experience was about what I expected. To try to find some running room we did all of the things you're not supposed to do – dodging and weaving around people and running on the grass. We weren't alone – there were a number of other runners also back in F. I can't fault the walkers, as they were doing their thing – we were in their territory really. Liz and I were running single file and trying not to annoy them too much. About 3/4 of a mile in we got clear for a little while – and then we caught up with the back of corral E. :-/
The course took us backstage at Epcot where R2D2 had a character stop. The line was huge, not surprisingly. We entered World Showcase near Mexico, then turned right and ran past Canada and the UK and out the international gateway. Chewbacca was there, and I think that line was even longer than the one for R2D2. We ran around Crescent Lake past the Boardwalk resort. There were a number of people who had come out to cheer us there – thank you to those who came out so early!
Once we passed the Boardwalk we came to the dreaded canal path. One good thing: rather than running on the concrete path right next to the canal we were on the asphalt access road above it. That was a little wider. I was afraid we'd end up walking that whole path, but it wasn't that bad. We did drop to a walk several times, but we never totally stopped, and we could usually jog. Still, it was a huge relief to get off the path near the entrance to the Studios.
Just like the Star Wars Half Marathon in California, runDisney invited Star Wars cosplayers to come out and cheer the runners on. Some of them were just outside the Studios entrance. At first I thought it was a regular character stop because there were long lines – THAT doesn't happen in California! I honestly did not get a good look at them because too many people were around them, but it wasn't crowded when Lee went through, and he stopped for a photo. There weren't as many of them as we've seen in CA. And it was still pretty dark.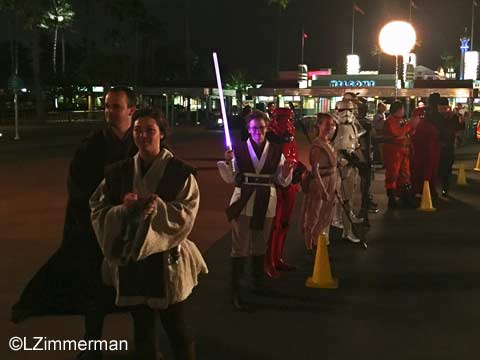 We took a short tour of the Studios: down Hollywood Blvd, around the stage in front of the Chinese Theater, and then down Sunset, then past the Tower of Terror and out of the park onto Buena Vista Drive. That's where we finally had some running room, now that we were over 4 miles into the race.
We ran up an overpass and ended up on Osceola Parkway. We had to do a short out-and-back where the course doubled back on itself to add a little bit of extra distance. At about 5.5 miles we ran on a narrow gravel path towards ESPN. This got us all bunched up again and there was a lot of grumbling from runners and walkers. There was a photo op with the speeder bikes from Endor along there, also – not really a good location for it.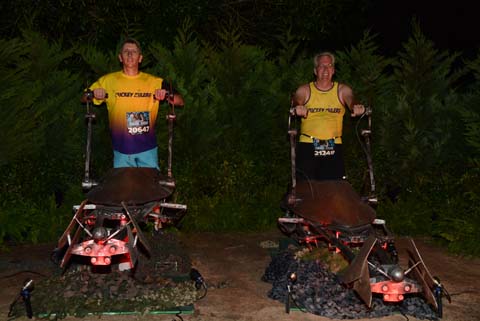 Congestion wasn't much better when we got onto the concrete paths at ESPN, which were still narrow and lined with cheering spectators.
Less than .4 miles to the finish was the second set of cosplayers. There weren't lines for most of them, and we stopped for one quick photo. (No PhotoPass photographers with any of them.)
The course widened out for the last quarter mile or so, and I was relieved to see the finish line. I was very happy to be done. It was really not a good race for me – 1:12 with NO character stops. I could never really get into a rhythm, and the high humidity didn't help. But at least the first part of the Dark Side Challenge was complete. And I enjoyed running with Liz again – we ran the second half of last year's Wine and Dine Half Half Marathon together.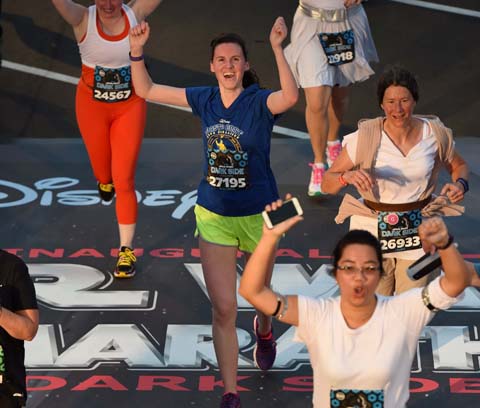 Liz and I posed for a finish photo, but unfortunately it never showed up under either of our bib numbers. 🙁 It would have been nice because PhotoPass put a special 10K border on it. Here's the one that Lee got, though:
The TIE Fighter medal is really nice. Lee pointed out that it was very fitting that we received an X-wing fighter medal for the "Star Wars – The Light Side 10K" in California, and the corresponding Dark Side fighter medal in Florida.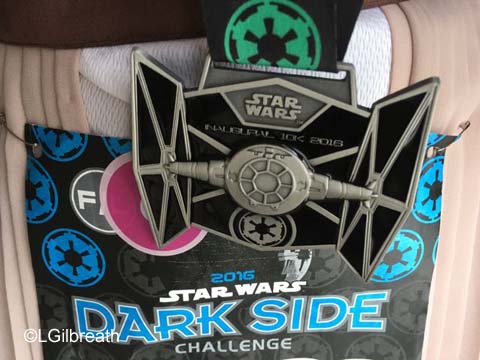 Lee had finished over 45 minutes before I did, so he'd used the time to get several photos taken. All of the photo ops in the start area were duplicated in the finish area. And he'd finished early enough that the lines were short. I was very envious that he had a photo with Captain Phasma – that was the one I really wanted.
He had one with the rapthor, too. 🙂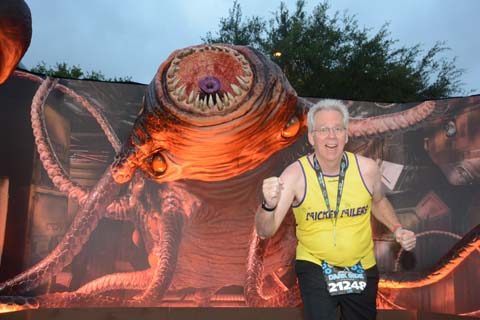 But by the time I arrived the photo lines were pretty long and we both wanted to get back to the room. So we went to the bus area. Our friends had already finished and taken the Epcot bus back to their car, so as planned we took the Swan/Dolphin/Boardwalk bus back to our resort. We were glad we were not going to Epcot because the line was huge. It seemed to be moving steadily but it was still very long. (Our friends waited about 15 minutes, but later we heard the wait was well over an hour!) We waited 10-15 minutes for our bus. The line had more than doubled behind us, so our timing was not too bad. The lines for buses to the resorts seemed to be much more reasonable than the line for Epcot.
We had the usual runDisney snack boxes. The selection seemed a little better than usual – or maybe I've just resigned myself to the fact that I'm not going to get real food from Disney. I ate the applesauce while waiting for the bus.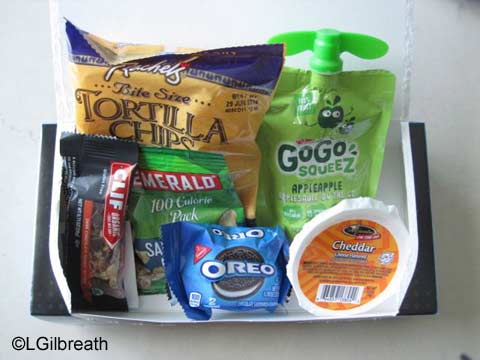 I really like the idea of this 10K course – it is SO much more interesting than the one that spends half its distance looping around on roads outside Epcot – but running it from Epcot TO ESPN is the wrong direction. The first three miles is just too narrow, and I think it would be much better in the opposite direction. Which is likely what we'll get when the new Wine and Dine 10K makes its debut this fall. Though even then I expect that path along the canal will be crowded – we got a taste of it (so to speak) during the abbreviated Wine and Dine Half last year, which was about 6.8 miles long, and the path was more crowded than during the normal half marathon because we weren't spread out as much.
Not a lot of characters along the course, but on a par with other Disney races. In addition to R2 and Chewie there were Ezra and Sabine, and Storm Troopers, plus the cosplayers. There was also a photo op with the Emperor's chair which was very popular. The lines were very long for all of these.
Big failure with the buses for the 10K. Lots of issues traveling both to the start and from the finish.
Even more than the other Disney races, I think your perception of the race experience was inversely proportional to where you started. If you started early the course was much less crowded – Lee was in A and really enjoyed the course. And for those who finished early the wait for buses at the end was minimized. If you started at the back, well, whole 'nother world – or galaxy, as the case may be.
Still, the addition of PhotoPass was a major benefit, and having so many characters available at the start and finish was also a plus. The thing I liked most about the characters at the start is that it's a level playing field for everyone. It didn't matter what corral you were in. If you were willing to get up early and get to the race start area as early as possible you had the opportunity to maximize the number of photos you could get.
Half Marathon the next day…Don't get cocky!