Recently I was at Disney's Coronado Springs Resort updating menus when I started to get really hungry. I looked at my watch, it was 9:30 a.m. Where should I have breakfast?
There were three options for breakfast:
1) Cafe Rix – quick service grab and go with limited hot items.
2) Pepper Market – Counter service dining, but a wide variety of choices. It's very loud in this location, especially at meal times.
3) Las Ventanas – which is slightly off the beaten path and had once been a private dining area for Rix Lounge. Full table service, they do take the Disney Dining Plan. The location was small and much quieter than my other choices.
The menu looked interesting, so I thought I'd give it a try. Entrees included a few Mexican/Southwest items such as a Chorizo Skillet ($12.99) and Huevos Divorciados ($12.49), as well as some American staples. There were also several items on the menu that were either gluten-free or could be made gluten-free.
From the hostess to my server to each cast member I encountered, everyone was very nice and accommodating. I really liked the atmosphere: nice lighting, plenty of space between tables and music playing at a conversational volume in the background. It was such a pleasant change to the hustle and bustle of my other choices.
I was seated at a table for two, which was fine for me, but might have been a bit small for two adults. I will note, however, that the high-back chairs seem to help keep what little noise there was down and gave diners a sense of privacy.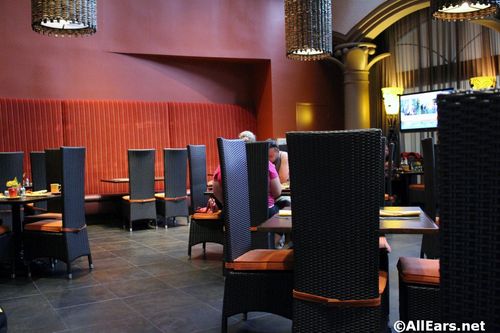 Had I not already had my share of coffee for the day, I would have tried the Roasted French Press ($3.59). I settled for water.
I wanted to sample several items, which was going to be difficult with just me at the table.
I ordered a Ventanas Breakfast — two eggs any style with peppercorn bacon or grilled ham, served with green onion potatoes ($11.99).
Eggs are eggs, and these were cooked as I requested. I chose the Peppercorn Bacon and really enjoyed it. Meaty and flavorful with the right amount of pepper (and I'm not a big "pour on the pepper" person). My only hesitation with the order was the green onion potatoes, but I had to give them a try. Honestly, the potatoes were very bland (what onion?) and the low point of an otherwise really nice experience.
I also ordered the Whole Wheat Pancakes — three ancient grain pancakes served with grilled ham and pure maple syrup ($11.99). They had sugar-free syrup, a big plus for me.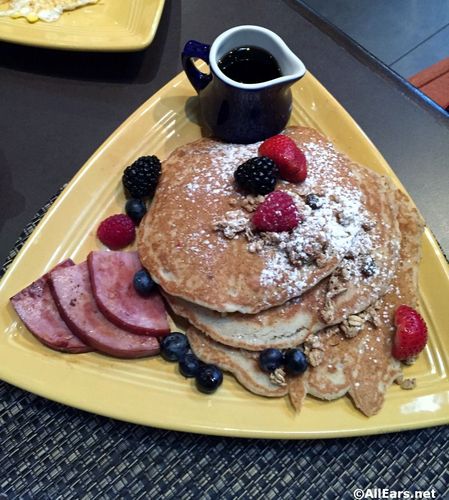 When the huge portion of pancakes, ham and fruit arrived I was quite surprised. Three huge pancakes! Whole grain/wheat pancakes can be on the dry side, but the nice helping of fruit and the sugar-free syrup perked them right up and I really enjoyed them. The grilled ham was grilled ham — tasted fine but nothing noteworthy.
I liked the fact that the sides were a bit different and so were the menu selections.
Breakfast came to $29.15 with tax. The only discount offered is to cast members. After adding 20 percent, my bill rounded to $35. Had there been two of us (since I ordered for two) it would have been $17.50 per person including tax and tip.
This is the only moderate resort with a full-service breakfast offering. It probably would be best compared to Olivia's at Old Kest West or the Captain's Grille at the Yacht Club.
My other two choices at Coronado Springs would have both been less expensive, but they were both quick service/food court. Considering the ambiance, price and full-service dining, Las Ventanas was a perfect choice for me.
If you are at Coronado Springs looking for something a bit more relaxed, I would recommend trying Las Ventanas. The resort is also just a few minutes away from the All Star Resorts, so you could come to Coronado Springs for a change of pace.
Right now the lunch/dinner menu is the same, but soon there will be a separate menu for each meal. The children's choices were very limited and are included on the main menu.
For more photos and the complete breakfast and lunch/dinner menu, visit our Las Ventanas Page!