To all who come to this photo trivia game, Welcome! Along the way, the photos can make us relive memories and see details Walt's Imagineers put into everything we love in Walt Disney World!
I hope everyone who is celebrating Easter and Passover is having a wonderful holiday!
Vera Williams is disappointed in herself for not guessing MouseGears last week. It's okay, Vera. We've all down that. Buck up, little soldier.

Now for Challenge #375: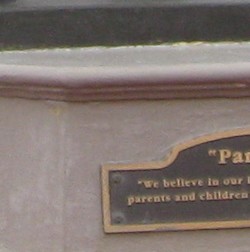 And here's the answer: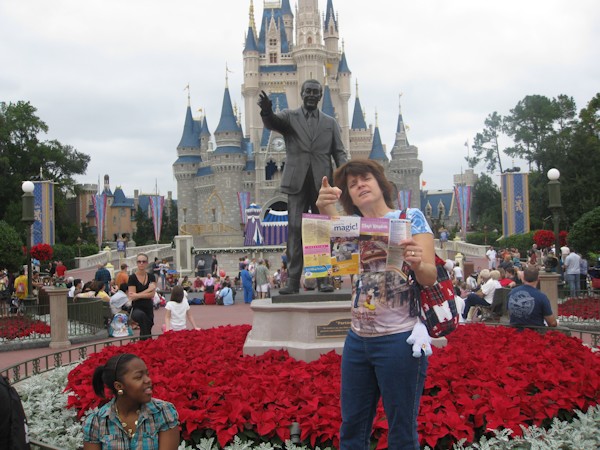 Copyright © Erin Blackwell
I was trying to figure out where something was on the map and this nice man pointed out where I needed to go. 🙂 Seriously, we are obviously at the Partners Statue and the thumbnail was part of its plaque.
Jeff Blank proposed to his wife here. He asked if she "would be my partner". Jeff, what a beautiful way to propose!
Kristi Strembicki was the first to send in the correct answer!
Congratulations to Kristi and to all our winners this week! Donna Frank, Kenny, Jim And Lorie Sonnen, Carla C, Linda K Ranatza, Carol Ney, Emily Hudson, Virginia Pierce, Karen Schlumpf, Linda Scrivano, Mary Beth Tarbet, Kerry A., Sharon Powell, Marsha Waidelich, Grumpy's Groupies, Heather Keenan, Olszak Family, Elaine Kleinhenz, Nan Amor, John Stella, Melissa Rymer, Claire Gregory, Bill Mckim, Daniel Record, Evanna Huda, Jennifer Harmon, Beth, Phyllis, Ruben O'meara, Herb Miller, David Freemyer , Deborah Wolfe, Eric Berger, Jamie Fahey, Ed Suscreba, Susan Doucette, Susan Doucette, Sandie Albrecht, Christine Niedzialkoski, Kris Nixon, Vera And Izzy Williams, Trish Roam, Kristina Rohrbach, Sharon Pierce, Sands Family , John Bickers, Team Hill, Matt Wildey , Steve Porter, Eric Johnson, Liz Moreau, Curtis Bille, Ellen Sullivan, The Kertes Family, Bonne, Bruce Hinterleitner, Gabriella, Terry And Matthieu, Russ Morgan, Leslie Schmauder, K Beasley, Jen Tremley, Todd &Angela Johns, Kye Layton, Deb Ragno, Dee Dee Kenney, The Gunnels Gang , The Fosbenders, Andrew Carrieri, Paul Dickson, Morag Lemon, Chris Kelly, Lori Rienhardt, Phil Vickers, Zach Szymko, Belicia Cullen, Nathan, Scott Cullen, Christa, Christa, Ken Maikowski, The Tisdale Family, Maryann Romagnano, The Rider Family, Melissa Such , Paul Knott, Ken Savage, Evald Olson, Dawn Bach, Jeremy Hardy, Matt Petty, Tim Johansen, Sarah And Chris, Andrea Kruszewski, The States Family, Sarah Thomas, Sam Rossman, Carolyn Como, Erin Hammer, Joann Albrecht , Cheryl Chambers, Hunter Armstrong, Hobbes And Snorky, Mike Malampy( Malampy Benco Family), Theresa Rucando, Stefanie Vandiver, Lindsay Coram, Lee Anastasi, Susan Higginbotham, Maryann Eckenrode, Judy Simonsen, Maureen Handy, Kerri Coggins, Kristyn Scibienski, Chris, Gretchen, And Katie Barnes, Pat Schwier, Larry Sprenkle, Arlene Vicek, Chloe Mayhew, Susie Howard, Josh Weiss, Gallagher Family, Vincent Lieu, Robert Wescovich, Robert Wescovich, Brian Mcwithey, The Double Family, Steve And Ruby Jordan, Doug Olson Family, Karen Ramirez, Mickey Eckert, Sharyn Drasner, Christopher Thacker, Christi Ison, Melanie Beedle, Tricia Petty, Bob Wagner, Linda Lundsten, Team Bonnie Sue, Eric Enli, Jeff Blank, Rick R., Jodi Cook, Kyra C., Shannon Murray, Cathy Connors, Tricia Noble, Kristan Bertelmann, Paul Ignudo, Jr., Matt Holley, The Hutchinson Family, Jennifer Toto, Karrie Duffey, Anne-marie Hamel, Les Stewart, Schuyler Etheridge, Erin Loring, Diane, Andrew Pettit, Dave Carriere, Richard Beverly, The Holmes Family, Hillary Waldroop, Matthew Jadro, Scott Sangston, Rebecca Keenan, Rob Hepler, Smitty, Jeremy Reichelt, Mark Franklin, Danielle Harsley And Agnes Ciotti, Heidi Goodhue, Carrie Knepper, Kimberly And Adolph Timm, James Hammack, Ron Harper, George Mundy Jr, Chris Bauman, Matthew Frey, Mike Cerce, John Casey, Amy Fleming, Kelly Smith, Lisa Pinder, Theresa Maradei, Paul Moore, Thomas Higbee, Barclay Bakkum, Vicki Britt, Shelly Borella, Stacy Guarracino, Jim Thompson, Fred Shakeshaft, Jane Johnson, Luis Rodriguez, Cheryl Costello, Terry Fleming, Patti Mccaffrey, Dieuliis Family, and Jennifer Shoulders!
It's time for the monthly drawing! The March winner is: Arlene Vicek! Congratulations, Arlene! You will be getting a prize from Deb Wills!
__________________________________ _____________________
Challenge #376 Where in the world is this?
We are outside the parks, but you can see this in the Magic Kingdom too.

Do you know? Do you have a guess? Please send in your answer, before the end of the day on Thursday, April 9th, by clicking on the blue box below.
Please do not post answers using the Feedback Form link at the bottom of this post.
See you soon, Players!


_______________________________________________________________________
Everyone who sends in a correct answer to a Where in the World Challenge this month will be entered in a drawing at the end of the month for some special AllEars® goodies!