Lee and I hadn't been to Disneyland in a while to just walk around and enjoy the parks. I wanted to do the Egg-stravaganza (which we missed last year) so we went on Sunday morning. I wrote a separate blog on the Egg-stravaganza, which you can read HERE.
For whatever reason, Disney has been forcing those who come from the south to park in the Toy Story lot, even if we try to go to Mickey and Friends. There are ways around it, but rather than fight it, I just drove straight to the Toy Story lot this time. It's not as busy or as big, so it's faster to get parked and walk to the bus stop, but it takes longer to ride the bus to the parks because the route is on the regular streets with traffic and stop lights and pedestrians. The Mickey and Friends tram route is on a private road. Still, all things considered, it's probably a wash as to which one allows you to get to the parks quicker. My main objection to Toy Story is that it's a regular open parking lot, so the car sits out in the sun all day. In the parking garage it's more than likely going to be in the shade.
Anyway…we arrived at the parks about 9:30 and went straight to Disneyland, since it was going to be more crowded as the day went on. It was a really lovely day in Anaheim! I know those of you on the east coast probably don't want to hear this, but we have had an unseasonably warm March in southern California – with temperatures in the 90s on multiple days. Including just a few days ago. The forecast called for it to be 84 in Anaheim on Sunday, but I don't think it got above 78 while we were there. It was really a great day to be there.
A lot of work has been done on Sleeping Beauty Castle to prepare it for the upcoming Diamond Anniversary celebration, and it looks very pretty – very sparkly when you look at it from the right angle.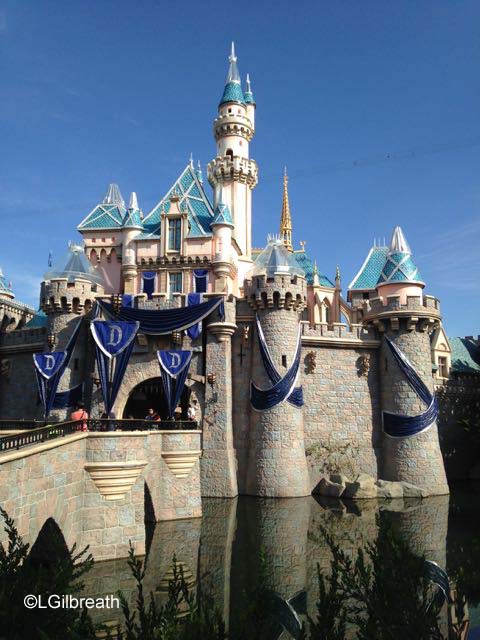 In Fantasyland I noticed that the Bibbidi Bobbidi Boutique has the new Cinderella dress in the window. Very pretty. Though I didn't see any little girls wearing that dress on Sunday – still LOTS of Elsas and a few Annas.
We had not been to Storybook Land since scenes from "Frozen" were added to it late last year. We rode in the caboose of Casey Jr. Circus Train – I hadn't been in that car before. We were facing backward, so that gave us a slightly different perspective! We didn't have as good a view of the new scenes as we would have if we'd been on the water on the Storybook Land Canal Boats, but we still got a look at the town of Arendelle.
One our way into the park we'd gotten a Fastpass for Star Tours so we rode that. The line got stopped for a while when we were near the wise-cracking droid with the infrared scanner. It was really interesting since he detected that the line wasn't moving and made appropriate comments about that!
Once we boarded our Star Speeder I was all set to go to Hoth again, because we ALWAYS get Hoth, but we went pod racing this time! I think that's my favorite. The sequence that we almost never get is Kashykk. We had that one the very first time we rode it, and only once or twice since then. I know this version of Star Tours is several years old now, but it's still a great ride!
I'd read that Innoventions will be closing soon (though Disneyland still doesn't have it listed on their refurbishment calendar), so I asked a cast member there, who told me that yes, March 31 is the final day, and as of April 1 it will be closed for about 8 months. No information on what will be done, though. I'd like to see something Marvel-related go in there. In the meantime I hope they will find an alternate meet and greet location for Captain America and Thor!
The Tomorrowland Theater will be featuring a sneak peek of the new Tomorrowland movie – looks like that will open around April 10 and run through May 22 when the movie opens in theaters.
The construction walls were still up at Critter Country, but it will have re-opened by the time you read this, except for the Hungry Bear Restaurant, which doesn't open until April 3.
It's spring, and that always means baby ducks at Disneyland! We spotted a mama and her ducklings in the water along the path to Big Thunder Ranch.
It's time for the Springtime Roundup at Big Thunder Ranch Jamboree. Jason did a pretty comprehensive blog on this, which you can read HERE. But Lee and I still popped in to take a look for ourselves.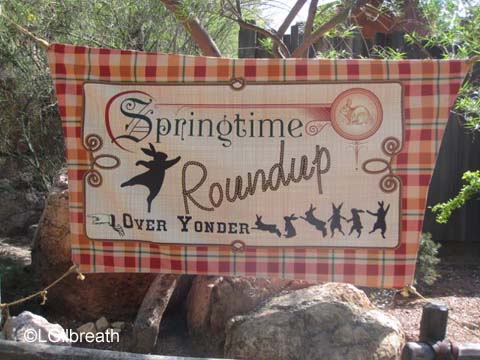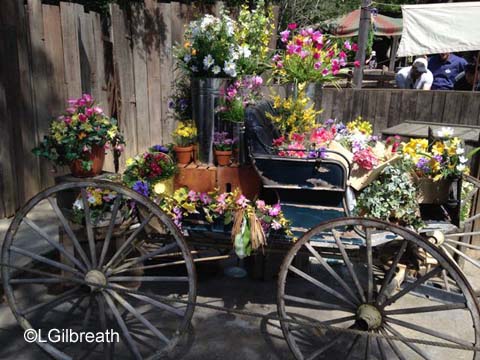 There were two baby goats in the petting corral – they were getting lots of attention, and were pretty unfazed by it.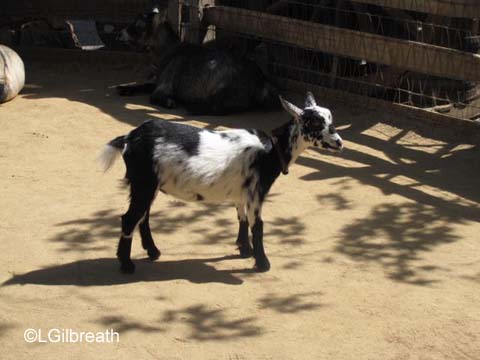 Jessie was even taking a peek at the activities in the corral!
Back in the Jamboree area the Puyallup High School Symphony Band was performing on-stage. They were on their last number when we arrived – didn't recognize the piece, but they were pretty good. They had a good-sized audience.
The egg painters had still been hard at work.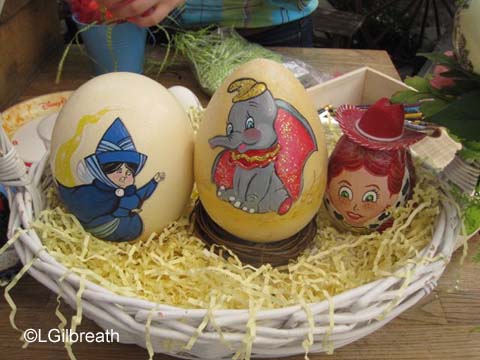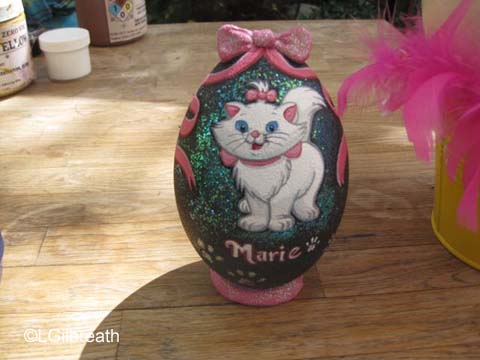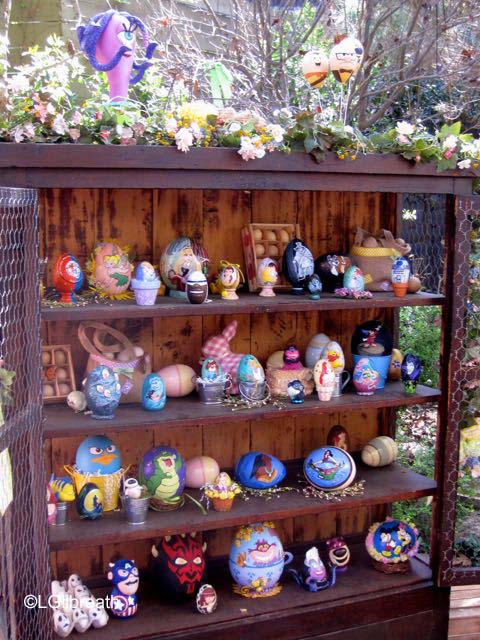 There were several character greeting areas set up, though only Rabbit (from Winnie-the-Pooh) and the Easter Bunny were out. This is still a great area if you want to see the characters. The lines weren't long at all, and the characters spend a lot of time with guests.
Pluto came out a little later. Love the bunny ears. 🙂
It would have been fun to buy one of the cookie decorating kits and decorate a cookie, but it was lunchtime and we were hungry.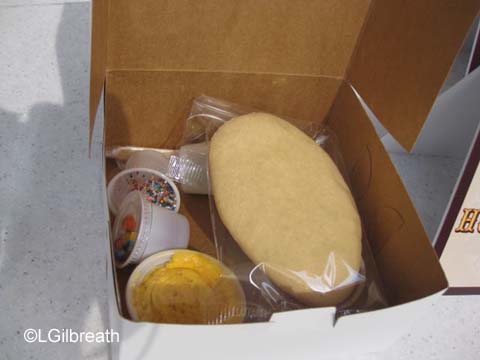 We had lunch at Rancho del Zocalo. Several Disneyland locations have special food offerings right now. Zocalo has a Street Taco special, with chicken, beef, and carnitas tacos, along with rice and beans. I ordered that, though I gave Lee the beef taco. The carnitas and chicken tacos were good, though there was too much of the green stuff on top – I think it was jalapeno, but it was too strong for me, so I scraped most of it off.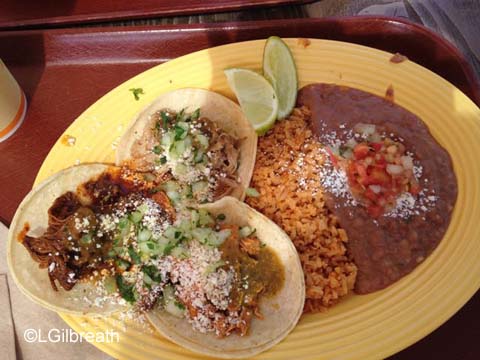 Lee ordered his favorite Carne Asada and Cheese Enchilada plate. The carne asada is normally medium rare, but they sliced it and cooked it a little longer for him, and he said it was really good. He also liked my beef taco. (I had some of his cheese enchilada.)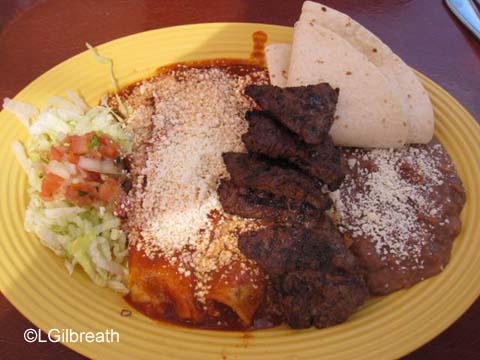 While we were eating, Lee noticed one of the Disneyland cats asleep on the roof. 🙂 I have just recently discovered that the Cats of Disneyland have their own Facebook page. It's fairly entertaining, with posts like: "I'm working on figuring out how to climb the new mini-towers in front of the castle in a single bound" and: "I wonder if the ASIMO robot has a new gig lined up now that Innoventions is closing. He could be my butler…"
Though we didn't try these, here are two of the other limited time foods available at Disneyland:
Linguica and Pineapple skewer from Bengal Barbecue
Cookies and Cream Funnel Cake from Stage Door Cafe
After lunch we went over to Disney California Adventure. Frozen Fun is still going strong in Hollywood. There was still a line to go into Olaf's Snow Fest, and there was a 70-minute wait to meet Olaf! Olaf's Snow Fest ends on April 30 and Freeze the Night ends on May 15, but the "Frozen" singalong and the Anna and Elsa Meet and Greet have been extended, at least through the summer.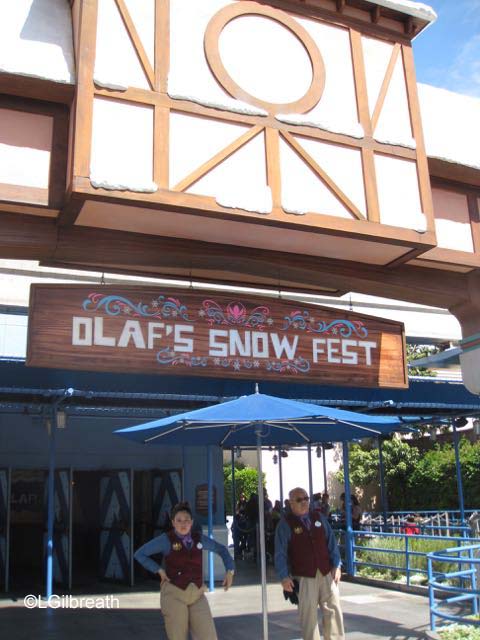 We wandered through the Off the Page shop next to the Animation Building. This ornament made me laugh. "Rat, schmat!" 🙂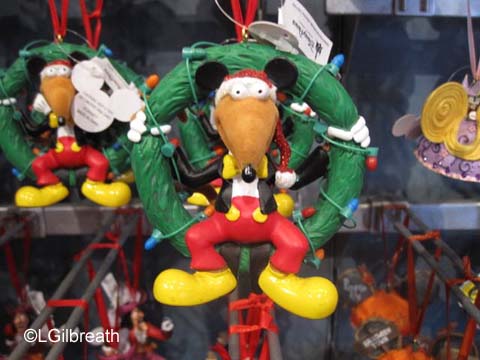 Luigi's Flying Tires is closed, but there were cast members in front of the entrance who had a bean bag toss game set up. They were encouraging guests to play. There didn't seem to be any kind of prize, though.
DCA was not as busy as Disneyland. The standby line for Radiator Springs Racers was less than an hour. We rode it using the single rider line, and were on in less than 5 minutes – neither of us won our race, though. Oh well. The landscaping in Ornament Valley is really well-done – and at this time a year a lot of it is blooming, like this cactus.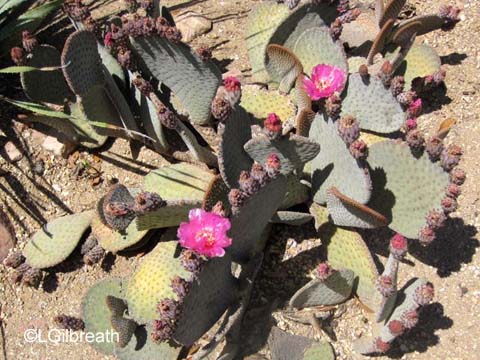 The Cove Bar was busy; even at 1:30 in the afternoon there were people waiting to get in. This area used to be pretty dead, but not any more.
But we went to the Sonoma Terrace and Lee ordered a beer. While we were sitting there it occurred to me how much I miss the Food and Wine Festival. The terrace was one of the areas they used for wine tastings and other events. I was really hoping that after all the major construction was done that Disney would bring it back…
The Al Fresco Tasting Terrace is somewhat Food and Wine'ish, but it still doesn't open until 2:00 – and there was a line of people waiting for it to open. We didn't go up there this time, though.
Before we left the park we wandered over to Smokejumpers Grill. With the construction wall still up, it's like the end of the world there! Soarin' over California is due to re-open on May 15, so the walls should be coming down sometime before that.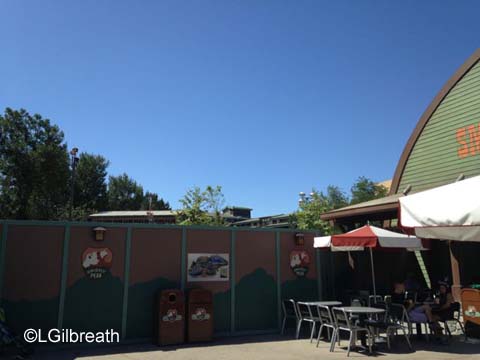 Jason wrote a blog with lots of photos on Smokejumpers Grill so I'm not going to talk about it here. The menu is pretty much the same as the old Taste Pilot's Grill menu – burgers, a salad, and a chicken sandwich. No more ribs, though. We didn't eat here, so I can't offer any opinion on the food. They have a veggie burger (in addition to the chicken sandwich), so maybe I'll try it sometime.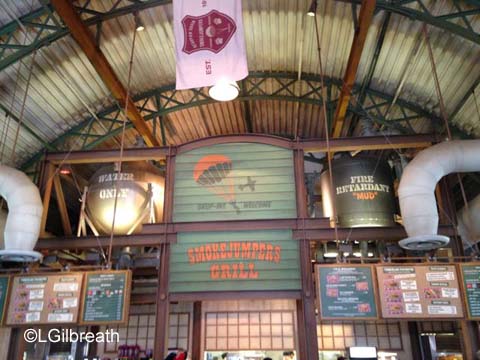 There are some pretty odd photos inside…this does not look like a comfortable sleeping position to me – I wondered if these are firemen who are just trying to catch a little sleep in any way they can.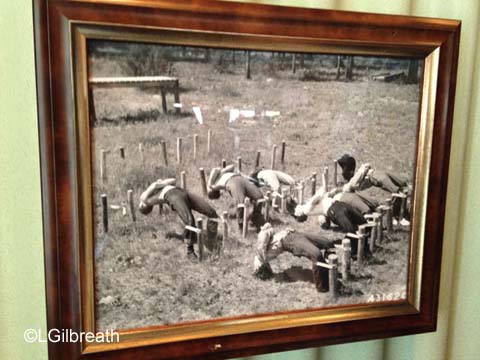 We made our way back to the Toy Story lot after that and headed home. We had an excellent day even if it seems like we didn't do very much. Considering how nice the weather was and that it's Spring Break I was surprised the parks weren't more crowded, but it was great for us.