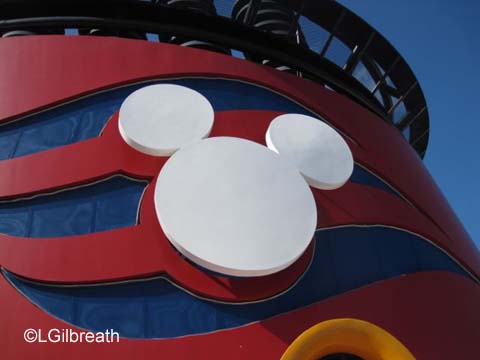 Wednesday – Day at Sea
Ahhh…the first of two glorious, relaxing days at sea! Though they never seem to be as relaxing as I expect them to be…there's just too many things to do!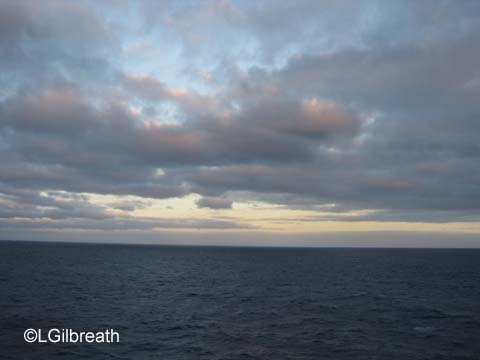 I wasn't sure what kind of sea state we would have once we reached the Pacific Ocean, but it felt pretty smooth. Lots of chop and whitecaps, but the swells were under 5′, and in a ship the size of the Wonder we didn't feel it very much.
I got up about 7:00 and went for a run on deck 4. The temperature was in the low 60s and it felt WONDERFUL. We've had an unusually warm summer in California, and I can count on one finger the number of runs I've done this summer when the temperature was under 70. This was perfect. They say that 3 laps around the ship is 1 mile, but I think it's a little short of a mile. I had a nice run, though almost invariably when I needed to pass someone, it was ALWAYS in the narrow sections at the bow and the stern. That's not even 1/3 of the course, so it's odd that it seems to be that way more often than not. (In all fairness I must disclose that on the latter part of my run I passed several people on the wider parts.) Some people are really good about watching for and yielding to faster people, while others are clueless – even when you pass them for the second or third time! Sigh.
We had a special treat later in the morning – brunch at Palo! I know I've said this before, but that's my favorite meal aboard any Disney cruise ship. We were the first people there and had a prime table for two at the window looking toward the stern of the ship.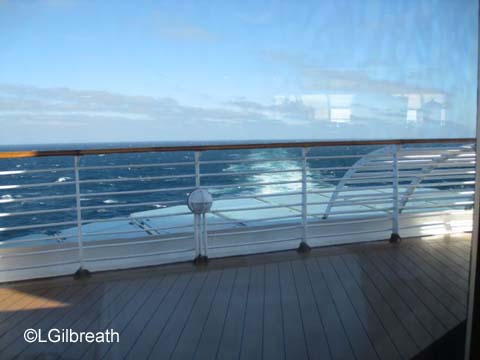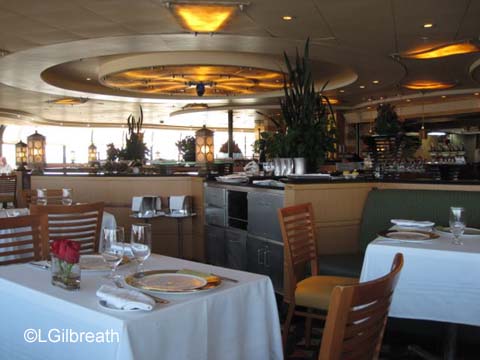 There are so many choices for brunch! An entire table of seafood, a table of pastries, another of cheeses and breads, one for vegetables and hors d'oeuvres, and of course a dessert table. It isn't a typical brunch buffet in that there are no hot dishes served buffet style, such as eggs and bacon. Instead, you order from a selection of brunch entrees. There are flatbread pizzas, Eggs Benedict, Florentine, and Julia, a frittata, pancakes, and offerings you don't necessarily associate with brunch such as chicken parmesan and tilapia.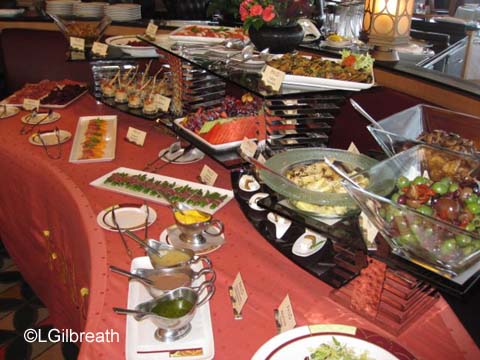 They had a couple of new entrees available, though we didn't try them – one was an almond/peach souffle but I don't remember the other. There were a couple of different pastry items and a dessert that all featured Nutella – yum. The sticky buns are smaller than they used to be, though that's not necessarily such a bad thing.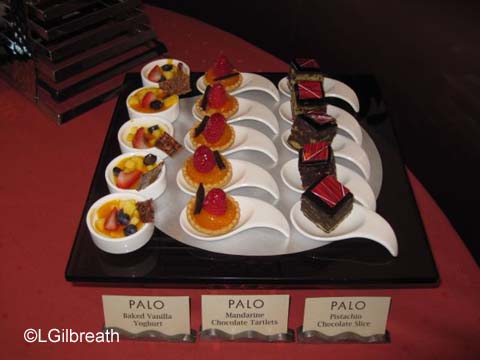 My birthday was the day before the cruise started, but apparently we were still celebrating it. 🙂
We went out of there pleasantly full but not stuffed. Such a nice way to spend part of our morning!
Back to our room for a quick change of clothes, and then we were off to the Cadillac Lounge for the Stem to Stern wine tasting session. This was one of the events we booked when we first boarded the ship on Monday. There were four glasses in front of us, but we were in for an additional treat: the American wine ambassador for Krug Champagne was on our cruise. He spoke to us about Krug, and we tried two glasses of Krug champagne – a non-vintage champagne and their rose champagne. Both were good, but a little dry for my taste. He was a very engaging speaker, and we enjoyed his presentation. (There wasn't room for all six glasses on the table, so the photo below shows the two glasses of Krug and two of red wine.)
The Wine Team had us do a blind tasting for the four wines they had chosen: a moscato, chardonnay, merlot, and cabernet sauvignon. We always find these sessions very interesting, though I can rarely detect the scents they say are in the wines. 🙂 But supposedly there are no wrong answers. "Pears" for white wines and "blackberries" for red wines always seem to be pretty safe. 🙂
After all that food and wine we were ready for a NAP! 🙂 We had a lazy afternoon, and watched the end of Cars 2 on our stateroom TV.
Since this was only a four-night cruise Disney combined Toy Story and Pirate Nights. The dining rooms served the Toy Story menu, and Toy Story: The Musical was the show in the Walt Disney Theater. Later on deck was the Pirate Party and the fireworks, followed by the Pirate Dessert Buffet in Beach Blanket.
We didn't bring all of our pirate attire, and instead just wore our pirate tech shirts from Ink-n-Burn, though Lee also had his pirate hat. We saw a number of guests who had very elaborate pirate outfits.
We were in Triton's for dinner again. This was the first time we'd had the Toy Story menu, but I'll have more on that in the food blog. After dinner we went to see Toy Story – because it's only on the Wonder we haven't seen it as many times as the other shows. It was very popular – there weren't very many empty seats in the theater. I think it's very well done and I enjoyed it. Oh, and before the show there was a nice sunset.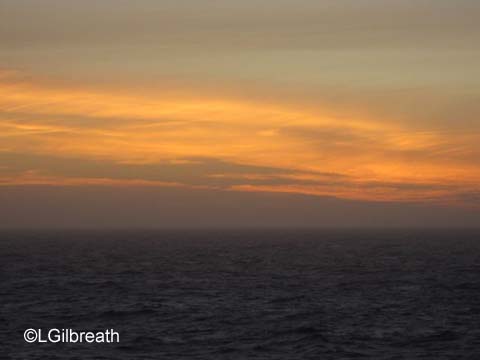 After the show we stopped back in the stateroom so I could change from skirt to pants – I thought it might be cool and windy on deck. It turned out to be a very pleasant night, and I was warm enough with just a light windbreaker. We saw the end of the pirate show with the characters, and watched Mickey make his slide between the two smokestacks, and then the fireworks started. This was the first time they had shot off the fireworks in several months – it's not permitted in Alaska, and the crew had been looking forward to the show, also.
Back in the stateroom our latest towel animal was a crab. I made the mistake of turning the TV on, and we got caught up in watching the last 25 minutes of Cinderella before we went to bed. 🙂
Thursday – Day at Sea
We actually slept in until almost 7:30 – that's late for us. Lee went running and I went walking. The ocean was even calmer – no whitecaps and very little swell. It was a little warmer than the day before, but still very pleasant for exercising.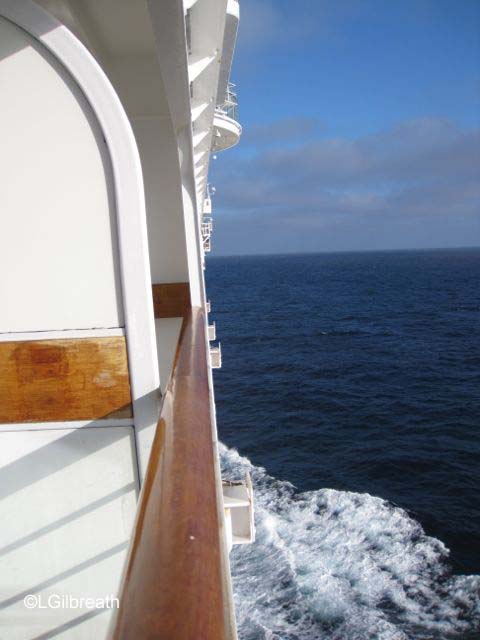 Lee wanted a sit-down breakfast so we went to Triton's. They were busy and it took a while to get our food, but we weren't in a hurry to get anywhere.
At noon we went back to the Cadillac Lounge for the Chocolate and Liquor session. As you can see in the photo below our little table was covered in glasses and chocolate! The tasting paired Tattinger champagne with white chocolate, Lasseter Family Paysage with dark chocolate, Glen Morangie Scotch whiskey with caramel chocolate, and Noval port with parmesan cheese. The port and cheese were really good together – that was my favorite. The port wasn't as sweet and raisiny as they sometimes are. I'm not a scotch fan, but the chocolate really softened the alcohol bite of the scotch.
The Krug ambassador was at this tasting, also, so as a bonus we received a glass of Krug rose to finish off the session. Very nice. We spoke to him afterward and told him he was be the most popular guy on the planet – spreading champagne wherever he goes! 🙂
Partway through the captain interrupted us with his daily ship report – it's a ship-wide announcement that takes over the PA system, so we had to listen. While I didn't hear any boos there was definitely some grumbling – interrupting people who are enjoying chocolate and wine does not make one very popular. 🙂 In addition to the the usual information on ship position, weather, arrival time in San Diego, etc., he had some additional comments for passengers who would be staying on the Wonder for the Panama Canal cruise. Because of Hurricane Odile, the Wonder was probably going to have to alter its course to avoid the storm and sail further west, omitting the planned ports of call in Cabo San Lucas and Puerto Vallarta. Perhaps even staying an extra night in San Diego. (As it turned out the Wonder left San Diego Friday evening as scheduled, but bypassed the Mexico ports.)
We'd planned to see Maleficent at 1:00 but the session ran a little long, and we were chatting with the Krug ambassador, so we would've been about 10 minutes late. Since we had some time I took some photos of the area around the Cadillac Lounge.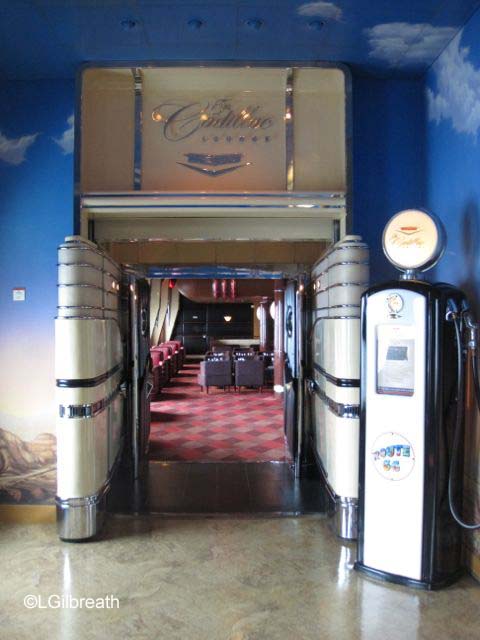 The adult area on the Wonder is called Route 66 (designed long before Cars came out), and that's reflected in some of the decor.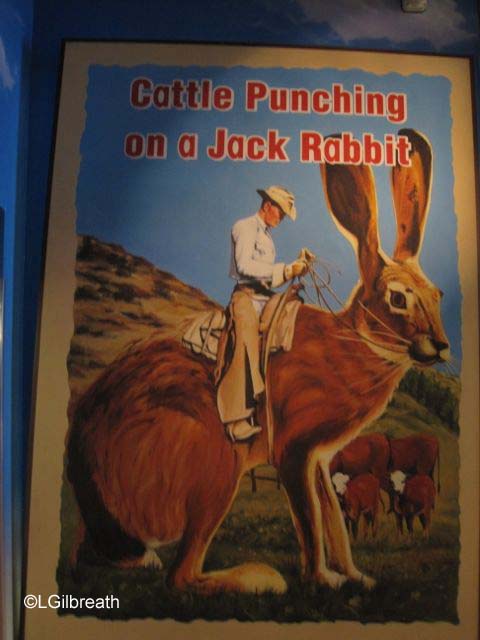 We went to lunch in Parrot Cay, which was a seafood buffet. We arrived toward the end of the lunch service, and after about 20 minutes they started shutting down the buffet. Though we were told not to rush, it was a little uncomfortable being there when everyone was busy cleaning up and setting tables for dinner, so we didn't linger.
Since we missed Maleficent we went to see Planes: Fire and Rescue at 3:00 instead. We hadn't seen the movie Planes, but that didn't seem to matter. We really enjoyed Fire and Rescue. My dad is a member of a search and rescue team, so the movie had some additional meaning to me. And since we are very familiar with Yosemite National Park, we found the the look of Piston Peak National Park, a visual mashup of Yosemite and Yellowstone National Parks, especially interesting. It was very entertaining.
Hard to believe that it was already our final evening on board…we went back to Outlook Cafe for a pre-dinner drink. It was too warm in the enclosed rooms on the sides, but it was nice and cool at the bar in the middle. I had another Toblerontini and Lee had a Mint Chocolate Coffee beverage. It took a long time for them to make his because they were out of creme de menthe and couldn't find another bottle.
Our final dinner was in Animator's Palate. Compared to the newer ships (and the updated version on the Magic), it looked rather old-fashioned. But I still enjoyed the server parade and their costume transformation from black and white to color, which they don't do on the newer ships.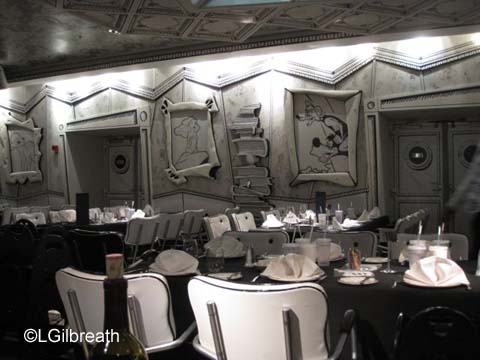 After dinner we went to the Cadillac Lounge to enjoy a last glass of Ice Imperial. Our server again brought us berries and truffles. We had a chance to chat with him a little bit – he had also been on the Fantasy's maiden voyage, though not working the bars we frequented.
Once we finished our glass (and our berries and truffles) we went back to our stateroom to pack. Even though we were carrying our bags off ourselves, we still needed to get most of the packing done so we'd be ready to leave in the morning.
We had a cat – looks like the Cheshire Cate, to me.
Friday – San Diego
The captain had told us we'd be picking up the pilot about 5:45, but when I woke up at 5:45 and looked outside we were almost in the channel entering the harbor. We'd wanted to be on deck as we sailed into San Diego, so we quickly dressed and went up to deck 10. There were more people there than I expected considering that it was only 6:00. We went by the building that I work in, though not many people were there at that point. 🙂
It was a nice sail-in past North Island and the Ronald Reagan aircraft carrier. Coronado Bridge is in the background.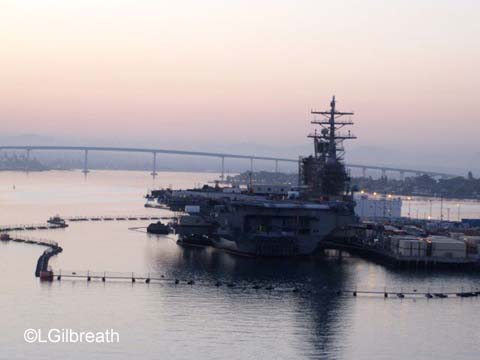 We arrived at the dock at 6:30 and the captain blew the "Mickey Whistle" – we could hear it echo through downtown. Good morning, San Diego. 🙂 He blew it again about 5 minutes later.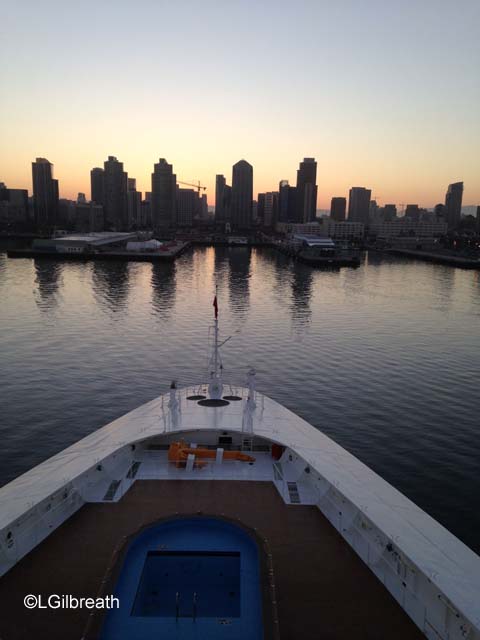 Breakfast was at 7:00 for us – we had enough time to go back the stateroom and finish the last of the packing before that. There were only four of us at our table, and breakfast on the last morning is always pretty fast because they are trying to get everyone off the ship. 🙂
We finished up about 7:45 and walked off the ship about 8:00. They were still staging bags, so only express walk-offs were allowed at that point. It didn't take us very long to get through Immigration and Customs.
My friend Nancy came to pick us up – we'd left my car at her house. We dropped her off and then drove to work…not the greatest way to end a vacation, but it saves us a day of vacation that we can use later this year – for our next cruise in November, actually. 🙂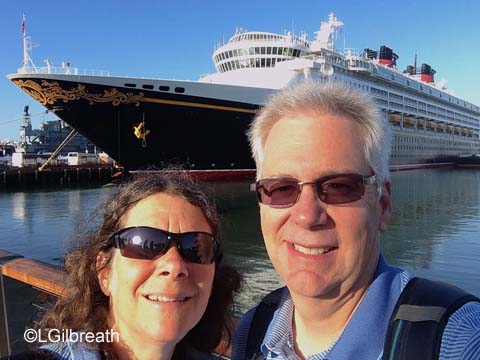 Since we were headed to work I don't think we should like quite so happy in this photo!
It was a nice vacation – it just went too fast!
Coming next: The Food Blog