In a number of my blogs, I have encouraged my East Coast readers to make a trip to Southern California and visit the Disneyland Resort. I've explained that Disneyland and Disney's California Adventure are worth your attention and time. I've also mentioned that there are many other worthwhile sights to see and experience in the area and a family could easily fill a week touring the Los Angeles basin. Today I want to expand your West Coast vacation with an additional four to six days in San Francisco and its neighboring environs.
San Francisco is one of the most beautiful cities in the world. There are few other metropolises that can top the romance, excitement, and loveliness found in the City by the Bay. San Francisco offers first class dining, shopping, and entertainment. Man-made tourist attractions abound with the likes of Fisherman's Wharf, the cable cars, Alcatraz, and China Town just to name a few. And if you feel like experiencing more natural surroundings, the giant redwoods of Muir Woods and the vineyards of Wine Country are just an hour's drive away across the Golden Gate Bridge. Yes, San Francisco can easily fill a week of your time. But if all this wasn't already enough, a new shining star in the city's roster of tourist attractions opened on October 1, 2009, The Walt Disney Family Museum.
Cofounded by Walt's older daughter Diane Disney Miller and other heirs of the Disney family, The Walt Disney Family Museum is located at 104 Montgomery Street found on the historic parade grounds of the Presidio, a retired army base near the south end of the Golden Gate Bridge. The museum takes up residence in three refurbished and retrofitted buildings of the base's glory days. It encompasses 40,000 square feet on two levels and offers a chronological telling of Walt's life. The museum is owned and operated by the Walt Disney Family Foundation and is not formally associated with the Walt Disney Company. However, it is obvious from the exhibits that the two entities cooperate with one another.
I was recently in San Francisco for a day, waiting to set sail on a cruise to Hawaii. (Check back next week for my review of Aulani.) I was staying at the Mark Hopkins Hotel on Nob Hill and unsure of how to reach the museum from this location. An inquiry at the concierge desk provided me with three choices: Rent a car – and then try to find a parking space. Take the bus – which would gobble up an hour of my time getting there. Or take a taxi – which is what I did. The fare and tip came to less than $20 and I was there in 15 minutes. And believe me when I say, a taxi ride in San Francisco is and "E" coupon experience.
Just inside the museum's main doors is the reception desk and information center. It is here that you purchase your tickets. The prices are as follows:
Seniors (over 65): $15
Adults: $20
Students (with valid ID): $15
Youth (6 – 17): $12
Children under 6: Free when accompanied by an adult
The museum accepts credit cards and is open seven days a week from 10am until 6pm (except Thanksgiving and Christmas). The last tickets are sold at 4:45pm.
Please note, I visited the museum on a busy Saturday afternoon. I was not always able to take the pictures I desired due to the many patrons viewing the exhibits. And for those of you who have visited here before and wonder why I have any pictures at all, a recent policy change rescinded the "no picture" rule.
Behind the reception desk is a collection of 248 awards that Walt received during his career, including the Presidential Medal of Freedom. This area can be viewed without purchasing a ticket.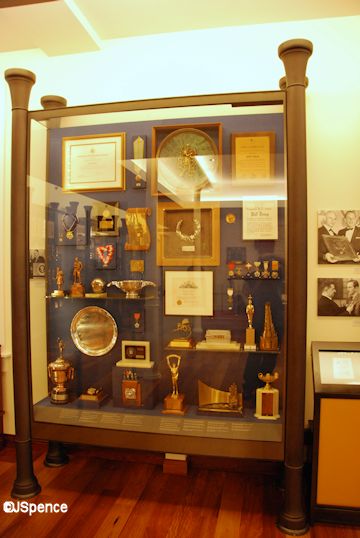 The sight of one award caught me off guard and brought a lump to my throat. There, in all its beauty, was the special Academy Award Walt won for "Snow White and the Seven Dwarfs." As Shirley Temple said, "Isn't it bright and shiny?"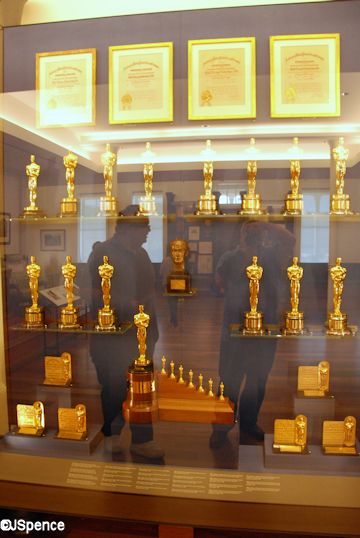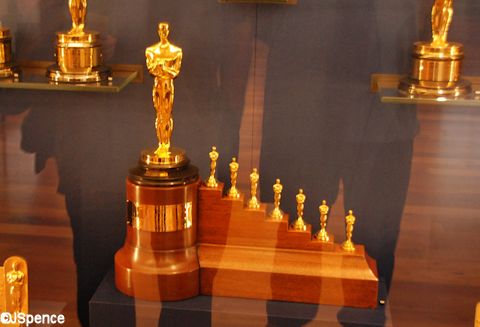 Another stirring exhibit is also found in this room. Here you'll see the actual chairs that Walt and his wife Lillian sat in while enjoying time in their apartment located above the Fire Station at Disneyland.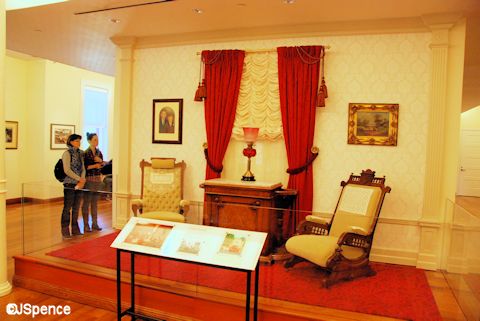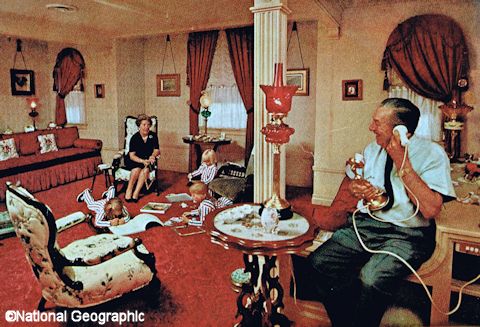 A tribute to Diane Disney Miller can also be found nearby. The illustrations are of Diane and her sister Sharon and were done by Norman Rockwell.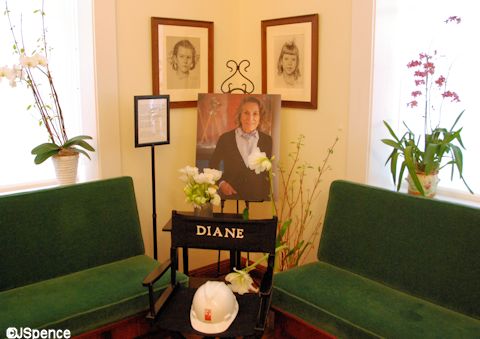 Everything from this point forward requires a ticket. Before entering this section of the museum, a docent will explain the walking path, tell you where the restrooms are located, and ask if you have any questions.
One of the first exhibits you encounter is a pictorial and written account of Walt's family tree. At these displays you can learn some interesting facts about Walt's ancestors. For example, his father Elias loved music and taught himself to play the fiddle. As a teenager, he became proficient enough that he began performing at nearby dances. However, his parents were opposed to music for religious reasons. When his mother Mary caught wind of his activities, she showed up at one of these events, smashed his fiddle, and lead Elias home by the ear.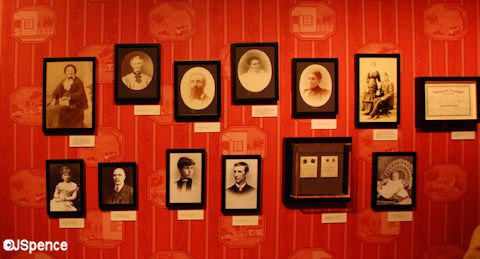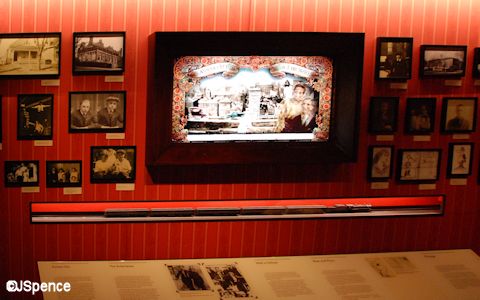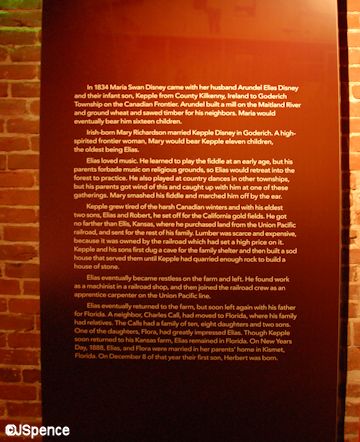 Around the corner we find a reproduction of the ambulance that Walt drove during WWI in France.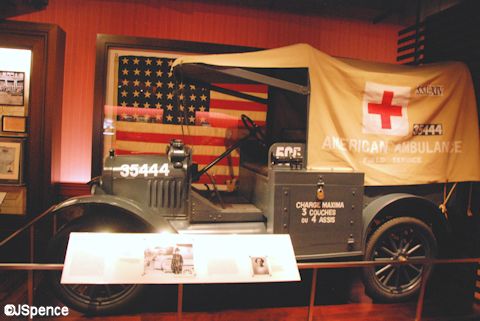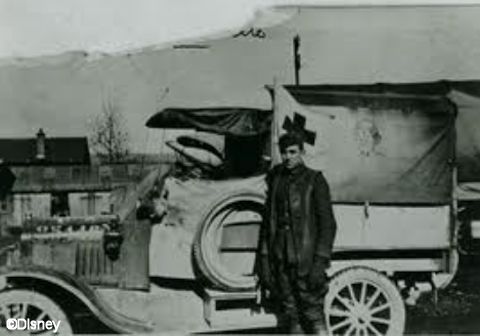 Still pictures and film presentations give us a glimpse into Walt's early Alice cartoon series.
The museum also pays homage to Ub Iwerks, the man who took Walt's ideas for Mickey Mouse and put them on paper. Contrary to the popular story, Walt did not actually draw Mickey while on the train returning from New York after losing the rights to Oswald the Lucky Rabbit. This is where he came up with the concept for Mortimer, then to become Mickey at Lillian's suggestion. It was Ub who took pencil to paper and turned Walt's concepts into reality.
Ub was a prolific animator. He was able to turn out as many as 700 drawings in a day, a figure that made him legendary in the industry. The wall pictured below contains 348 frame enlargements of his work on Steamboat Willie. Some of these drawings are motionless while others actually show animation. These drawings represent less than 15 seconds of action.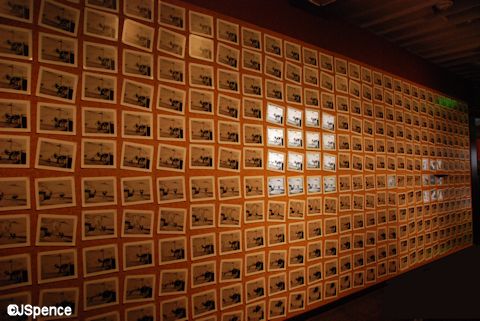 Within this glass case pictured below is a fantastic collection of vintage Mickey Mouse toys, books, records, and more. The sale of merchandise like this helped keep the company afloat. Mickey and his friends brought in untold amounts of cash to keep a struggling studio going.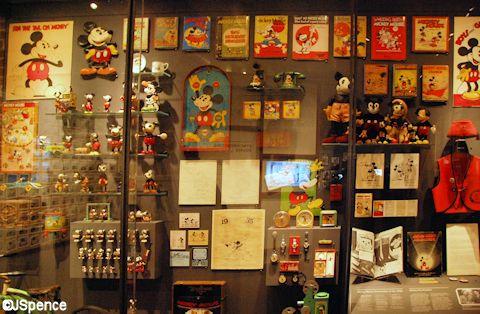 The Silly Symphonies are introduced to us with an animated display of "The Skeleton Dance." An animator's desk is also on display nearby. Additional exhibits explain the use of maquettes and new animation tools.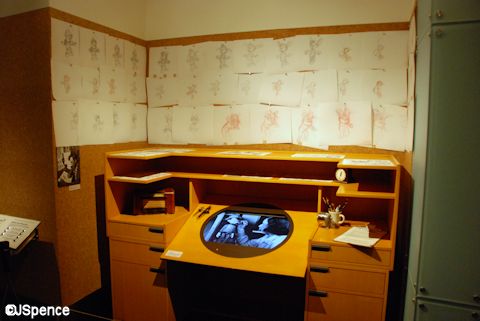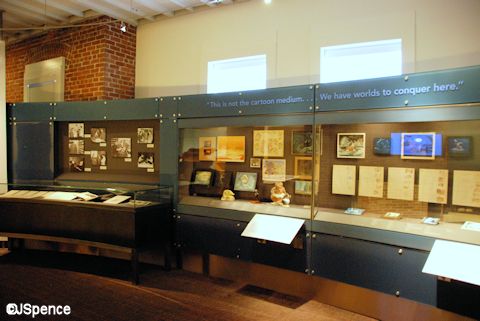 As the tour continues, the animation process is discussed further. The switch from black & white to color cartoons and other more advanced animation techniques are brought to life in a number of displays. A multi-plane camera can be seen from the second floor. From this vantage point, a viewer can look down through the various layers of animation and visually see how this technical marvel added depth to a scene. (The first picture below is of the multi-plane camera from above. The second was taken at ground level near the gift shop on the first floor.)
Although the museum portrays Walt in a very positive light, the telling of his life story is not all sugar coated in this exhibit. One example of this is the discussion of the artist's strike that drove a wedge between Walt and many of his animators.
Next, the museum looks at Walt's foray into live action movies, the first being "20,000 Leagues Under the Sea."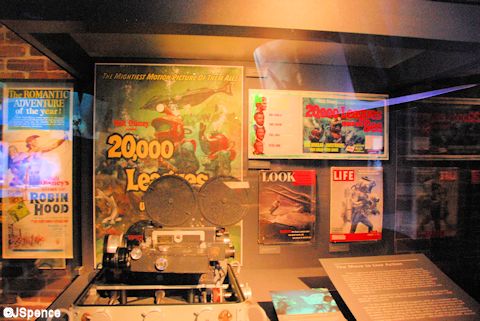 As we continue, the idea of Disneylandia is discussed. This concept of Walt's would feature a series of miniature dioramas, each depicting a historical moment in American history. The tableaus were to tour the country in a specially outfitted train. However, due to a number of technicalities, the project was never realized. Here we see a number of the miniatures that Walt personally collected over the years in preparation for this undertaking.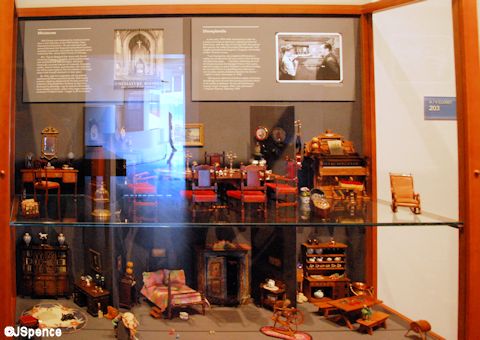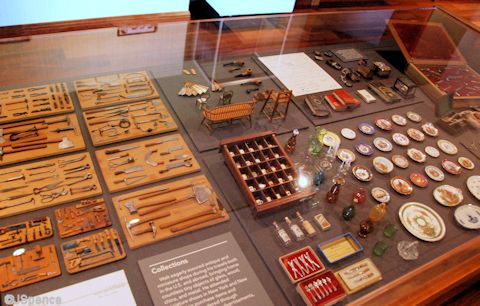 Around the next corner we're treated to a non-Disney surprise, a stunning view of the Golden Gate Bridge. No matter how many times you see this magnificent structure, it still inspires awe.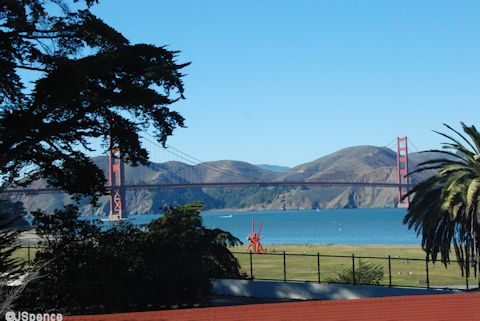 For you model railroad enthusiasts, the museum will not let you down. On display is Walt's Carolwood Pacific Railroad. In addition, an overhead view of Walt's Holmby Hills home is shown, complete with the entire train track layout that circled his property. Seeing this diagram makes you appreciate what a loving and understanding wife Lillian must have been.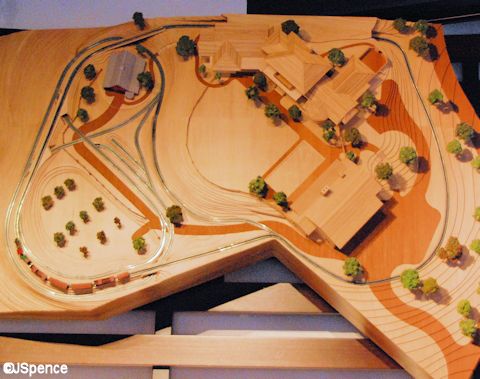 Pictured next is a reproduction of the press event ticket for the opening of Disneyland on July 17, 1955.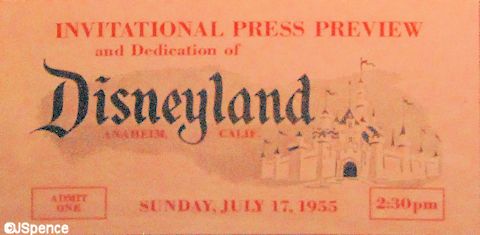 Hanging from the ceiling we discover the original eleven-camera CircleVision camera developed by Ub Iwerks and others on the Disney team. It was later discovered that eleven screens made the audience feel woozy and a nine-camera setup worked better.
When designing the museum, the architects and planners discovered a 12 foot circular area that had no planned use. To fill this space, an elaborate scale model of Disneyland was commissioned. However, this model does not represent Disneyland as it ever existed, but rather a composite of attractions that Walt saw to completion or at least dreamed of their addition to Disneyland. So attractions like Big Thunder Mountain Railroad and Splash Mountain are not included and the original Fantasyland is displayed rather than the refurbished land of the 1980's. Of course, this creates some incongruities. For example, the House of the Future never existed at the same time as Space Mountain, yet they both appear on this model.
The attention to detail on this replica of "The Happiest Place on Earth" is stunning and it pays tribute to Walt's love of miniatures. One subtle detail deals with lighting. When viewing the model, viewers will notice the park transitions from day to night and back again, allowing us to see Disneyland come alive "after dark." I took almost 60 pictures of this miniature Disneyland. Here are just a few.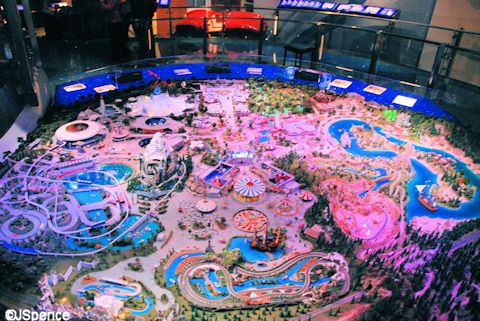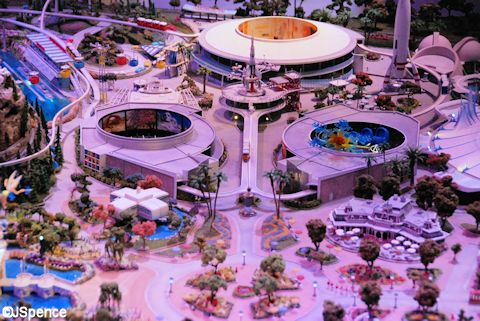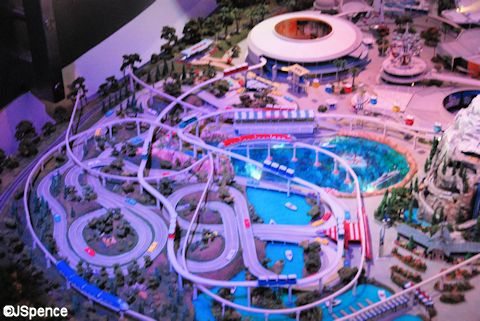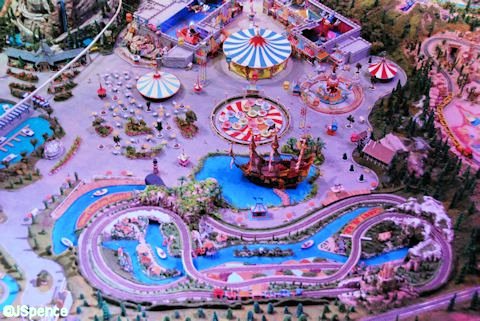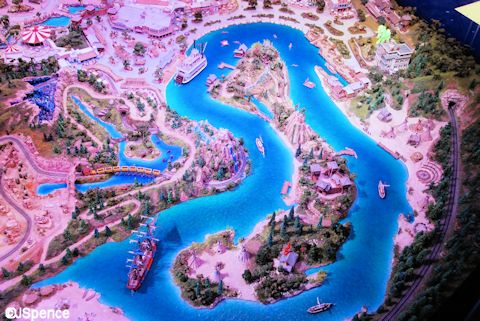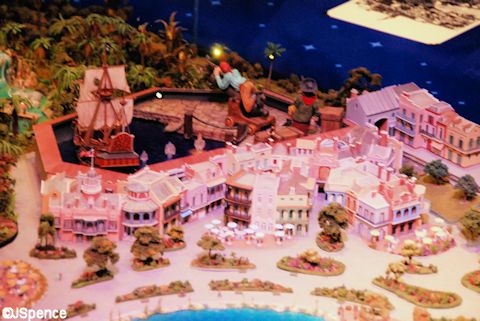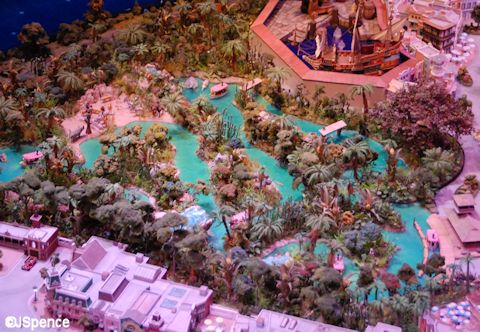 Of course, no story of Walt would be complete without a mention of the 1964-65 New York World's Fair. Pictured below is a model of the final scene of Carousel of Progress, the 1960's era.
Further down the line we find a bank of television monitors. These are showing some of the many shows that Walt was responsible for. For those of us old enough to remember you'll feel nostalgic about seeing Spin & Marty, the original Mickey Mouse Club, and Zorro.
Several more exhibits are presented before entering the room devoted to Walt's death on December 15, 1966. This next picture displays the many magazine covers and editorial cartoons depicting a saddened world.
As with every museum, the Walt Disney Family Museum has a shop at the end of the displays. Here you will find some upper-end merchandise that you may already be familiar with from Disneyland and Walt Disney World. There are also some unique pieces created especially for the museum. A Fantasia-inspired state-of-the-art digital theater is located on the lower level of the museum which screens Disney classics daily.
I have only shown you a sampling of what this museum has to offer. There is easily ten times more for you to experience.
I spent about two hours touring the Walt Disney Family Museum. You could see it in less time, but that would require missing a lot that is offered here. You could also spend much, much more than two hours. There are literally hundreds of plaques to read – almost too much to take in in one visit. It's obvious that the designers put the same quality and love of detail into this museum that Walt demanded of his own projects.
For those of you who have read any of Walt's biographies, you won't discover any new and revolutionary stories about his life here. However, the many exhibits make the tales we are familiar with come to life. After visiting the museum, there is a sense that you've somehow become closer to a man that you probably only knew through his appearances on television. I don't believe in ghosts. And if I did, I believe that Walt would haunt Disneyland, not this museum. But his presence can be felt here none the less. I highly recommend a visit to San Francisco and a trip to the Presidio and the Walt Disney Family Museum. You'll be glad you did.
To visit the official Walt Disney Family Museum website, click here.