Florida might be a subtropical paradise, but it does get cold here at times, as this week's front proves. And, though "Frozen" might be a big winter hit in the theaters right now, you don't have to spend your days in the Orlando theme parks experiencing the same.
How will the cold affect your visit to Orlando theme parks such as Walt Disney World and Seaworld? When the mercury dips below 50, some things change even if others remain the same. Here are a few things of which to be to be aware:
** Water parks will close. Disney's Typhoon Lagoon already is not open to guests because of scheduled maintenance, and Disney's Blizzard Beach also will be closed today. Same goes for SeaWorld's Aquatica. Guests who had planned to visit the Disney water park still can enjoy the adjacent Winter Summerland miniature golf course, though.
** Some animals will stay indoors, but others will not be deterred by the cold. At Disney's Animal Kingdom, a three-hour process brings all animals indoors each night to climate-controlled areas. In the morning, they are given a choice whether to venture out or stay warm and cozy. When Florida has a cold snap, such as this one, extra precautions also are taken in the outdoor habitat, such as adding heating elements, for example. So, riding Kilimanjaro Safaris will not be a bust, but you're unlikely to see the Komodo dragon from the walkway along its outdoor habitat because it is sensitive to the cold. Same goes for some other animals, too.
At SeaWorld Orlando, many of the marine animals already thrive in cooler waters, such as the orca whales, sea lions and dolphins, so these temperatures don't affect their performances. The shows will go on! And although the penguins in the new Antarctica attraction reside in a climate-controlled area, guests just might feel like they've stepped onto the South Pole, too, no matter how chilly it might be outside.
** Steer clear of water rides, such as Splash Mountain or Journey to Atlantis, or the Splash Zone at the Shamu show. These places may be open but do you really want to spend the rest of your day shivering from wet, soggy clothes?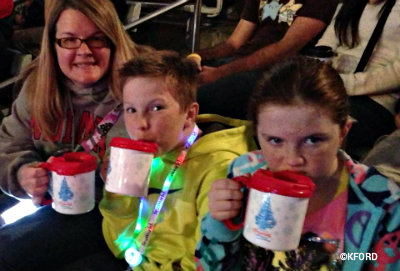 ** Seize the opportunity to drink plenty of hot chocolate or warm coffee in the theme parks. SeaWorld has the best deal for hot chocolate, with its refillable souvenir mug. It works the same way as its drink cups — after a one-time purchase of the cup, all refills are 99 cents. At Disney World, coffee lovers can get their Starbucks fix at new locations on Main Street, U.S.A., in the Magic Kingdom and near the Fountain of Nations in Epcot. Additional stores are planned!
** When vacationers arrive at the theme parks, it's easy to get caught up in the excitement and the anticipation of their favorite attractions. But when it's cold, adjust your schedule accordingly. Plan to visit indoor attractions in the morning or evening, when temperatures are coolest. As the day warms up, spend more time outdoors for a more pleasurable experience.
** If you're staying in the Disney resorts, don't forget that some, like the Fort Wilderness Resort or the BoardWalk Inn, offer enticing fireplace settings in their main lobbies. Others, such as the Polynesian Resort or the Beach Club, also offer nightly beachside fire pits complete with s'mores that also can be fun family escapes from the rare Florida cool-downs. The cozy evening gatherings around the fire can be the perfect way to wind down after a long day in the parks, too. Who knows, if you're outside at a fire pit, you might even catch a glimpse of a fireworks show, as well.