Disney's Boardwalk Resort brings the charm of turn-of-the-century Atlantic City to life transporting Guests to a bygone area. When it was constructed in 1870, Atlantic City's boardwalk was the first in the United States and it played a major role in ushering in the city's golden era in the early 20th century. During this time, Atlantic City became one of the country's premiere vacation destinations featuring elegant hotels, vibrant nightlife, and world-class restaurants.
Disney's Boardwalk effectively recreates this setting not only with a distinct look and feel found in the resort's architecture and décor but also with its nightly entertainment on the boardwalk and wide array of dining options. When it comes to dining, Disney's Boardwalk offers something for everyone whether it be just grabbing a pastry from the Boardwalk Bakery, enjoying a game at the ESPN Club, or sampling the Greek-inspired cuisine of Cat Cora's Kouzzina. The crown jewel of the Boardwalk's restaurants, however, is the Flying Fish Café.
Overview:
Open only for dinner, the Flying Fish Café holds true to its namesake and is best known for its fresh seafood. Being a Signature dining location, you know that you can expect the highest quality in all facets of the dining experience. However, as opposed to the more elegant and formal atmospheres of many other Signature restaurant's, Flying Fish Café is still able to deliver a unique and memorable dining experience without sacrificing its whimsy and charm.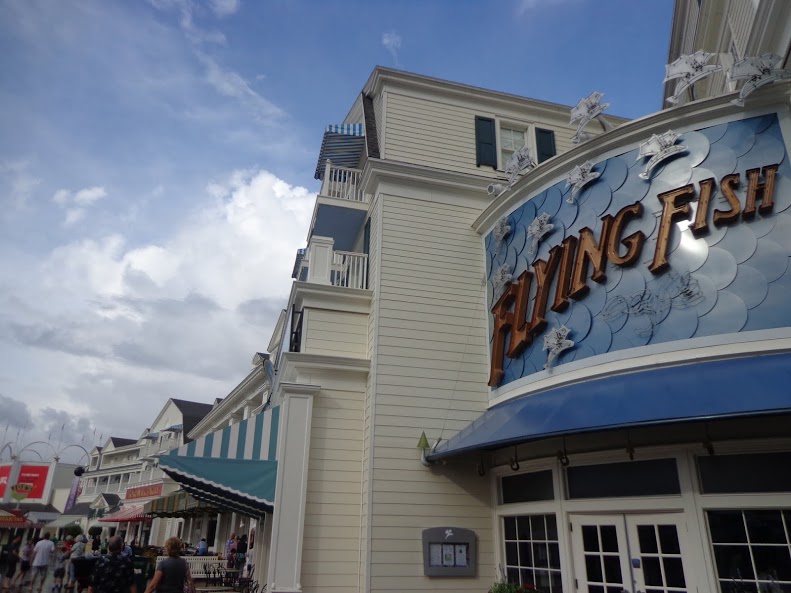 In addition to being a Signature restaurant, the Flying Fish Café also features two special offerings. First is the Chef's Tasting Wine Dinner. Here Guests take a seat at the chef's counter, directly in front of the onstage kitchen, and are able to interact with the restaurant's culinary team as they prepare the evening's meal. This five-course prix fixe menu changes daily and is available just twice an evening (5:45 and 8:15) Sundays through Thursdays. The second unique experience is Dining with a Disney Imagineer. This four-course meal offers Guests one-of-a-kind insights into the design, theming, and history of the Disney parks and resorts. Both of these experiences are incredibly popular and reservations should thus be made well in advance.
Like all other Disney Signature dining locations, Flying Fish Café features a dress code. Men are encouraged to wear khakis, slacks, jeans, dress shorts, and collared shirts. Sport coats are optional. For women it is suggested that they wear capris, skirts, dresses, jeans, dress shorts. There are also certain articles of clothing that are not allowed in the dining room, such as tank tops, swimwear, hats, cut-off or torn clothing.
Atmosphere:
The Flying Fish Café continues the turn-of-the-century boardwalk feel of the rest of the resort, but does so in a playful and whimsical way. The flying fish that give the restaurant its name are literally flying from parachutes hanging from the ceiling.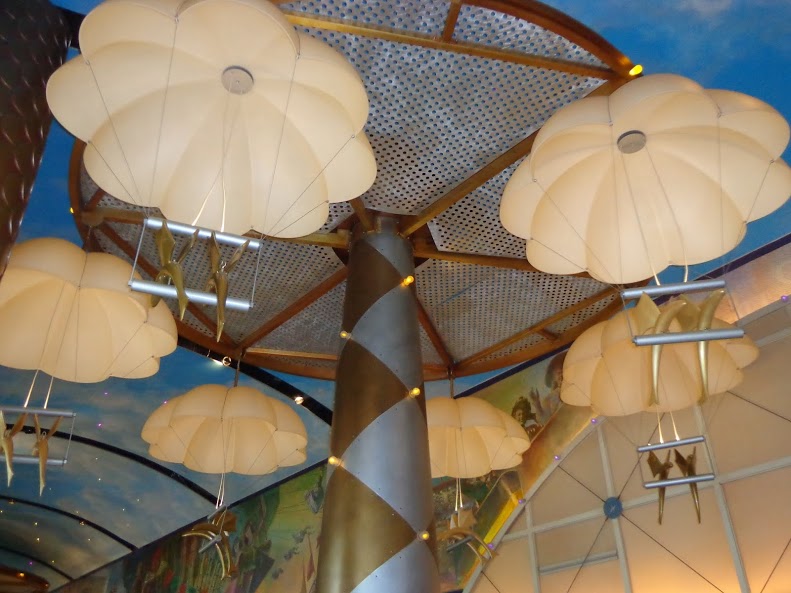 The overall theme of the restaurant is that of an old-fashioned boardwalk amusement park; Coney Island is a picture that immediately comes to mind. However, this theme is presented in a way that is tasteful and subdued with a slightly upscale feel.
In addition to the parachuting fish, there is a large ferris wheel along the back wall of the dining room.
There is even one section of the restaurant that gives you the feel of dining inside of a circus tent.
The amusement park theme is best seen in a beautiful mural that stretches along the top of the dining room wall. Here you can find images of wooden rollercoasters, a fun house, steeplechase horses, swings, and people enjoying amusement park treats like popcorn and cotton candy.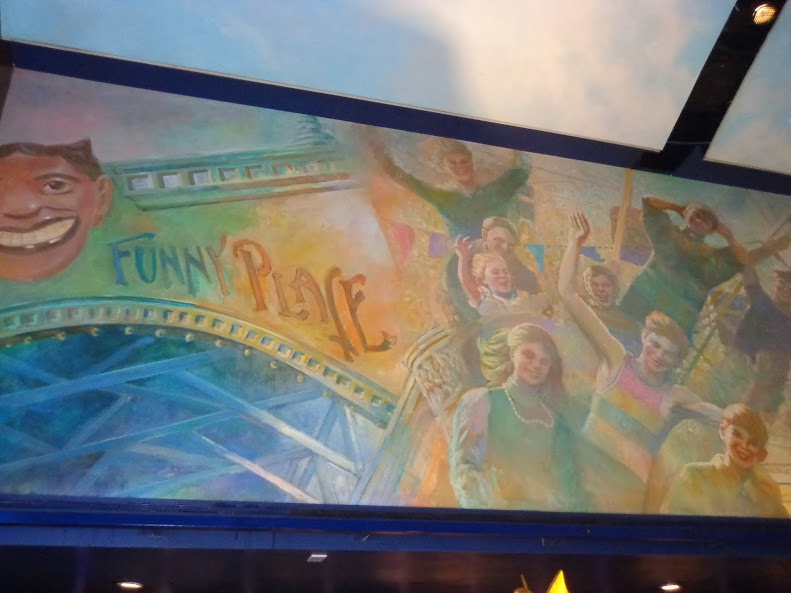 This beautiful piece of art really goes a long way in solidifying the restaurant's theme.
Also, be sure to take note of the restaurant's beautifully painted ceiling creating the illusion of a blue sky filled with white fluffy clouds.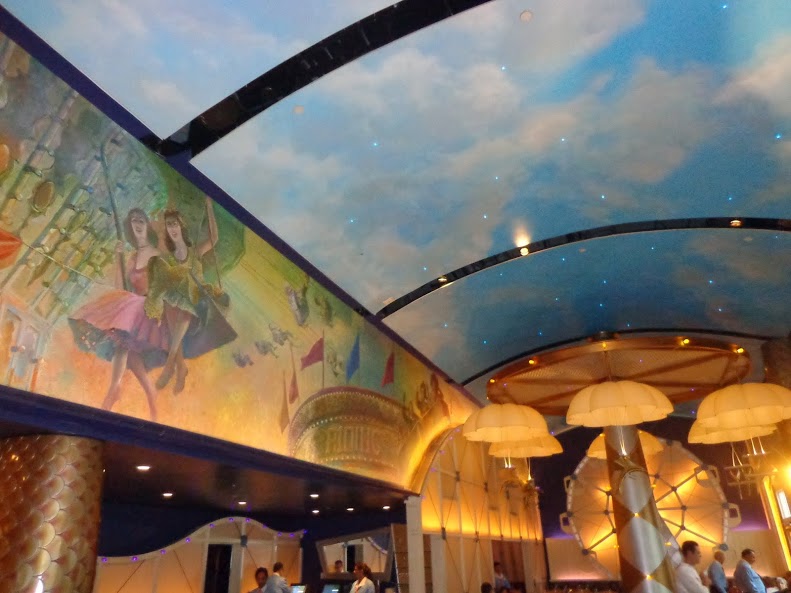 While the dining room may appear a little narrow at first glance, it stretches a long way back and the restaurant's high ceilings also contribute to give the dining room an open feel. Also assisting with this are a large number of windows that line the dining room and offer scenic views of the Boardwalk's courtyard gardens.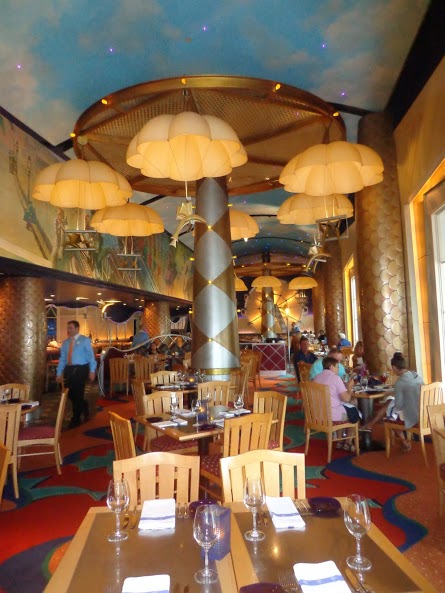 The restaurant also features an open kitchen which allows diners to see their meals being prepared. The counter directly in front of the kitchen is for those Guests enjoying the Chef's Tasting Wine Dinner.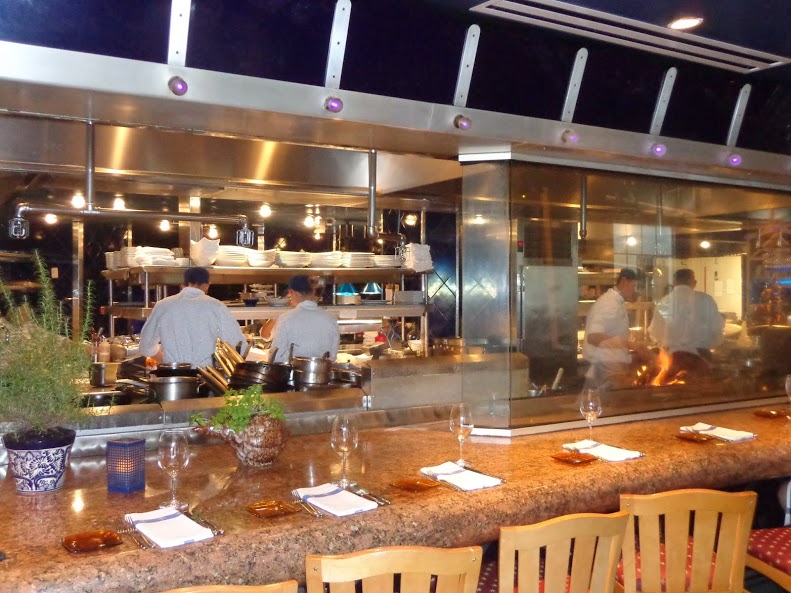 Overall, I found Flying Fish to be one of the better-themed Signature restaurants that I have dined at. Not only does the restaurant do an effective job of carrying through the resort's theme from the boardwalk outside, it does so in a way that is not too over-the-top; you are still getting that more upscale feel that you would expect from a Signature dining location.
That being said, I do think that Flying Fish, because of its unique theming and atmosphere, is one of the more family-friendly Signature restaurants that I have dined at. In fact, I did notice many more families dining here than I typically see at other Signature dining locations.
The Menu:
Holding true to its namesake, the Flying Fish Café specializes in seafood. The restaurant's menu, however, is fairly diverse and features a wide variety of flavors and ingredients giving its dishes a more exotic flare. While there are several mainstays on the menu that the restaurant is known for, a good portion is constantly changing depending on the time of year and what ingredients are fresh. The following reflects the menu when I visited Flying Fish in mid-July.
Appetizers include Chardonnay-Steamed Canadian Cove Mussels ($18.00), Yellowfin Tuna Tartare and Crispy Tempura Tuna-Vegetable Sushi Roll ($18.00), Vegetarian Sushi Roll ($12.00), Crispy Maine Coast Jonah Crab Cake ($17.00) with roasted red pepper coulis and chile rémoulade, Crispy Sesame and Togarashi-Scented Calamari ($15.00) served with an Asian dipping sauce, Worldly Artisanal Cheeses ($18.00) featuring tasting portions of five different cheeses, and the Signature Flying Fish Cafe Appetizer Duo ($16.00) combining the jonah crab cake and caesar salad.
There are also a number of soups and salads available including the Chef's Special Thunder Appetizer ($13.00) with roasted beets, goat cheese, spiced pecans, oranges, and a pecan-truffle blood orange vinaigrette, Sherry-Laced She Crab Crema ($11.00), a Sweet Bibb and Red Oak Salad ($11.00) with pears, gorgonzola cheese, radishes, candied walnuts, and a walnut oil vinaigrette, Caesar Salad ($11.00), and Mozzarella di Bufala alla Caprese ($15.00).
The entrees may seem a little complex with all the various ingredients, but I found the servers very helpful in explaining the dishes. Among these are the Oak Grilled Swordfish ($34.00) served with wilted field greens, braised leeks, maitake mushrooms, and an Idaho potato torta with a tarragon butter sauce, California Asparagus and Mushroom Riccia Pasta ($26.00) topped with forest mushrooms, jumbo asparagus, arugula, porcini, and crispy shiitake mushrooms, Idaho Potato-Wrapped Red Snapper ($36.00) served over a rich leek fondue with a red wine butter reduction, Oak-Grilled Faroe Islands Salmon ($36.00) accompanied by arugula and red watercress, cucumbers, heirloom radishes, and tiny turnips with a vermouth, dill, caper and butter emulsion, Oak-Grilled Maine Diver Scallops ($35.00) served with Mediterranean vegetables and a mascarpone-laced risotto, Trio of Heritage Berkshire-Kurobuta Pork Tenderloin ($34.00) featuring grilled tenderloin, slow-cooked belly, and braised shoulder with a mushroom ragout and a corn goat cheese "pudding," the Char-Crusted Angus New York Strip Steak ($43.00) served alongside fingerling potatoes, red Bermuda onions, young carrots, and topped with a classic sauce foyot, and finally the Signature Flying Fish Cafe Entree Duo ($47.00) that combines the strip steak and potato-wrapped red snapper.
There are also several delectable side dishes to choose from including Grilled California Jumbo Asparagus ($12.00), Smoked Bacon and Garlic-Laced Rainbow Chard ($6.00), Leek, Fontina, and Truffle-Laced Mac and Cheese ($10.00), Creamy Risotto di Carnarolli ($8.00), Aged Gruyere and Parmigiano Potato Gratin ($8.00), and Herb-Roasted Mushrooms ($9.00).
If you still have room for dessert, there are several options which pay tribute to the restaurant's Boardwalk influence. The best example of this is the Trio of Concession Sweets ($9.00) featuring popcorn mousse and caramel corn, cherry-limeade popsicle, strawberry-raspberry "hot dog," and pound cake fries. There is also the Caramelized Banana Napoleon ($8.00), FFC Summer Sundae ($8.00) with cinnamon ice cream and cherry sorbet, candied almonds, and cherry compote, the "Nuts About Chocolate Indulgence" ($8.00) with a caramel, chocolate, and hazelnut praline mousse, a candied pecan and butterscotch-laced blondie, chocolate sorbet, and candied almonds, Cashew-Crusted Blueberry Goat Cheesecake ($8.00), and Peach Creme Brulee ($7.00).
For my meal I chose the Idaho Potato-Wrapped Red Snapper ($36.00), which my server described as one of the restaurant's signature and most popular entrees. The snapper comes served over a leek fondue and is accompanied by a red wine-cassis butter reduction. While the idea of fish wrapped in potatoes was very appealing, I was a little hesitant to order this dish because I was unsure of the leek fondue. I first asked if I could get something else substituted for the leeks, but my server assured me that this was an essential part to the dish and encouraged me to give it a try. I am so glad that I took his advice because the leeks were phenomenal.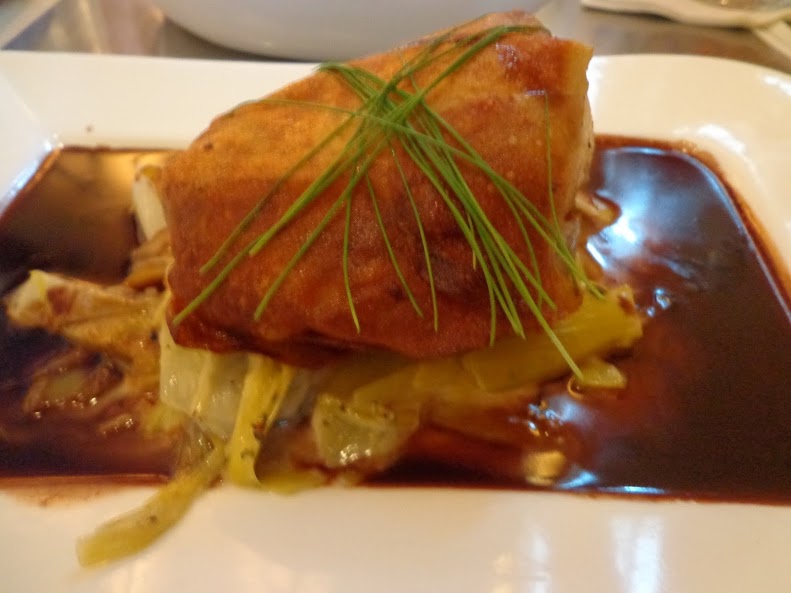 Red snapper is not a strongly flavored fish, so it really relies on its accompaniments to enhance its flavor. The fish itself was perfectly moist and fell apart at the touch of a fork. The potatoes that wrapped the snapper were thinly cut and slightly crispy in texture, which provided a nice contrast to the softer fish. The leeks, while having a similar look and consistency, did not have as bold or prominent a flavor as onions and certainly did not overwhelm the other flavors of the dish. On the contrary, I felt that the leeks paired perfectly with the mildly-flavored snapper. Finally, the red wine-cassis butter reduction was the real star of the dish, providing a tremendous, and ever-so-slightly sweet, flavor that really helped tie the whole dish together.
As a side dish I decided to try Aged Gruyere and Parmigiano Potato Gratin ($8.00). Even though this was a side dish, it was really a highlight of the meal. I was amazed by how much flavor was packed into these potatoes. The gooey cheesiness of the potatoes certainly made for a rich and filling dish. It is definitely large enough to split between two or three people.
These potatoes really highlighted one of the things that I enjoyed most about the Flying Fish menu: the tremendous variety and combinations of flavors in each of the dishes. This is something that helps differentiate a Signature restaurant; they rely on a wide array of ingredients and flavors that help take common dishes and give them a more exotic and unique twist. Everything on the menu is truly of the highest quality.
Service:
Another benefit of Signature restaurants is the attentiveness of the servers. As a general rule, servers at Signature restaurants typically have fewer tables to wait upon and can thus devote more time to your needs. I found my server to be extremely helpful. With a menu featuring such a wide variety of ingredients and flavors, I relied heavily on my server to describe the various dishes and provide recommendations as to his personal favorites. Throughout the course of my meal, my server was constantly checking-in to makes sure everything was to my liking and ensuring that I did not need anything else. While not necessarily conversational, I found my server to be very dedicated. You could tell he clearly cared about providing the best service possible.
Another aspect of the service at Signature restaurants that I greatly enjoy is the pace of the meal. Here, you never really feel rushed and the meal progresses at a calm and relaxed pace that lets you fully enjoy the atmosphere and the food.
Dining on a Budget:
This is something that is difficult to do at Flying Fish Cafe. Unfortunately, while a Signature restaurant offers the best of the best in terms of atmosphere, location, food, and service, you are also paying for that high quality. The price of an appetizer here would be the equivalent of an entrée at some other Disney restaurants. If you are looking to splurge a little on a meal during your vacation this would be one of the restaurants to do it at because you certainly get what you pay for. That being said, if you choose to eat at Flying Fish, or any other Signature restaurant, there are a couple of ways to keep the bill low. First, don't order any alcohol. Beer and wine can often run up a bill, so you may want to consider a glass of water or soda. Second, share an appetizer rather than getting one just for yourself. Not only does this save money, but it also prevents you from filling up before your entrée arrives. Finally, skip or share dessert. The entrees are certainly big and filling enough that you do not really need to have a dessert all to yourself, which would also help to keep the cost of your meal down.
Flying Fish Cafe is on the Disney Dining Plan, but as a Signature restaurant it is worth two table service credits. If you are a Tables in Wonderland member, this is definitely a good restaurant to take advantage of its 20% discount. However, there are no additional discounts for Annual Passholders or Disney Vacation Club Members.
The Overall Experience:
I have always been a fan of Disney's Boardwalk. With its immersive theming and attention to detail, nightly entertainment, and various dining options, you really feel as if you have been transported to another time and place. The Flying Fish Café fits in perfectly with the Boardwalk's turn-of-the-century feel. What I liked most about the restaurant is that it has more charm and whimsy than you would typically expect from a Signature dining location. With its well-themed, slightly upscale, and more family-friendly atmosphere, the Flying Fish Café is not nearly as formal or elegant as some of Disney's other Signature restaurants, but I think this helps add to its appeal. It is a restaurant that is quintessentially Disney, but in a more subtle and subdued way.
It is not just the atmosphere, but everything about Flying Fish Café is of the highest quality. If you are a seafood lover, you will certainly not be disappointed with the restaurant's menu that features a wide array flavorful and exotic dishes.While it might be a little pricey, you are most certainly getting what you pay for in every aspect of the dining experience.
See past restaurant reviews by guest blogger Andrew Rossi.
Check out Reader Reviews of Flying Fish Cafe and post your own too!