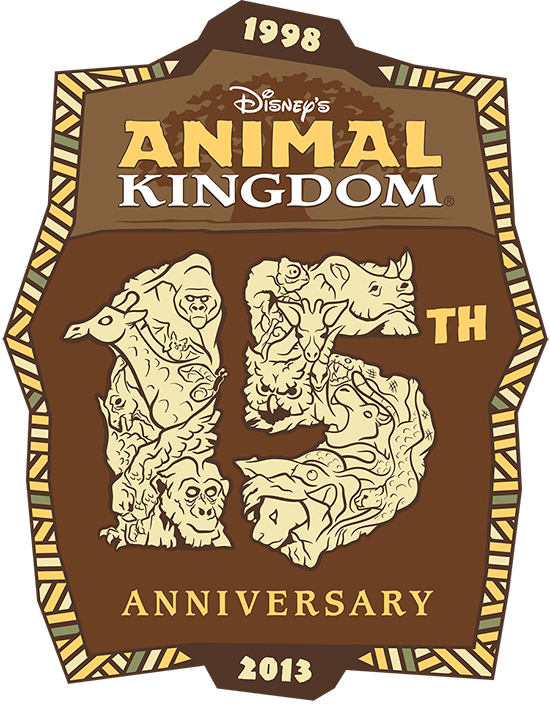 Earth Day is always a special day at Animal Kingdom because the park opened on April 22, 1998.
This year Animal Kingdom celebrates birthday #15!
The Disney Parks blog has released some information about special festivities for the day:
** Get there by 8:30 a.m.! While the park and its attractions don't open until 9 a.m., the turnstiles will open at 8:30 a.m., and Dr. Jackie Ogden will bejoining Disney's Animal Kingdom Vice President Josh D'Amaro who is hosting a special 15th anniversary ceremony that will take place in front of the Tree of Life at 8:40 a.m.
**Commemorative guide map: Be sure to pick one up when you enter the park. And while in the Main Entrance area, also pick up a keepsake postcard that serves as a Party for the Planet guide.
** Special conservation button: Starting April 22 and for a limited time (until quantities run out), those who give to the Disney Worldwide Conservation Fund (DWCF) at Disney's Animal Kingdom will receive a commemorative 15th anniversary DWCF button.
** Party for the Planet activities: In Africa, children will learn how to identify animals by observing tracks and other clues. In Asia, families will find out how choosing "green" products can make a big difference for wildlife and nature. At Rafiki's Planet Watch, families will discover fun ways to spend time in nature and participate in activities inspired by the Disneynature films "African Cats," "Chimpanzee," and "Wings of Life." Guests also can talk with cast members who work on conservation projects around the world.
** Guest artists and special merchandise: Speak with specialists from Elemental Nursery and Just Plumerias, who will be on hand to feature their beautiful plants and topiaries, along with special guest appearances. There will be face painting with a variety of animal images and the opportunity to pose for a fun portrait.
** Special 15th anniversary merchandise (quantities limited).
** Specialty snacks: A party wouldn't be a party without snacks-enjoy an Earth Day cupcake.