When it comes to fine dining the Grand Floridian Resort and Spa has some of the most exclusive restaurants in all of Disney World. First and foremost among these restaurants is Victoria and Albert's. An eleven time recipient of the prestigious AAA Five Diamond Award, this restaurant offers innovative cooking with a menu that changes daily, impeccable service, and opulent décor. Narcoossee's specializes in seafood and features a breathtaking location with stunning panoramic views of the Seven Seas Lagoon. Citricos features a Mediterranean-inspired décor and menu in addition to an award winning wine list that is one of the most extensive in all of Disney World. Each of these restaurants are what Disney classifies as Signature dining locations. Signature restaurants are the cream of the crop amongst the numerous dining locations to be found all across Disney World, offering elegant and refined settings that create truly unique and memorable dining experiences.
Overshadowed by its more prestigious neighbors, the Grand Floridian Café is easily missed even by those who are staying at the resort. Although it might not have the same name recognition, this restaurant provides a great alternative for those who may not be looking to dine in as formal a setting nor have the budget for these other Signature dining locations.
Overview:
Disney's Grand Floridian Resort and Spa certainly lives up to its namesake. When it comes to Disney resorts, its grandeur is second to none. The Grand Floridian is all about elegance as soon as you enter the lobby and this is carried throughout the rest of the resort.
While the Grand Floridian Café ties into the overall Victorian theming and charm of the resort, it does so in a more casual and subdued way, which helps to create a comfortable and calm setting in which to enjoy your meal.
The Grand Floridian Cafe is located in the main building of the Grand Floridian. Situated in an un-imposing location tucked away from the lobby, it can easily be passed by as one makes their way toward the resort's marina. Open for breakfast, lunch, and dinner, easily accessible by boat or monorail from the Magic Kingdom, and located at one of Disney World's marquee resorts, it is surprising that the Grand Floridian Café is largely overlooked when it comes to Disney dining locations. This, however, is part of its allure. The restaurant's relative obscurity makes for a quiet and relaxing atmosphere, often without need of a reservation, which provides a much-needed escape from the crowds as well as the hustle and bustle of the theme parks.
Atmosphere:
The Grand Floridian Café has an atmosphere that I can best describe as casual elegance. It has the same Victorian style as the rest of the resort, but with a more comfortable and laid-back feel. The restaurant's dining room is bright and inviting, featuring a color palette of white and cream.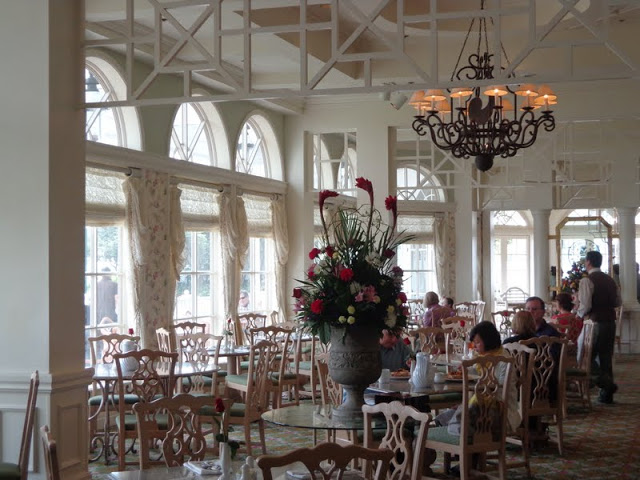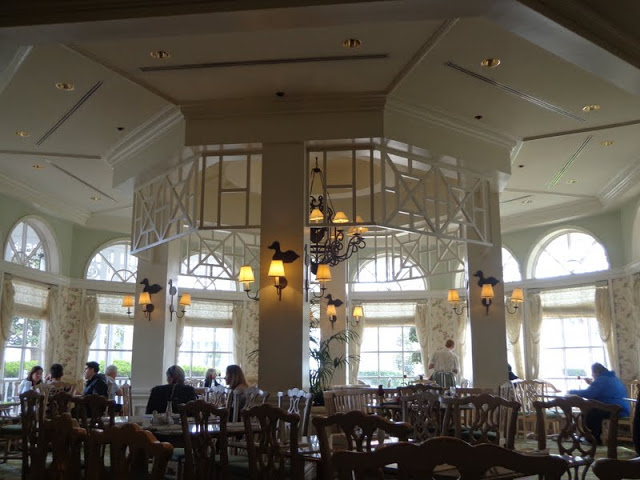 Its high ceilings give the restaurant a very open feel, which is also aided by its large windows.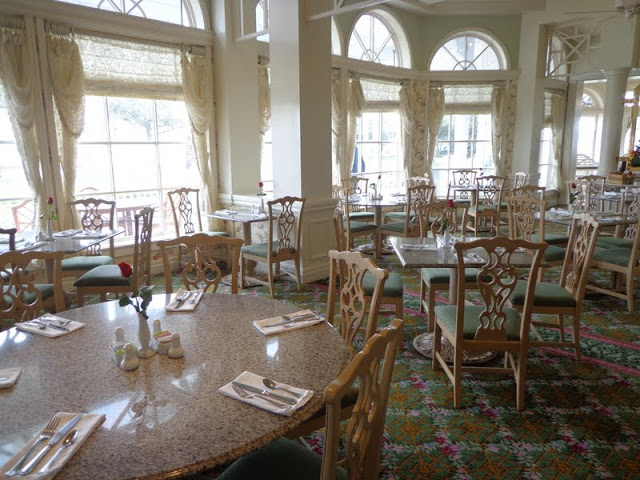 Not only do these windows allow in ample sunlight throughout the day, but they also offer stunning views of the resort's courtyard and rose garden.
These windows really help to bring the outdoors into the restaurant, with the roses from the garden continuing onto each table top. This flower motif is also continued on the wallpaper and carpeting as well.
Subtle touches like the restaurant's lace curtains and beautiful floral arrangements lend a sense of sophistication, but overall this is a very inviting setting to dine with the entire family including small children.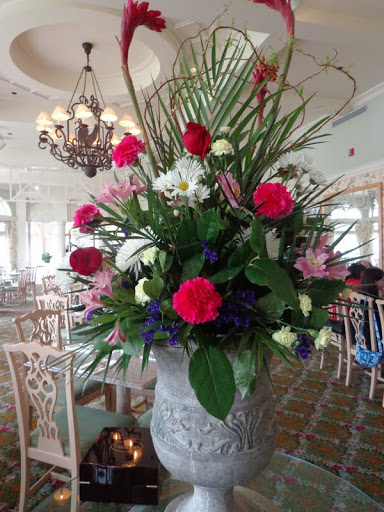 The overall décor is very subdued and simple. The dining room's curtains, floral wall paper, and light fixtures all add a sense of Victorian charm.
In addition, a variety of water-color paintings of fruits and vegetables as well as several weather vanes featuring farm animals give the restaurant a little character and whimsy.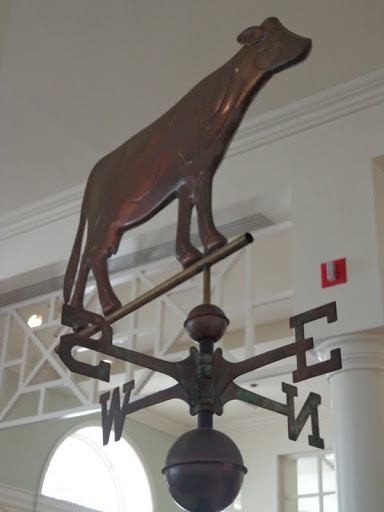 The Grand Floridian Café compliments the look and feel of the resort as a whole but it also provides a nice change from the elegance and refinement of the rest of the resort and its other Signature restaurants. Overall, there is really nothing about the restaurant's atmosphere that is going to make you say "wow," but it provides a tranquil and relaxing setting in which to enjoy your meal. This is aided by the fact that the restaurant is not usually very crowded, especially during lunchtime hours. Dining here is truly a great escape; you really have no idea that you are just minutes away from the Magic Kingdom.
The Menu:
The Grand Floridian Café's menu presents classic American fare, but with a little flair. Breakfast is served from 7am until 11am and the menu features traditional items such as the American ($13.49) featuring two Eggs served with biscuits, bacon, sausage and breakfast potatoes. There is also a Mickey Waffle ($10.99) served with bacon or sausage and a Ham and Cheese Omelet ($11.49) served with breakfast potatoes. There are, however, some breakfast items that are given a little twist, such as the Lobster Eggs Benedict ($17.99), Citrus Pancakes ($12.49) with roasted pecans and sun-dried cranberries topped with orange butter, and Vanilla-Laced French Toast ($11.99) which is dipped in a vanilla-flavored batter and served with bacon or sausage.
Lunch, served from 11:45am until 2pm, features a menu dominated by a lighter fare of sandwiches and salads. These include two of the restaurant's signature lunch items. First is the Grand Floridian Burger ($19.49) that is topped with butter-poached lobster with a red onion marmalade, crispy prosciutto, and arugula and there is also The Grand Sandwich ($13.49) served open-faced with hot ham, turkey, bacon, and tomato with a rich Boursin cheese sauce and fried onion straws.
Additionally, there is the Rustic Chicken Sandwich ($12.99) topped with a sun-dried tomato pesto and Dijon mayonnaise, a traditional Reuben Sandwich ($10.99), a Tuna Nicoise Salad ($18.49) with mixed greens, fingerling potatoes, green beans, kalamata olives, and tomatoes , Caesar Salad with shrimp ($15.49) or grilled chicken breast ($14.49), and a Cobb Salad ($15.49) with diced turkey, bacon, avocado, blue cheese, eggs, chives, and tomatoes.
If you are looking for a heartier lunch there is the Orecchiette Pasta of the Day ($15.99) that can also come served with shrimp ($19.99) or grilled chicken ($17.99) as well as the New York Strip Steak ($26.99) served with mashed potatoes and seasonal vegetables.
Dinner is served from 5pm until 10pm. The menu's appetizers are the same for both lunch and dinner, including Pan-Seared Lump Crab Cakes ($11.49), Shrimp Cocktail ($12.99), Caesar Salad ($5.49), a Seasonal Salad ($5.99), French Onion Soup ($7.49), and a Seasonal Soup ($5.99).
For entrees, the dinner menu replaces all the sandwiches and salads on the lunch menu with exception of the Grand Floridian Burger. The menu instead features Pan-Roasted Chicken Breast ($18.99) with a mushroom risotto, roasted mushrooms, and chicken pan juice, Shrimp and Grits ($19.99) served on top of creamy mascarpone cheese grits, a New York Strip Steak ($29.99) accompanied by crushed fingerling mashed potatoes and a brandy-green peppercorn sauce, a Grilled Pork Chop ($21.99) with sweet potato-smoked gouda gratin and sautéed spinach topped with chimichurri, and Orecchiette Pasta of the Day ($18.99).
The dessert options are the same for both lunch and dinner and include Chocolate Fondue ($6.99) served with dark chocolate ganache and fresh fruit, Key Lime Tart ($3.29) with a chocolate crust, New York-Style Lemon Cheesecake ($3.49), Boston Cream Pie ($3.49), Fresh Berry Tart ($3.49) with a layer of almond cake topped with seasonal berries and an apricot glaze, and Seasonal Sorbet ($4.99).
For my lunch I inquired as to what the Seasonal Soup was for the day and was told that it was a Butternut Squash Soup. I immediately decided to order this because it is a type of soup that I greatly enjoy but is not found in too many restaurants. This was butternut squash soup with a twist, however, as it was served with diced apples and bacon and came topped with a whipped maple cream.
The soup was presented with a fairly generous dollop of this whipped cream in the center and was then mixed in. The soup itself was so rich and creamy, but I found it to be not quite as sweet as other butternut squash soups I have had in the past. Some added sweetness was provided by the diced apples as well as the maple whipped cream. I was really surprised at how well the flavor of the apples blended with the butternut squash and complimented the slight saltiness of the bacon (whose flavor was not nearly as overwhelming as I had thought it would be). These added components really helped to make this butternut squash soup unique.
I was very undecided about my entrée as both the Grand Floridian Burger and The Grand Sandwich sounded very intriguing. Instead, I chose to go with the Orcchiette Pasta of the Day. On this particular day the pasta was served with green beans, peas, carrots, mushrooms, and sun dried tomatoes topped with a creamy asiago cheese sauce.
The sauce was the real highlight of the dish as it had such a rich and creamy flavor to which the vegetables provided a light and refreshing contrast. Of all the vegetables, the flavor of the sun dried tomatoes really popped. The pasta was also seasoned generously with crushed black pepper that helped to provide an added kick. I was also very impressed with the portion size as well as the amount of vegetables that were mixed into the pasta. One of the great things about this particular dish is that it is always changing depending on what is fresh.
Service:
One of the aspects of the Grand Floridian Café that really impressed me the most was the impeccable service. The Cast Members at this restaurant were some of the friendliest and most personable that I have experienced at any Disney dining location. It started as soon as I approached the entrance of the restaurant and the hostess immediately struck up a conversation with me when I told her it was my first time dining there and we continued to chat as she showed me to my table.
My server was extremely helpful in explaining the various menu items, including descriptions of the soup of the day and the orcchiette pasta that both won me over to ordering these dishes. We discussed a variety of topics including the Grand Floridian resort, Disney World, and living in Florida. He always seemed to be nearby whenever I needed anything. This is one of the primary advantages to dining at a restaurant that is typically less crowded. My server only had a couple of tables to wait on and there was really no rush to get tables turned over in order to seat additional parties as is evident at some of the more popular restaurants. This allows for the servers at the Grand Floridian Café to provide very personal and attentive service and it is something that makes it very likely for me to dine here again in the future.
Dining on a Budget:
Of course, when compared with the other dining options at the Grand Floridian, the Grand Floridian Café is a far more reasonable dining option. This is especially true at lunch time where the menu's variety of sandwiches and salads are all good values by Disney standards. To put it into perspective, if you were at Magic Kingdom and went to Pecos Bill's to order the Deluxe 1/3 Pound Angus Cheeseburger it would cost you $10.59. For just a few dollars more you could escape from the crowds and enjoy a meal in a far more quiet and relaxing setting with higher quality menu items such as the Rustic Chicken Sandwich for $12.99. Not only are the prices reasonable, but the portion sizes are very generous.
The Grand Floridian Café is on the Disney Dining Plan and is worth one table service credit for breakfast, lunch, and dinner. The restaurant also participates in Tables in Wonderland, offering members a 20% discount. In addition, Annual Passholders can receive a 10% discount on lunch Mondays through Fridays. Disney Vacation Club members get a 10% discount on breakfast, lunch, and dinner.
The Overall Experience:
This was my first time dining at the Grand Floridian Café, but after my experience there I know that it will not be the last. With its quiet, casual elegance that incorporates the resort's Victorian charm, a reasonably priced menu that features a variety of different options from sandwiches to salads to full entrees, and friendly and attentive servers, the Grand Floridian Café is certainly worth a visit and not only if you are staying at the resort.
With such easy accessibility by boat or monorail from the Magic Kingdom, the Grand Floridian Café would be a great option for a middle-of-the-day break from the park, giving you the chance to relax and reenergize and enjoy some peace and quiet. In addition, since dining reservations can sometime be hard to come by in the Magic Kingdom, the Grand Floridian Café is the type of restaurant that you do not need to make reservations for months in advance. Overall, I was very impressed by the Grand Floridian Café. It is a dining location worthy of being located at one of Disney World's marquee resorts.
See past reviews by Guest Blogger Andrew Rossi.
Check out Reader Reviews of Grand Floridian Cafe and post your own too!