By Guest Blogger Patrick Mann
My family and I had the pleasure of eating dinner at the new Be Our Guest restaurant. The experience was completely immersive and from the top of the castle turret to the Ballroom and the West Wing, one of the best experiences my family had dining at WDW. Here is an example of the amazing imagineering that Disney did in the castle waiting area.
During the medieval ages music notation was formed beginning with one red line, then musical notes called Neumes were added above and below the line. These forms were just a pattern, or a basic idea, for the melodic flow of the music. Using this form of notation allowed for church musicians to perform a wider variety of music, no longer having to memorize music for each week of the church calendar as well as holy days. This basic notation developed into today's modern five line staff and musical notes.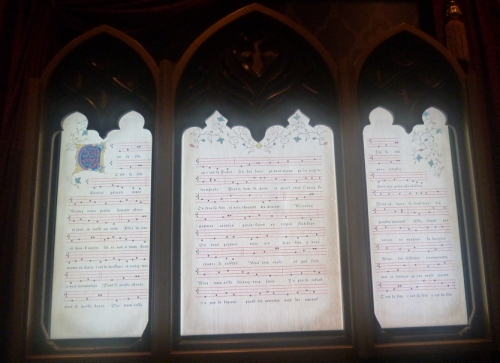 Hidden as the screen saver in the kiosks and in a decorative window in the sitting -room of Be Our Guest restaurant is an exquisite copy of a thirteenth Century French plainchant. The early Gregorian example used four red lines and square neumes only. I am currently a music educator in Texas, and it only took seconds for me to realize that these were copies of Alan Menken's song, Be Our Guest. The imagineers had created this beautiful piece of music in the style of early Gregorian chant just for the restaurant lobby! This blew me away! I had to have a copy of this!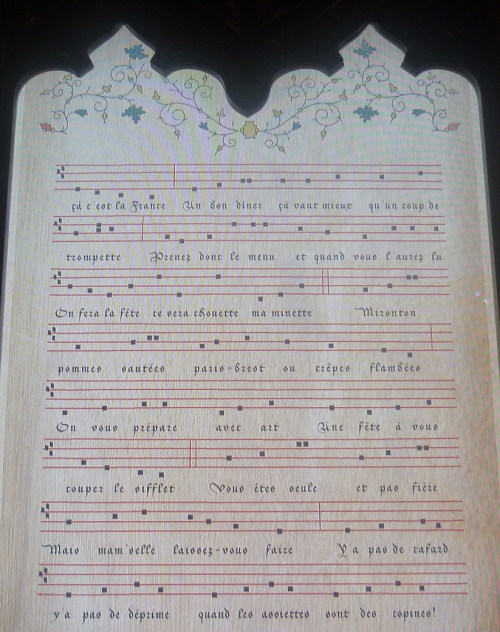 My wife and I asked several employees if the music was available for purchase, we even gave our email address to a few "big wigs" but as of now, no news on if you can purchase this beautiful example of a classic Disney song or not. I encourage you to take a good look at this on your visit to Be Our Guest in the New Fantasyland.