Last year, I wrote an article called "Pounding the Pavement" in which I looked at the ground we walk on in the four WDW theme parks. Today I will be discussing the areas found above our heads: the ceilings of the many shops, restaurants, and attractions found in the parks.
As I mentioned in "Pounding the Pavement," most people never give a second thought to the ground they walk on. The same is true for the ceilings and the details above us. We rarely look up and say, "Wow!" But as with everything in a Disney park, details can be found above our heads just as easily as anyplace else. But it wasn't always this way.
In the early years of the Magic Kingdom, many of the buildings lining Main Street had simple, mass produced "Armstrong-type" ceilings. And in some instances, this is still the case. Take for example the Confectionery. Even today, it lacks imagination. If you look closely at the ceiling, you can see it's nothing more than a grid of metal strips holding up marginally decorated tiles. Notice too, the air-conditioning vents. No building of the 1890's ever had a ceiling that looked like this, let alone air conditioning vents.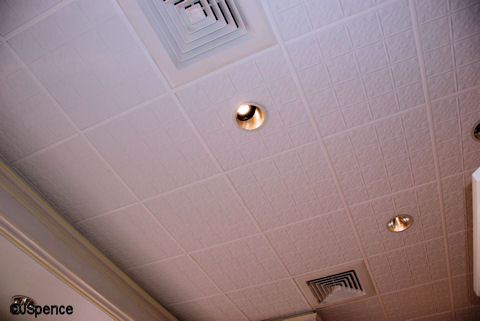 I know you're saying to yourself, "It's 2013. Air-conditioning is a fact of life today, even if it wasn't around in the 1890's. What can Disney do about this incongruity?"
Disney has already addressed this incompatibility of eras in a number of imaginative ways. One of the most common is "hiding" the air-conditioning vents in beams as seen in the next picture. Sure, if you look at the beams, the vents are obvious. But this method is far more palatable than vents that look like they were manufactured in the 1970's.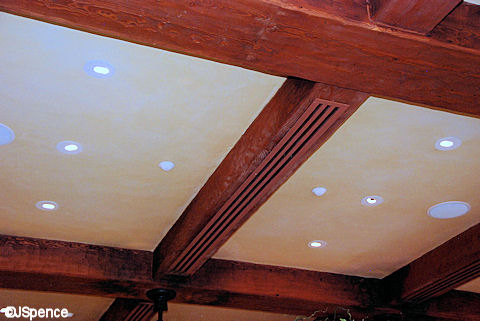 Of course lighting also becomes an issue. Gas lamps of the 1890's simply would not provide enough illumination for a modern shop. We must accept out of necessity canned lights in ceilings.
Although the ceiling in the Confectionery could use a total makeover, we must give Disney some credit. They have tried to add some humor and detail to this overhead area by building a conveyor system that transports buckets of candy around the store.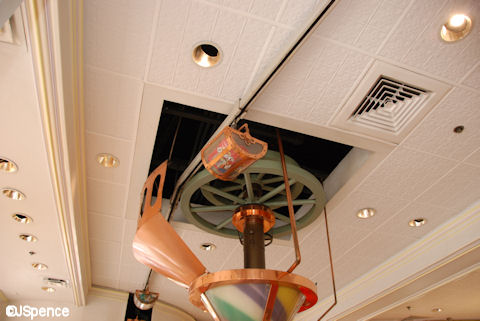 Our next stop is the train station portico. Here, molding has been used quite effectively to turn an otherwise flat surface into a work of art (and also conceal a couple of speakers).
Just inside Town Square Theater (formally Exposition Hall) we find an elaborately decked-out dome and chandelier.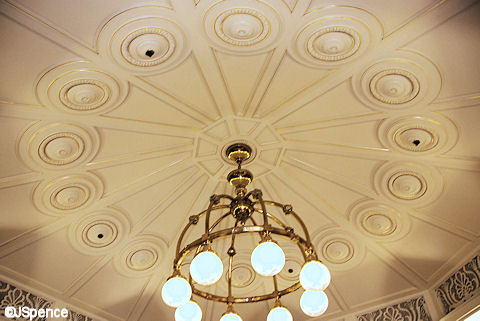 In a recent article I wrote about the Emporium, I discussed the various ceilings found in this shopping arcade.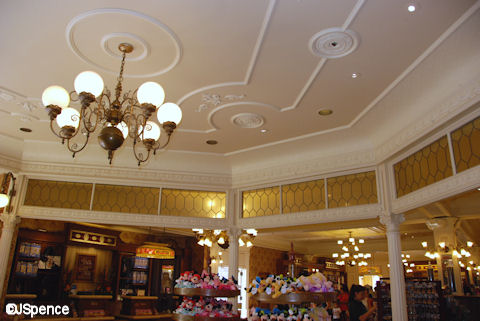 At the Main Street Cinema, a multitude of light bulbs add interest to this multi-level ceiling.
The ceiling inside the Crystal Palace is charming and elegant. It really is a pleasure to dine with the characters beneath such beauty.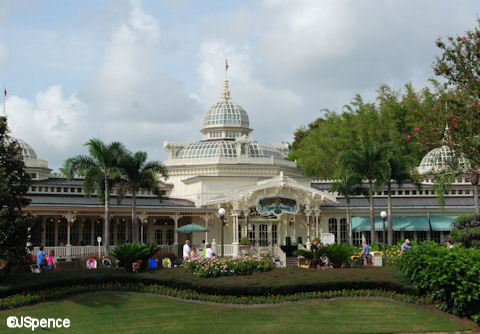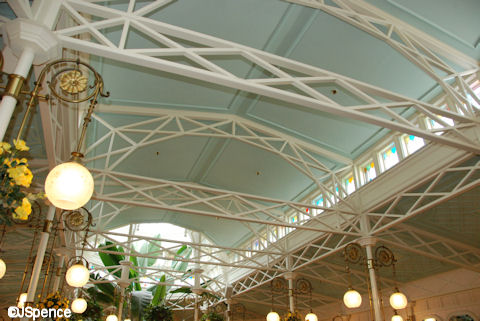 As we know, more often than not, when you leave an attraction, you exit through a shop. Such is the case with Stitch's Great Escape. When leaving this extraterrestrial event, guests find themselves in Merchant of Venus. For the most part, the ceiling is made up of simple tiles. But if you look closely, you'll see Stitch's footprints scattered about. And in another section of the shop we see Stitch himself, poking his head through the tiles.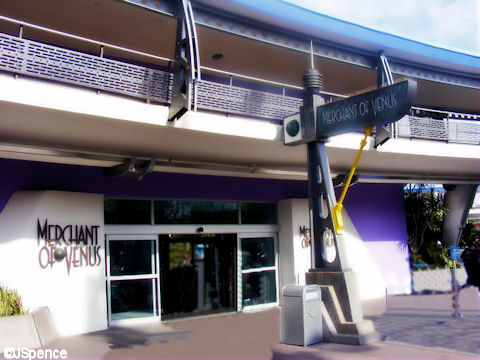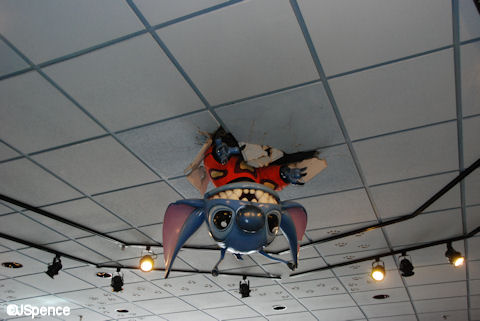 Nearby at the Sun Care Center, it's not the ceiling that impresses, but the space-aged light fixture that resembles orbiting planets.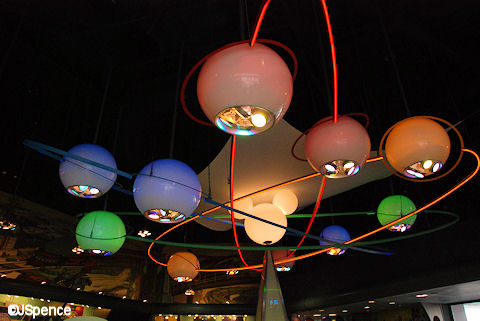 Riding the People Mover is one of my favorite pastimes at the Magic Kingdom. And traveling through Space Mountain is always interesting. But be sure to ride facing forward. If you ride facing backwards, you'll miss seeing the space crew attending to their craft.
While riding Space Mountain, stars, spacecraft, and asteroids can be seen darting overhead. However, many people miss these effects as they ride this coaster with their eyes closed. This effect is also difficult to photograph since cast members ask you to put your camera away while riding.
Over in Liberty Square we find a wonderful domed ceiling just inside Hall of Presidents.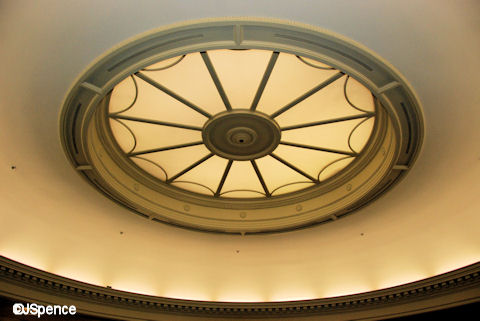 At the Haunted Mansion we find perhaps the spookiest of all ceilings. When we first enter the stretch room, the ceiling is adorned with simple molding. But when thunder crashes and the lights go dark, the ceiling disappears to reveal a man hanging from a noose. Because lighting is dim in this room, and flash photography forbidden, I have no pictures to share with you here.
Columbia Harbor House has a number of nautically themed ceilings. Several of these resemble the underside of the main deck of a sailing ship.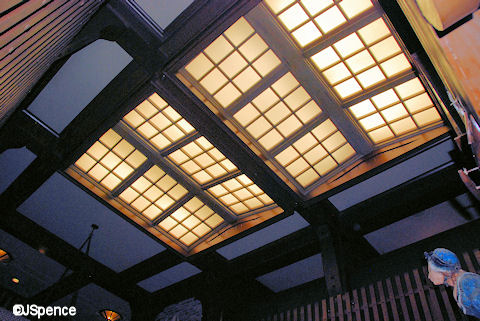 On Frontierland's Splash Mountain, we find the space above our heads is either covered with leaf-laden branches or cave rock.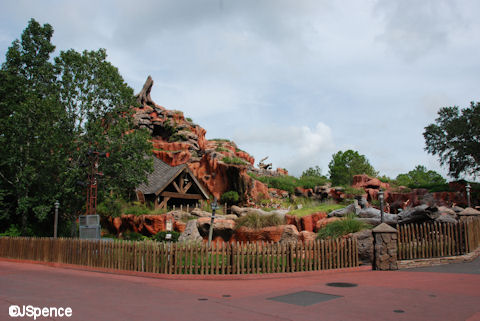 The open-air queue area for Pirates of the Caribbean features heavy timbers running along the ceiling. Timbers like these were necessary when constructing a massive fortresse as portrayed here.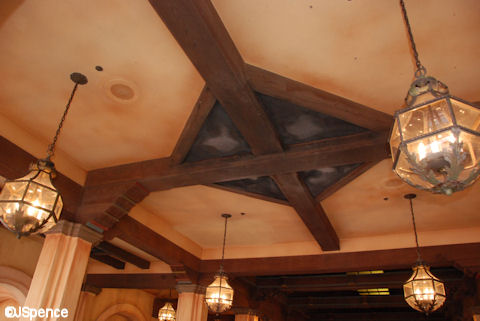 The walkway between Liberty Square and Adventureland incorporates a beautifully detailed ceiling into the design. Next time you're waiting for a friend to finish up in the restrooms located off of this corridor, take a gander at what lies above your head. Notice again how Disney has incorporated vents and other utilitarian features into the design.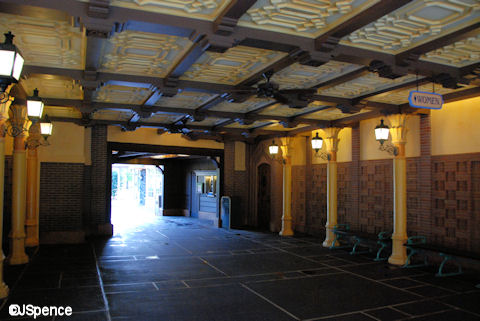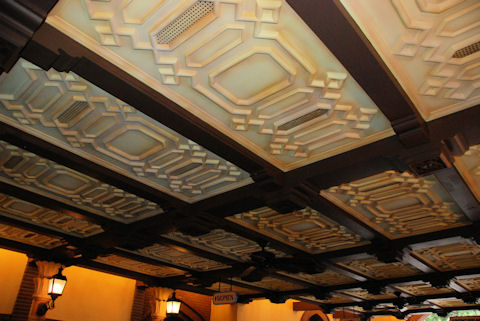 Walt Disney World is all abuzz with the opening of the Be Our Guest Restaurant located in the New Fantasyland. This elegant eatery features one of the most elaborate of all the Magic Kingdom ceilings. Diners really do feel as if they have been magically transported to Beast's Castle and maybe into the movie itself.
Speaking of castles, Cinderella has a pretty nice one herself. And the ceiling in the banquet hall demands attention.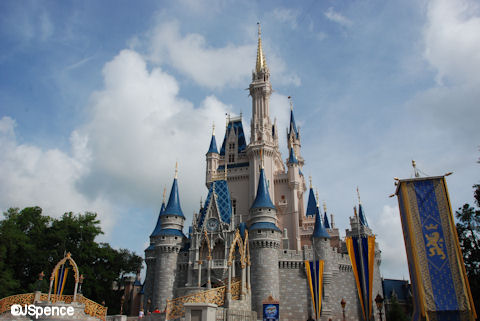 At Big Top Souvenirs in Storybook Circus, we find the canvas of the big top overhead. Besides the colorful striped fabric, a good observer will discover a tightrope, trapeze, and other circus paraphernalia.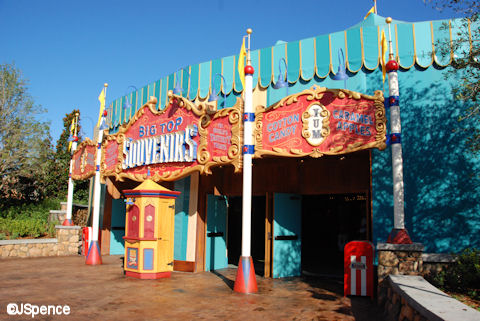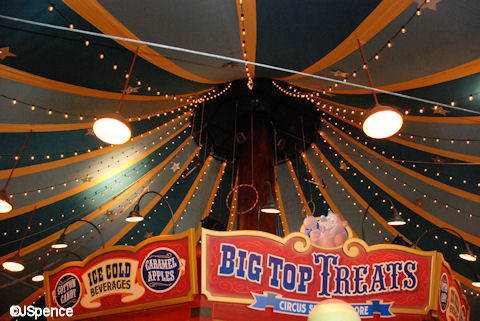 That's it for today. Check back tomorrow when I'll be discussing the overhead delights of Disney's Hollywood Studios.