To all who come to this photo trivia game, Welcome! Along the way, the photos can make us relive memories and see details Walt's Imagineers put into everything we love in Walt Disney World!
Thank you to Danielle Ciotti Harsley, Claire Gregory, and my favorite Mccaffreys: Kerry, Patti, and Jeremy for my birthday wishes! Cookies?! Cookies for my birthday, Annie Snodgrass? Thank you! Here's one for you.
And one… hundred for me!
And a Very Merry Unbirthday to you, Lee Anastasi! Thanks for putting that song in my head!
Deb Ragno, you absolutely can try again with an answer! Especially with a Goofy Gawrsh!
Jennifer Rowell, I feel your pain. The pain of a long, long wait until your next Disney trip.
But! Players, I told you Rob And April of Team Vanderpool would be thrilled at us waving hello while they're in Walt Disney World! They sent this message: "We have had such an amazing time here this week. We have enjoyed going through the parks and finding all the Where in the World photos we have been thinking of all of you. Have a Magical Day!"
Tinker Bell, I passed along your note to Barrie Brewer who started Where in the World; you made our day!
Here was last week's Challenge:

And here's the answer:


Copyright © 2011 Erin Blackwell
The sign above the left tunnel entrance to the Magic Kingdom. Every time I see those words, I hear Walt Disney's voice saying them. In fact, a lot of you say how much this same sign affects you:
Marie Seilus: "Makes me cry ever time."
Claire Gregory: "I always read that plaque as we go under the train station and as we come out the other side and emerge on Main Street my husband gives me a kiss. And everytime I have to fight the urge to cry, it just makes me so happy. I feel like I'm the same 6 year old little girl entering the Magic Kingdom for the very first time."
Lily-pierre and Mathieu: "And you know, it just feels like coming home."
You guys! You got to me!
Mary Beth Tarbet was the first to send in the correct answer! Congratulations to Mary Beth and to all the readers who got the answer right: Chris Masse, Danielle Ciotti Harsley, Team Hill, Deb Ragno, Larissa Huda, Bill Mckim, Jennifer Rowell, Evanna Huda, Shelley Diederich, Dawn Burns, Emily Hudson, Lisa Palmer, Jessica Kaltwasser, Katherine Pretzman, Craig, Mike Wingard, Michelle Raimist, Mike Wingard, Pam Vanaustin, Maggie Klotz, Kandis Dawkins, Chris Kelly, Lee Anastasi, John Ames, Jen Cerce, Tina Santacroce, Kenny, Jim Mcdermott, Annie Snodgrass, Kelly Montgomery, Pecosace, Diane Curfman, Julie Wickware, The Emich Family, Claire Gregory, Belicia Cullen, Scott Cullen, Audra Miller, Paul Dickson, Jennifer Harmon, Amanda Perkins, Brian Miller, Mickey Eckert, Ashley Pizzino, Daniel Record, Rebecca Keenan, Marie Seilus, Gerald Buford, Melissa Dye, Emily Simpson, Laura V., Carla C., Rob And April – Team Vanderpool, Dee Dee Kenney, Michelle Thompson, Alison Rosenberger, Zachary Falcone, Kate Fischer, Megan, Melody O'donnell, Schuyler Stewart, Tinkerbell Wells, Chloe Mayhew, Stephanie Linares, Vera Williams, Kristen Carde, Derek Carty, Erin Connell, Jamie K, Courtney, Mary Kay Samluk, Kerri Coggins, Hannah Couture, Matt Holley, Alan Mize, Rich Hall, Hillary Waldroop, Tinker Bell, Dan Johnston, Tinker Bell, Sarah Holodick, James And Kathy Berry, Sharon Dale, Patti Mccaffrey, Jeremy Mccaffrey, Daniel Mccormack, Sharon Pierce, Lily-pierre & Mathieu, Hoekzema Family, Laney, Al Desimone, Kerry Mccaffrey, Thomas Higbee, Maureen Handy, Les Stewart, Barclay Bakkum, Dave & Sandy Kanigowski,and Kathryn Willer. Each of you are entered in this month's winners' drawing.
_____________________________________________________ _____________________
Challenge #235: Where in the world is this?
Hmm…. hmmm…. certainly looks familiar…. What do you think?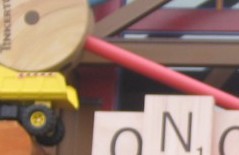 Do you know? Do you have a guess? Please send in your answer, before the end of the day on Thursday, June 28th, by clicking on the blue box below. Please do not post answers using the Feedback Form link at the bottom of this post.
See you next week, Players!



_______________________________________________________________________
Everyone who sends in a correct answer to a Where in the World Challenge this month will be entered in a drawing at the end of the month for some special AllEars® goodies!