I checked out a few potential Hidden Mickey images at Epcot. It's June, so the Florida heat has turned up a few notches. That's okay, since walking around Disney becomes more of a needed workout for me!
At the Morocco Pavilion, Disney is having fun with the plates on the front red door at the entrance to the small Souk-Al-Magreb "Gifts of Morocco" shop on the promenade. A newer three-circle Mickey image is now on the top half of the door.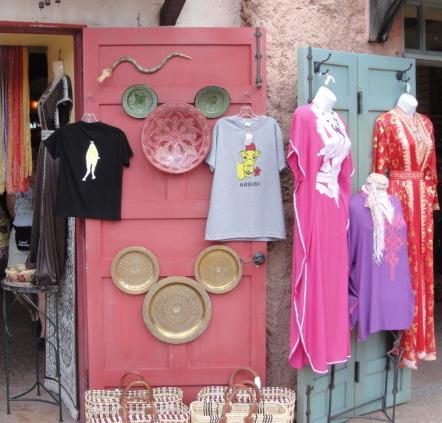 A classic (three-circle) Hidden Mickey design is repeated along the top of a hat in a display inside the Gallery of Arts and History at the front left of the Morocco Pavilion. The Gallery is currently showing "Moroccan Style – The Art of Personal Adornment," and the hat with Mickeys is in a display at the far left inside the gallery building. (Thanks to Amy Krauss).

Basket lids sometimes form a classic Mickey on the wall inside the Brass Bazaar shop, which is at the right side of the Morocco Pavilion behind the Tangierine Cafe. This sideways Mickey image has been in place for a while. (Thanks to Jeff Love).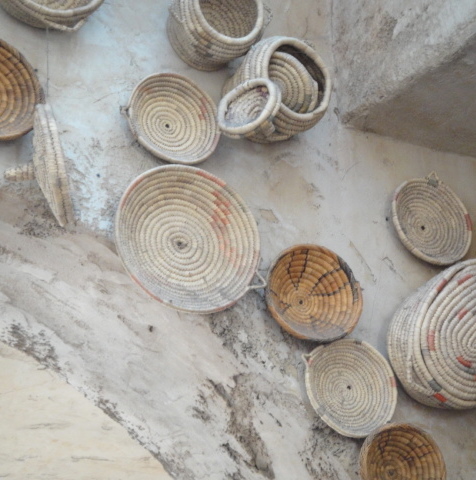 Even though I've seen it many times, I still like to enjoy the Impressions de France movie in the France Pavilion whenever I can. I sit back in the comfortable chairs in the cool theater and admire the music and scenes of France, as well as the image of Mickey's ears! Mickey is perched in a second floor window of the house in the background of the outdoor wedding scene.

Along the Imagination or Rose Walkway, an exhibit showcasing Disney's movie "Brave" was filled with kids and adults.

The interactive area is geared toward children, who can participate in a variety of games such as the Mini Caber Toss, Haggis Flip, archery, Cake Toss, and then burn any remaining energy in the playground. Guests can create stone rubbings and find out what family they will represent in the games.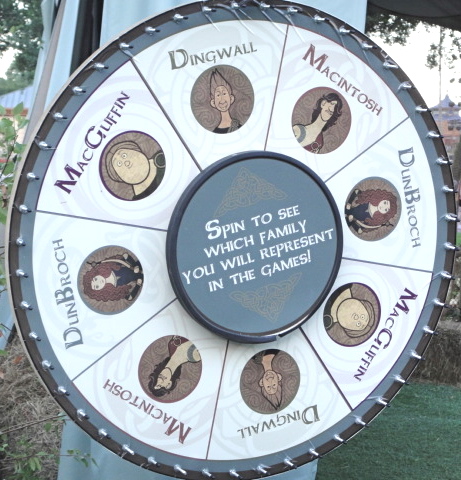 If you're in Epcot anytime soon, check out the Brave movie exhibit. (The Highland Games Tournament area is open daily from 11 am until 7 pm until July 8th, 2012.) And don't forget to look for Hidden Mickeys!