There's a secret among parents to make their children eat, especially while vacationing. What is this exclusive bit of info? They say, Do you want to make (insert character's name here) sad? He/she made your breakfast/lunch/dinner. You don't want to made him/her sad, do you?
You might wonder how this "trick" works if you're dining at the All-Star Sports food court. In truth, it might not pan out at most dining locations but it does work* at character meals, especially Chef Mickey's (Contemporary Resort, Walt Disney World). He's THE chef which means Mickey made everything. Over at Chef Goofy's (Disneyland Hotel, Disneyland), Goofy is THE chef and he made everything there which explains the peanut butter and jelly pizza.
In addition to guilting little Robby and Angela (non-Disney reference) into eating broccoli, families get hugs, pose for photos and get autographs from several characters in one location rather than standing in multiple lines out in the sweltering heat.
For info on character dining at Walt Disney World and to learn about Disneyland options, visit our informative pages.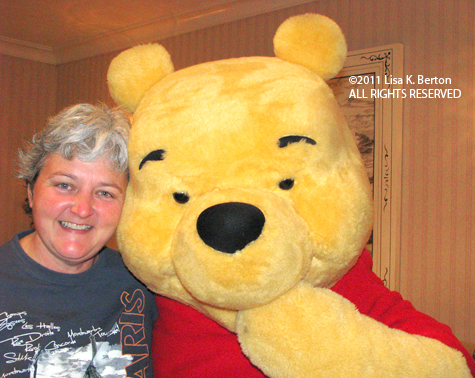 Barrie Brewer, a fellow AllEars.Net teamster, got snuggly with Winnie the Pooh at 1900 Park Fair over breakfast a few years back. She actually ate her food without a temper tantrum. The current characters are Mary Poppins, Alice, and the Mad Hatter.
Join Scott and Barrie on Thursday and Saturday for more character dining memories.
*I make no promises. You might have to resort back to flying airplanes stacked with cauliflower.
Check out my Facebook page.