The Inaugural Walt Disney World Marathon Relay is in the books! Lee and I both had really good runs – he finished his half in 2:13:02, and I finished my half in 2:30:33. They also counted the 3:17 we spent in the transition area, so our total time was 4:46:51. I was thrilled that it was under 5 hours! The number "4" was still the first number in the race clock when I arrived at the finish – I didn't think I'd ever see that.
Just a few photos for now – I'll have a more detailed report later.
The morning started EARLY – we caught the bus a little after 3:00. Here's the Team AllEars photo, taken about 4:15 – a few people were missing because their bus drivers got lost. 🙁
In the transition area (they had a HUGE area for the relay, much larger than we needed), they had numbered chutes, and you waited until you saw your runner approach, and then moved out into the lane. There was no official passing of a baton, or any point that you both had to cross – just whatever greeting you wanted to give your incoming runner, and then runner 2 could take off.
Lee crosses the finish line! He had a really good time. Which made it nice for me, because it put me ahead of a whole lot of runners, so the course was less crowded for me, and I didn't have to wait too long to get my photos taken with the characters. 🙂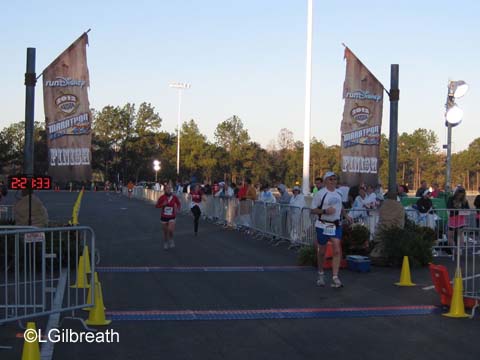 They had a really elaborate area set up for the Villains!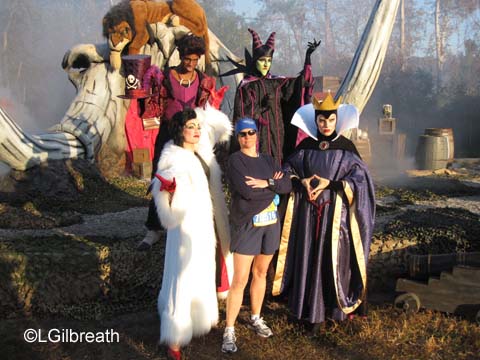 Team All Ears cheering area just past mile 24 – this was really a great place for them to be, since at that point a lot of us are very tired – we know we can make it to the finish, but a little extra encouragement really helps, and they were so supportive of EVERYONE – not just TAE runners!
My new Chip and Dale relay medal!