Yesterday I discussed Disney California Adventure's (DCA) newest addition, Cars Land. Today I'll be closing this series of articles with a description of Paradise Pier. Paradise Pier is based on Victorian boardwalks that were once found along the coast of California. It features "Coney Island" style rides and a midway. But before I go into detail about this land, I'd like to address some criticism that this section of the park often receives. Some people claim that Walt would never have built a "carnival" or offered midway games.
First off, I don't like to speculate what Walt would do. We have no idea what Walt would think today. He was always changing with the times. In fact, I wrote an entire article around this fact. But I'd like to offer my opinion as to what Walt was thinking back in the early 1950's when he was planning Disneyland.
We've all heard the story of how Walt was watching his two daughters ride the merry-go-round at Griffith Park when he thought to himself, there should be someplace where the entire family could go and enjoy themselves.
At that time in history, there was an amusement area and pier in Long Beach called The Pike. This spot offered your typical carnival rides like roller coasters, bumper cars, Ferris wheels, and midway games. It was about an hour's drive from Walt's home in Holmby Hills and I have no doubt that he visited The Pike on several occasions while planning Disneyland.
Walt knew he could do better than The Pike. He knew he could offer superior rides and a more pleasant environment. But his real complaint wasn't about the attractions and the midway, but the people who worked at and frequented The Pike.
Many of The Pike's employees were crusty old men who had experienced the seedier side of life. Coarse language and a gruff attitude were common among a number of the workers.
The Pike was located close to the naval shipyards of Long Beach. Because of this, sailors haunted the area in search of alcohol and loose women – both of which were plentiful.
The Pike also had a number of privately owned food stands and midway games, all doing their own thing. Many of the games of chance were dubious in their legitimacy and the food was of questionable quality. The Pike was typical of the amusement parks of the era and Walt knew this.
Don't get me wrong. The Pike had many fine, honest establishments and abundant opportunities for a good time. But in Walt's eyes, this was definitely not a place for a family with young children. Not to mention, he wanted total control over every aspect of his park. This was something that the carnivals and boardwalks of the day did not offer.
In the first paragraph I mentioned that some people believe that Walt never would have built a "carnival" park with a midway. But is that true? Let's take a look at Disneyland in 1955. Dumbo was a simple spinning ride. The only difference between this attraction and a similar carnival ride was the passenger seating area. Walt simply spruced it up with an imaginative flair.
Take a look at the next picture of the original Disneyland Dumbo ride. This is not the elaborate attraction we're used to today. This was a simple carnival ride.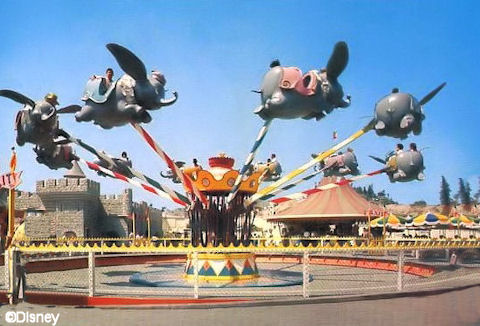 The Tea Cups are another good example of Walt taking existing carnival technology and theming it to one of his movies.
Mr. Toad's Wild Ride was simply an amusement park fun house ride that Walt dressed up with his own characters. Even today, this attraction uses two-dimensional figures throughout the ride – not elaborate AudioAnimatronics.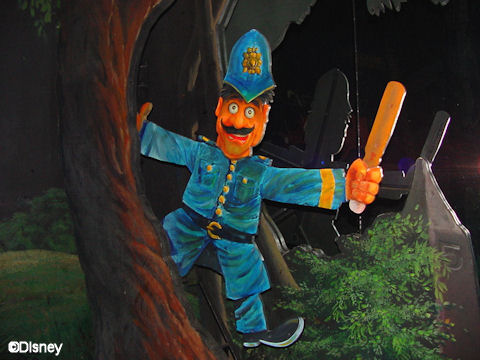 As for midway games, Disneyland had two for many years. There were shootin' galleries in both Adventureland and Frontierland – the Frontierland gallery exists even today.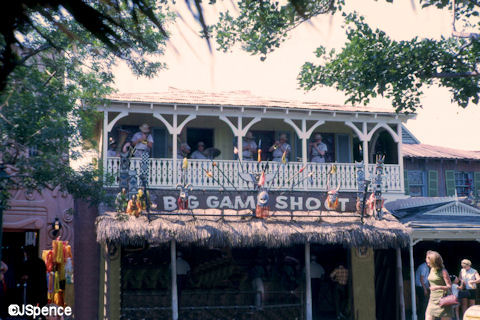 I don't believe Walt would have a problem with a period-piece, well-themed boardwalk/carnival in one of his parks today – just as long as it was clean, well run, and free from a rowdy environment. Paradise Pier meets all of those criteria.
Despite its name, Paradise Pier does not sit on a pier. It's arranged boardwalk-style and circles Paradise Bay. Although it can be entered from two locations, only one entrance is labeled with a sign.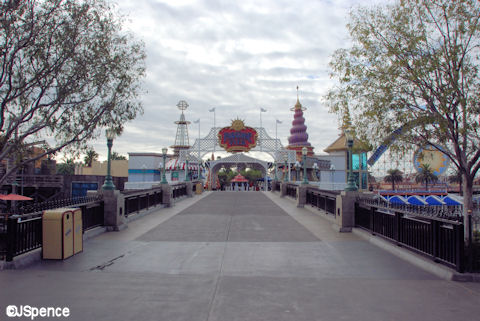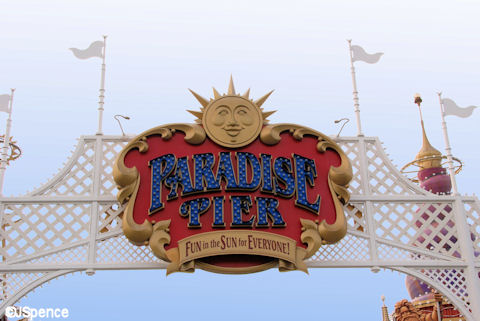 The first structure we come to is Ariel's Grotto. This restaurant offers character dining with the princesses and serves American cuisine. Ariel's Grotto sits on the water and offers spectacular views of much of Paradise Pier. Its interior theming is "under the sea."
When DCA first opened, this restaurant offered first-class seafood and was run by Wolfgang Puck. It was named Avalon Cove after the city on Catalina Island.
The Imagineers knew that much of Epcot's attendance was derived from guests seeking out the many fine eating establishments the park offered. So they reasoned that the throngs of guests who would be visiting DCA would also be thrilled to dine at an upscale eatery run by such a well-known celebrity chef. But the throngs of guests never materialized. DCA was projected to draw an average of 19,000 people a day. Eight months after opening, it was drawing a mere 4,500 people a day. Avalon Cove suffered severely with these small crowds and Wolfgang Puck withdrew from the restaurant in October of 2001. Avalon Cove didn't even last a year.
There is a small shop located across the walkway from Ariel's Grotto which sells the typical DCA souvenirs.
From the shop, the boardwalk curves downward to the main thoroughfare. Along the way, several period billboards advertise DCA attractions and present-day products.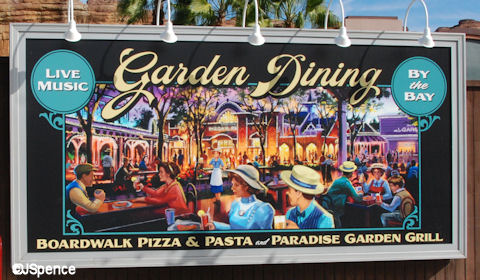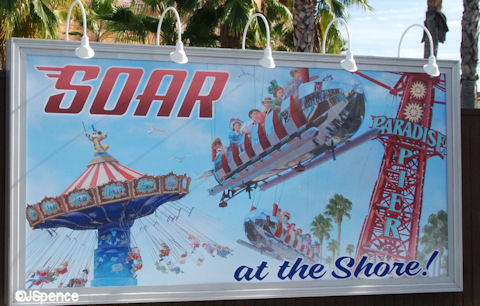 This area of the boardwalk is also a good spot to watch the rollercoaster, California Screamin', launch its guests on a raucous ride.
In a previous article, I mentioned that Soarin' Over California was one of the parks few, hit attractions. California Screamin' was the other runaway sensation.
Designed to resemble an early 20th century wooden coaster, California Screamin' is actually a steel coaster. It is the eighth longest roller coaster in the world at 6,072 feet. It was designed by Walt Disney Imagineering and was built by Intamin, a company known around the world for creating thrill rides and roller coasters. The coaster uses a linear induction motor to launch its trains up the first hill. Guests accelerate from zero to 55 miles an hour in four seconds. Like Space Mountain at Disneyland, the cars are equipped with speakers and jammin' music is piped to each seat during the ride. California Screamin' is an integral part of the boardwalk and winds its way above and around many of the buildings here.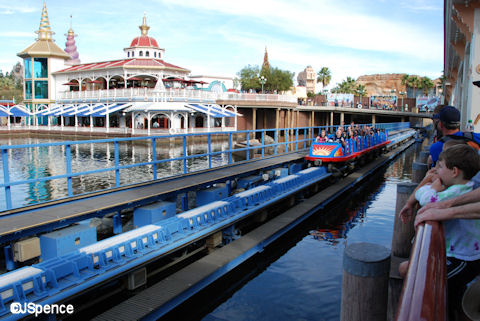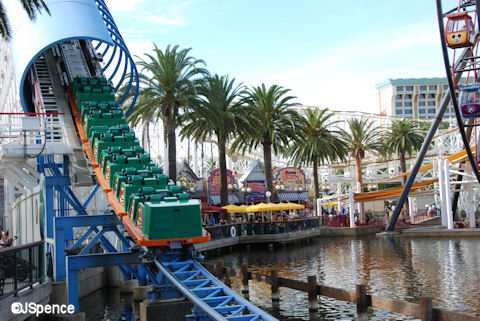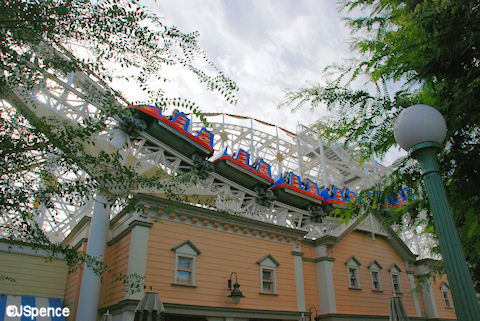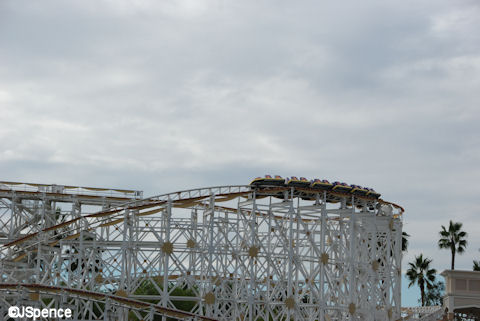 Here's a picture of me, accelerating to 55 miles an hour in four seconds.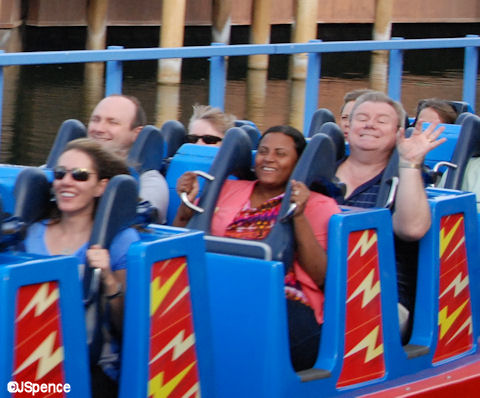 California Screamin' has one inversion loop. Before the recent DCA refurbishment, the loop was highlighted by a giant silhouette of Mickey Mouse. But this was changed recently and now a massive sun emphasizes the inversion. More on this later.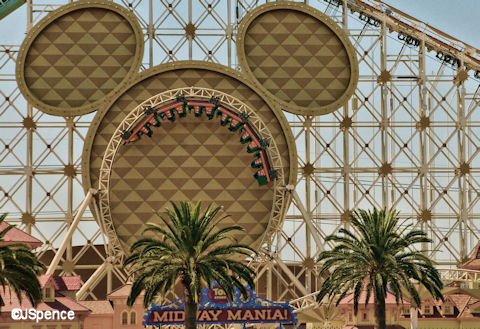 Near the entrance to California Screamin' is King Triton's Carousel of the Sea. Rather than riding on horses, this simple merry-go-round features colorful flying fish, sea horses, dolphins, whales and other ocean creatures.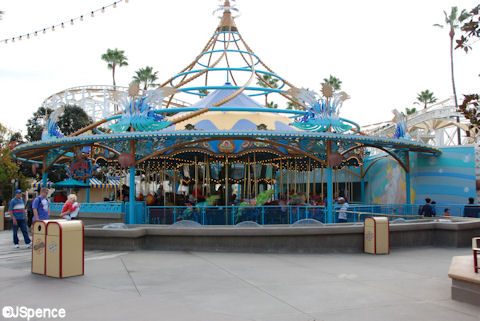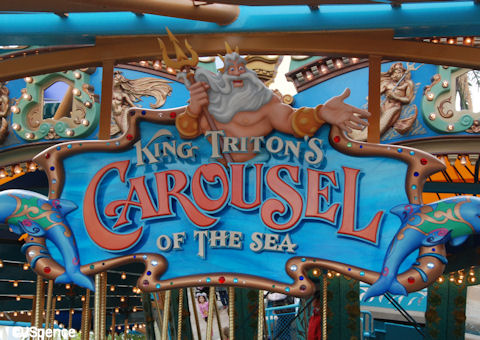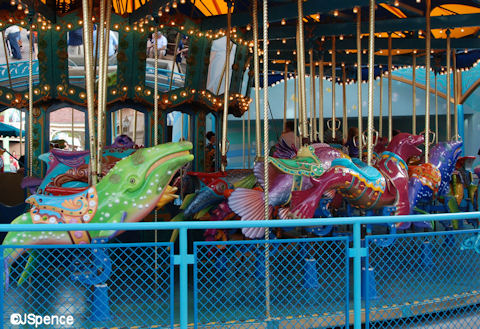 Displayed around the carousel's canopy are the names of a number of the former and present day piers and boardwalks found up and down the California coast.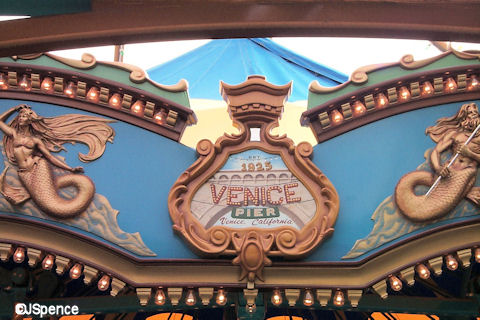 One of the first attractions added to DCA as part of the parks $1.1 billion refurbishment was Toy Story Midway Mania. It opened on June 17, 2008 and was an immediate success. In addition, the attraction's theming fit perfectly along a boardwalk that also featured real midway games.
The basic attraction is almost identical to its cousin at Disney's Hollywood Studios. However, the queue and loading areas are entirely different. At Disney's Hollywood Studios, a large portion of the line is indoors and features a number of oversized nostalgic games. At DCA, much of the line is covered, but it is still open to the outdoors and not air-conditioned. In addition, no games are displayed.
At DCA, Mr. Potato Head is in clear view of the boardwalk. Here, he acts as a barker, drawing attention to himself, the guests, and Toy Story Midway Mania.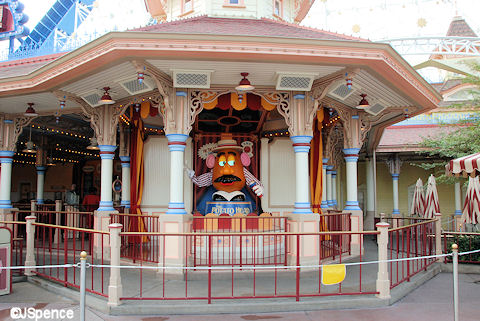 The loading zone is also open-air and does not feature the games of Andy's room. Instead, this area continues the boardwalk theme with brightly colored graphics and a multitude of overhead light bulbs.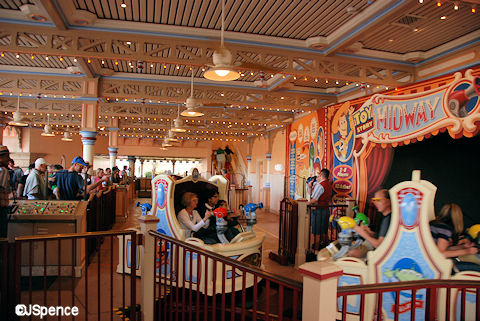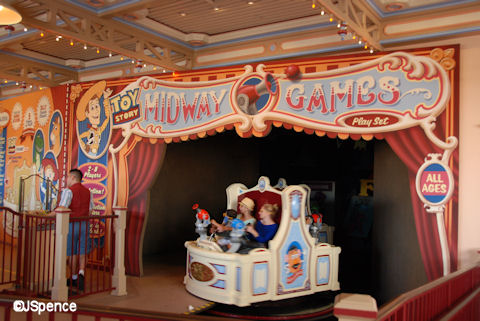 Appropriately, real midway games can be found just a little further down the boardwalk from Toy Story Midway Mania. And unlike the midway games found at Dinoland U.S.A at Disney's Animal Kingdom, the stuffed animal prizes you can win at DCA are Disney themed.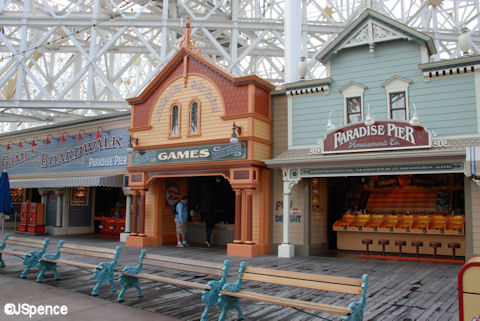 Further along the boardwalk we find shops and other places of interest. Don't worry. They're not real tattoos. They're the temporary type.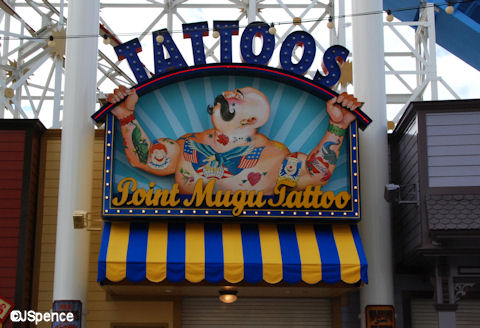 Also lining the boardwalk are a number of concession stands offering popcorn, hotdogs, sodas, and other traditional amusement park fare.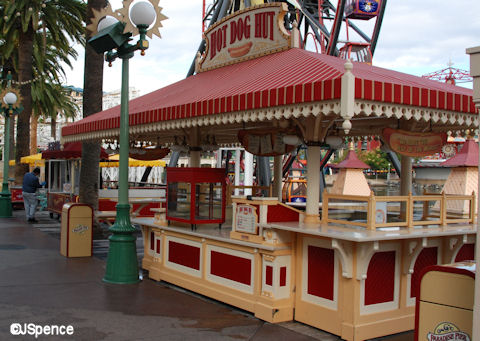 When DCA first opened, its giant Ferris wheel was called the Sun Wheel. It appropriately featured a giant sun at its center.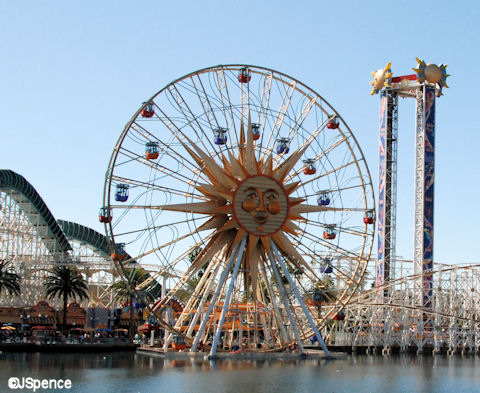 One of the major complaints guests had about DCA was its lack of a Disney identity. So as part of the recent makeover, Mickey's rather undistinguished silhouette was removed from California Screamin' (see above) and a more familiar and personal image of his continence was added to the Sun Wheel. In addition, the attraction was renamed Mickey's Fun Wheel.
In a further effort to Disneyfy Mickey's Fun Wheel, each of the gondolas was given a new persona. Gone are the old "Paradise Pier" logos to be replaced with the faces of Disney characters.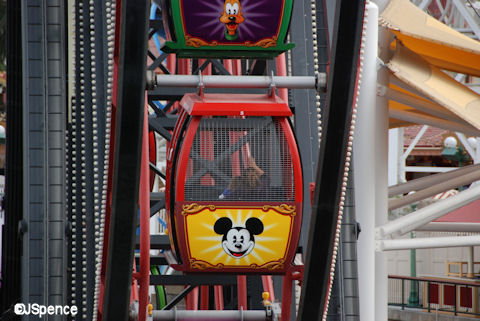 Mickey's Fun Wheel is 160 feet tall. Its design was inspired by the 1920 Wonder Wheel found at Coney Island. These two Ferris wheels differ from most others in that a number of their gondolas ride along oblong shaped tracks within the wheel. This causes the gondolas to slide inward and outwards as the wheel rotates. Mickey's Fun Wheel offers 24 gondolas of which 16 swing. Guests may choose to ride in a sliding or fixed gondola. Each gondola can hold up to six people. The swinging gondolas offer the most thrill and can be nerve-racking for the faint of heart.
The views from Mickey's Fun Wheel are spectacular and offer some good photo opportunities. However, for safety reasons, the gondolas are completely caged in and you must look out through wire mesh.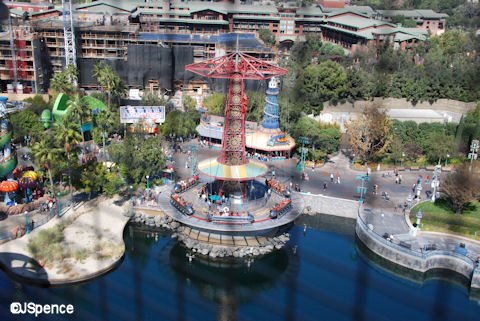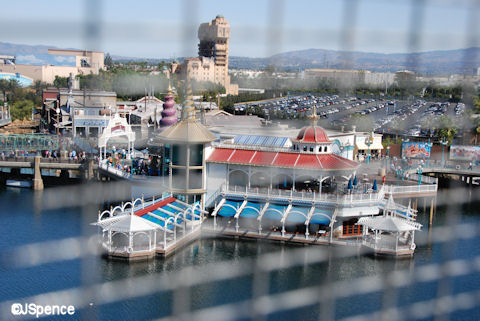 Not all attractions received a makeover during DCA's renovation. In the case of the Maliboomer, it was removed completely. The Maliboomer was a thrill ride that launched guests straight up a 180 foot tall pylon at a speed of 40 miles an hour and generating g-forces of 3.5.
Disney's official reason for removing Maliboomer was that Paradise Pier is supposed to represent of Boardwalk of the 1920's and this type of attraction had not been invented yet. However, Goofy's Fly School also doesn't meet this criteria and it survived (see below).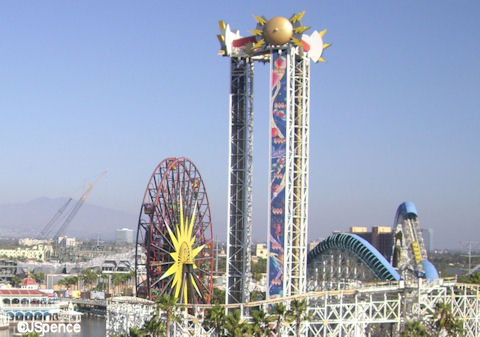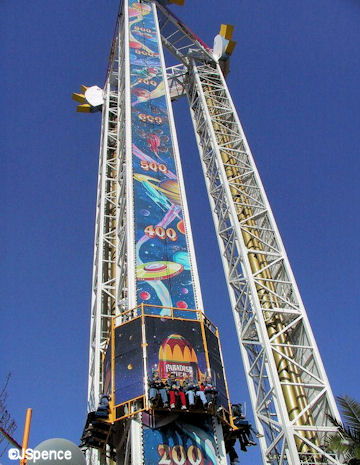 One Paradise Pier attraction received a major identity reassignment. The original Orange Stinger was an off-the-shelf "wave swinger" ride. Guests sat in swing chairs and were lifted upwards and spun while the overhead canopy undulated. This undulating motion added an up and down, or wave motion which increased the thrill factor of the ride. The orange design paid tribute to the orange groves that once populated the land Disneyland now sits on.
Like the Sun Wheel, the Imagineers wanted to give the Orange Stinger a Disney identity. So the orange was removed and the attraction was rethemed after one of Mickey's famous cartoons, "The Band Concert." Renamed "Silly Symphony Swings," this revamped ride now reenacts the tornado that played havoc on Mickey's orchestra. To the music of William Tell Overture, the center column rises, exposing more and more of the band members as the storm whips them around.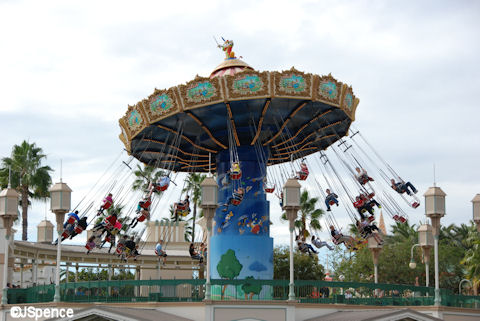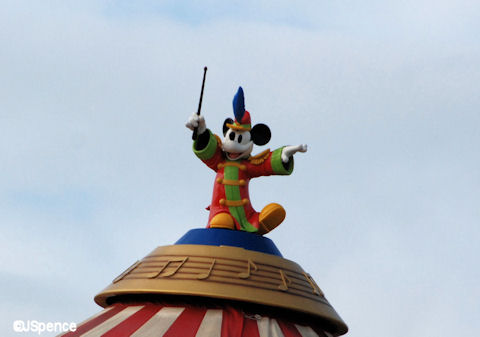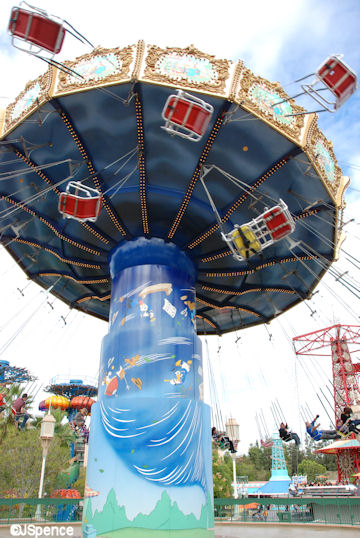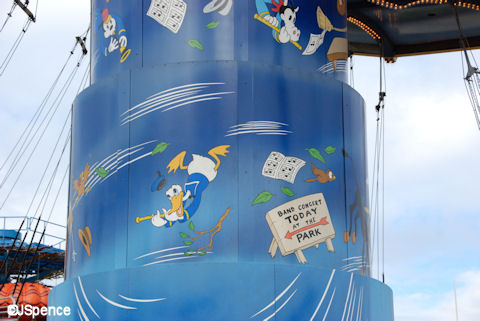 A nice byproduct of this refurbishment was the creation of a lovely and mostly forgotten seating area. This is a wonderful spot to sit waterside and take a breather.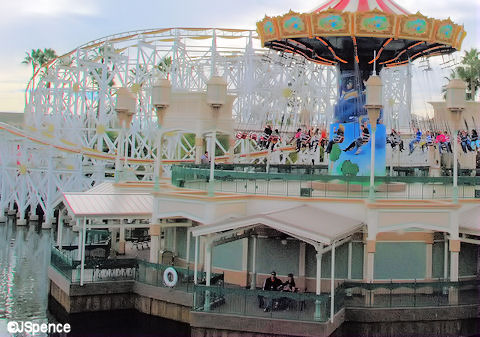 Another section of Paradise Pier also received a major makeover. In the early years, there was a food court here that featured two counter service restaurants. These were Pizza Oom Mow Mow and Burger Invasion. The theme was that of freestanding beachside food stands. Although the concept was carried out well, it still felt cheap and cheesy. In addition, most of the seating was exposed to the elements with just a few umbrellas to shield you from the sun.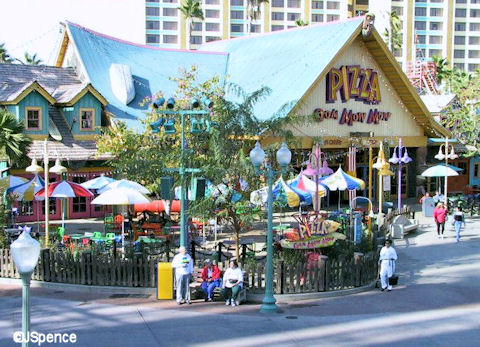 This area was replaced by a beautiful Victorian pavilion. It's difficult to express what a wonderful transformation took place here. This food court is stunning and in my opinion, the most elegant counter service area of any Disney park. It is truly splendid. The offerings here are Boardwalk Pizza & Pasta and Paradise Garden Grill.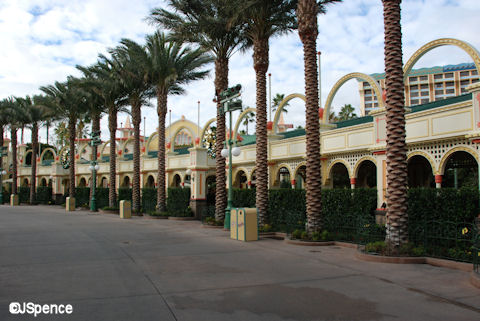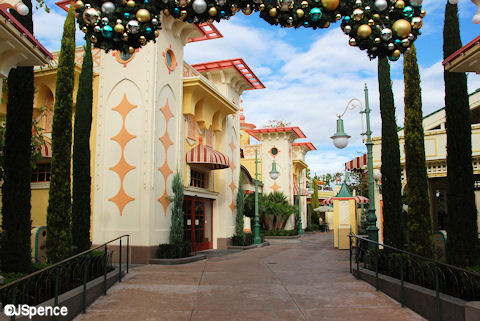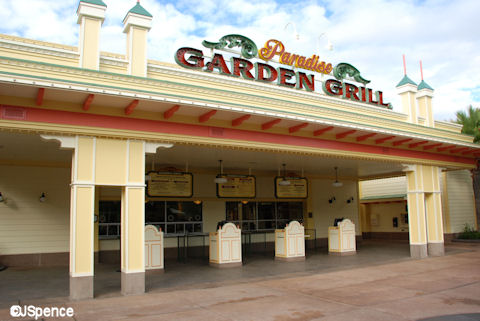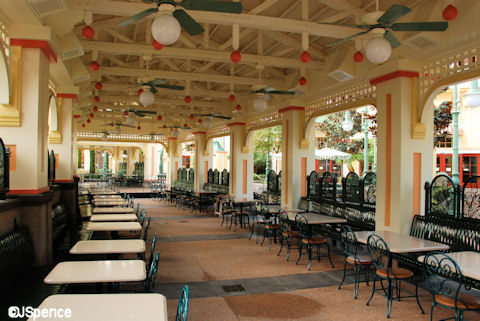 As we continue our trip around the boardwalk we come to Goofy's Sky School. This is an off-the-shelf "wild mouse roller coaster" (similar to Primeval Whirl at Disney's Animal Kingdom – but with no spinning). The ride is based on Disney's animated short "Goofy's Glider".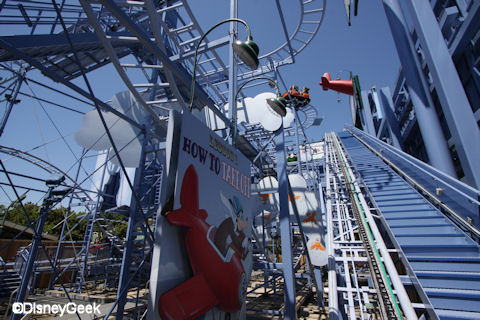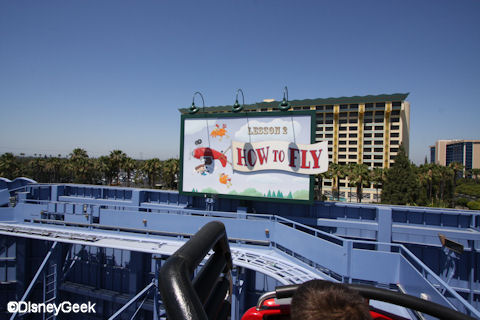 As with other attractions, Goofy's Sky School is the result of reworking an older attraction and giving it a Disney persona. In the beginning, the ride was called Mulholland Madness and was supposed to represent the famous Mulholland Drive, a twisting and turning roadway that snakes its way through the Santa Monica Mountains.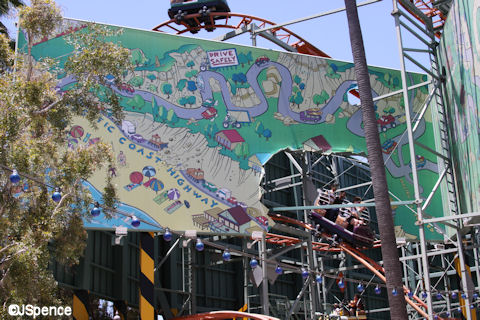 This attraction is a perfect example of why DCA had a reputation of being a cheap, off-the-shelf park. Many couldn't believe that after Disney had built such wonderful coasters as the Matterhorn and Thunder Mountain that they would allow such a cheap ride within one of their parks. Disney would counter that Mulholland Madness fit the theme of a boardwalk amusement park.
The retheming of this attraction from Mulholland Madness to Goofy's Sky School was minimal. There just isn't that much anyone can do to spruce up such a ride. Luckily, most of the track is hidden from public view and doesn't intrude onto the boardwalk.
Next to Mulholland Madness there was a large, sunglass-wearing dinosaur. He also was a victim of the refurbishment and was eliminated as he wreaked California beach rather than Victorian boardwalk.
Across from Goofy's Sky School is Jumpin' Jellyfish. This is a parachute jump-style ride that has been given a marine-life theme. Unlike Maliboomer which was a true thrill ride, Jumpin' Jellyfish is much tamer and offers a gentle ascent and decent. This ride remained virtually unchanged during the makeover.
Next door we find Golden Zephyr, another ride that was left as-is during the refurbishment. This attraction features six Bock Rogers-style rocket ships suspended from a rotating tower. When the tower spins, the centrifugal force propels the rockets outward over the land and water.
This is a pretty tame ride. Unless you have a fear of heights, you should be okay.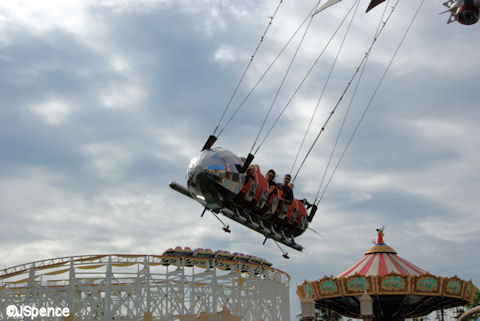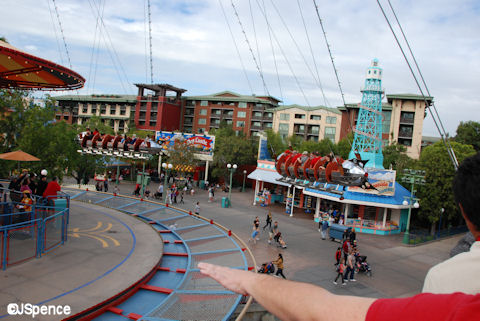 The Little Mermaid – Ariel's Undersea Adventure is also a part of Paradise Pier. However, I have already discussed this attraction in Part Four of this series.
Disney learned long ago that fireworks and shows like Fantasmic encouraged guests to linger at Disneyland longer than they might have otherwise without such nighttime entertainment. They also learned that the longer guests stay in the park, the more money they spend on food and souvenirs.
When trying to turn around DCA, the Disney executives new they needed to create some super fantastic nighttime entertainment if they wanted guests to remain in their struggling park after sundown. And since Disneyland already had fireworks, they had to find something else. Thus was born World of Color.
World of Color is a nighttime spectacular that takes place one to two times each evening on Paradise Bay. A combination of water jets, lasers, mist, fire, Disney animation, and Disney music combine to create a magnificent production that never fails to woo audiences. It officially opened on June 11, 2010.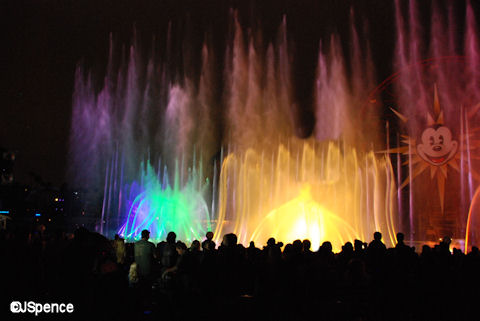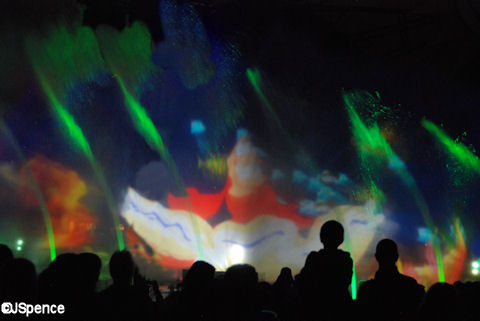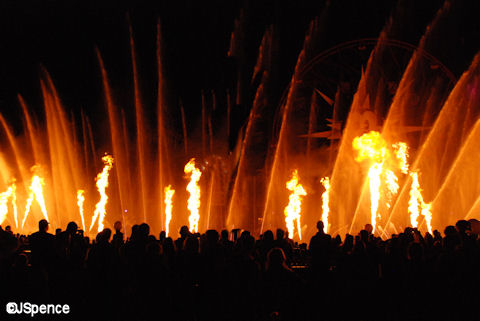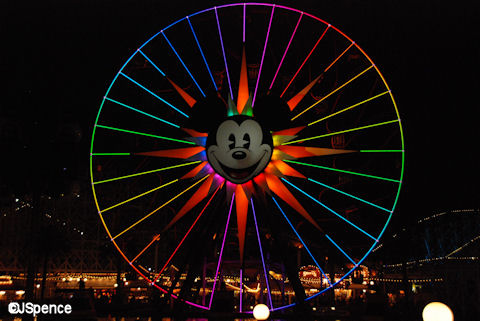 It's estimated that Disney spent $75 million to design and build World of Color. The show uses more than 1,000 fountains that can shoot water up to 200 feet into the air.
The fire nozzles can project flames 50 feet skyward. And the fans of mist act as projection screens for animation.
Although the show can be seen from anywhere around Paradise Pier, it is definitely directional and best viewed from Paradise Park. This terraced garden/park can accommodate 4,000 spectators. FastPass is available as are prime viewing locations when combined with a dinner package at the Carthay Circle Restaurant. Disney even sells special Mouse Ears that receive radio transmissions and the ears blink and change color with the show.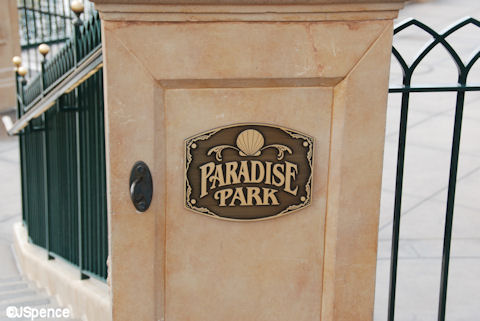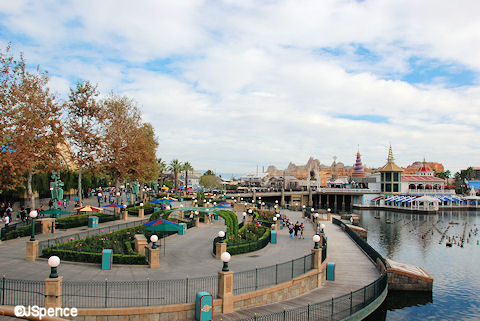 This concludes my series of articles about Disney California Adventure. I know it's hard to believe after six long columns, but I've only scratched the surface. DCA has many details that I haven't begun to mention.
As we know, DCA got off to a rocky start. But Disney has done the right thing and corrected many of the mistakes that were made here. There is still room for improvement, but this will come in time. In the meantime, DCA is worth your consideration. It makes an excellent companion park to Disneyland and the entire resort is magical. If you haven't already visited the "new" DCA, I hope you make plans to do so soon.