The alarm clock on my cell phone had the audacity to wake me up 7am. Getting up after 5 1/2 hours sleep didn't come easy. I need at least 7 hours to function at 80%. An hour or so later, I headed for my car despite my previous plan to use the free shuttle service to Universal Studios :gasp:. This way if I became exhausted I could head back to my room for a nap and try again later.
The Best Western Plus Orlando Gateway (still too long of a name) is just a mile or so up (or down) the road from Universal Studios :gasp:. Even I couldn't get lost or at least I'd like to think that. In a matter of minutes I parked my bitchin' white station wagon on Spiderman's level in row 1…150?…155?… eh, it doesn't matter now. I found the car. If you've never parked in their garage, it is a major schlep just to reach a park. There are escalators, (occasionally) moving sidewalks, many steps through Universal City Walk, and a bridge to cross before reaching your destination.
Finally, I made it to Islands of Adventure. Within minutes I found my first lost item. Walking thru Port of Entry, I saw a man pull cash from his pocket to buy something at a drink cart. Presumably he was thirsty. He didn't know a $5 bill floated to the ground. Before I could get the words out to tell him, a boy of about 7 or 8 saw it fall, picked it up, turned to his mother and said, "I found it on the ground." I gave him a stern look and stated, "It belongs to that man. It fell out of his hand." I pointed and told him to give it back. The boy gave the money back to the guy but had I not stepped in, the little thief would have pocketed Abraham Lincoln. And I thought pros hid among tourists. Sheesh.
The mental plan was to hit The Wizarding World of Harry Potter first if it wasn't packed or at mid-afternoon if it was. I approached an employee and asked. The wait for Harry Potter' and the Forbidden Journey was already 90 minutes. I turned left and dove into Marvel Super Hero Island where I discovered Storm Force Accelatron, a tea cup-like ride I never knew existed. Why? It's pushed far back from the street behind The Incredible Hulk Coaster tracks. Had I not been shooting the coaster from various angles, I would have missed it again. I went for a spin, literally.
In my sleepwalking mode I fell off the curb yet remained vertical in front of Doctor Doom's Freefall. Apparently his evil attacks aren't limited to those who volunteer for his gravity project.
Bewildered and yawning, I plunked down in a cafe that was open (door) but not open (for business) and ate the Cheerios I brought along. Ahh, the idea of peace and quiet vanished by way of the cafe blaring songs songs about heroes. Billy Don't be a Hero. We Don't Need Another Hero. Zero to Hero. I kid, I kid. Universal Studios wants everyone to know they're not affiliated with Disney. They REALLY want to make sure people are informed. Stick with me throughout my journey. 😉
Then I encountered a timeshare sales rep who was friendly so I listened to his offer and signed up for a tour on Saturday. That is until he asked me for a $30 deposit. Uh, no. I have been dragged on many timeshare tours by my parents and even on my own accord and no one has asked us for money. I took the form he filled in with all of my personal info, stuffed it into my backpack and left. While the salesman didn't work for Universal, he was on their property and it reflects upon them. Universal Studios isn't Disney.
I love The Amazing Adventures of Spiderman. I loved that it was a walk on even more. After escaping the villains, the dad on the end asked the employee if we could go again (my idea). We were denied. Did I mention this section of the park was empty? Okay just making sure.
Next up was Toon Lagoon which is inspired by comic strips and water. All three attractions will have you soaking wet before exiting. I hung back and watched people gurgle. For kicks I explored Me Ship, the Olive, a boat owned by Popeye. His crew consisted of 2 tall and skinny boys in their late teens/early twenties. With plenty of time on my hands I decided to entertain myself by kidding around with them. One juggled, the other wore an ID tag that said, Trainer. I told the trainer to show his trainee how to juggle more balls. It was a sad demonstration of misleading title. That was fun! They had a good time. Toot, toot.

Mickey's Toontown & Donald's Boat opened in Disneyland in 1993. Donald's Boat opened in the Magic Kingdom in 1996. Universal's Islands of Adventure opened in 1999. Hmmm.
Do you know what's sad? Not being allowed to ride Pteranodon Flyers because I don't have a kid between 91 cm and 142 cm. I took the spanish language map. Sitting there looking pathetic, I asked out loud, Does anyone have a small child for rent? No such luck.
Protected by my clear Mickey Mouse poncho just like everyone else at Universal's Islands of Adventure, I boarded the Jurassic Park River Adventure rafty thing. With me was a large family who enjoyed getting wet and posing for the ride photo. Had I known where the camera was, I could have also modeled. Dinosaurs behaved disgracefully everywhere I looked. Word about town is they are miffed about the new TV show Terra Nova, calling it a pirated copy of Jurassic Park with non-union dinos.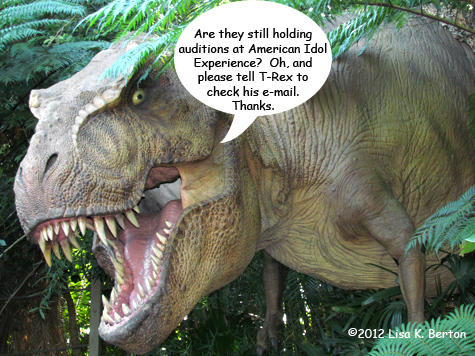 Enter the Wizarding World of Harry Potter if you can get in. The place was jammed. I made it inside and just sort of meandered about town. Believe it or not, there were lines to get into gift shops. Standing by the steam engine train, I saw a ticket on the ground. It was a 3-day pass for both of Universal's parks in the name of Peter. My ticket had my full name on it, this one did not. The entrance to Dragon Challenge, a roller coaster I would never ride in a million years was just steps away. I presented it to the 3 "students" working there and watched to make sure it was put in a safe place. I also advised they have it scanned to identify the owner. Normally I don't tell people how to do their jobs but they seemed nonchalant regarding the pricey loss.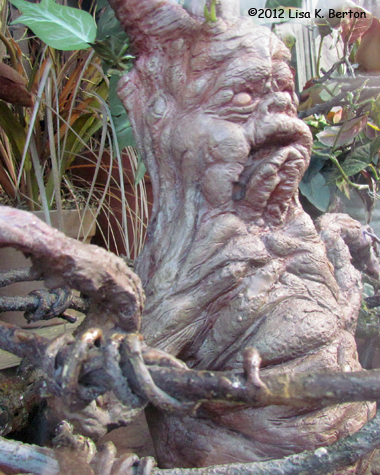 Amazingly we all survived the screaming Mandrake in the window. Muggles cannot purchase Mandrakes which okay because TSA regulations prevent transporting them.
Having looked up food options online at home, I knew my best bet for real food (ie: not pizza, burgers or hot dogs) was Mythos or Three Broomsticks. The chef at Three Broomsticks was adorable. ADORABLE! He went over ingredients with me and we came up with a vegetable plate including fresh-husked corn, and a baked potato. However, since all of their baked potatoes are pre-seasoned with black pepper, my number one enemy, it was going to take a few hours to find a plain one and bake it. We agreed I'd come back in a few hours.
The fact was my hunger wouldn't hold that long so I tried to find a grilled cheese sandwich. Mythos had one on the kiddie menu but had a 45 minute wait and won't do take out. When I crossed from The Lost Continent into Seuss Landing, I came across two suits. Perhaps I had a look on my face because they asked if I needed anything. I relayed my story and they sent me to Circus McGurkus Cafe Stoo-pendous saying if a grilled cheese isn't on the menu, the chefs could make one for me. Great!
Wrong! I asked the girl at the counter who then asked a chef who told the girl I should go to Casper's Ghost by the park entrance. What? Where? Casper belongs to Paramount Pictures. I was annoyed but as I turned around I saw 2 chefs coming to work. I asked them about making me a grilled cheese and they told me they couldn't. Perplexed, I reminded them they have American cheese (for cheeseburgers), bread and whatever surface they cook burgers on. Why couldn't they make my grilled cheese? They still told me no and that's when I had enough and blurted out those words Universal hates to hear. "I don't have these problems at Walt Disney World" The chef wasn't pleased. He gave me some long story about not being legally allowed to package food to go (Hi. Counter service is to go.) because they follow theme park laws and he didn't have the equipment to make a grilled cheese. He sent me to Green Eggs and Ham.
Guess what? No grilled cheese there either. I checked Confisco Grille because phoenetically it was the closest to Casper's Ghost. Nope. In a shop I talked to employees who sparked an idea. The Croissant Moon Bakery had baked goods including a plain croissant. I bought one along with cut up honey dew. Then I made a sandwich with the packet of tuna that I had with me. Finally, lunch! Oh and by the way, they were cheaper than my grocery store.
With several more hours to play before my date with the chef, I spent some quality time in Seuss Landing. While waiting in the queue for The Cat in the Hat ride, I saw a white baseball cap perched on the railing. After asking those nearby if it was theirs and swarms of people passing by it, I picked it up and handed to the girl seating people in the cars once I made it to the front of the line.
In my car were some funny people who questioned the empty seat beside me in the front. To prevent them from worrying about my solo travels, I let them in on a little secret. My good ole invisible pal Fred was with me. They felt better and said hello to Fred. He just waved.
Coming out of the gift shop I saw a small crowd in a semi-circle all down on bended knee. Curious, I approached to find a Who from Whoville napping. She was resting up before the big show, "How the Grinch Stole Christmas."

Who could it be sleeping on my floor? Go away, she'll only wake and roar.
This was the strangest place and path to a show I've ever experienced. We walked out behind Seuss Landing, through a parking lot, passing construction, and around the corner into an actual studio with stadium-like seating. The whole way I kept mumbling "This is ghetto" to myself. The show was cute. I like the Grinch(es) and how he/they tried to sound like Jim Carrey.
There's more to this day so I'm going to stop here. The next installment will be Solo Trip to Orlando – Harry Potter & My Equilibrium. Until then, cheerio.
Yes, I'm on Facebook.