This is the second installment regarding my first trip to Disneyland. I want to concentrate on my attraction experience.
Because of time constraints and a little something called the Disneyland Half Marathon, I had to make some choices and thus was able to experience only about two dozen of the almost 80 attractions waiting for guests at the Disneyland Resort.
For what it's worth, here are some observations on what I experienced:
My favorite attraction was The Indiana Jones Adventure. Where do I begin? Well, let's begin with the queue! It has become all too obvious that attraction queue areas are becoming more and more essential to the overall guest experience. This attraction's queue really removes you from the present time and pulls you into the world of Dr. Jones. The queue area became more and more detailed as you approached the loading area. As we got closer I kept on thinking that this attraction would be similar to Animal Kingdom's Dinosaur attraction. I was wrong in so many ways. First, the size.
The attraction is absolutely huge and the special effects are next to impossible to describe. If I were to say the difference in size to Dinosaur was tenfold…I'd be fairly close. I think that a huge difference between the two attractions is the storytelling itself…or I should say how it becomes all too apparent how visuals become so important as opposed to audio on a Disney attraction. I managed to ride it twice and immediately started to wonder how I could start a movement to bring the attraction to Florida. One more comment, although I always imagined that Dinosaur at WDW's Animal Kingdom was a similar attraction to DL's Indy attraction, I now understand that I could not be further from the truth.
I'm not a big roller coaster fan because, frankly, over the years it's not the thrill rides that draw me as much as the imagineering that goes into these thrill rides. There's little imagineering that goes into a roller coaster, although I must admit, Expedition Everest at Walt Disney World does have its moments. Having said that I must admit that DL's Space Mountain was one of the more enjoyable and fun coaster rides I've ever had and it has spoiled me for WDW's Space Mountain. The ride vehicle, music, and special effects, and the very smooth track, added to the thrill. When will roller coaster designers realize that less shaking and rattling and smoother and swifter tracks make for a faster and more fun coaster?
The Pirates of the Caribbean at Disneyland is a wonder to behold. I felt like I was visiting not the big brother to its Orlando counterpart but more like it's Great Grandfather. The overall footprint of the attraction dwarfs that of Orlando. The scenes were on a much grander scale and even more importantly, it just seemed that there was a better balance of images on both sides of the boat. The images, balance, and ride length certainly convinced me that the West Coast pirates was much better than what can be found in Walt Disney World.
When you mention It's a Small World, you usually get a yawn for a reaction. Walt Disney World should learn a lesson from Disneyland's Small World. The attraction was real interesting because throughout the ride I noticed a very subtle classic Disney character overlay in each of the general areas.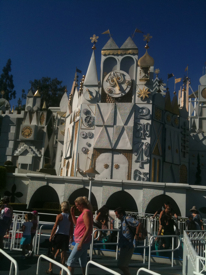 For instance, depending upon the part of the world you were traveling in, you would see one of the dolls bear a striking resemblance to such characters as Cinderella, Woody, Simba, Pinocchio, Jasmin, Aladdin, and a few other recognizable characters from Disney classic animation. It was like searching for Hidden Mickeys. Now, why not do the same in Florida?
Not every attraction was getting the nod as being ahead of it's Orlando counterpart. The Twilight Zone Tower of Terror is somewhat lacking in excitement as compared to Disney Hollywood Studio's version.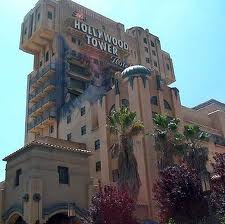 It just seemed that the Orlando attraction has more pizzaz to it. The main differences between the two attractions is that the CA version does not have it's guests ride through that blue fifth dimension room and that the loading and initial 10 seconds on the CA ride has it's guests seeing themselves in a mirror. Advantage Orlando.
I managed to squeeze a ride on the Matterhorn Bobsleds. I'm sure being the first tubed thrill ride of it's time made it quite the attraction. It was an interesting ride; a bit rough and I may have seen a Yeti in there. I'm still not sure if I like the idea of seeing the Matterhorn as I stand in front of Sleeping Beauty Castle.
Sometimes the most enjoyable moments are those which are unexpected. Such is the case with the Tiki Room. I think the last time I had seen the original Tropical Serenade was perhaps in 1994 or 1997. It was so nice to see the original Tiki Room show again, with all the original characters, in it's original show length. I think Orlando should bring back the original. It was not broken and should have never been fixed.

Mr. Toad's Wild Ride is certainly old school Disney theme park but there is nothing wrong with that. It was great to once again ride one of the classic Disney dark rides. Is there anyone out there who would be against the WDW Fantasyland expansion to include Mr. Toad's Wild Ride? I didn't think so.
Not only did I ride the monorail but I sat upfront with the operator, something I'm not sure guests will ever get to do again in WDW. It's a shorter ride than you obviously experience in WDW and the cars are much smaller as there are fewer guests using this mode of transportation in Disneyland as compared to Walt Disney World.
By the way, did I mention that not only did I ride the Mark Twain Riverboat, but that I also guided it from on top?
It was kind of neat knowing that the boat I was steering that night would be used during Fantasmic!
I discovered a hidden treasure in Disneyland. I was not aware that you could walk up and through the castle. This path brought guests to a number of dioramas which told the story of Sleeping Beauty. There were some very ingenious techniques used to depict some of the scenes. It very much was something I would highly recommend to anyone visiting Disneyland for the first time.
Many years ago there were plans in place to remove Great Moments with Mr. Lincoln on Main Street, USA. The Disney purists, bless their hearts, made it clear to Disney management that Mr. Lincoln should stay. If there was any attraction in the Disneyland Resort that came close to putting me in the Disney Zone it was this very simple, yet touching attraction. For those who have never been to Disneyland, imagine bits and pieces of The Hall of Presidents and The American Adventure put together in a nice, neat package. I found myself quite moved towards the end of this attraction. I won't spoil it for you by telling how the guest experience for this attraction ends but, quite honestly, when a certain moment came, the images and sounds made me grab my heart and I began to tear up. Now I completely understand why that that attraction will never leave that park.
There were other attractions I experienced but the only other one that I was so thrilled to see and wanted to mention was Aladdin at the Hyperion Theater. This is a must see show. The talent that I saw onstage was far and above whatever I had ever seen in Walt Disney World. The show was entertaining, thrilling, funny, and so enjoyable that it was as if I winked an eye and the show was over.
Unfortunately one attraction I really was looking forward to seeing, the Haunted Mansion, was being invaded by Jack Skelington and crew so it was closed. Maybe next time.
So with the limited time I had to really experience Disneyland's offering of attractions, I came away with the impression that the quality of attractions at Disneyland edges that which we find at Walt Disney World.
Still one more bit of work to report on from my adventure…coming soon.