by Erin Foster
Guest Blogger
MEDITERRANEAN MAGIC DAY 6, AT SEA
With one exception, our day at sea was just like the day at sea for other guests sailing on the Magic. Members of our group slept in, used the health center and spa, watched movies and shows, and ate, and ate, and ate, and generally enjoyed the amenities of the ship.
The special Adventures by Disney activity was an animation class. The restaurant Animator's Palate, the perfect spot to learn about animation, was closed for our exclusive use. Guide Dusty, who had been trained in animation instruction, walked us through a lesson on how to draw the classic Disney character we had encountered in Florence: Pinocchio. After we completed our creations, Pinocchio himself came out to give his opinion on work. I think he liked it.
MEDITERRANEAN MAGIC DAY 7, PALMA DE MALLORCA
Another fairly easy day. We took a brief bus ride to Palma where our local guide, Beverly, told us some of the history of this Spanish island and walked us around the cathedral and surrounding Arabian-style gardens.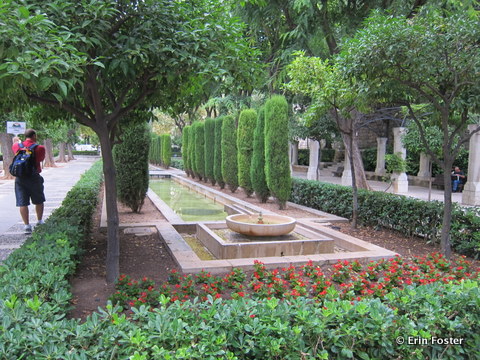 The big activity of the day was a 45-minute old-fashioned train ride, literally through the mountains, to the Mallorcan port of Soller.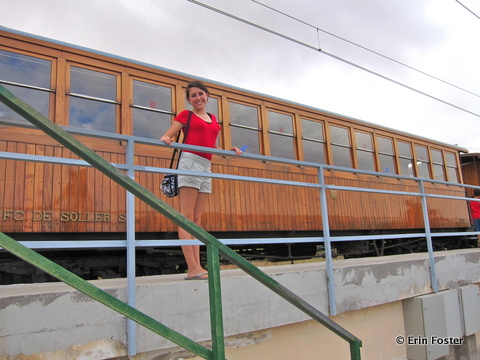 We had a train car all to ourselves. On board, James and Dusty passed out fresh-squeezed orange juice and local pastries. Unfortunately, I can't recall the name of the pastry, which I found delicious, but I do remember everyone's reaction when Beverly told us that the name translated into English meant "lard cake." There were a lot of leftover treats that day.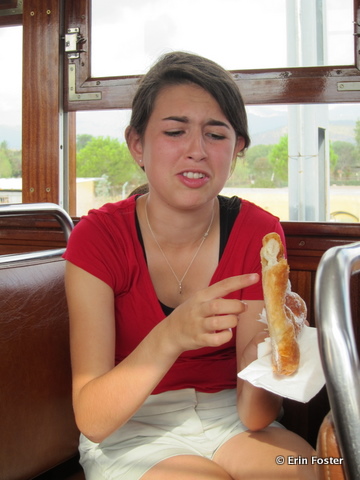 In Soller, we meandered through the village. I purchased the last of my souvenirs and gifts for folks back home, mostly olive oil, locally grown almonds, and flavored salts native to the area.
Our leisurely lunch was at Es Canyis, overlooking the sea. On this day, two children, from different families, both experienced a birthday. James and Dusty gave them cards, the restaurant brought them cakes with candles, and we all sang. A very happy birthday indeed.
We dined on chicken smothered with almond sauce and a yummy dessert of "Floating Islands," basically pudding with meringue and caramel hovering on top. The recipe is available, in Spanish, on the restaurant's website. I'm going to find a translator, but I hope they don't find the word "lard" in there.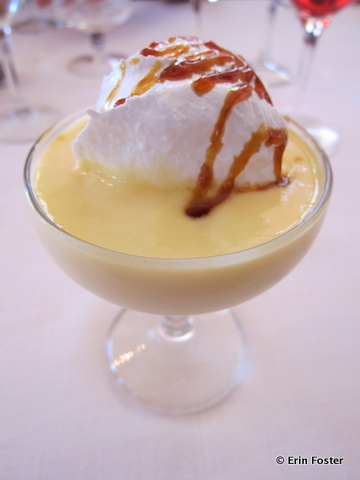 And speaking of floating, we had about an hour after lunch to explore the seaside area. One of the Adventure families was ambitious and rented a paddleboat with an attached water slide for about $20 for the hour.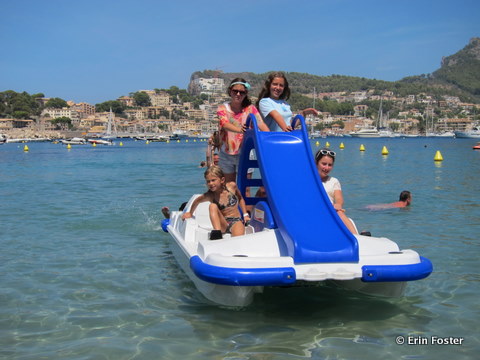 James and Dusty saw that we were having so much fun that they delayed our departure, giving us more time to play.
And then we went back to the Magic to pack for disembarkation day. Sigh.
While the weather had been gorgeous the entire trip, and we had not seen a single cloud since we left the US, back in New York the weather situation was rapidly deteriorating. As we packed, we kept our in-room TV tuned to MSNBC, which was broadcasting frequent reports about the advancement of Hurricane Irene. We were scheduled to leave the next day from the Barcelona airport back to NY JFK.
We dragged ourselves away from the television to go to the Adventurers' farewell reception. Again, we had a public room on the Magic all to ourselves. This time it was Diversions, deck 3 forward.
Everyone in the group had the opportunity to share stories about their favorite parts of the trip and exchange contact information. Dusty and James had also created a fabulous slideshow of photos from the entire journey. There were more than a few laughs, and a number of tears as well.
One of the other women on the trip, a single mother, talked about how meaningful it was to go on vacation with her children and simply enjoy them. She didn't have to plan excursions, or make meal reservations, or arrange transportation. The Adventure guides did everything to allow her to "check her brain at the door" and just have fun. I couldn't agree more.
As a matter of housekeeping, James and Dusty explained that all the photos taken by the photographers on the Magic, as well as the many hundreds of photos they had taken on our outings, were included with our Adventures by Disney package. They gave us the ship's photo CD on board. The AbD CD would be coming from Disney PhotoPass in a few weeks.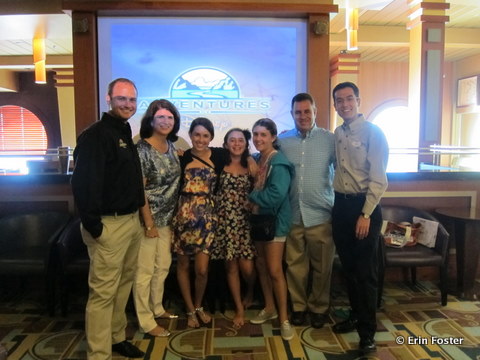 Late in the evening we received notice that our flight had been cancelled, as were all flights into the New York area for the next two days. My husband, with assistance from the Magic concierge, worked the phones with our carrier, American Airlines. They determined that we would get home only two days late, instead of three, if we left Barcelona and instead flew to London and then onto Philadelphia, where we could rent a car to return to New York.
Frequent readers of the AllEars® newsletter may recall that this is the second time in less than a year that a major Disney-related trip of mine was unexpectedly extended due to a major weather incident on the East Coast. I'm thinking Al Roker may want to start tracking my travels to hone his prediction quality.
MEDITERRANEAN MAGIC DAY 8, DEPARTURE DAY (NOT)

This was the last day of our Adventure, but now not the last day of our vacation. The cast on the Magic was extraordinarily helpful in allowing us extra time in our room in the morning so that we could spend more time on the phone solidifying our modified travel plans.
We then disembarked and headed to the airport, bound for London. The Disney part of our story ends there, with the exception being that our bonus sojourn in England allowed me to visit the London, Oxford Street, Disney Store. And of course, I had to take home a UK-exclusive Vinylmation as a souvenir of our extended stay.
We made it home safely after two weeks away, with memories to last a lifetime.