There are a good many Downtown Disney restaunts in Disneyland and Walt Disney World. I have yet to try them all, as sad as that sounds. On my last visit to Florida, my friend and I gave House of Blues a shot. The chain features concerts by well-known musicians and the almighty gift shop. Unfortunately, the food and service were both disappointments. Much of their menu is premarinated and/or premade and shipped by outside vendors, thus meeting my food allergies and dietary restrictions was rather difficult. Hopefully other people will have better experiences.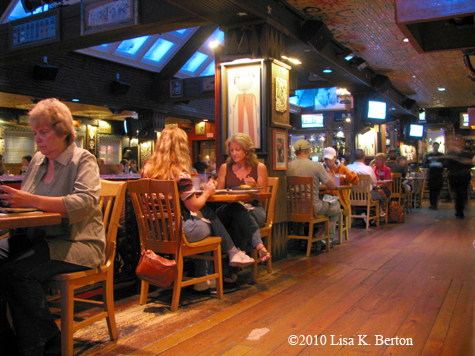 Canon PowerShot SX100 IS, manually set to ISO 80, f2.8, 1 sec. The camera sat still on the table.
Thus concludes my long exposure entry for Disney Pic of the Week – Downtown Disney Restaurants.
Indulge yourself in my Facebook page and get updates on my little corner of the internet.