Discovery Island at the Animal Kingdom acts like The Hub at the Magic Kingdom. It ties all of the outlying lands together in a harmonious manor. But rather than depict a real geographic location, Discovery Island uses humorous, almost cartoon-like representations of animals to create a whimsical locale that does not conflict with the other areas of the park.
Discovery Island is also home to four shops, Beastly Bazaar, Creature Comforts, Disney Outfitters, and Island Mercantile. Each of these shops has a subtle theme that is easily missed if you don't pay attention. In this blog I'm going to discuss these themes and present a few pictures.
Let's start with Beastly Bazaar.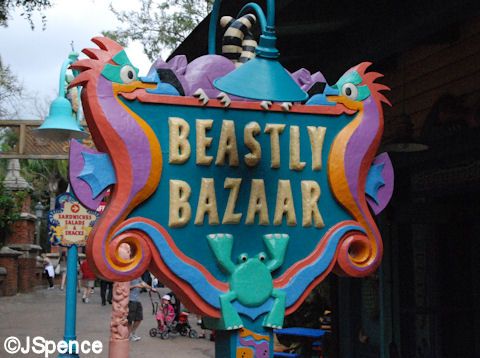 Beastly Bazaar is located on the northeast side of Discovery Island, just before you cross the bridge into Asia. The theme here is water animals. But not just fish, also included are amphibians and birds that make water their home or feeding ground. I'm not going to offer any descriptions here as the pictures are self explanatory.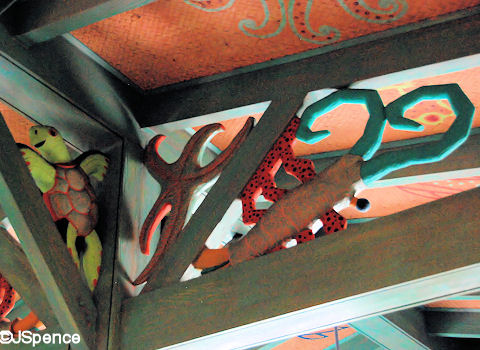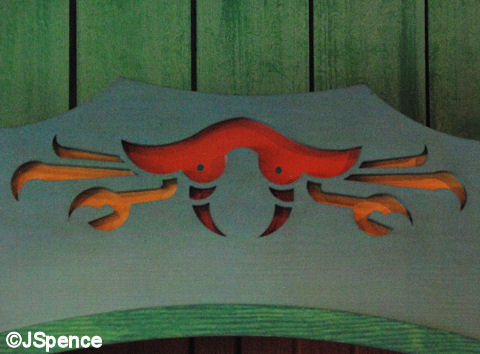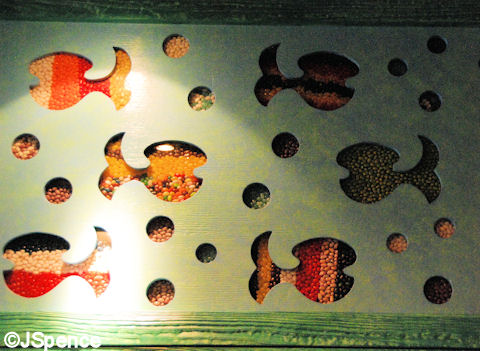 The Creature Comforts shop is located on the northwest side of Discovery Island, before you cross the bridge into Africa. Here, all of the animals either have spots or stripes. Even the overhead light fixture and the lamppost out front carry out this theme.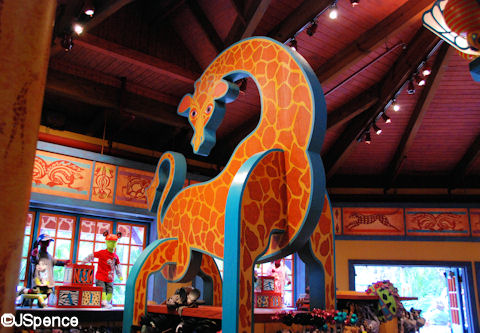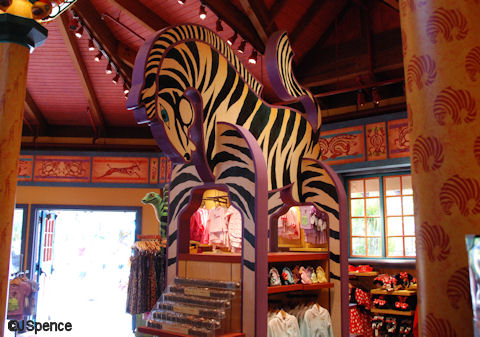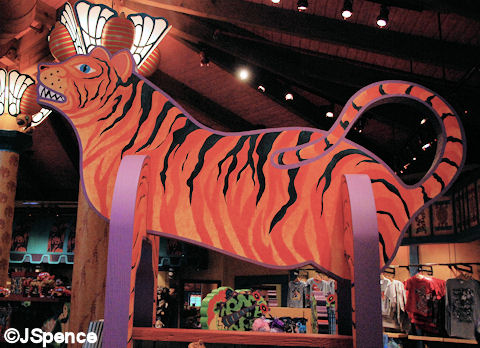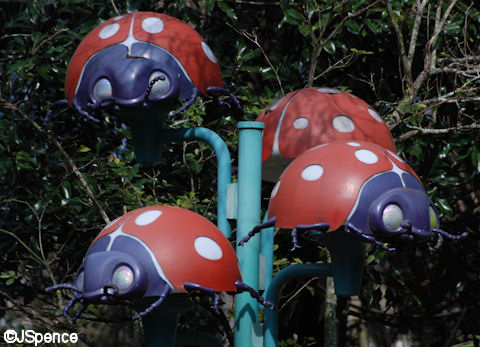 Disney Outfitters is located due south of the Tree of Life. This shop has two themes. First, all of the animal featured here travel in herds. And second, the points of the compass are focal points.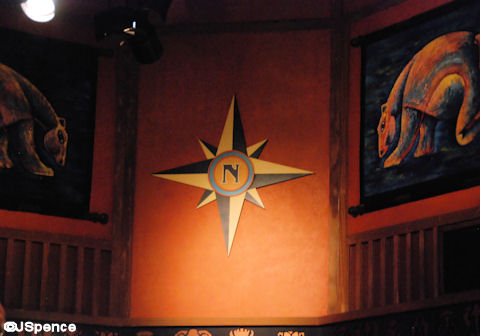 In the four corners of the main building are compass points for north, south, east, and west. These represent the four corners of Africa. Near each compass are beautifully carved posts featuring the animals of that region. Next time you're in this shop, it's worth your time to spend a few minutes admiring their beauty. It's interesting to note, the compass directions do not line up with the "real" world.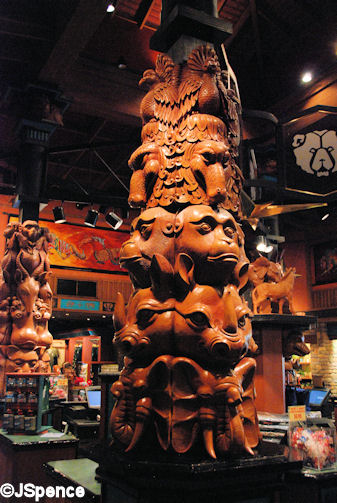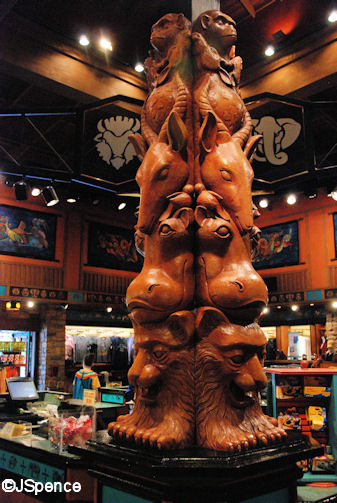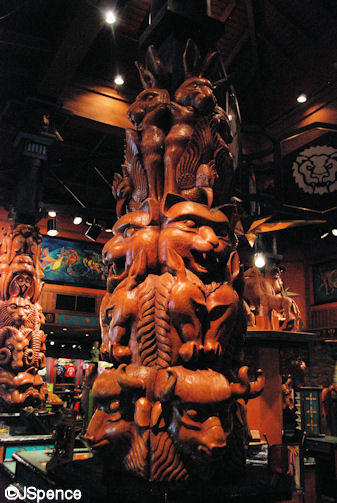 While in this shop, also pay attention to some of the lovely tapestries hanging from the ceiling.
The last store on Discovery Island is Island Mercantile and it is found to your immediate left after crossing the bridge from The Oasis into this land.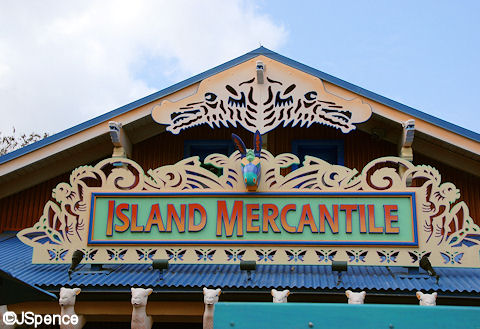 Island Mercantile is all about animals that work. The shop's theme begins outdoors with elephants holding light fixtures in their trunks.
Inside we find beavers hard at work. Notice the counter with its gnawed log supports.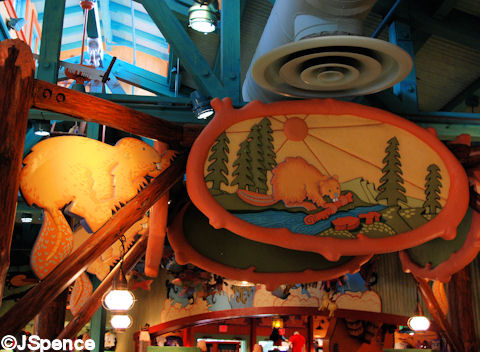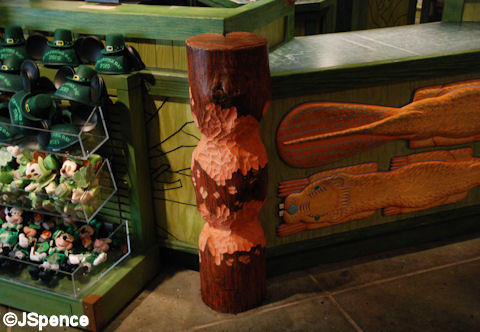 Located throughout the rest of the store are beasts of burden and industrious creatures that work in groups.
I know a lot of you think I know everything about Disney. But nothing could be further from the truth. I'm constantly learning new stuff. I only recently discovered that Island Mercantile and Creature Comforts had themes – and I learned this by reading other pages on Allears.net. But after acquiring this knowledge, I knew that if these two shops had themes, then the others on Discovery Island must as well. So I made a trip to the Animal Kingdom to see what I could find out.
I realize that a lot of the details I point out to you seem obvious, but they're not always. Sometimes I have to do research and ask questions. In this case, I couldn't figure out the theme of Disney Outfitters so I asked a cast member. And when that cast member didn't know, I asked another and another. So don't feel bad that you haven't noticed a particular detail, theme, or story. Just remember not to take things at face value and always be on the lookout for the magic the Imagineers have designed into everything.