Guest blogger Cedric Ching attended the first ever D23 event at Walt Disney World on May 31, 2009. He files this report:
THE INTRO/CHECK-IN
On Sunday, May 31st, 2009, I attended D23's first official member event in Florida: D23's Flower & Fireworks Celebration at Epcot. This event was limited to 200 guests.
Event Description from the D23 website:
"Join D23 at Epcot at the Walt Disney World Resort to celebrate its Members in all 50 states and more than 25 countries worldwide! Start the evening at the American Gardens Theatre with reserved seating for the Flower Power Concert Series Finale, starring the legendary Tony Orlando, to close the Epcot International Flower & Garden Festival. Next, head to a VIP location to mix and mingle with your fellow D23 Members over desserts and coffee, and then enjoy the spectacular nighttime extravaganza IllumiNations: Reflections of Earth from a private viewing area."
Check-in for the event was at Guest Relations outside and to the right of the park gates. There, guests presented their D23 membership card and were then handed a large envelope containing a number of items: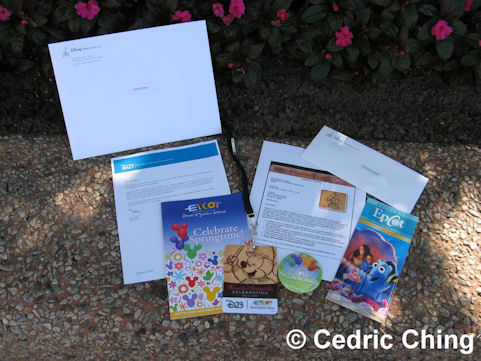 There was a letter from Steven Clark, the Head of D23, thanking us for joining them for the event and wishing that we enjoy what they had planned for us. Also included in the envelope were the following: a printout of the event description from the D23 website, a Flower & Garden Festival program, an Epcot park map, an "I'm Celebrating!" button for us to wear, a lanyard that would act as our credentials, and a FastPass to Soarin' good for anytime that day — a very nice touch.
THE FLOWERS
I arrived at Epcot in the late afternoon, early enough to get checked-in and play a couple games at Innoventions West before heading onto the American Gardens Theatre where participants were to meet at 7:15pm.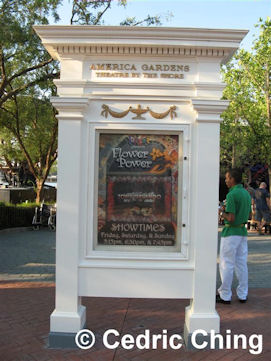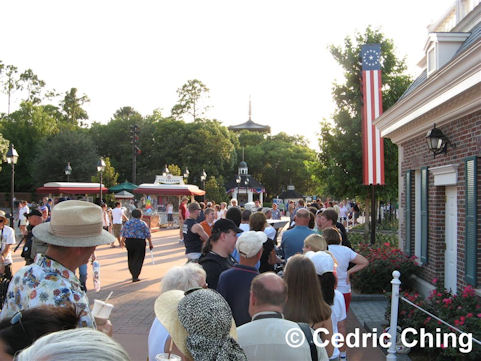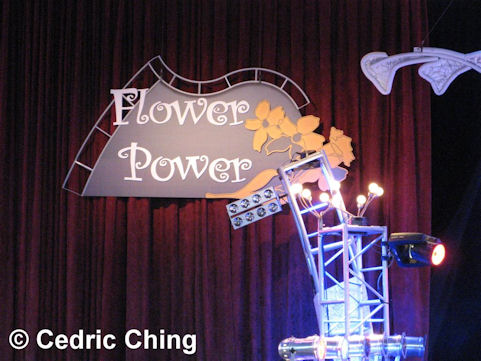 We had our own section at the 7:45pm Flower Power Concert — the last performance of the festival — and Tony Orlando was warm, enthusiastic, and a very audience-oriented entertainer. To start off the show, he conducted the crowd in singing the Mickey Mouse Club's "Alma Mater".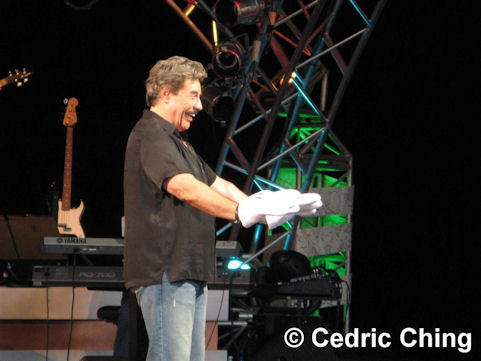 He and his band played some classics tunes, such as "Tie a Yellow Ribbon Round the Ole Oak Tree", "Knock Three Times", and "Candida", with lots of audience participation and encouragement. He continued a sense of family and togetherness by recognizing the talents of his band members throughout the show and at one point having his sister up onstage to join him for a dance. He also invited his daughter and friends up on stage to lead the crowd on their cover of the Beatle's "Hey Jude".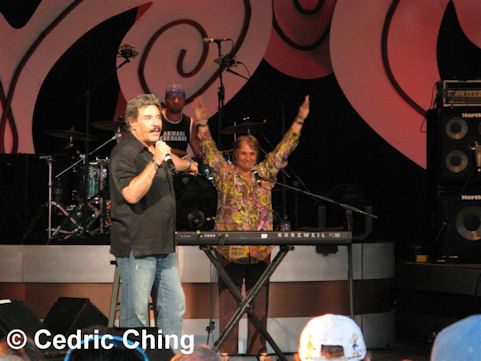 Tony Orlando also pointed out the D23 section and called to our section a number of times to cheerlead. And the special attention was an absolute thrill. Then to end the show, he had everyone come full circle and reprise the "Alma Mater". The show was a definite crowd-pleaser. Great job Tony!
After the concert, our section waited for most of the crowd to clear before we were escorted to our private viewing area for the IllumiNations fireworks extravaganza.
THE FIREWORKS
The private viewing area was located in front of the France Pavilion, water-side, and had two levels. On each level, there were three dessert stations and plenty of tables to gather around.
One of the food stations had an arrangement of desserts — a selection of some of Walt Disney's personal favorite recipes, which included: Butterscotch Haystack Cookies, Fantasia Cheesecake, Warm Apple Brown Betty, Chocolate Cream Pie, and a Chocolate Chip Bread Pudding.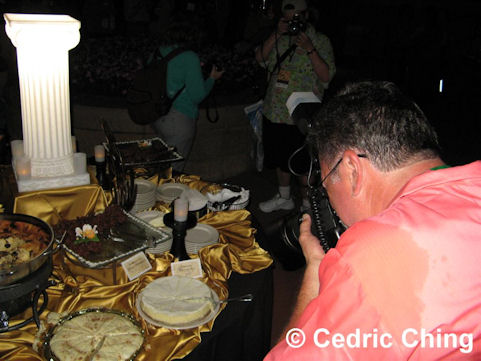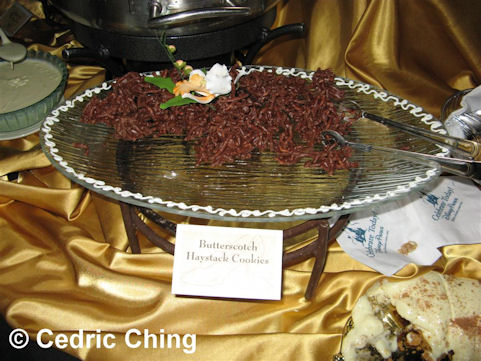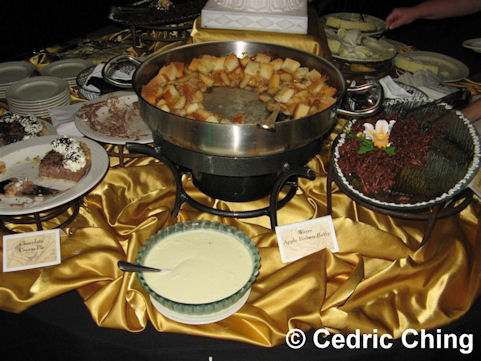 At another station, a cast member was ready to make us either a Vanilla or Chocolate Coke Float. Being lactose-intolerant, I opted for just the soda and a couple/few of the plastic Disney cups.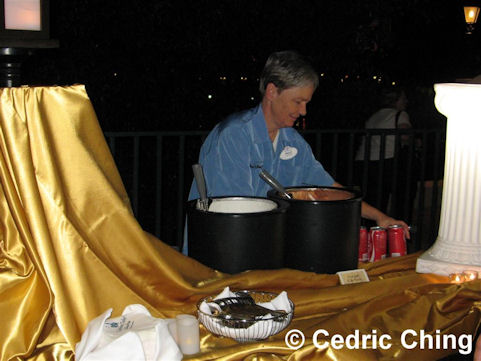 The third station had beverages, with a cast member there to offer us our choice of coffee, tea, or water.
The limited number of guests made for more of an intimate setting, and it was very nice time getting to know other people that were there. When it came time for IllumiNations to begin, there was plenty of room to just enjoy the show. The view was fantastic.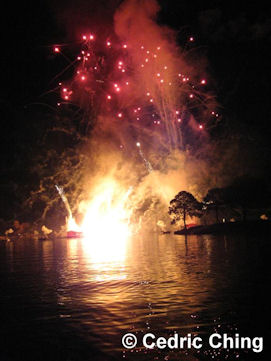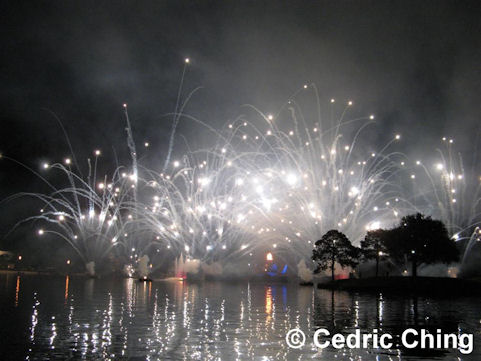 And, from where I was standing, I was able to clearly see the Characters In Flight balloon up in the distance.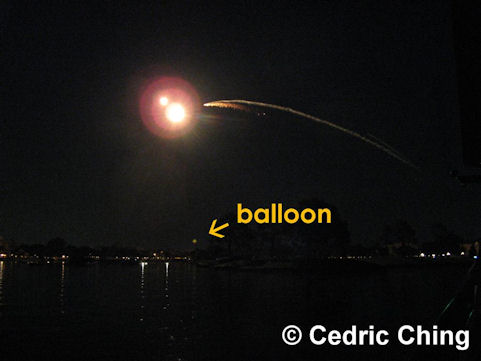 ANOTHER KISS/THE OUTRO
After IllumiNations, some friends from AllEars.net and I stayed and mingled a while longer before a cast member came around to tell us that they were going to start cleaning and had to kindly ask us to start making our way out. She told us that there were goodie bags waiting for us, and we quickly obliged. 🙂
The goodie bags contained a set of ten D23 buttons, each with a different character and slogan (you've seen these around). This parting gift was a wonderfully unexpected gesture and topped off an incredible night — it was our second kiss goodnight.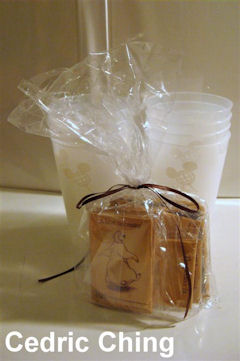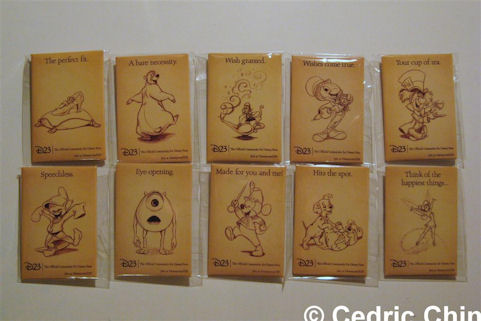 D23's Flowers & Fireworks Celebration exceeded all of my expectations. The pace of the event was very comfortable and at no point did I feel crowded, which to some would be the price of the D23 membership in itself. My only suggestion for the organizers is to have more directions and signs for how and where to check-in. Overall, it was a very smooth operation with a lot of Disney special touches — like the Soarin' FastPass, the recognition from Tony Orlando during the concert, and their selection of the desserts. It was an event where we truly made to feel like VIPs.
D23 did an absolutely amazing job with this one, and I look forward to attending more of their events.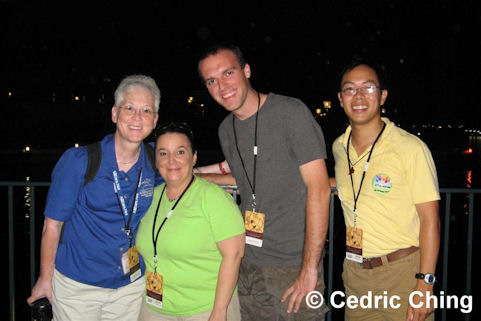 **********
Cedric Ching is a resident of Florida's East Coast and tries to make it to the parks at least a twice a month with his camera and his Stitch, in search of magical moments. He enjoys taking pictures and running.
Cedric has completed two Disney marathons and one Goofy Challenge (will being running Goofy #2 with my two sisters in 2010) and loves the Yakitori House in Epcot for dining.