The information in this next blog has been presented before – some of it on this website, some of it on others. But since I've started blogging about Disney World trivia, I thought these tidbits were worth repeating.
Often, when Disney replaces an attraction with a new ride or show, the Imagineers like to pay tribute to the previous occupant of the space. To do this, they create some sort of remembrance to remind us of what used to delight us in years past. This blog is going to discuss three cases in Fantasyland in the Magic Kingdom.
The first example is probably one of the most famous and centers around "Mr. Toad's Wild Ride" being replaced with "The Many Adventures of Winnie the Pooh."
Shortly after leaving the Blustery Day room, you enter a hallway of sorts. Once you clear the doors, you must immediately turn to your left and look at the wall behind you. Here you'll discover a picture of Toad handing over the property deed to Owl.
Now here's a little extra trivia regarding this picture. It is also included on the Hong Kong Disneyland version of this ride – which makes absolutely no sense, since Mr. Toad never existed there. Go figure.
One of the original attractions at the Magic Kingdom was "20,000 Leagues Under the Sea." Sadly, on September 5th 1994, this ride was closed. The lagoon sat unused for a number of years until 2004 when the area was razed to make room for "Pooh's Playful Spot," a children's play area.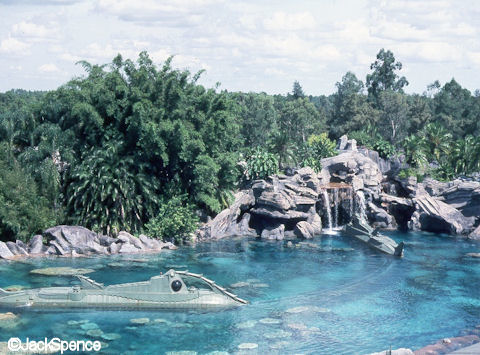 The centerpiece of "Pooh's Playful Spot" is a large tree.
I would venture to say that the vast majority of adults who visit this area with their children never make it inside this tree. After all, it's meant for kids and the doorway is somewhat small. But for those of you who do, you can find the 20,000 Leagues legacy.
Once through the doorway, turn around and look at the beam above the door. Mixed in with the wood grain is an impression of the Nautilus.
The last attraction I'm going to talk about is the "Mickey Mouse Review," another Magic Kingdom original. Several attractions have graced this building over the years, but it now houses "Mickey's Philharmagic."
Two of the musical numbers performed in the "Mickey Mouse Review" were "Who's Afraid of the Big Bad Wolf" and "The Three Caballeros."
Today, while in line for "Mickey's Philharmagic," you can see a number of posters advertising various acts starring Disney characters. For example, one poster features Hades (from "Hercules") singing torch songs and another shows Willie the Whale (from "Make Mine Music") singing in clown make-up.
So then, it's no accident that two of the posters pay homage to the "Mickey Mouse Review."