Walt Disney Television Studios
When the Walt Disney Studios Park opened, the "Walt Disney Television Studios" offered guests a backstage tour of the Disney Channel's French headquarters.
When I took this tour in September, 2005, I was never so bored in all my life. Most of the tour was presented in French with English subtitles. But beyond the language barrier, the subject matter was exceedingly dull – no matter how hard they tried to breathe excitement into it. This attraction closed in 2007 to make room for "Stitch Live." Thank goodness.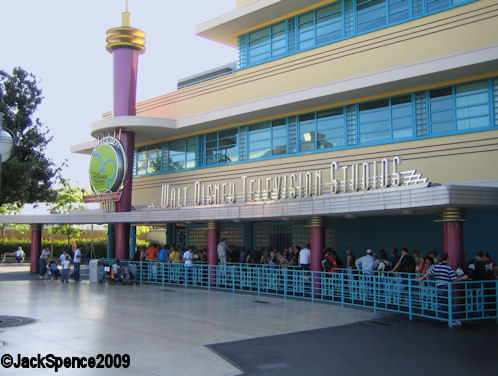 I have not been on the Paris version of "Stitch Live," but my friend TDLFAN tells me that it is almost exactly like its cousin attraction "Stitch Encounter" in Hong Kong, which I have seen.
The picture below is from Hong Kong, but the interior of the two attractions are practically identical.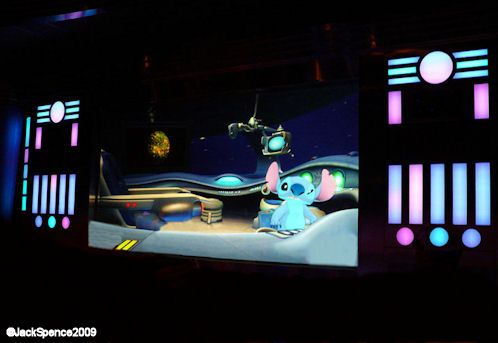 "Stitch Live" uses the same technology as "Turtle Talk with Crush" in Epcot.
However, the story here is a little different. Using one of the Disney Channel satellites, your human host hones in on a ship in outer space and contacts Stitch. From then on, this mischievous prankster interacts with the audience in real-time conversations. The shenanigans are different with each contact and no two shows are ever exactly the same.
To be honest, I'm not a big fan of Stitch, but I loved this attraction in Hong Kong. It made me laugh both times I experienced it.
Since the Walt Disney Studios Park must deal with two languages, "Stitch Live" is presented in either French or English. Outside of the attraction is a marquee that lists the show times and the associated language.
Rendez-Vous des Stars Restaurant
Next to "Stitch Live" is the buffet restaurant Rendez-Vous des Stars (Meeting Place of the Stars).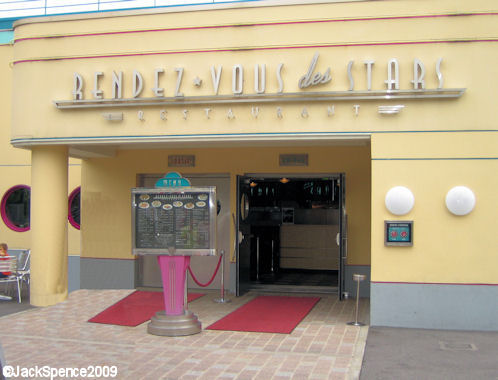 This art deco building offers the most upscale dining experience of any of the restaurants found at the Walt Disney Studios Park. The interior is large with over 300 seats. But despite its considerable size, this establishment can get busy during the lunch hours. The "storyline" of this eatery is that it's a place for the cast and crew to grab a bite to eat between takes. The walls are decorated with photos of movie stars and the bill of fare is European.
Disney Cinema Parade
No Disney park would be complete without an afternoon parade and the Walt Disney Studios Park is no exception. In keeping with the Hollywood theme, each float is given a movie-making touch to showcase a given film. For example, we see Minnie in her dressing room and Mary Poppins on reels of film.
This parade is a lot of fun and if you have kids, this is the perfect way to let them see an abundance of characters. The procession lasts approximately 20 minutes.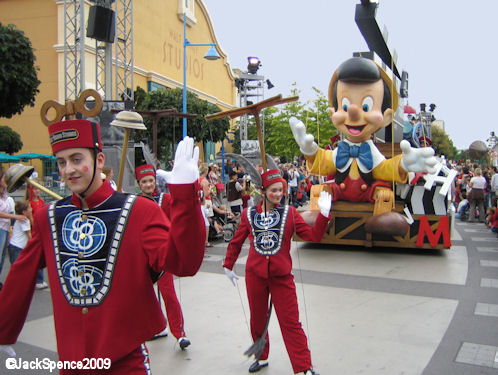 There are a number of good spots to watch the Disney Cinema Parade, but Production Courtyard offers a lot of space to line the street.
In my next blog I will discuss the Tower of Terror and the Studio Tram Tour.
————————-
It seems a few things have changed since my last visit. Please read Marnix's comment below.