As Disney veterans know, it's hard to imagine an experience more enjoyable than showing a Disney park to someone who's never been. Especially if it's a good friend!
A few weeks ago, Nona, a friend of ours for many years, visited Orlando and Walt Disney World for the first time. My wife Vickie and I were honored to be her chaperones. Where to begin? Magic Kingdom, of course! In the photo, Nona is wearing her "1st Visit" button, which we picked up at City Hall. Vickie is smiling beside her.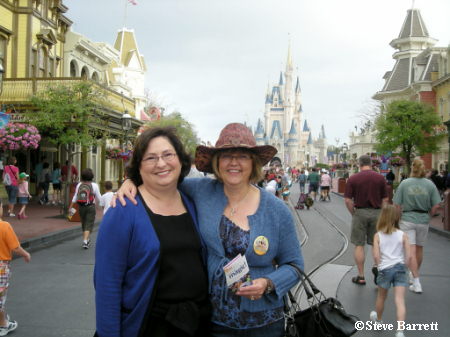 We rode the Headliner attractions first; Nona really enjoyed Splash Mountain. Of course, I pointed out Hidden Mickeys here and there (if I could get her attention between laughs and giggles). We drove to Disney's Hollywood Studios that first afternoon. Nona is a fan of American Idol, so we had to try out the new attraction: The American Idol Experience. She was impressed and told me that the Disney show was a very good reproduction of the television event. We had a blast!
Check out a new Hidden Mickey on the stage. A classic Mickey image is on the light brown arch in the stage backdrop, between the second and third round archway lights (counting from the lower right of the arch). (Thanks to Joe Franceschino, Jordan and Kenya Swiss, Jason trendymagic, Matt Hochberg, Sharon Stevenson, and Marie and Bruce Daigneault)
Over the next few days, Nona experienced great cuisine at the Plaza Restaurant, 50's Prime Time Cafe, Afternoon Tea at the Grand Floridian, Jiko, California Grill, Sci-Fi Dine-In, Flying Fish, and San Angel Inn. Whew! I wonder if she put on a few pounds? Late one night, Vickie took her to Jellyrolls for a rousing good time.
Epcot was also a big hit with Nona. I had to show her one of my favorite Hidden Mickeys on a fish in the Northwest Mercantile shop in the Canada Pavilion.
IllumiNations and the American Adventure show impressed her, and her last delightful experience before leaving for the airport was the Voices of Liberty singing group.
I hope Nona returns some day and brings along her husband Buzz and sons Jacob, Joseph and Jordan. By the way, Jacob bought her plane ticket to Orlando as a Christmas gift, so she could visit her old friends and enjoy Disney World. Thanks, Jacob!

Read more about Steve's Hidden Mickey finds on AllEars.net
Steve maintains a Catalog of Hidden Mickeys on the Hidden Mickeys Guide.