UPDATE – The Official Website is now live:
http://d23.disney.go.com/
For a number of weeks now, the Disney online community has been buzzing about D23 trying to figure out exactly what it meant! Speculation began to turn towards a new Disney Fan Club and early last week a few websites were displaying photographs of what appeared to be D23 membership pins.
Over the last several days, the premiere issue of Disney twenty+three (slated to debut on March 10, 2009) began to surface in book stores. So this morning, as I passed my local Barnes and Noble store, I decided to stop in.
In the magazine section was a small black stand with a couple layers of the new magazine.
It was packaged very nicely in cellophane to protect the pages, or perhaps to keep folks from thumbing through it before they pay the list price of $15.95.
A simple black and white cover with Walt, the magazine is on heavy glossy paper and measures 11 x 12 1/2.
"Welcome to the premiere issue of Disney twenty-three, the new quarterly publication exclusively for D23: The Official Community for Disney Fans."
Below are some snapshots of the issue. It even includes photographs from the February American Idol Press Event!
You'll see a wide range of topics from Walt himself to themeparks, dining, movies, imagineers, and broadway.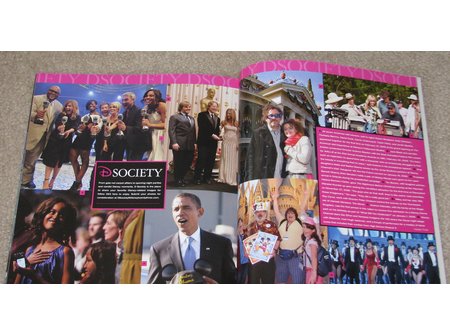 More to come as I look through the magazine.