Disney Cruise Line Premieres First-Ever 3-D Cinematic Film Experience at Sea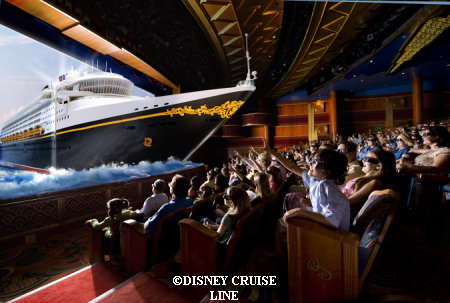 CELEBRATION, Fla. (Nov. 17, 2008) – Disney Cruise Line is revolutionizing movie entertainment at sea with the debut of Disney Digital 3-D, a one-of-a-kind cinematic experience premiering exclusively onboard the Disney Magic and the Disney Wonder.
Guests will delight as first-run Disney films leap off the silver screen and take on a whole new dimension thanks to Disney Digital 3-D technology being added to both the Walt Disney Theatre and Buena Vista Theatre. Disney Cruise Line is the first cruise line to introduce 3-D entertainment onboard its ships. Disney Digital 3-D will premiere onboard the Disney Wonder during the Nov. 20 sailing and on the Disney Magic during the Dec. 6 sailing.
Leveraging this new technology, Disney Cruise Line will take 3-D into uncharted waters in early 2009 with the debut of an exciting new cinematic experience that combines full length Disney Digital 3-D films with in-theatre effects. Tridimensional images will combine with lasers, fog, streamers, and special lighting effects to create an immersive movie-going experience like no other at sea. During these once-a-cruise special engagements, guests will feel the rush of being part of hottest show in town as in-theatre effects enhance 3-D films featuring popular Disney popstars in concert.
"With Disney Digital 3-D we can provide extraordinary cinematic experiences for our guests that no other cruise line can offer," said Tom McAlpin, president of Disney Cruise Line. "Innovation and high-quality family entertainment are Disney Cruise Line hallmarks, and the addition of Disney Digital 3-D perfectly complements our industry-leading collection of entertainment options already onboard our ships."
Disney Cruise Line will celebrate the debut of Disney Digital 3-D by hosting a special screening event for Walt Disney Animation Studios' newest animated feature, "Bolt," onboard the Nov. 20 three-night Disney Wonder cruise. As the calendar turns from Nov. 20 to Nov. 21, guests will be invited to a special midnight screening of "Bolt" at the Walt Disney Theatre – complete with meet-and-greet opportunities with lovable walk-around characters from the film.
The film features super-dog Bolt (voice of John Travolta), whose every day is filled with adventure, danger and intrigue – at least until the cameras stop rolling. When the star of a hit TV show is accidentally shipped from his Hollywood soundstage to New York City, he begins his biggest adventure yet – a cross-country journey through the real world to get back to his owner and co-star, Penny (voice of Miley Cyrus). Armed only with the delusions that all his amazing feats and powers are real, and the help of two unlikely traveling companions – a jaded, abandoned housecat named Mittens (voice of Susie Essman) and a TV-obsessed hamster named Rhino (voice of Mark Walton) – Bolt discovers he doesn't need superpowers to be a hero.
"Disney Cruise Line picked the perfect time to introduce Disney Digital 3-D to its guests," said Mark Zoradi, president, Walt Disney Studios Motion Picture Group. " 'Bolt' kicks off an extraordinary lineup of 3-D movies debuting over the course of the next year, including 'Jonas Brothers: The 3D Concert Experience,' Disney-Pixar's 'Up,' 'G-Force,' Disney-Pixar's 'Toy Story' and 'Disney's A Christmas Carol.' The 3-D immersive experience is better than ever."
Disney Digital 3-D is the latest enhancement to join the robust menu of premium guest experiences and amenities included with a Disney Cruise Line vacation. Dazzling Broadway-style musical spectaculars, over-the-top deck parties with the only fireworks display at sea, a unique rotational dining concept, first-run movie releases and fantastic kids programming are just some of the advantages of cruising with Disney.