A good way to add drama to a digital photograph is to convert it to black and white. This week we'll showcase some black and white photos from around Walt Disney World and Disneyland. Look for Lisa and Scott's Pic of the Week photos on Thursday and Saturday.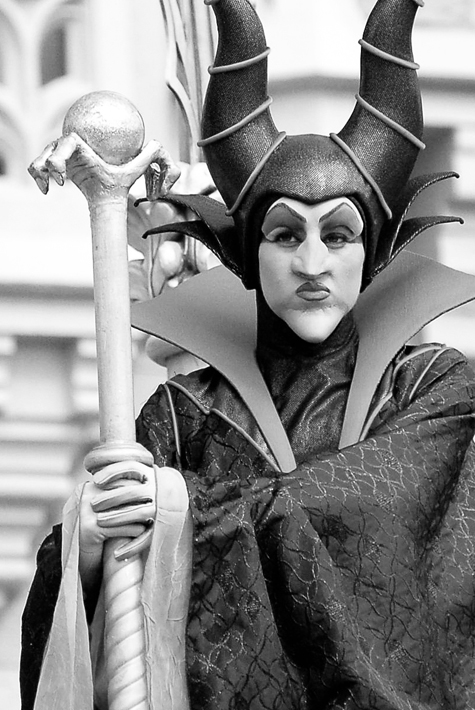 Copyright © 2006 Barrie Brewer, Nikon D50, 18-200VR, 1/500s shutter, f5.6
I really love black and white when it's applied to portraits of people. This is Malificent in front of Cinderella's Castle at the Magic Kingdom. She looks very foreboding, doesn't she? She really knows how to give someone the eye!
In the color version of this photo, your attention is drawn very much to the bright colors of her make-up and costume. Also, the color in her staff and some of the stage decorations that are behind her are distracting.
When I converted it to black and white, the photo looked much more striking and dramatic. In black and white, the distractions become less noticeable and the focus of the photo is shifted to Malificent's intensity. Anytime you can draw attention to an emotion in your photo it is going to make it more interesting. Black and white photography can really help to do that.