I dedicate this blog to all my fellow Canon peeps. :secret handshake:
Camera companies are always competing in the sense that one brand's cameras can do something that another's doesn't. One of Canon's specialties is Color Accent. You'll find it in the SD750, SD890 IS, SD 1100 IS, S5 IS, and the G9 just to name a few.
I borrowed my neighbors' Canon Powershot S5 IS (the same camera that Deb Wills shoots with) for my latest Walt Disney World adventure. I can tell you that I already knew I wanted this camera before I even borrowed it. The S5 IS is in high demand everywhere, actually, so if you can find one, buy it.
What Color Accent does it it lets you pick out a single color from those in your picture, before you take it. The remainder of the image will turn black and white with the possible exception of green, which is the default color.
Here's how it works on the Canon Powershot S5 IS.
1. Turn the Mode Dial to SCN (Scene).
2. Press the control pad's right side until you see the icon for Color Accent.

3. Press the button for ISO.
4. The liquid crystal display (LCD) will show you a bar at the bottom and inside a box, the selected color to retain. The featured color will be the last one you used or it'll be green by default if you haven't used this setting before.
5. Point your camera at the color you want the camera to keep. Make sure that color is in the center of your frame. Now press the left side of the control pad.
6. Press the ISO button again to lock in your selected color.
7. Now take your picture.
Important note: Let's say you aim your camera at a blue shirt in hopes of using blue as your accent color but when you take your photo, it's of something that doesn't have any blue in it, like a chicken. Your image will be black and white without any blue. In order for the Color Aceent to work, the color you select has to be in the image you shoot.
I started off by aiming my camera at this yellow flower.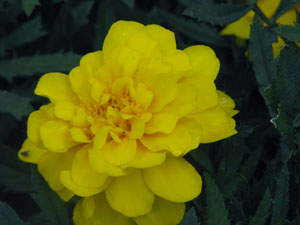 I set the camera to pick up the bold yellow and then recomposed my shot and took this picture.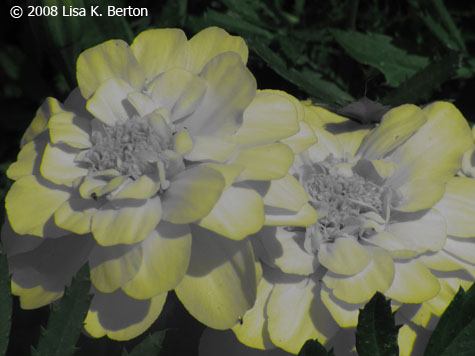 It not only picked up the yellow in the chateua but it retained green, the default color as well.
I then took this shot and you can see a pale yellow in the stones.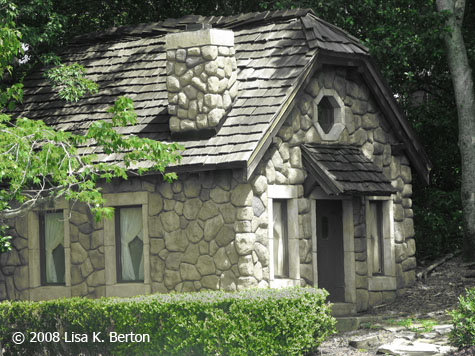 Shop AllEars Net's Amazon store for the Canon Powershot S5 IS.