by Debra Martin Koma
Senior Editor
Just back from Wednesday's Toy Story Midway Mania media preview at Disney's Hollywood Studios and I have nothing but good news to report.
Although it was a very low-key affair, the outcome had to have been better than Disney was hoping for — everyone I spoke to thoroughly enjoyed the ride, many riding it multiple times not just for research purposes, but because they genuinely had that much fun.
My day at Disney's Hollywood Studios started around noon, when I checked in for the media preview. I was greeted by Justin Muchoney, Disney's first Chief Magic Official, who, it turns out, is from my (original) neck of the woods. His hometown, Seven Fields, Pennsylvania, (and Justin, I think they had it as Seven Field on your nametag!) is about 20 miles north of MY hometown, Pittsburgh. Justin told me that this event is just the first of about eight that he would be present for – with some occurring at Disneyland, as well. "So far," he said, "it's been amazing. I've had some training and everyone's been great – this truly is a Dream Job."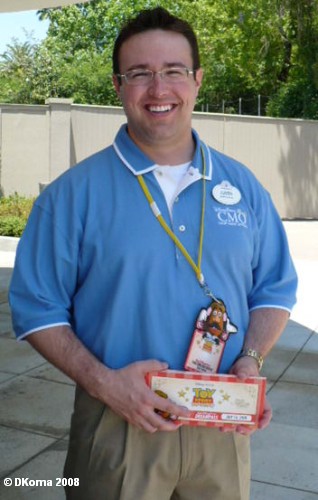 And then Justin gave me a wonderful gift – a pass to ride the new Toy Story Midway Mania that I was to give out to a group of my choosing. Yes, I myself got to bestow a "dream" during this Year of a Million Dreams! What fun! (I eventually gave my dream pass to a mom, dad and son who were lunching at the Studio Catering Company. Son claimed he was a BIG Buzz Lightyear and Toy Story fan, so I thought it was only fitting. I didn't get their names, so Family X, if you're reading this, please drop me a note and let me know what you thought of the ride!
Around 1:30 p.m. in front of the Sorcerer's Hat, an abbreviated version of the imported-from-Disneyland Block Party Bash kicked off the media preview event. Buzz Lightyear, Woody, Bo-Peep and Mr. Potato Head, among other Toy Story favorites and assorted gymnasts and dancers, encouraged young audience members to do the twist and macarena, ending with an explosion of bouncing balls.
Walt Disney World President Meg Crofton was on hand to welcome the media with remarks that reinforced what seems to be a recurring theme at Disney these days. Calling it an example of "classic Disney storytelling" Crofton quoted Mr. Potato Head, the greeter of the new attraction, saying, "It's a ride that's a game. It's a game that's a ride."
Noting that the attraction had been "playtested" exhaustively, Crofton asserted, "It's fun for the entire family. Toy Story Midway Mania joins an impressive lineup of new experiences here at Disney's Hollywood Studios."
She then invited the media to fall in line and head over to "play away" at the attraction located in a soundstage along the former Mickey Avenue, now dubbed Pixar Place.
***SOME SPOILERS AHEAD***
For those of you who haven't read much about Toy Story Midway Mania, I'll refer you to Mike Scopa's blog about the attraction's Passholder Preview HERE for photos of the exterior and queue. (We also have more photos HERE.) As for the ride itself? Well, at the risk of giving out too many spoilers, the ride is a 4-D experience – that means in addition to seeing a series of 3-D scenes (yes, you have to wear the dorky 3-D glasses), you're also treated to other sensory effects, like a sudden blast of air or a spritz of water. The ride vehicles are designed to look like a carnival tram ride. Each car holds four riders who sit in couples, back-to-back. In front of you is a "spring-action shooter," a mounted gun that moves freely and has a pull-string with a large ball at the end of it. A monitor on the vehicle shows you your score.
It's a herky-jerky ride, as you whip around corners, pausing for a minute or so at each "game booth," where your shooter spews out darts or rings or balls at a variety of targets. Before you know it, your time at each station is up, ending with a pressure-inducing "5-4-3-2-1!" countdown, and then you're on to the next challenge. After facing five different games, your scores are tallied and the next thing you know you're walking out the door heading back to the entrance to give it another go.
So"¦ my opinion of the ride? I loved it. Rode it five times, and noticed new things each time – also noticed that my score improved each time, as well – I ended up with a high for the day of 115,000-plus points. (I think the first time through I scored about 70,000.) Before riding, I was a little concerned about how the ride would be for the less coordinated among us, but I needn't have worried. The string is very easy to grip and pull, and the shooters are very maneuverable.
For those with other challenges, I noticed that there were several cars designed to accommodate wheelchairs or ECVs – guests can ride their chairs right into the attraction vehicle. I was happy to see that accessibility had been built right into the attraction from the beginning.
It's something I had the chance to speak about with Imagineer Chrissie Allen, who served as senior show producer for Toy Story Midway Mania.
"Obviously, we wanted to make sure that everyone can ride this ride as comfortably as possible," Allen explained. "We made sure that this ride could engage as many guests as possible. That's something that we're passionate about. And," she added with a smile, "did you notice that the monitors onboard the vehicles have closed captioning?"
Allen noted that although this attraction integrates several different technologies in a new way, that was not the main goal in the design process. "Using all the new technologies isn't the imperative," she said. "In this ride, we use all these new tools, along with our usual 3-D and 4-D tricks, but we've incorporated them in a way to further the storytelling. At Disney, we love to tell stories in a seamless way – storytelling is the imperative."
Rilous Carter, vice president of Disney's Hollywood Studios, added that all the new interactive technology was key to the park's new style.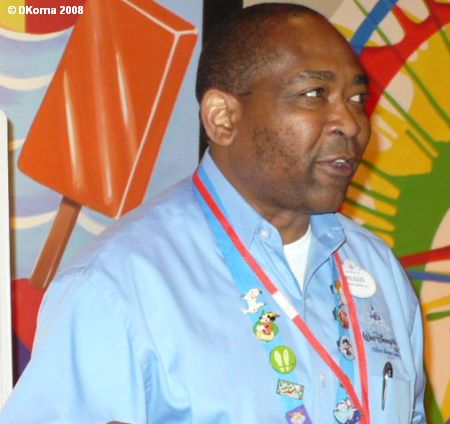 "What we have started in Pixar Place is going to resonate with people for a long time," he said. "The park has added Block Party Bash, the new Playhouse Disney, new High School Musical show – these things are all less than a year old. Now we have a new 'toy' for everyone – no pun intended," he added with a smile.
He stopped short of calling the addition of these new attractions a "revitalization" of the nearly 20-year-old theme park. But Carter noted that with the new attraction based on American Idol coming in the fall, Disney's Hollywood Studios was likely to be noticed more and more, "and we want to enjoy the glory for a little while."
Part of that "glory" is supposed to come from the Block Party Bash, recently brought to Walt Disney World after a few years at Disney's California Adventure. There was a special media viewing area near the Sorcerer's Hat for this 3 p.m. street party, which I took advantage of, since I'd not seen it yet.
Block Party Bash is not so much a parade as it is a moving show that makes two 12-minute stops along its route. It's a vast improvement over the Stars and Motor Cars Parade, in my opinion – I never cared for the car-themed cavalcade, and I really didn't like its music. The Block Party Bash instead features a mish-mosh of contemporary dance tunes (from "Footloose" to "Shake Your Booty" to "The Twist" and "The Macarena") with choreographed dancing and gymnastics, and plentiful characters from Disney-Pixar movies.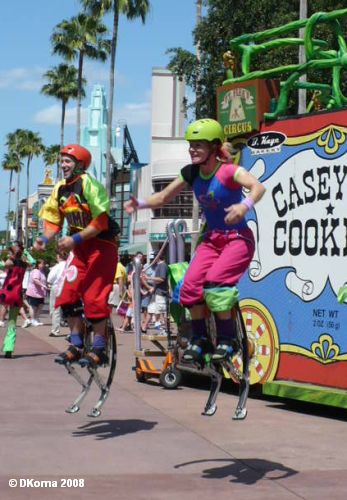 It was entertaining, and the little ones pulled from the crowd to participate really seemed to be enjoying themselves. But as I stood there in one spot in the direct sun for nearly a half-hour I had to wonder if I was the only one who was feeling fried to a crackly crunch? I think I would have felt the fun a bit more if I had been in the shade, or if the performances and been about half the time. Having seen this "bash" once, I don't feel the need to see it again anytime soon… unless it's a cool, cloudy day.
Never mind, there was still one more enjoyable part of the media day to come – a meet and greet with a new character. The new movie "Chronicles of Narnia: Prince Caspian," opens in theaters on May 16, and so to promote that film, a new Prince Caspian character will begin meet-and-greets in the Studios on that day. We had a chance to meet the new prince in advance of his "official" start date, and what a lucky thing that was. The young actor portraying the handsome prince is both dashing and gallant, as he poses for photos, making small talk with an indefinable accent and in character. (See my photo with him, as he very regally holds my hand in our posed photo. He is quite debonair – I can imagine he'll be extremely popular when he begins his official "meet-and-greet" duties!)
The Journey into Narnia attraction, located between One Man's Dream and Toy Story Mania in the Studios, is slated to reopen soon with behind-the-scenes footage, sets and props from the new movie. When the attraction opens, the Prince Caspian meet-and-greet will be located near the beginning of the queue, against a backdrop of the "Dancing Lawn," the location where the Narnians first confront Prince Caspian in the film. As someone who avidly read the Narnia books as a child, I can't wait to see both the next installment in the film series, and this new walk-through attraction.
Finally, the very low-key but fun-filled media preview day concluded, and I made my way back home to my mundane existence in the wilds of northern Virginia.
But of course I'm already planning my next visit to the World… which will undoubtedly include a stop (or two) at the new Toy Story Midway Mania… and probably to Narnia, as well!