by Michelle Scribner-MacLean
When it comes to magazines, the rule of thumb in our family is to stick to the Three Rs – reduce, reuse, recycle. We've tried to reduce the number of magazine subscriptions we receive each month. When we're through with an issue we try to hand it off to a neighbor who might be interested in the topic. When our pile of magazines starts to resemble a skyscraper and is in danger of crushing a small pet should it topple, then we haul it off to recycling.
I'm sharing background info so you can understand my reaction when I asked a friend to borrow some copies of Tales from the Laughing Place so that I could do a review. I was not a subscriber, so I thought this would be a great way to look at several issues at once.
Her response? "Sure, but please send them back when you're done"¦.because I save them."
"What?" Thought I. "Why would someone want to hang on to a magazine?"
As soon as the envelope arrived, I could quickly understand why these magazines were treasured. Tales From the Laughing Place isn't so much a magazine as it is a collector's item for anyone who loves Disney.
Each issue is devoted to a specific topic related to Disney parks all over the world. Past topics have included a focus on The Happiest Celebration on Earth, an in-depth look at Hong Kong Disneyland, and a retrospective on twenty-five years of EPCOT in celebration of its anniversary last year.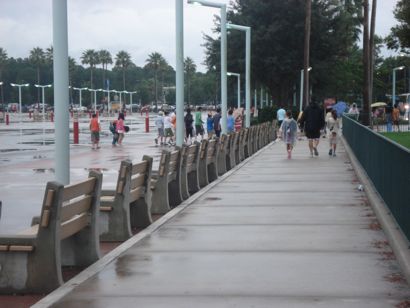 I found the EPCOT issue particularly interesting and difficult to put down. In the space of a few minutes, I read an interview with Marty Sklar about the development of EPCOT and learned about the design considerations of Figment's eyes.
I knew that the geodesic dome was a design of Buckminster Fuller, but found that the name Spaceship Earth was also his (based on his publication Operating Manual for Spaceship Earth which was published in the 1960s). Finally, in an article about how the O' Canada film was updated, I was intrigued to learn how the producers used "green screen" technology to build scenes around Martin Short.
Anyone who has a deep fascination with all things Disney will appreciate the time taken to develop these articles. The editors and writers often reach back and choose stories about the history of the attractions to help readers understand the next steps Disney is taking in park development. Each article I read was well researched, clearly explained, and interesting enough to warrant rereading.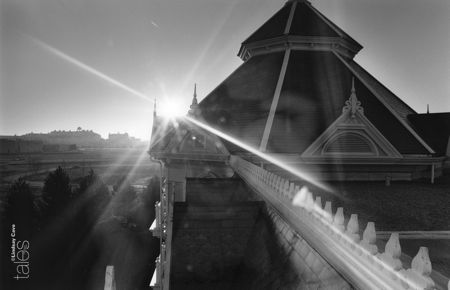 Tales from the Laughing Place is published four times per year and subscriptions cost $36. That seems a bit pricey for so few issues, however, I used to work in the publishing business and the first thing I noticed about this magazine is that it's made with the "good paper," that expensive, high-gloss paper that makes it seems more like a book than a magazine.
The layout of the magazine is more than eye-catching – it is stunning. From the choice of fonts to the way each page has been carefully crafted made me look forward seeing the way the pages were constructed nearly as much as the content.
Many of the park photographs are from unconventional angles and I found myself trying to figure out where each photo was taken, wondering why I hadn't noticed some of these things, and looking forward to taking a closer look the next time I am in the parks.
So, as I carefully pack up the issues that I borrowed and prepare them to be sent back to my friend, I should mention that in the course of writing this review of Tales from the Laughing Place, I became a subscriber. Old issues of this publication will end up on my bookshelf among my Disney books and not in the recycling bin. And I won't even pass the issues on to a friend (unless they promise to return them, of course).
You can subscribe or find past issues of Tales from the Laughing Place by visiting http://www.talesfromthelaughingplace.com.
Check out my other Disney Magazine Review: