So, the other day, my dear friend Flo and I were talking about what we could do on our upcoming trip that would be different and exciting.
We tossed around a few ideas like trying new restaurants, or maybe a new experience like a tour, the Richard Petty Driving Experience, etc. Nothing really popped, if you know what I mean.
Then fate stepped in when my AllEars colleague Mike Scopa posted a challenge in his blog earlier this week; a challenge that involves visiting the 4 major Disney parks in the span of 1 day. "Now there's an idea that pops!" I said to myself (yeah, I often have some most interesting dialogues with myself, I just can't help it…) I immediately contacted Flo and broached the idea, and she was also very excited about it.
Mike's challenge is to visit all 4 major parks during one park operating day, park opening to park closing. We must experience three rides or attractions in each park, and Mike has made a list of eligible attractions in each park. Another requirement is to eat two meals during the day, but not in the same park. We think we're up to it.
We're both veterans of dozens of WDW trips, together, separately, and with our families and friends. We like to think that we know just about everything there is to know about how to tour the Disney parks under any condition, during any season, busy or slow.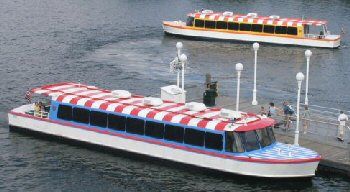 We know the transportation system, we know the roads, we know the resorts. This will be our chance to find out just exactly how well we know them. Someone asked Flo why we'd even want to do this. "Because we can!" was her answer, and it's the truth! Call us weird, but we actually enjoy doing things like this. Neither of us can wait to try it!
First things first: We set about formulating a plan of attack. We decided on Saturday, May 10, more or less by default because it's the only day during our trip that we don't have to be someplace at a particular time.
I looked up the park hours, including any Extra Magic Hours we might be able to take advantage of. The only EMH that day turned out to be a morning one at Animal Kingdom, making it the park that opens the earliest. Woohoo! We have a starting point!
I then looked at the other parks' hours, and as expected, the Magic Kingdom closes the latest at 11 pm. Now we have an ending point, and know how many hours we'll have to complete the challenge–15.
Next, I looked at what crowd levels were expected to be that day, and which parks would be the most and least crowded. Our plan is tour the parks in a manner that makes geographical sense, but also makes best use of our available time. We decided to go in this order: Animal Kingdom, Hollywood Studios, Epcot, Magic Kingdom, mixing the predicted busiest parks with their physical location and operating hours. Whew! Lots of work involved here!
Once we get into the parks, we also have a plan of action, but I'm not giving it away yet. Let's wait and see whether or not our strategy will work. We've adopted the motto "Semper Gumby" (Always Flexible) for this challenge, because let's face it, nothing ever goes exactly according to plan, does it? Rides go 101, the skies open up and pour, restaurant lines suddenly come to a standstill, etc. etc. We're making plans, with alternative plans, with other plans on top. We think we'll be ready!
If you're in the parks on Saturday May 10 and you see two crazy women rushing around with a notebook, a camera and a wild look on their faces, it's probably us. Wave at us as we run by. I promise to report back on whether or not we can successfully complete Mike's Challenge. Wish us luck!
Anita