I joined up with some great folks for a Hidden Mickeys tour in the Magic Kingdom. They bid on the tour this summer at Lou Mongello's auction for the Dream Team Project (at Fred Block's MagicMeets). The Mulfingers brought along a few fellow Hidden Mickey hunters, and we met up near Goofy's statue in Town Square. The group included Yvonne Mulfinger and Brian Mulfinger, along with friends Toni, Jack, Dale and Jeff. The photo shows Yvonne, Brian and me (in the center).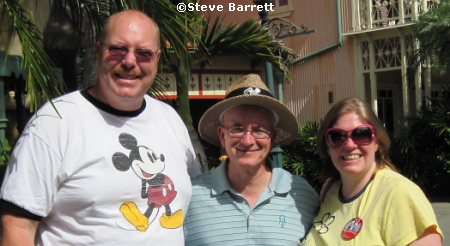 We started with Pirates of the Caribbean in Adventureland and worked our way through all the lands of the Magic Kingdom, checking out Hidden Mickeys along the journey.
Two great hidden images outside of the Haunted Mansion are still visible, if you know where to look! Mr. Toad stands smiling on a tombstone at the rear left of the pet cemetery. (Chris Macri took the behind the scenes tour at the Magic Kingdom. He was showed the epitaph on Mr. Toad's tombstone. It reads: "Here lies Toad, it's sad but true. He wasn't as marketable as Winnie the Pooh.")

Just past the pet cemetery, a tiny red classic Mickey is painted on the tip of a finger on Mme. Leota's shopping stand. It's faded a bit over the years, but you can still spot it.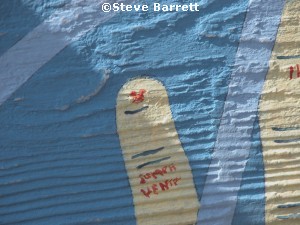 We noted signs of autumn at the Magic Kingdom, such as Mickey pumpkins:

We had FASTPASSES for the Jungle Cruise, so we made that our last attraction of the tour. I had a great time with the Mulfingers and their friends. The Magic Kingdom was simply spectacular that day!
I spotted a classic Mickey rope at the Magic Kingdom loading dock for the ferry. It was next to a large post on one side as I walked onto the boat. This image is not reliably present, so I was lucky to find it.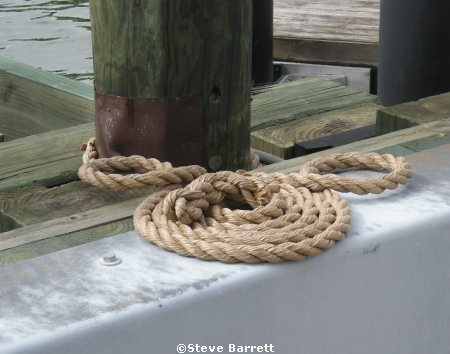 Read more about Steve's Hidden Mickey finds on AllEars.net
Steve maintains a Catalog of Hidden Mickeys on the Hidden Mickeys Guide.