Archives: Snow White's Scary Adventures – Fantasyland – Magic Kingdom
UPDATE MAY 24, 2012:

Snow White's Scary Adventures is scheduled to close May 31, 2012 to make way for a new meet and greet area called Princess Fairytale Hall. Located in the Castle Courtyard in the center of Fantasyland, Princess Fairytale Hall will be the new home for visiting royalty in the Magic Kingdom. The castle-like entrance will feature walls of stone and stained glass windows. The entrance will open into a large gallery — an airy space with a high ceiling and portraits of Disney Princesses. When it's time for their audience with a princess, guests will proceed to an elegantly finished room to meet her. Princess Fairytale Hall is set to debut in late 2013.
INTRODUCTION
Snow White's Adventures, as the attraction was originally called, opened with the Magic Kingdom in October 1971. It's located in Fantasyland.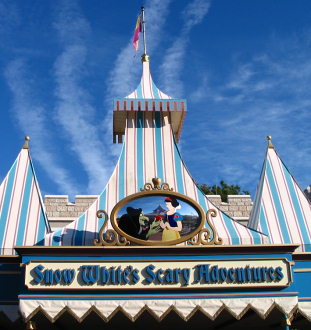 ATTRACTION
SNOW WHITE'S SCARY ADVENTURES — Board the wooden diamond mine cars and follow Snow White as she wanders through the Enchanted Forest, meets the Seven Dwarfs, and encounters the Wicked Witch.
Yes, the ride is themed to Snow White, but the Wicked Witch is featured and appears throughout the 2.5 minute ride. See notes below in the Kids' Section!
The ending is a happy one as Snow White and the Prince live happily ever after.
TOURING TIPS
Don't wait long for this very short ride. It's cute, but not that cute!
Hidden Mickey Alert: Queue mural— on a pair of shorts hanging on the clothesline and the three stones on the chimney of the Dwarfs' cottage.
KIDS – CHARACTERS
This is a "dark" ride and can be very scary for young children. In various scenes throughout the attraction the Witch appears and can frightened young ones.
Don't make this the first "dark" ride you go on with your young children… they may not want to go on any others!
There are no character meet and greets in the immediate vicinity of Snow White's Scary Adventures. Do check your times guide for nearby Fantasyland character opportunities.
Magic Kingdom Characters At A Glance
Character Meet and Greet FAQ!
DINING
Mrs. Potts Cupboard (open seasonally) is the closest "eatery" to Snow White serving ice cream and sodas. Pinocchio's Village Haus, counter service, offers burgers, sandwiches and more.
Magic Kingdom Restaurants At A Glance
Menus From Around the World
Vegetarian and Other Special Diets
SHOPPING
A souvenir stand is next to the attraction which offers a limited selection of Snow White merchandise.
INTERESTING FACTS
Snow White's Scary Adventures is adopted from the 1937 full length animated feature, Snow White and the Seven Dwarfs!
The attraction closed in the early 1990s and reopened in 1994 as Snow White's Scary Adventures. The appearances of the Wicked Witch were toned down.
Take an in-depth look at the history and evolution of Snow White's Scary Adventures HERE.