Pooh's Playful Spot Fantasyland Magic Kingdom Archives
NOTE: Pooh's Playful Spot CLOSED April 2010 to make way for the Fantasyland expansion coming in 2011 and beyond.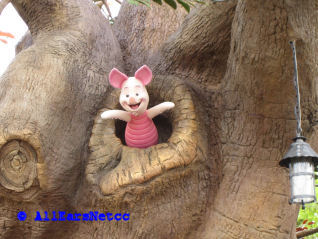 CC reports: A new play area for children opened September 1, 2005, on the site of the former 20,000 Leagues Under the Sea Lagoon, across from the Many Adventures of Winnie the Pooh attraction in Fantasyland. The centerpiece of the area is a tree. From the back and one side, it looks like a little house, and there is a room inside with a couple of chairs and a table. As you stand at the entrance to Pooh's Playful Spot and look toward the tree (basically looking north, with your back to the Winnie the Pooh ride) there are some slides and hollow logs to crawl through. To the left of the tree is a spilled honey pot. Kids can crawl through the honey pot. The "honey" isn't really anything except decoration. Behind the spilled honey are two fountains where kids can play in the water. A small bridge separates the two fountains. The entire area has that very soft, sort of spongy surface so kids can fall down without getting hurt.
ALL EARS® Researcher Kenny also visited the playground and noted: There is a tribute to 20,000 Leagues under the Sea — a blue submarine is located someplace in the play area. But when I was told about it the play area was closed because of lightning.
Click on photo to see it enlarged!