Magic Kingdom Archives Tinker Bell's Magical Nook Adventureland
Tinker Bell's Magical Nook closed May 20, 2014
Tinker Bell moved to the Town Square Theater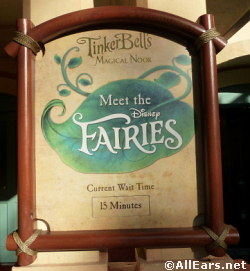 Tinker Bell's Magical Nook is tucked away in Adventureland. As you walk from Main Street, it is on the right side, just after the Character Meet and Greet area and before the Dole Whip counter. A Cast Member is sometimes at the door to greet you.
Wait times build quickly during the morning. If Tinker Bell is a priority for you, be sure to get there early.
Once inside, there is a weaving queue on both sides of the room.
There are photos on display — look carefully in the left queue as one of the photos comes to life!
If seeing Tinker Bell is a priority go first thing in the morning. The line moves quite slowly; 30-45 minute waits are not uncommon. Be sure to bring something to occupy your littles ones.
From the first queue you enter a second area without much decor. Here you await your turn with the Disney Fairies. All you can see is the entrance way with tall grass. Oh, and the water fountain does not work, it's for display only. There is a fountain just outside the entrance and when you exit.
Finally, your party is called and you are allowed into the actual Disney Fairy room. The sets are very colorful and well-themed. They make for great photo backdrops. There are two areas for you to visit.
| | |
| --- | --- |
| | |
| | |
PhotoPass photographers are in both areas, so be sure to have your Magic Band or Photopass card handy.
There are usually two Disney Fairies in the area, Tink and someone else. However, there may only be one Fairy, so don't count on two. When only one Fairy appears, the other area is great for your own photo ops.
The Fairies who appear may change during the day. Other Fairies you may see are: Vidia, Rosetta, Silvermist, Fawn, Iridessa, and Terrence.
The next and final area has Tinker Bell herself!
When you finish with the Fairies you exit back out to Adventureland across from the Swiss Family Robinson Treehouse.