Donald's Boat and Toon Park Mickey's Toontown Fair Magic Kingdom Archives
MICKEY'S TOONTOWN FAIR CLOSED 2/11/11 TO MAKE WAY FOR THE EXPANSION OF FANTASYLAND. READ MORE ABOUT THE FANTASYLAND PROJECT HERE.

Introduction | Attraction | Touring Tips | Kids and Characters | Dining | Shopping | Interesting Facts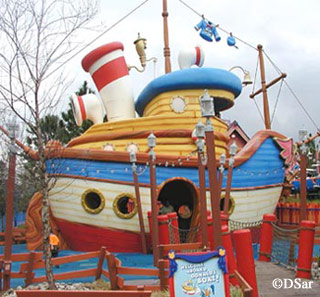 INTRODUCTION
— In the middle of Toontown is Donald's wreck of a boat, the S.S. Miss Daisy, named after his favorite gal. It's a fun water-play area for the little ones, perfect for cooling down on hot days. Nearby there's more fun at Toon Park, a mini-playground.
ATTRACTIONS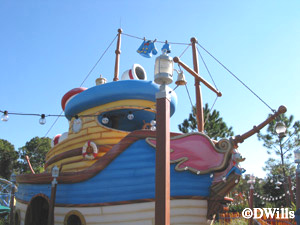 Donald Duck's Boat: The Miss Daisy is Donald Duck's blue, yellow and red vessel that features Daisy Duck herself on the boat's bow, as well as a twisted smokestack, from which Donald's dripping sailor's suit dries. The boat's afloat on a foamy ocean with lily pads that spout jumping streams and spray without warning. Young first mates and crew members can run around on the spongy ground, and venture inside to spin the Captain's Wheel, pull the ship's whistle (which causes water to spurt out the top of the boat), or clang Miss Daisy's loud boat bell.
During the winter holidays, this play area is decorated like an old-fashioned Christmas tree sales lot, complete with live pine trees, poinsettias and price lists!
Toon Park — Next door to Donald's Boat, is Toon Park, with plenty of room for the little ones to crawl around and burn off some steam. There's a playhouse and slide, not to mention a number of shaded benches provided for the patiently waiting adults.
TOURING TIPS
Donald's Boat and Toon Park are wheelchair/ECV accessible, although the spongy material of Toon Park may be difficult to maneuver on.
Children must be under 40" to play in Toon Park.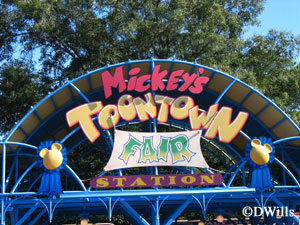 The Toontown Fair Station of the Walt Disney World Railroad is located adjacent to Toon Park.
KIDS AND CHARACTERS
Donald's Boat, and all of Mickey's Toontown Fair, is perfect for preschoolers.
Disney Characters are typically not found around Donald's Boat, but you won't have far to go to find them. Just walk across the street to the Toontown Hall of Fame and the Judge's Tent to see Mickey and others. These locations are normally open from 10 a.m. until park closing. Check your daily Times Guide for times and locations of other Meet and Greet opportunities in Mickey's Toontown Fair.
Magic Kingdom Characters At A Glance
Character Meet and Greet FAQ!
DINING
The closest spot to grab a bite is the Toontown Farmers' Market, a quick snack place that features fresh fruit and beverages.
Magic Kingdom Restaurants At A Glance
Menus From Around the World
Vegetarian and Other Special Diets
SHOPPING
County Bounty is nearby for Disney character memorabilia shopping.
If you have comments or tips to share with others about touring the Magic Kingdom, please email us. Thank you.