The situation with COVID-19 continues to change and develop. This post is no longer being updated. For the latest information, click here.
Post last updated: August 24th, 2022
There have been several significant developments in the global health crisis recently.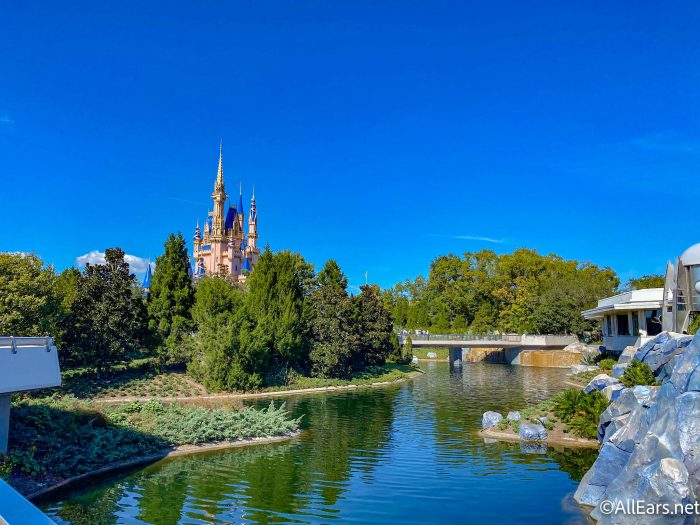 At the end of 2021, scientists and health professionals began researching the emerging Omicron coronavirus variant and the situation with this variant has continued to change over the months. But, what exactly is Omicron? And what could it mean for your Disney World trip? Let's take a look.
Origins of the Omicron Variant
The Omicron variant is a mutation of the coronavirus that was first discovered in South Africa. There are currently at least 190 nations around the world with confirmed Omicron cases including those in the U.S., Europe, Africa, Asia, Australia, and North America, per The New York Times.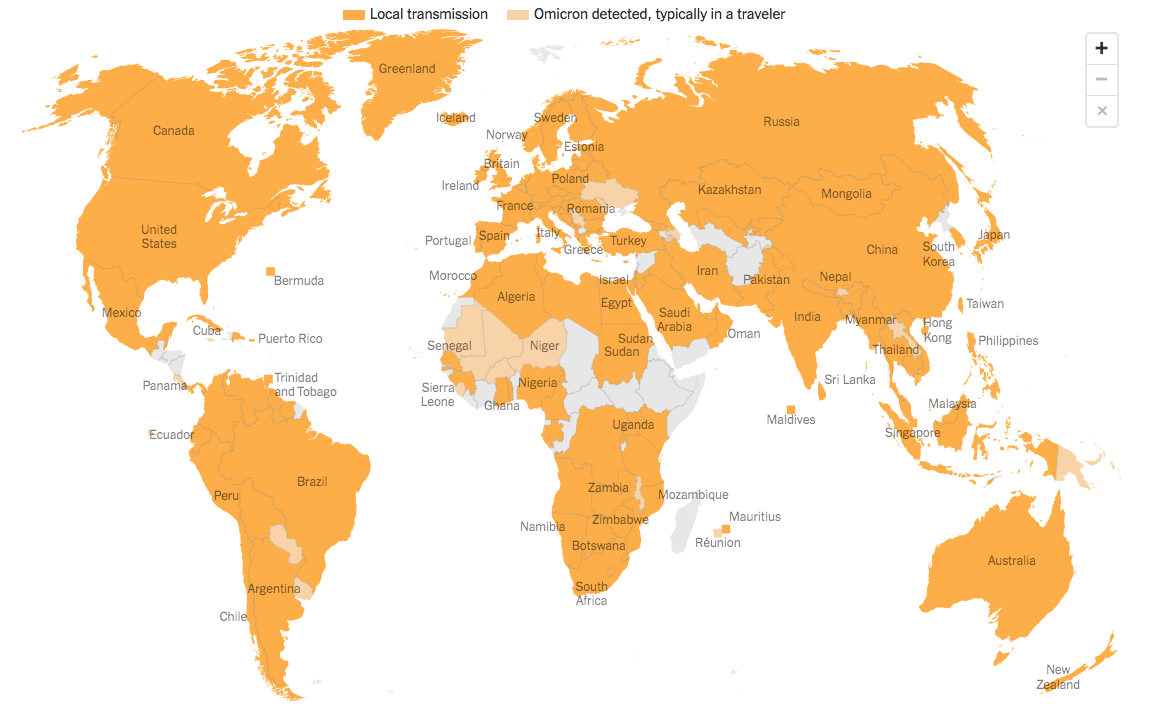 According to CNN, the United States has seen confirmed cases of the Omicron variant in all 50 states at this point and measures have been taken to limit the spread of the variant. On December 7th, 2021, Spectrum News 13 reported that Florida had reported its first cases of Omicron.
There are still a lot of questions about the Omicron variant. The World Health Organization has defined it as a variant of concern. The WHO has also explained that the main symptoms of the omicron variant include cough, sore throat, and fever.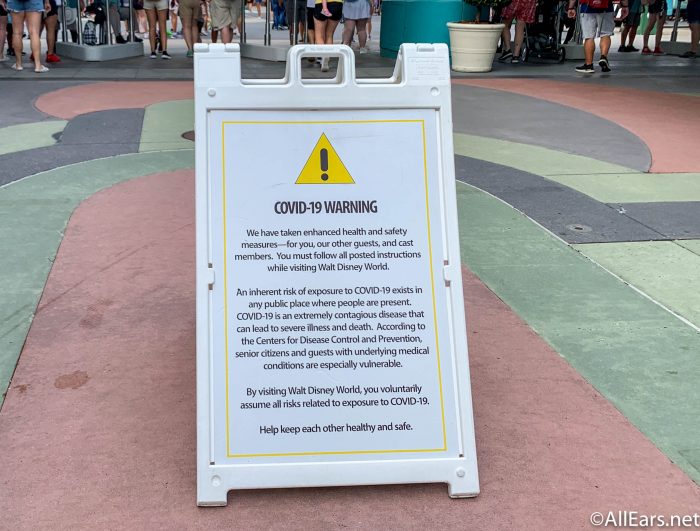 Additionally, studies have shown that "individuals who have recovered from COVID-19 are 3 to 5 times more likely to be reinfected with Omicron compared to Delta."
Concerns about the Omicron Variant
So, what makes the Omicron variant so concerning? CBS explains that health authorities find that Omicron carries a unique set of mutations that "might give the virus an advantage in driving new surges of infections compared with the fast-spreading Delta variant."
The CDC website notes that "Omicron spreads more easily than earlier variants, including the Delta variant."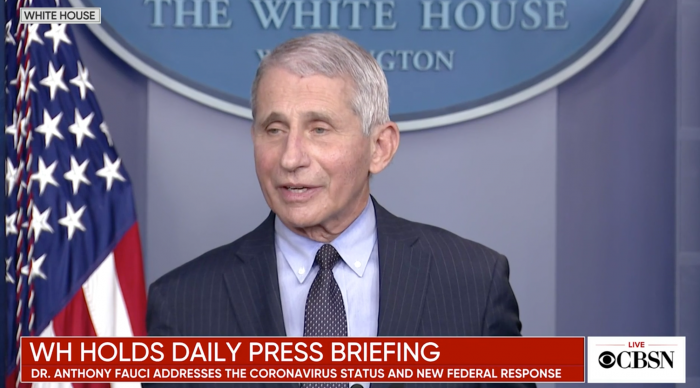 Beyond that, scientists have been working since the variant was first detected to determine if vaccines could be less effective and whether the above-mentioned risk of reinfection may be higher.
These studies have found that the two-dose Pfizer and Moderna vaccines offer "considerable protection" against Omicron and more preliminary evidence is suggesting that the third Pfizer or Moderna shot (also known as the booster shot) can offer "a sufficient boost of protection" as reported by CBS News.
The CDC website notes that "vaccines help prevent severe illness and death in general."
The CDC continues, "vaccines help prevent severe illness, hospitalizations, and death." But there can be breakthrough infections even in those who are vaccinated.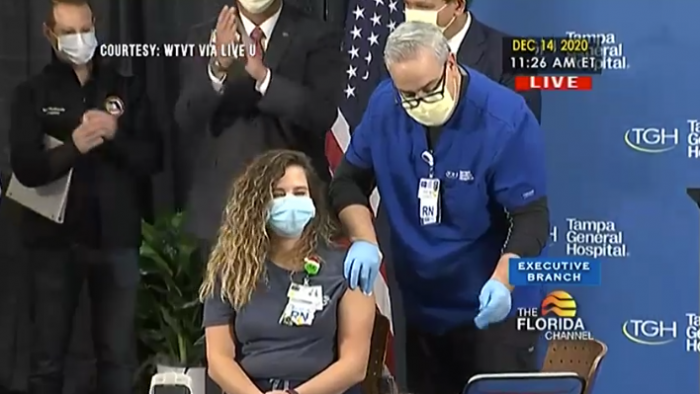 A lot of research is ongoing to answer more questions we have about the Omicron variant and its subvariants. The WHO has noted that there are a large number of studies around the world looking into transmissibility, the severity of infection (including symptoms), the performance of vaccines and diagnostic tests, and the effectiveness of treatments.
According to a video released by the WHO on December 17th, 2021, people who get Omicron "can have the full spectrum of disease, everything from asymptomatic infection, mild infection, people needing hospitalization, and people have died from Omicron."
Vaccine companies are doing additional tests to make sure that the vaccines are effective against the Omicron variant. CBS previously noted that these companies would be prepared to change their vaccines if needed.
In April of 2022, CNBC shared that Moderna has been working on a new version of their vaccine that targets various mutations of COVID-19. According to some clinical data, Moderna's new COVID-19 vaccine "produced a stronger immune response against the major virus variants," including the Omicron variant and the Delta variant, when compared to its current shots.
CBS News has reported that updated COVID-19 boosters meant to target some of Omicron's newer variants could be ready by September of 2022. CNN has since reported that Moderna and Pfizer have made applications to the FDA for use of their updated COVID-19 vaccine boosters.
BA.2Variant
A sub-variant of Omicron, called "stealth" Omicron or BA.2, was found in several countries around the world, including the United States. The subvariant was originally found in Denmark.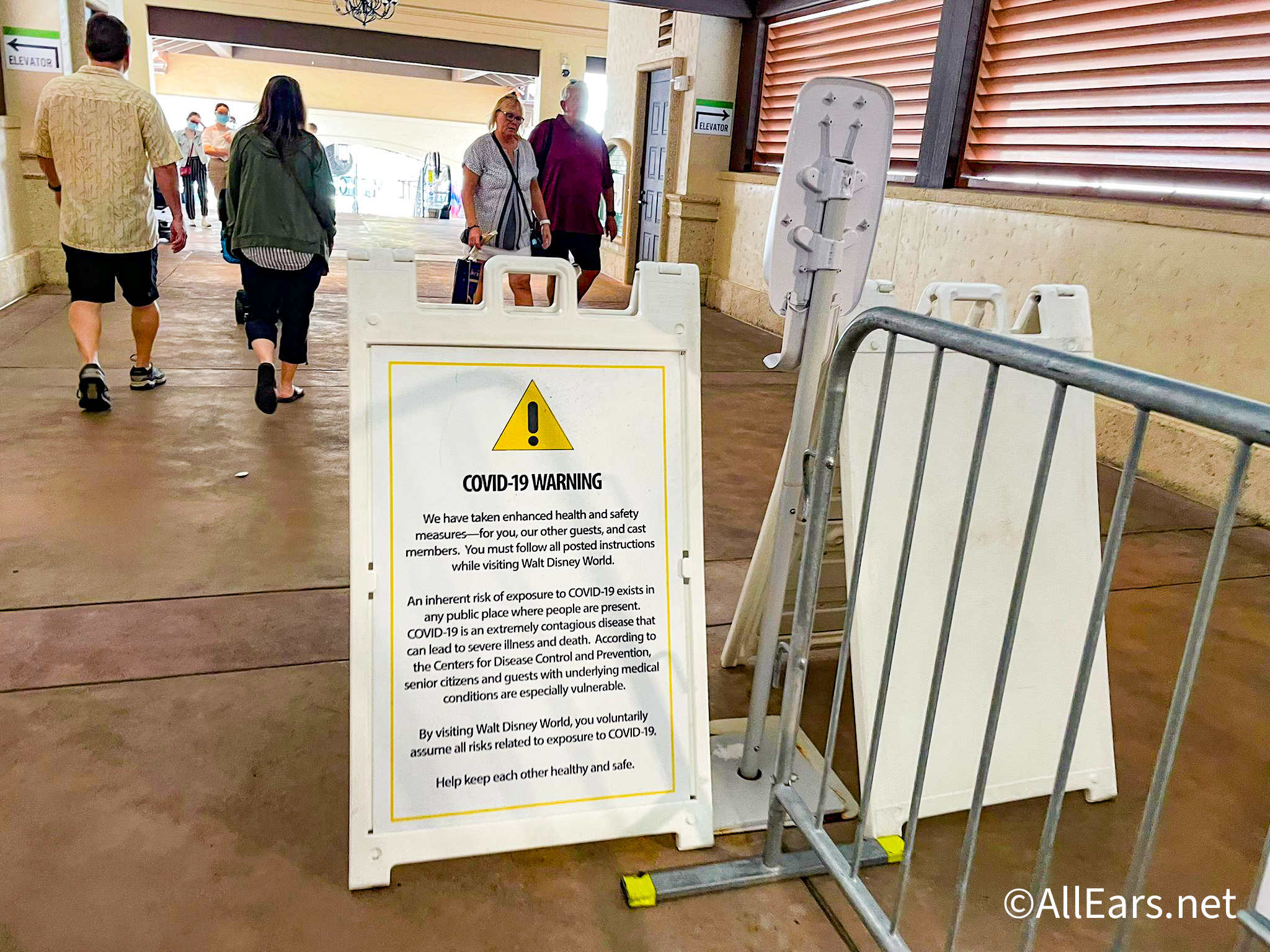 CNBC indicates that it is more contagious than the original Omicron variant.
BA.2.12.1 Variant
Another Omicron subvariant also reached the United States. BA.2.12.1 is a "highly transmissible" COVID-19 subvariant. It is said to be potentially 25% more transmissible than the BA.2 subvariant.
BA.5 Variant
Another Omicron subvariant — BA.5 — is now dominant in the United States.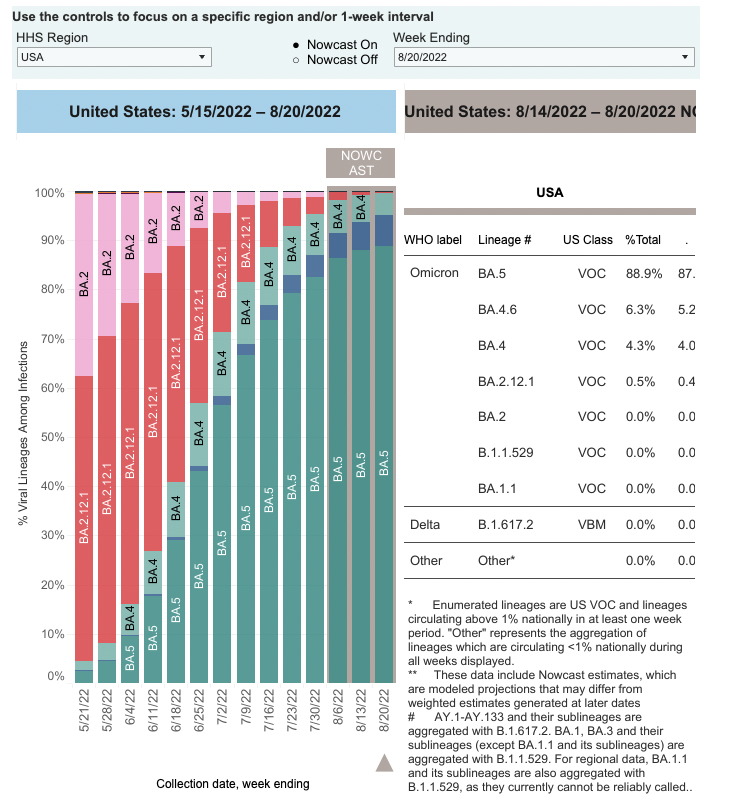 As of late August 2022, BA.5 makes up more than 88% of cases in the U.S. BA.5 is the most contagious Omicron subvariant yet.
Current Situation in Florida & the US
In mid-April of 2022, Dr. Anthony Fauci said that the United States was "out of the full-blown explosive pandemic phase." Fauci indicated that the US was in a transitional phase that will hopefully lead to a more controlled phase and endemicity.
Since that time, we have seen the situation change a bit with a greater spread of the Omicron subvariants. We also saw COVID-19 hospitalizations increasing in Florida as of early May of 2022.
As of mid-April 2022, levels of COVID-19 also appeared to be increasing in the wastewater in Central Florida.
As of August 2022, cases and hospitalizations due to COVID-19 were decreasing in Florida, though deaths increased when looking at the 14-day change.
We'll continue to keep an eye out for updates.
Travel Restrictions in Response to the Omicron Variant
Several travel restrictions were imposed in response to the Omicron variant. The U.S. initially closed its borders to select southern African countries, according to Al Jazeera.
Update: On December 28th, 2021, the White House issued a proclamation revoking the previous proclamation that created the travel bans to those select southern African countries. The previous travel bans applied to the Republic of Botswana, the Kingdom of Eswatini, the Kingdom of Lesotho, the Republic of Malawi, the Republic of Mozambique, the Republic of Namibia, the Republic of South Africa, and the Republic of Zimbabwe. The travel bans applicable to these countries were lifted on December 31st, 2021 at 12:01AM ET.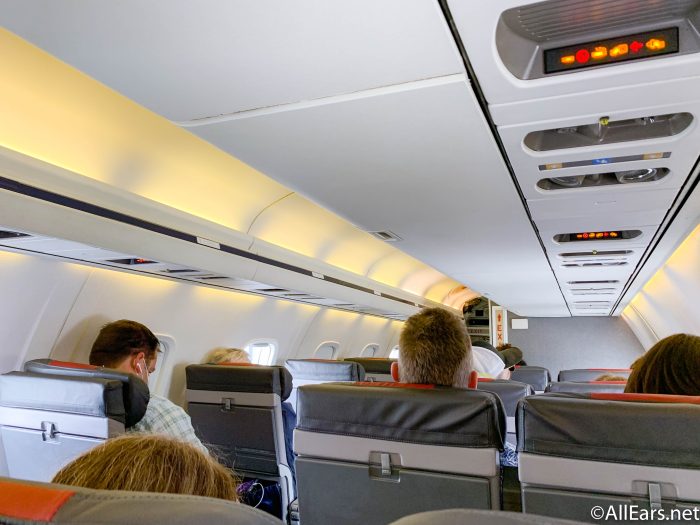 Previously, the U.S. required COVID tests one day prior to travel for all people flying into the United States, regardless of vaccination status. That requirement has since been removed.
Non-U.S. citizens and non-U.S. immigrants, however, are still required to be fully vaccinated against COVID-19 before traveling to the U.S. (unless they fall under specific exceptions).
Other countries around the world have enacted partial or complete border closures (though some rules may have changed or may be changing soon). Additionally, the WHO previously (in November of 2021) advised that certain at-risk individuals postpone travel in response to the variant.
Health Recommendations in Response to the Omicron Variant
In response to the Omicron variant, many health organizations reiterated recommendations that have been in place for the duration of the COVID pandemic.
The CDC recommended that people continue to wash their hands frequently, get vaccinated, and take other steps to prevent the spread of COVID-19. A booster (and potentially two booster shots) is now recommended as well for those who are eligible. The WHO initially released similar recommendations.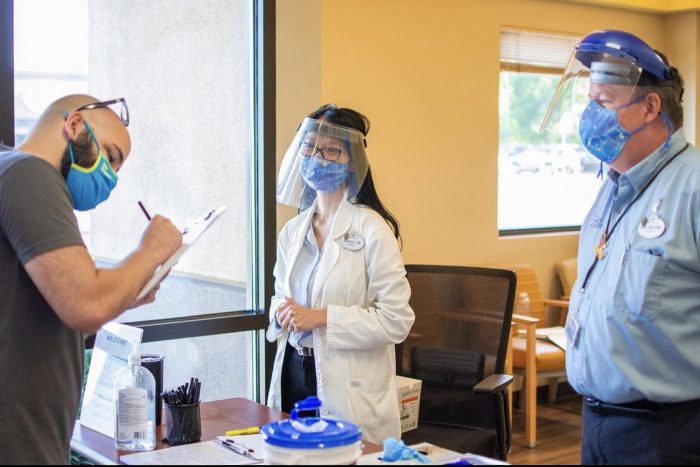 When it comes to masks, the CDC has updated its guidelines and based recommendations on community levels. The CDC notes that if the COVID-19 community level where a person lives is "high", it is recommended that individuals wear a well-fitting mask indoors in public regardless of vaccination status.
The CDC also now has certain recommendations in place that refer to those who are not "up to date" with their COVID-19 vaccines. Being "up to date" means that the person has "received all doses in the primary series and all boosters recommended for you, when eligible."
The CDC does recommend that individuals make sure they are "up to date" with their COVID-19 vaccines before traveling internationally.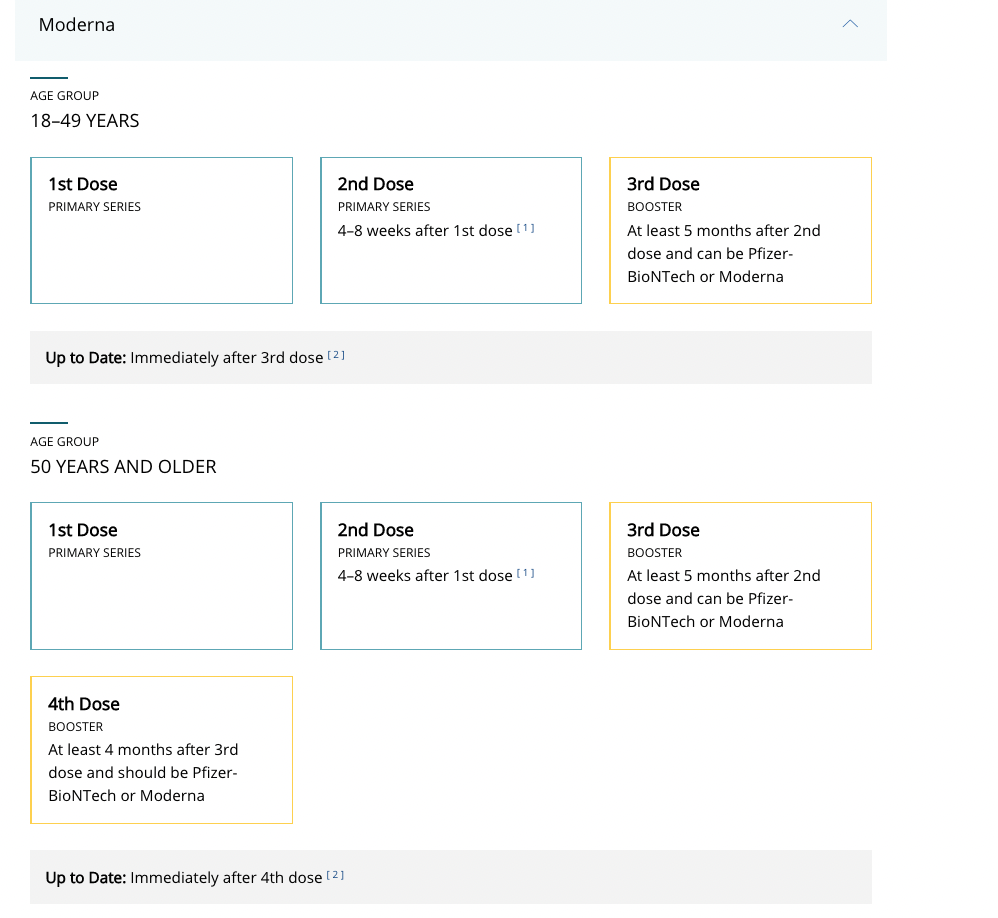 The counties within which Disney World is located, Orange and Osceola counties in Florida, are in the "medium" and "high" COVID-19 levels, respectively.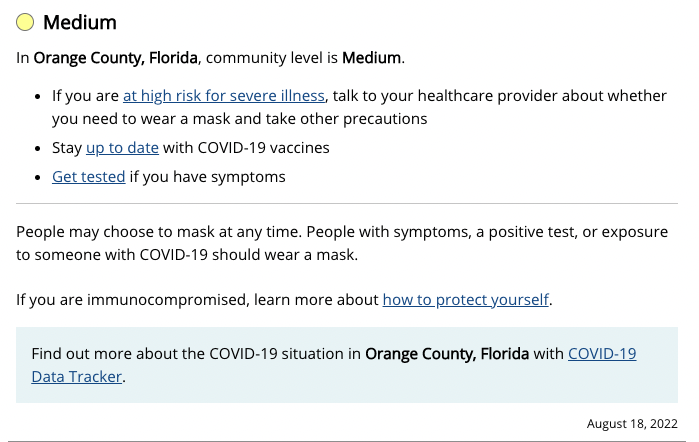 In addition to recommendations on mask-wearing, hand washing, and vaccinations, the U.S. government has been implementing several measures to make testing and protection more accessible to Americans.
In January of 2022, each household could start to order a limited number of COVID-19 at-home testing kits for free. Check to see if additional tests are able to be requested. Additionally, private insurance companies will now cover certain costs associated with COVID-19 tests up to a specific amount per month, according to CNBC.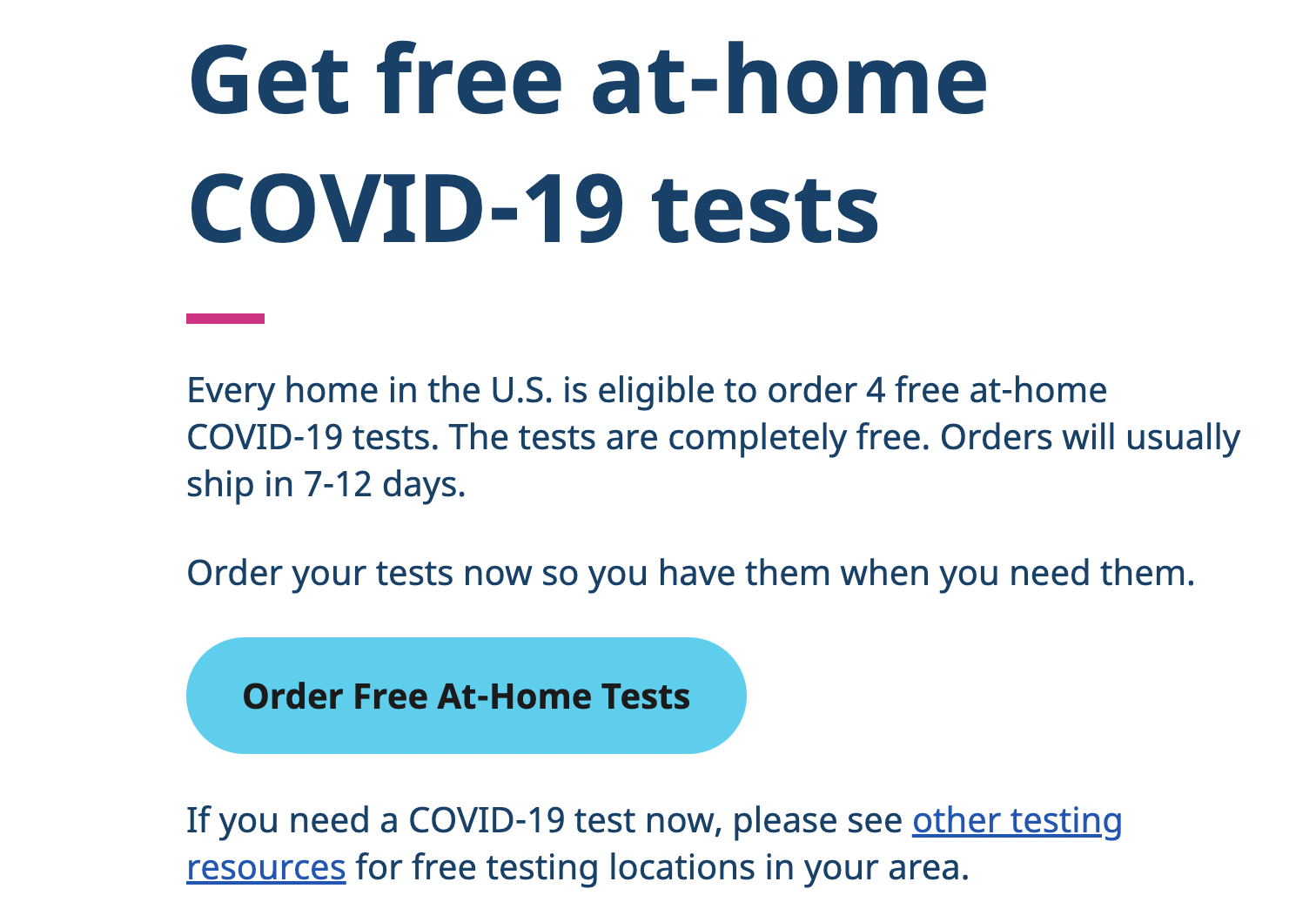 Individuals have also been able to obtain a limited number of FREE N95 masks.
Summer Surge
Some experts previously cautioned that a summer surge could be possible.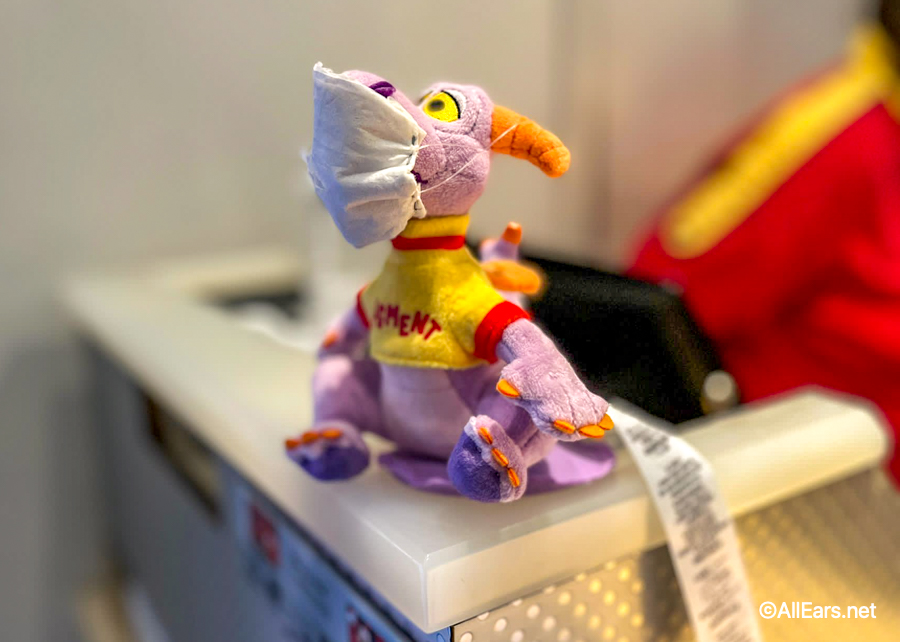 According to NPR, Shishi Luo, a bioinformatician at the Helix company, has indicated that, given the trajectory of the BA.2.12.1 subvariant and how it's growing, there's little doubt that the variant will cause a surge in COVID-19 cases.
As of late July 2022, the New York Times shared, "The United States is in the midst of another coronavirus surge, this time thanks to the Omicron subvariant BA.5."
Disney World's Potential Changes
So, could the Omicron variant (and its subvariants) affect Disney World directly? Maybe. We did not see many changes to health policy in the parks in response to the Delta variant, but Omicron could be a different scenario (though thus far, this has not been the case).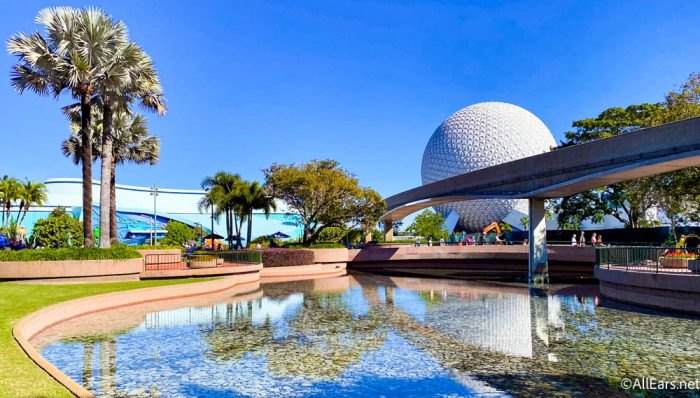 Disney did reinstate the mask mandate during the summer of 2021 but mask rules have now changed. As of mid-April 2022, face masks are optional for ALL guests in outdoor and indoor locations, including Disney World transportation. Disney continues, however, to recommend that guests who are not fully vaccinated keep wearing masks in indoor locations.
Note that in certain areas of First Aid locations, masks continue to be required for all guests regardless of vaccination status.
Disney has also paused the sale of most annual passes in an effort to handle capacity. Changes could be made in the future in response to changes in CDC guidelines.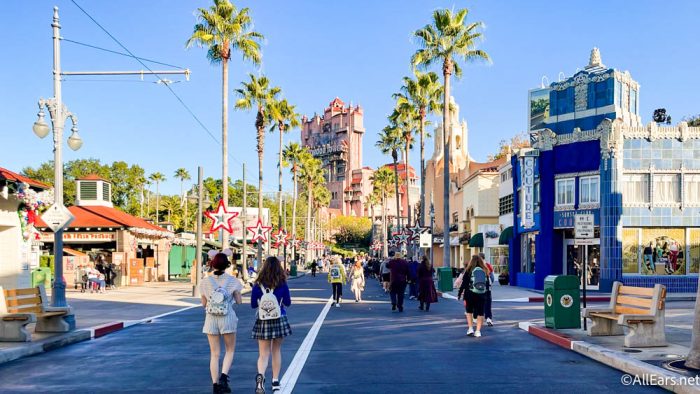 If in the future, the CDC opts to tighten recommendations in response to the Omicron variant, Disney may do the same (though that might not always be the case). Still, reclosures seem unlikely. Disney has continued to announce openings during the Delta and Omicron variants.
Depending on how the situation with BA.2 (Stealth Omicron) BA.2.12.1, BA.4, BA.5, and any upcoming omicron variants continues, things could change. We have seen some international Disney parks impacted by COVID-19 recently. Specifically, both Hong Kong Disneyland and Shanghai Disneyland closed earlier in 2022 due to COVID-19 concerns. Hong Kong Disneyland and Shanghai Disneyland have both since reopened.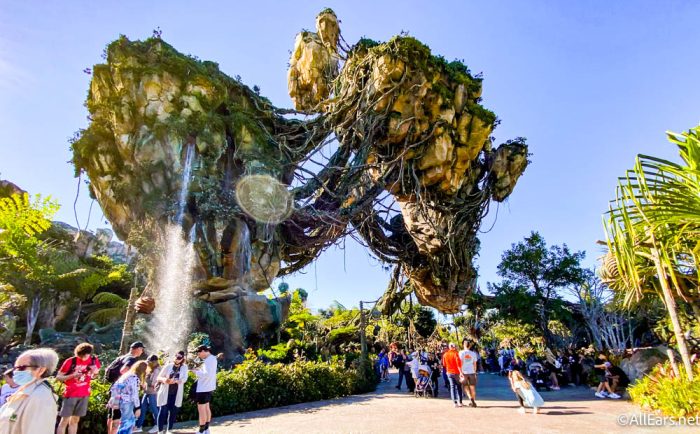 We also saw the U.S. extend the mask mandate on planes (and other public transportation) through May 3rd, 2022. But the situation with the travel mask mandate has changed.
A federal judge in Florida struck down the CDC's travel mask mandate, and the TSA then indicated that it would no longer enforce the mask mandate for travel. Several airports, many airlines, Uber, Disney World (as noted above), and Disneyland then changed some of their mask requirements.
But things could change again. The CDC made a determination that the mask requirement is still necessary for public health, so the Biden administration will be appealing the Judge's order that struck down the mask mandate. NPR reports that the Department of Justice has filed a document with the appeals court asking for a reversal of the lower court's order and a reinstatement of the mask mandate. A group of states has since expressed to the federal court that the CDC, in their view, does not have the authority to set a nationwide mask mandate for transportation, according to Reuters.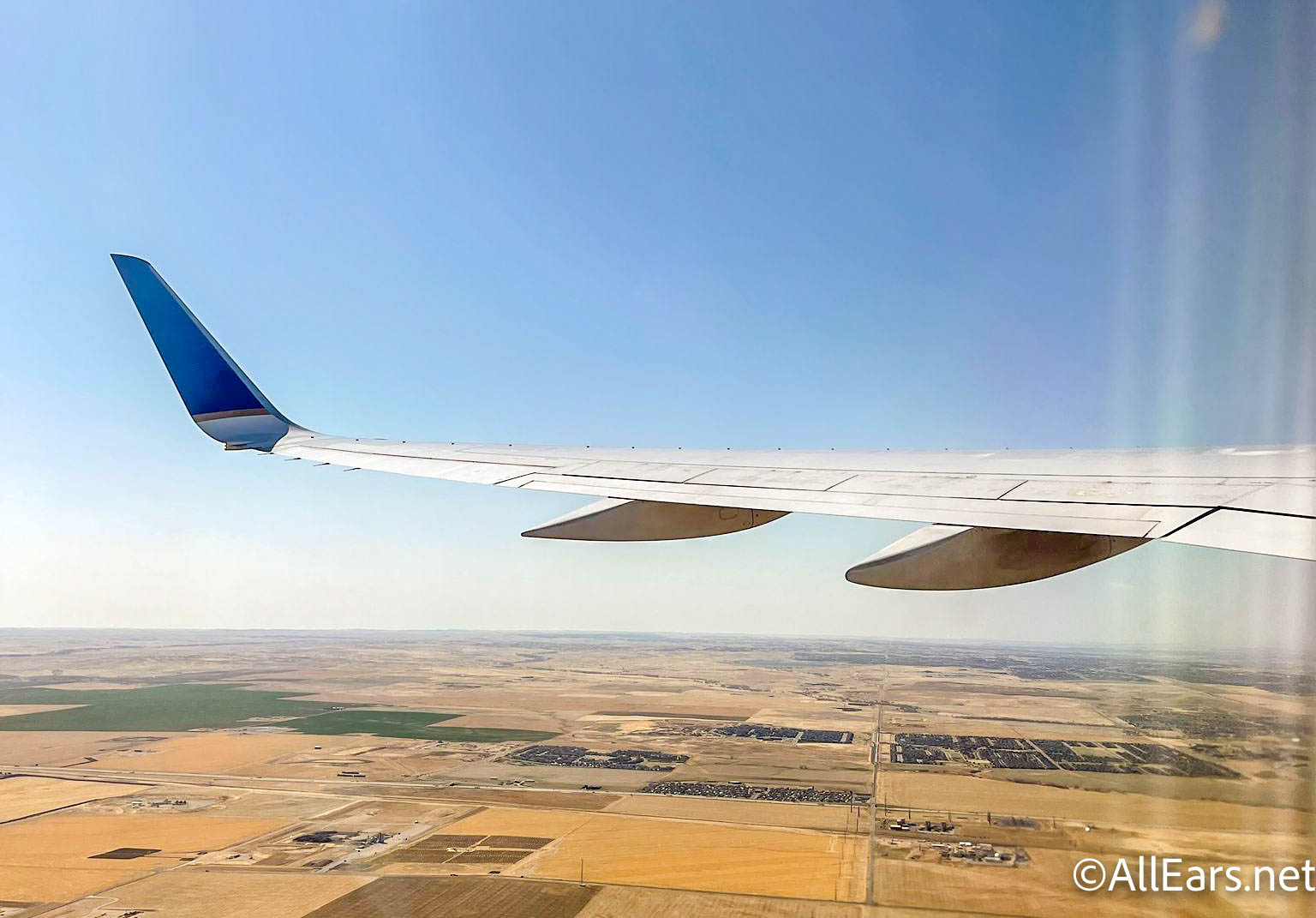 It's more likely that we'll see mask mandate changes or perhaps capacity regulations at Disney's domestic parks, as opposed to more closures. But things are subject to change. Of course, you can keep an eye on AllEars to make sure you don't miss any of the potential changes.
Join the AllEars.net Newsletter to stay on top of ALL the breaking Disney News! You'll also get access to AllEars tips, reviews, trivia, and MORE! Click here to Subscribe!