As the situation with COVID-19 continues to change and develop, AllEars will be bringing you the latest relevant news that could affect a theme park visit.
It seems as if many things have gone back to "normal" since the global pandemic began, but that doesn't mean it's permanent.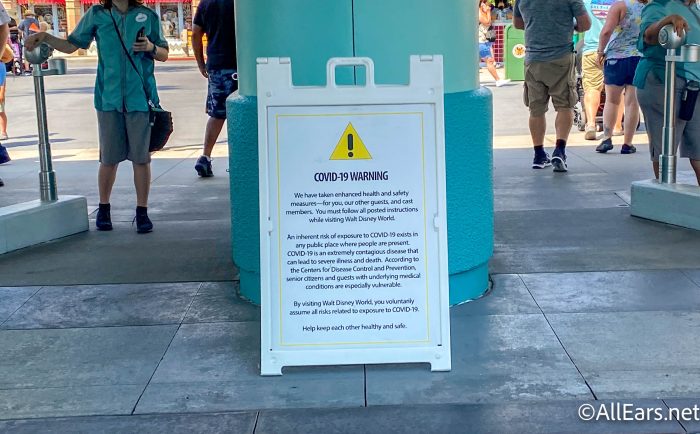 We've seen travel restrictions ease up, mask requirements go away, and the Disney Parks have also brought back a ton of things that were previously on pause, like entertainment. But, COVID-19 is still an issue around the world, with different variants causing new waves of cases. Now, another variant is dominant in the United States, so let's break down what we know.
The Current Variant: What We Know
BA.5 is the most recent subvariant of the Omicron variant to impact the United States, and is the most transmissible variant yet, according to the New York Times. Federal estimates show that the variant is now dominant.
BA.5 and BA.4 (another subvariant) are the most capable versions of the virus (thus far) at being able to evade immunity from previous infections and vaccines. Both of these variants have mutations different enough from the earlier versions of the virus that allow them to avoid some of the antibodies. In other words: these variants are easier to catch.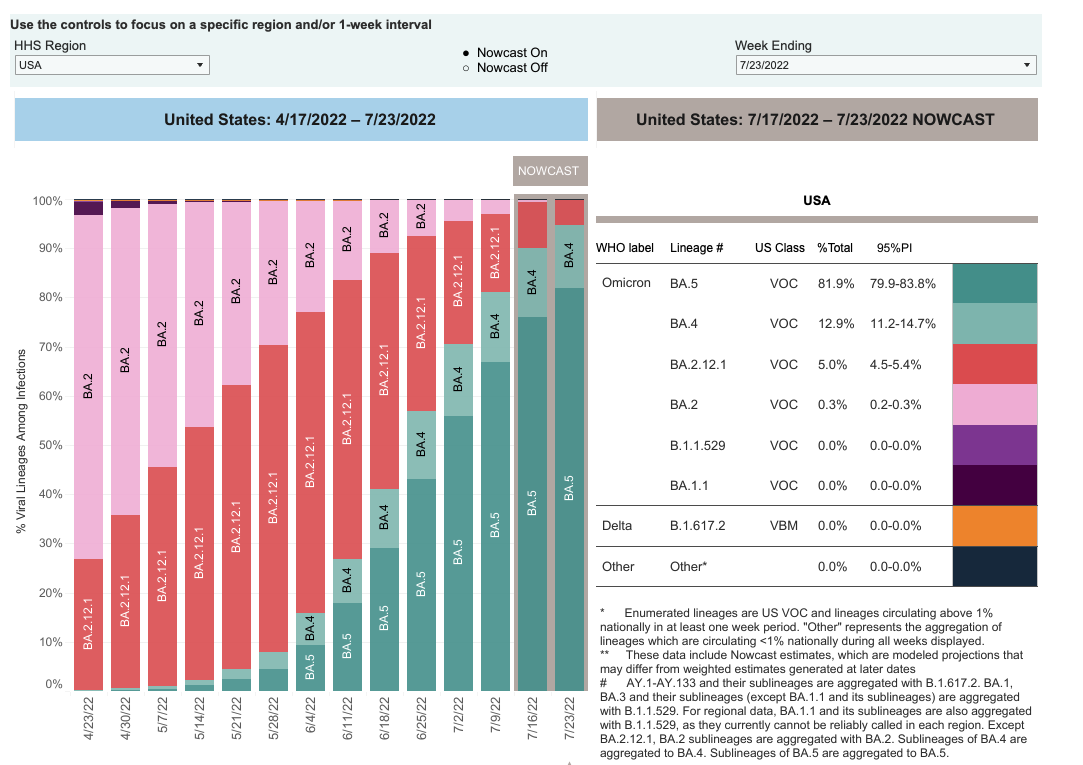 BA.5 now accounts for over 80% of COVID-19 cases in the U.S., according to the CDC.
The Impact of BA.5
BA.5, combined with BA.4, has been causing an outbreak of cases and hospitalizations.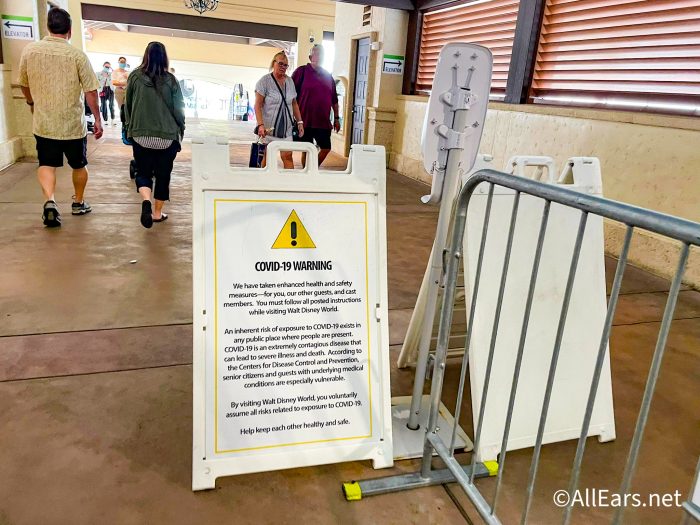 The share of COVID-19 tests that come back positive is moving upward and is now higher than during most other waves of the pandemic. The CDC says that the risk from COVID-19 is increasing in much of the country.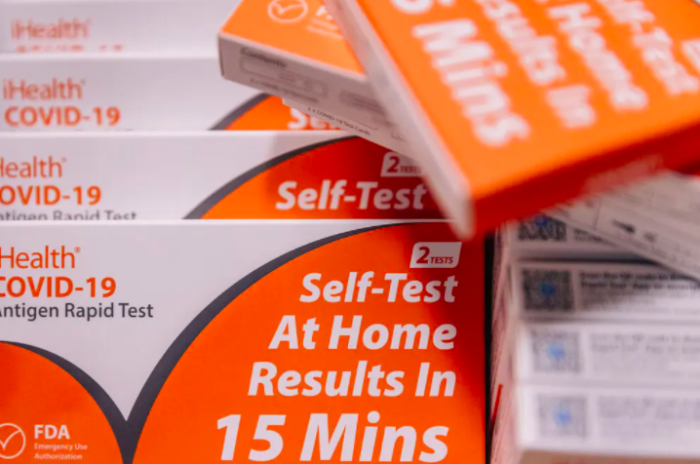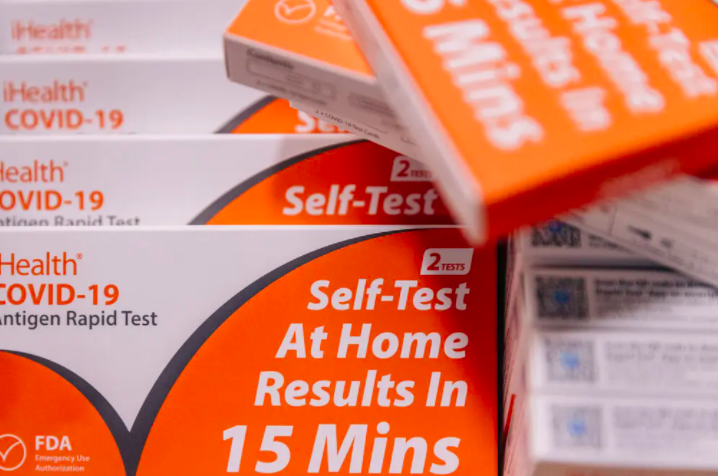 "I think there's an underappreciation of what it's going to do to the country, and it already is exerting its effect," said Dr. Eric Topol, a professor of molecular medicine at Scripps Research, according to the New York Times.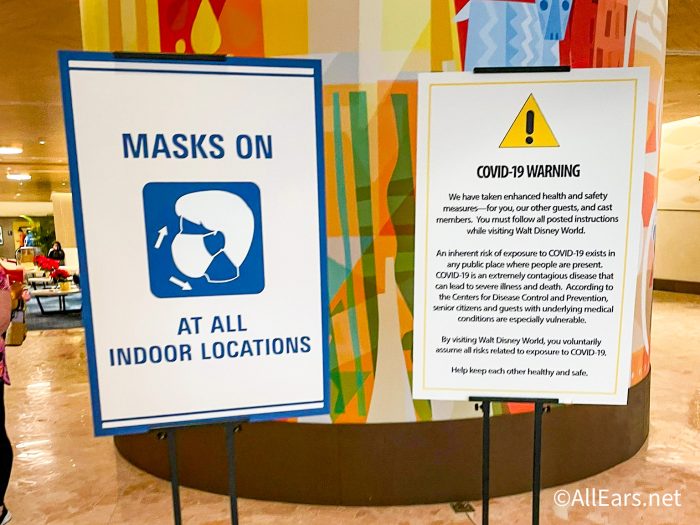 Even with protective antibodies, many people in countries with high vaccine rates and high rates of antibodies have still become infected with these subvariants.
Looking Ahead
The CDC says there is no evidence so far that these subvariants are more severe than other Omicron subvariants. And, prior infection with another form of the Omicron variant does give you some degree of immunity, "but it's not anything like what we would hope," according to Dr. Topol.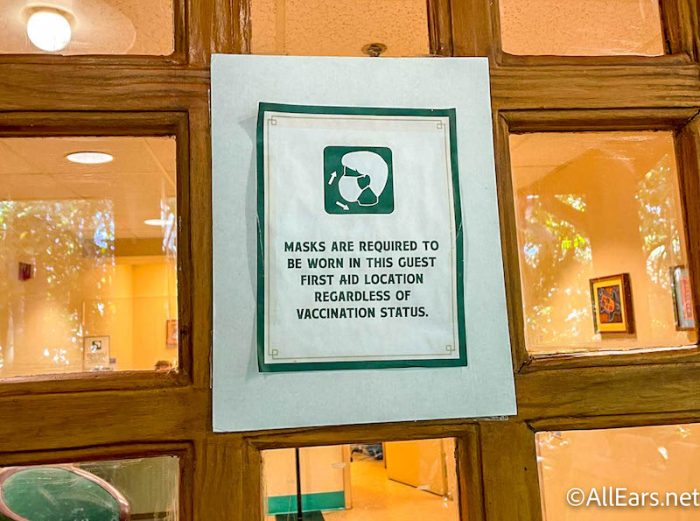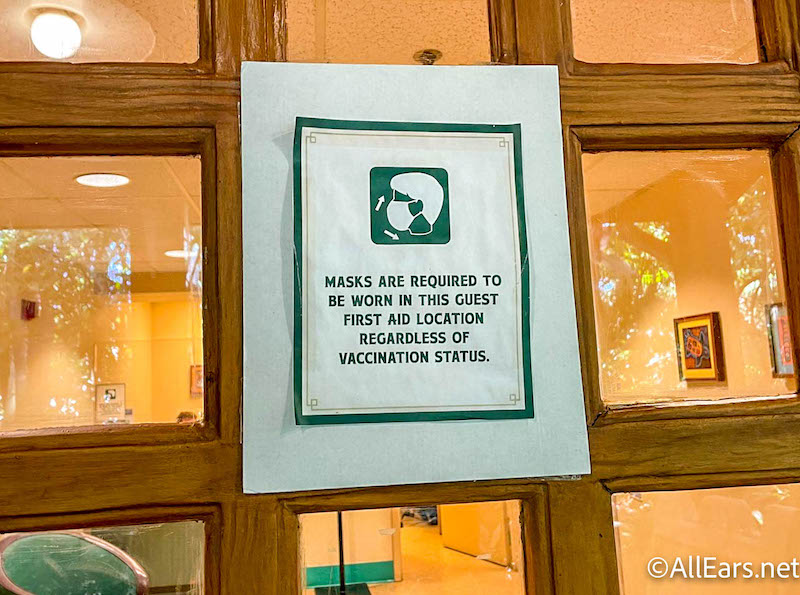 Experts say it is too early to fully predict what these latest subvariants may bring to the United States, but the U.S. does have a lower vaccination rate than many of the countries previously impacted by the same subvariants.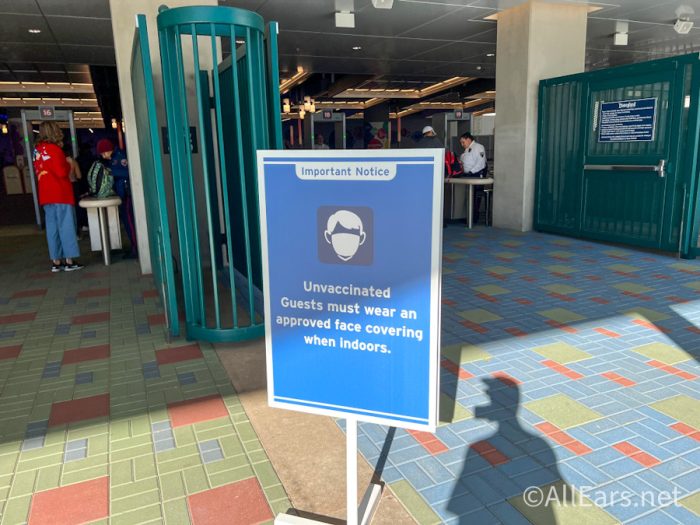 "A tidy proportion of people who recovered from recent infection will be vulnerable to infection with BA.5. Some of them will likely get severely ill — especially those still unvaccinated and older," said William Hanage, associate professor of epidemiology at Harvard T. H. Chan School of Public Health, according to The Orlando Sentinel.
The United States recently experienced waves of COVID-19 due to the BA.2 and BA.2.12.1 subvariants.
According to some studies cited by Reuters, BA.5 may be associated with a greater likelihood of reinfections and a risk for more severe outcomes.
Reuters points out that one study has indicated BA.5 is linked to having higher odds of causing a second infection regardless of vaccination status. Some studies also indicate that there is a reduction in protection obtained from previous COVID-19 infection against BA.5 when compared to BA.2.
Plus, while COVID-19 booster vaccination is associated with a 77% and 88% reduction in risk for hospitalization and death (respectively) for BA.5, that's lower than the 93.5% and 94% (respective) reductions of risk found for BA.2.
U.S. Disney Parks and COVID-19
In Florida, BA.5 now represents the majority of COVID-19 cases in the state, according to The Orlando Sentinel. And, it seems to be spreading quickly — "We will be close to 100% BA.5 within a matter of weeks," said Dr. Shishi Luo, Helix's Head of Infectious Diseases, in early July of 2022.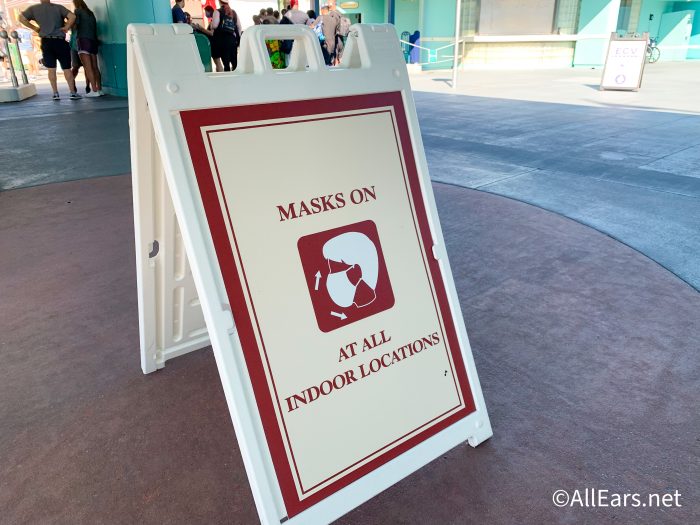 According to the Orlando Sentinel, BA.5 is being tested in the wastewater systems across Orange County (again, this is one of the counties where Disney World is located). As of early/mid-July, BA.5 was the most common COVID-19 mutation in the wastewater in that area. The Orlando Sentinel notes that BA.5, along with BA.4, seems to be the "most infectious strain to date."
Because of the high prevalence of this infectious COVID-19 variant, "Central Florida residents are more likely to catch COVID-19 even if they were previously infected or vaccinated." Hospitalizations and deaths are staying "steady" in the Central Florida area for now. But overall we've seen hospitalizations in Florida going up recently. Cases, however, have lowered a bit and deaths have remained at about the same level.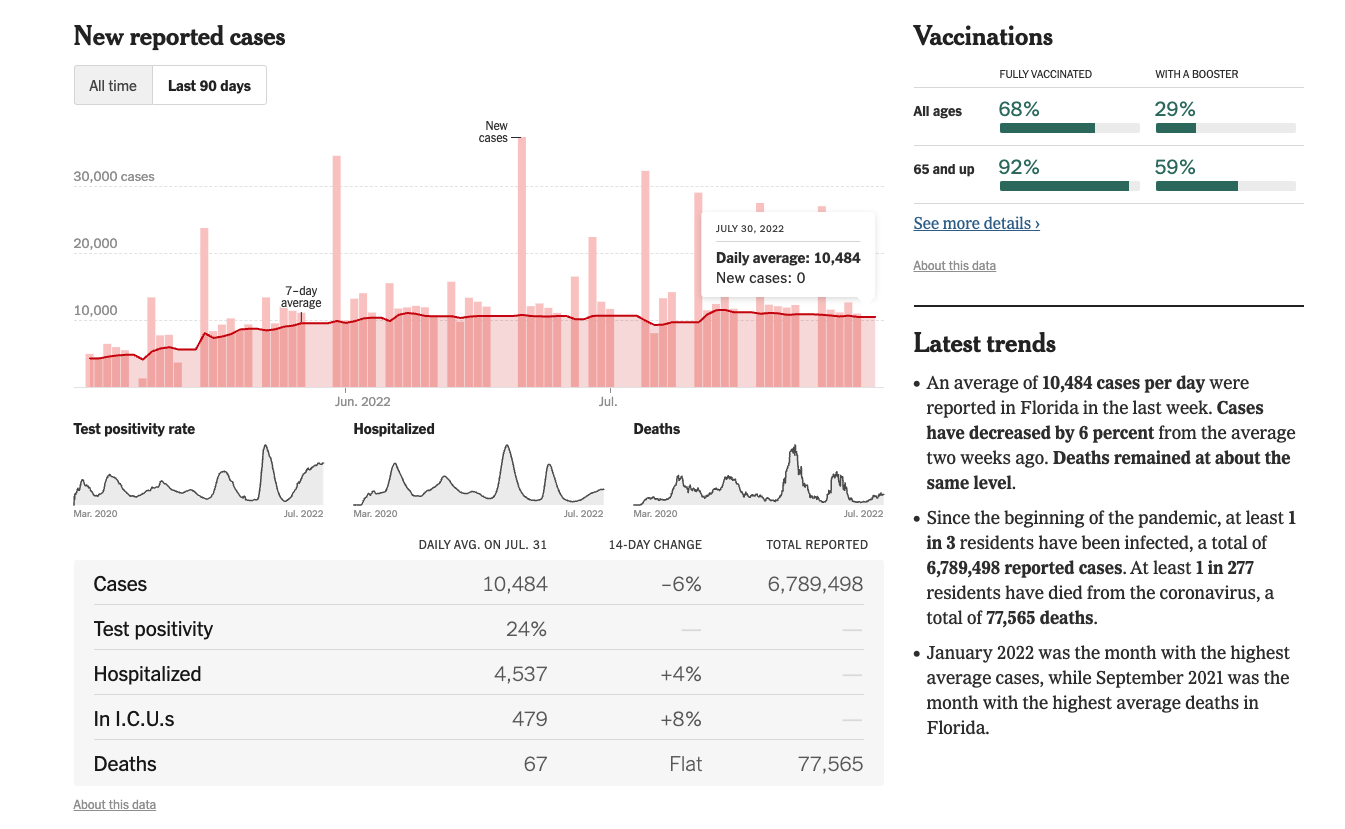 So, how could this potentially impact your upcoming trips to Disney World or Disneyland? Well, as of right now, there are no mask requirements in most places in the parks — the exception being that you may have to wear a mask in First Aid centers. But, Disney does recommend that people who are not fully vaccinated wear masks inside.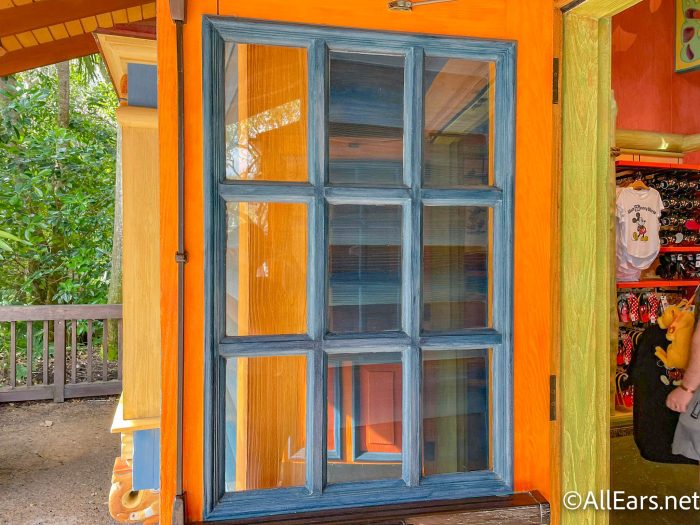 Other requirements have gone away as well, like social distancing, but that doesn't mean they couldn't come back if things were to escalate. Disney can and has changed its health and safety policies several times throughout the global pandemic, so it's important to pay attention to the current policies before your trip.
Also, note that the two counties where Disney World is located in Florida remain in the high-risk category for COVID-19. Orange County, California, where Disneyland is located, is in the high-risk category.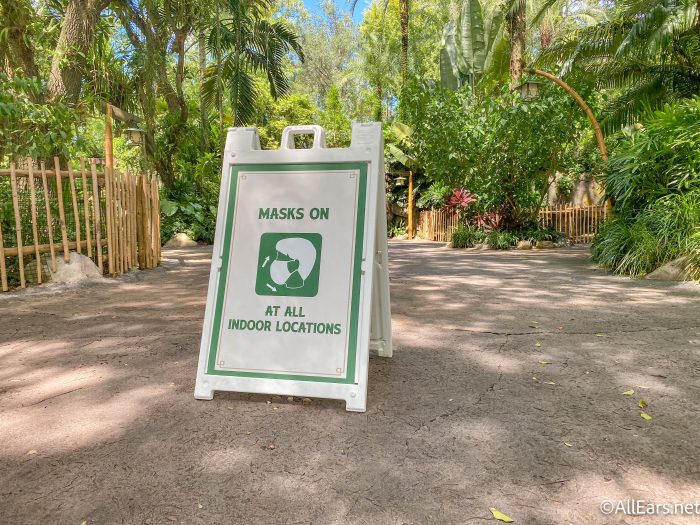 Note that the CDC recommends that individuals in a high-risk category area wear a mask indoors in public regardless of vaccination status.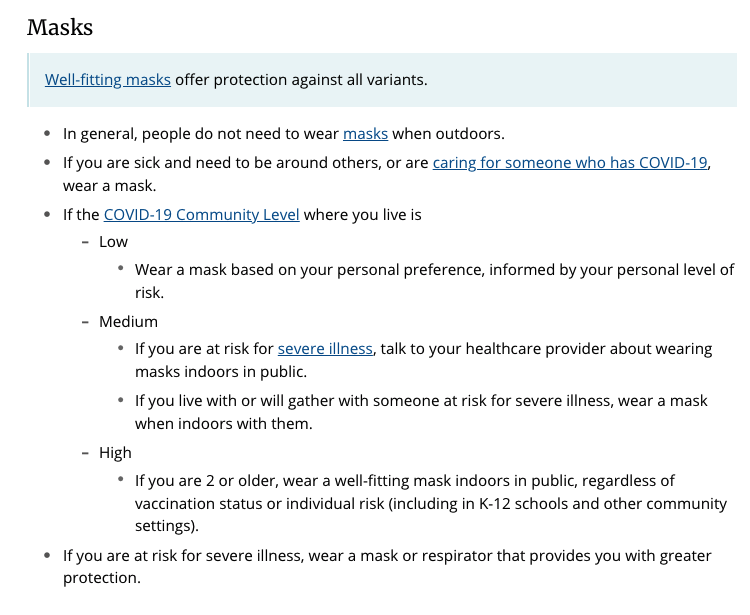 And, if you're planning on going on a Disney cruise any time soon, there are vaccine and testing requirements to get on board the ships. You can read more about those right here.
We'll continue to look for updates on COVID-19 and how it could impact you, so stay tuned to All Ears for more.
More on COVID-19:
Join the AllEars.net Newsletter to stay on top of ALL the breaking Disney News! You'll also get access to AllEars tips, reviews, trivia, and MORE! Click here to Subscribe!