From adorable baby animals to cute characters on rides, Disney World is filled with adorable and sweet critters and animatronics. It's also home to some animatronics that haunt our nightmares.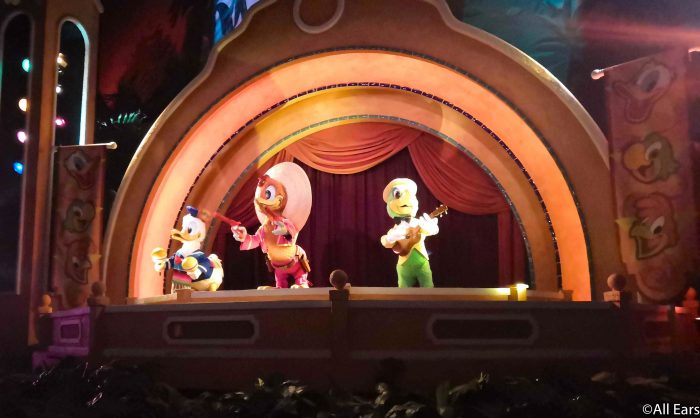 Whether intentionally scary or inadvertently creepy, sometimes Disney World animatronics are a tad much, as evidenced by these scary ride fixtures that have us scratching our heads — and hiding under our blankets at night. 
From an infamous alien to a way-too-large crocodile creature, these are the scariest animatronics in Disney history!
Carnotaurus on Dinosaur
From the outside, the Dinosaur ride at Animal Kingdom looks innocent enough, but once you're strapped into the ride vehicle, it quickly becomes clear that you're in for a rocky ride, made all the more unsettling by a carnivorous dino that makes Jurassic Park look like a petting zoo.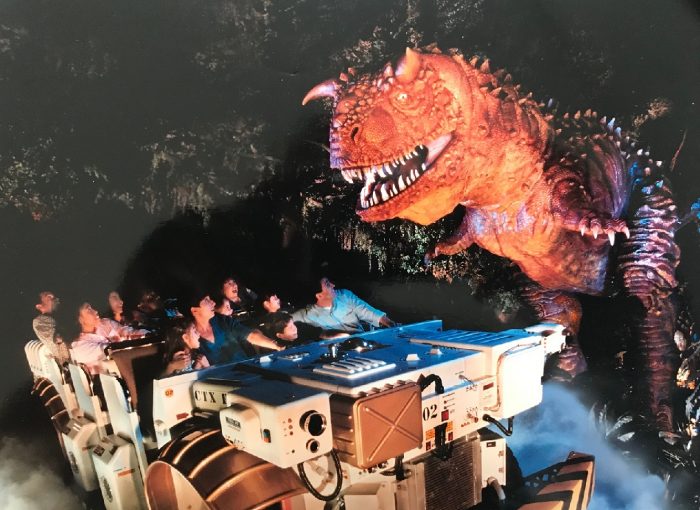 The Carnotaurus is a loud, intense, and horrifying animal that repeatedly pops up from dark spaces as the ride vehicle jerks you around. The dinosaur is so imposing and scary that you completely forget there's a world-destroying meteor heading straight for you. 
Aliens
What is it with Disney World and traumatizing aliens? We come here for Mickey Mouse and Goofy, not Xenomorphs and nightmares! Two bygone attractions weirdly featured some of the scariest animatronics we've ever seen, and tbh we're thankful they're gone. 
The Xenomorph from The Great Movie Ride is an unnerving throwback to the Alien movie, while the namesake alien from Magic Kingdom's ExtraTERRORestrial Alien Encounter was a completely terrifying experience. 
Spiders on It's Tough to Be a Bug
Since the 4D It's Tough to Be a Bug attraction at Animal Kingdom is clearly targeted at families and young kids, it's always shocking how unsettling and disturbing it is! Not only is the show loud and in-your-face, but it all takes place in a dark space that's sure to spook most children. And us.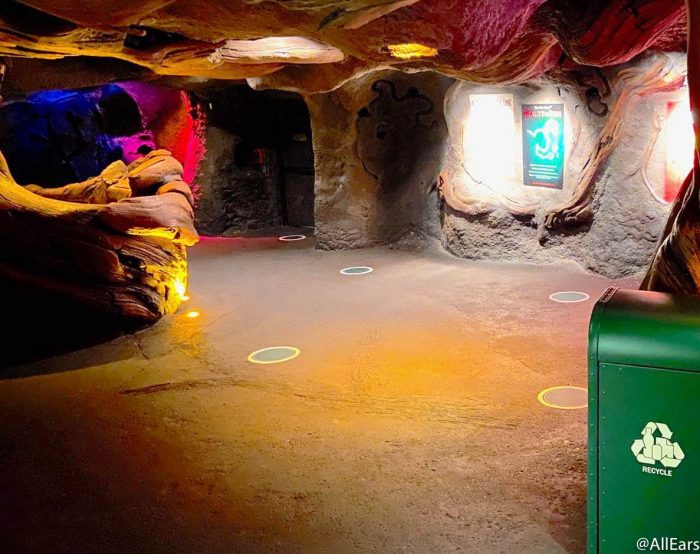 The scariest part of the ride is when basketball-sized black widow spiders descend from the ceiling through a haze of smoke, dangling precariously close to our heads. This is the kind of experience where we have to repeatedly utter "this isn't real, this isn't real" to ourselves until the show is over. 
Beating Heart Bride From The Haunted Mansion
Nowadays, The Haunted Mansion is a fun romp through a not-at-all scary house that we secretly wish we could live in. But it wasn't always so merry! We're talking about the Beating Heart Bride.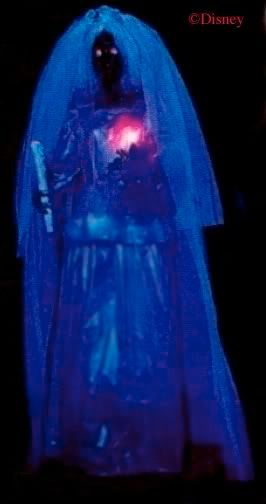 Where Constance Hatchaway now stands, there once was another killer bride called the Beating Heart Bride. Unlike Constance, who seems lovely by comparison, her predecessor was subtly horrifying with her glowing eyes, pitch-black face shrouded by a veil, and a bright red beating heart. And unlike Constance, she didn't say anything; just stood there motionless and soulless. Byeeeee!
Evil Queen From Snow White's Scary Adventures
Disney wasn't kidding around with Snow White's Scary Adventures. Formerly found in California and at Tokyo Disneyland and Disneyland Paris, as well as Magic Kingdom until 1994, the dark ride was legit scary thanks to an Evil Queen animatronic that looked straight-up wicked.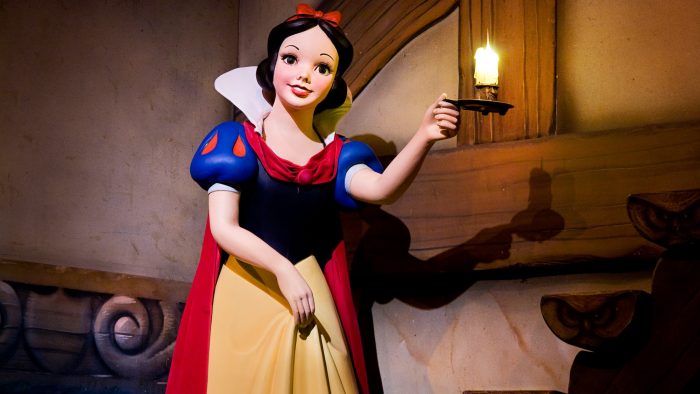 For those who came to the Snow White ride expecting something sweet and kid-friendly, it was constantly chilling to see the gnarly Queen, crooked nose and all, pop up out of nowhere to sneer and glare. 
The Horned King From Cinderella Castle Mystery Tour
Here's another attraction we don't really miss, due largely to the fact that Disney thought an animatronic of the Horned King from The Black Cauldron was a good idea. Seriously, Disney apparently went through a phase where it thought red glowing eyes and billowing smoke was a fine idea!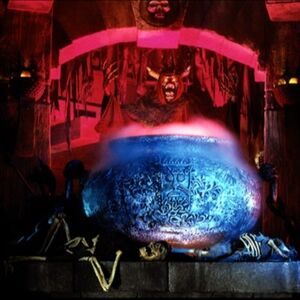 The menacing monster was part of Tokyo Disneyland's bygone walk-through attraction, Cinderella Castle Mystery Tour, which featured various villainous creatures beneath the castle. The Horned King, situated behind a cauldron amidst a smattering of bones, definitely took the cake. 
Q'aráq From Roaring Rapids
If you've ever ridden Kali River Rapids in Animal Kingdom and thought to yourself, "I wish this was more traumatizing," then you'll love Roaring Rapids in Shanghai Disneyland! 
Why? It's all thanks to a huge crocodile-like beast called Q'aráq, the "Guardian of the Water," who scares guests floating on the water raft ride with his sheer size and sharp teeth. Would it be so hard for Disney to stick with something nicer, like a duck? 
it's a small world

 
Speaking of traumatizing water ride experiences, this one isn't so much scary as it is creepy. Unless of course the idea of beady-eyed children dancing in unison is in fact scary to you.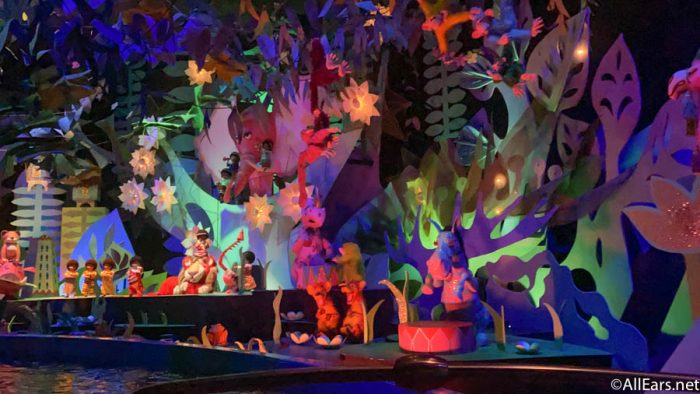 One of the most infamous and divisive rides in Disney history, it's a small world is a "love it or hate it"-type of attraction, due largely to the fact that all the animatronic children seem like they're gazing into our souls as we float by. That earworm of a song doesn't help, either.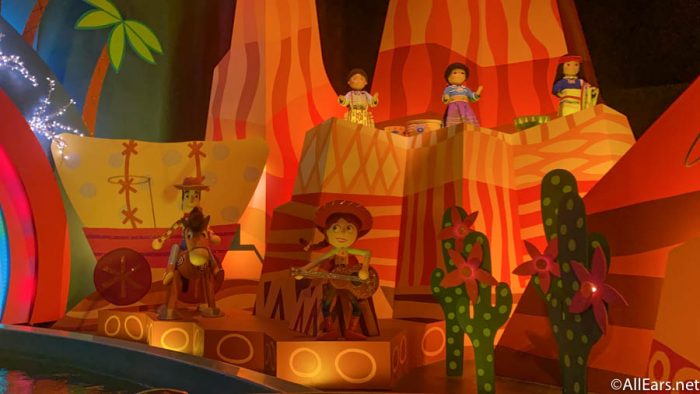 While most animatronics at Disney parks are sweet and cute, there are clearly some not-so-cute ones out there too! In the future, here's hoping Disney uses a little less aliens and glowing eyes, and a little more Plant Donald. 
Which Disney animatronic do you think is the scariest ever? Let us know in the comments!
Join the AllEars.net Newsletter to stay on top of ALL the breaking Disney News! You'll also get access to AllEars tips, reviews, trivia, and MORE! Click here to Subscribe!