It's been a VERY busy week for snacking in Disney World!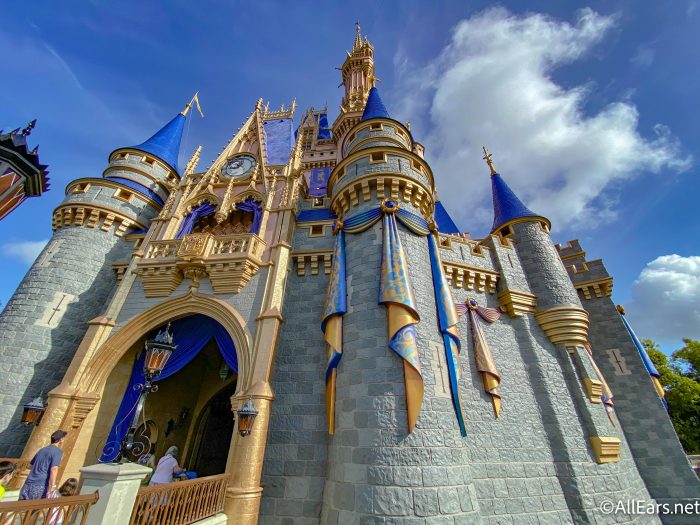 It was the beginning of a new month which means that new cookies and donuts arrived at some of our favorite Disney Spring spots, plus Star Wars Day came and went almost as quickly as Disney's specialty May The 4th treats. Of course, we had to do our research for you (at least that's what we tell ourselves) and we've narrowed it down to the BEST things we tried! Let's get to it!
Here are the 5 BEST things we ate in Disney World this week!
Peanut Butter Espresso Cookie
Gideon's Bakehouse in Disney Springs always serves up a delicious assortment of giant cookies, and each month they introduce a special limited-time cookie. For the month of May, the newest cookie in the roundup is the Peanut Butter Espresso Cookie which is made with creamy peanut butter mixed with freshly ground, locally roasted, award-winning espresso bean and topped with chocolate chips and house-made candied peanuts.
And, this cookie delivered on both the peanut butter and coffee fronts! The flavors combined to taste almost exactly like the Peanut Butter Cold Brew that is featured on their menu. So, if that sounds like a must-try for you, you'll want to head over to Disney Springs before the month of May is over because it's only available for this month. And, be sure to get there early because these $6 cookies do tend to sell out.
Cinco De Oh-My-O Donut
Another new spot in Disney Springs just got a new treat on the menu too! Over at Everglazed Donuts & Cold Brew you can find a huge selection of over-the-top donuts and they introduced a new one for Cinco De Mayo. The new Cinco De Oh-My-O Donut is a Cinnamon Sugar Croissant Donut, topped with Buttercream, a Mini Churro, and Chocolate and Caramel Icing.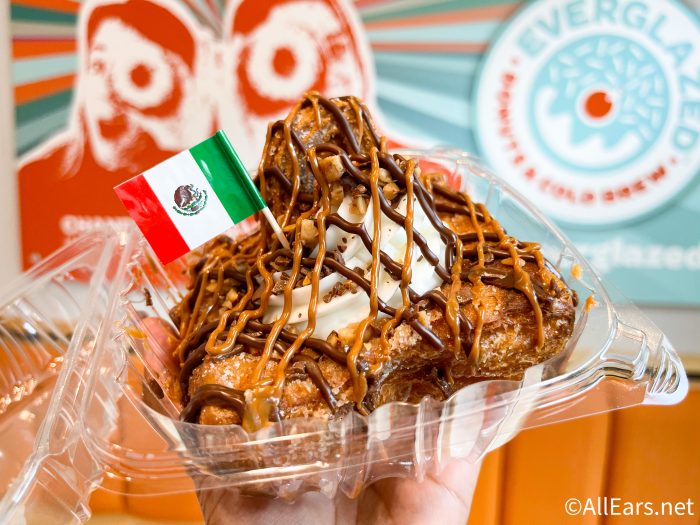 It definitely had us saying "oh my" both when we looked at it and when we ate it! Why? Well, this isn't your average donut — it's shaped a little differently and is super light and flaky. If we closed our eyes it felt as if we were having ourselves a churro donut with some buttercream — yum! It's available for $5.50, but you won't be able to find it here long, so be sure you add this spot to your list soon if you want to try the cronut.
Bailey's Brownie Sundae with Coffee Ice Cream
Over at Disney's Beach Club Resort, we stopped into Beaches & Cream and noticed that there was a new giant sundae in town — the Bailey's Brownie Sundae with Coffee Ice Cream. This monstrosity is made with 3 scoops of coffee ice cream, a brownie soaked in Baileys Irish Cream, and topped with Baileys Irish Cream-infused whipped cream, chocolate sauce, and a cherry.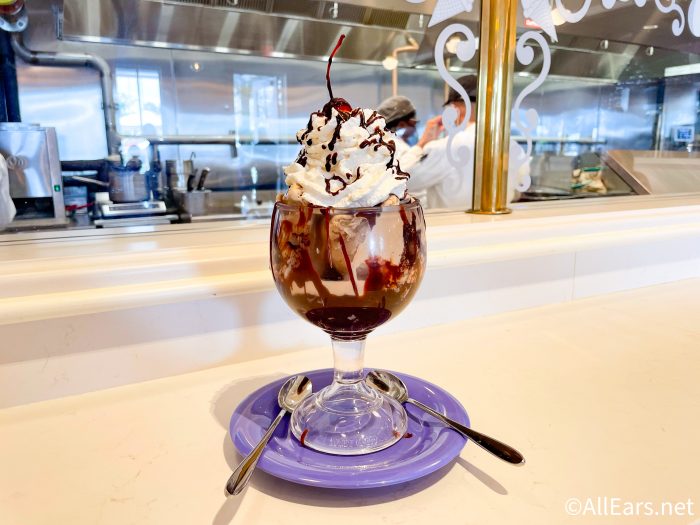 We just might have to suggest not sharing this one with anyone else because it is SO tasty. The coffee ice cream delivers on the flavor and pairs well with the brownie that has been soaked in Bailey's. Get a bit of the Baileys whipped cream in there and you've got one delicious bite!
Now, this will cost you $18, so maaaybe you could share it with someone else if you're willing. 😉
Grogu Mousse
This week we celebrated Star Wars Day on May 4th which meant that Star Wars treats infiltrated menus all over Disney World. And, one of the first treats to arrive was the Grogu Mousse at Amorette's Patisserie in Disney Springs.  It's made with a vanilla chiffon cake, white chocolate mousse, cookies and cream mousse, and cookie crumbs.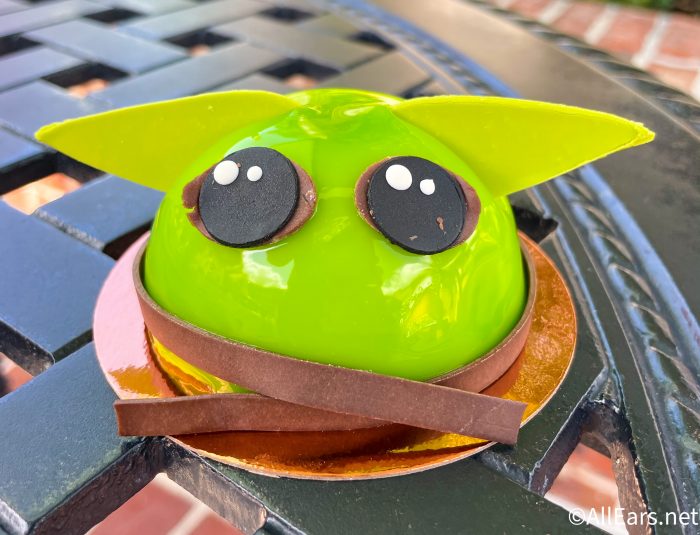 This little guy is equally as fun to look at as it is to eat! The treat isn't overly sweet, but it definitely delivers on the cookies and cream taste. We've seen it here before under a different name (The Child Mousse) and it sold out SUPER fast, so it may be hard to find — but if you do, it'll cost you $9.
Galactic Swirl Funnel Cake
Another Star Wars treat that won us over was the Galactic Swirl Funnel Cake. This treat was available at Epic Eats in Disney's Hollywood Studios and was a black and white funnel cake with strawberries, space dust, and candy rocks. And, what exactly are candy rocks? Well, they're little chocolates that give this snack its otherworldly look!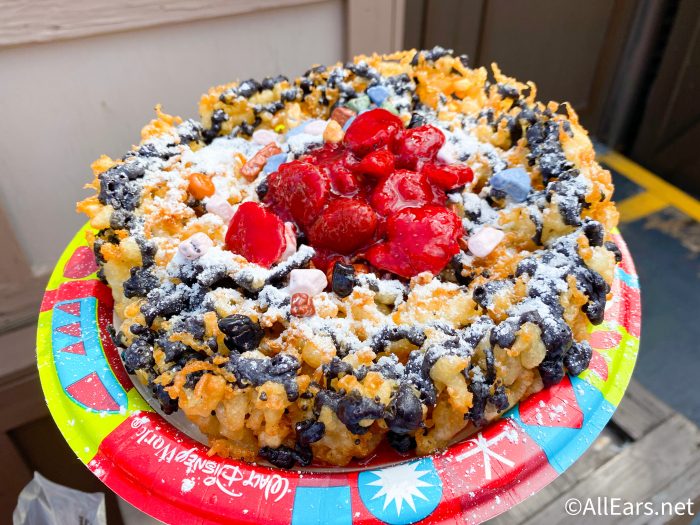 We really liked just how many flavors this giant funnel cake featured. Between the strawberries, space dusty (aka powdered sugar), chocolate, and crispy fried dough there were a lot of different ways to enjoy this treat. Sadly, this treat was only around for a VERY limited time (May 4th and 5th), but hopefully it'll make its return next year!
Disney's specialty treats can be tricky because you have to be visiting at just the right time to get your hands on them. But, if you're anything like us, you'll find a way to fit in more than just one before they come off the menu! And, speaking of specialty treats, Mother's Day is here which means there's even more to try, so stay tuned!
Join the AllEars.net Newsletter to stay on top of ALL the breaking Disney News! You'll also get access to AllEars tips, reviews, trivia, and MORE! Click here to Subscribe!

How did you celebrate Star Wars Day this year? Let us know in the comments!